Are Milwaukee SEO Services Worth the Cost?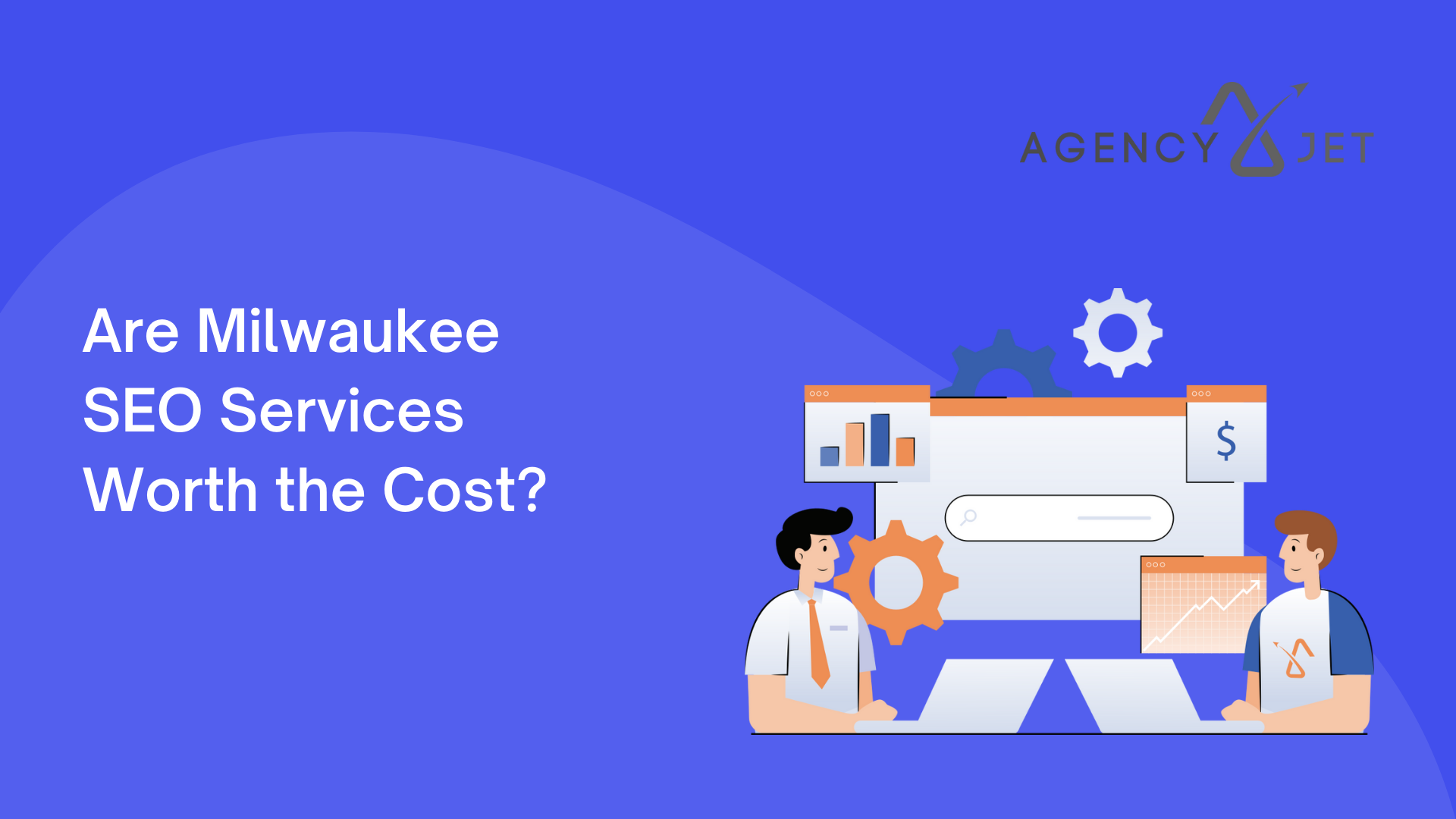 Gaining a foothold in the Milwaukee market is difficult.
Throw in the pandemic and inflation and small businesses are struggling to find ways not only to thrive but even survive.
You need a leg up and it can't break the bank.
What kind of solution exists out there that's both cost-effective AND able to yield long lasting results for your business?
That's small business SEO (Search Engine Optimization).
In this article you're going to not only learn what SEO is but also get the most common questions that small business owners have about SEO answered. You'll also get the top SEO companies in Milwaukee evaluated dollar for dollar.
If you're a small business owner who:
Has heard of SEO but never seen it implemented
Have struggled to find ways to build sustainable growth
Are not sure you can afford professional marketing
This post is for you.
This post doesn't exist to sell you anything. It exists to help you make educated decisions for your business.
Here are the highlights we'll cover:
Defining search engine optimization
How small businesses can take advantage of SEO strategy
What's included in SEO strategy from a professional SEO company
Why your SEO efforts shouldn't be DIY
How to ensure you hire the right SEO company for you
Getting common questions that business owners have about search engine optimization answered
What should SEO cost if you hire a professional agency
Looking at the top agencies that provide Milwaukee SEO services
But first, let's make sure we all know what it is we're talking about.
What is search engine optimization?
Search engine optimization or SEO, as it's commonly referred to, is the practice of attracting more people to your website by making sure your website appears higher up in search engines.
To make sure your website has a change of showing up in the top pages of search engines, think Google, your site needs to follow a handful of rules. These are known as Google Guidelines.
Here are some Google Guidelines. There are hundreds of pages to reference.
Google Guidelines are crystal clear but extremely lengthy, geek-speaky and ever changing. That's why there are over 38,000 agencies in the United States alone who provide SEO services to small businesses all around the country.
What are some of the key aspects of search engine optimization?
Google's algorithm changes over 500 to 600 times a year. That's once or twice a day.
It's also why the battle for page one rankings in Google never ends.
And while you could dedicate thousands of hours studying their guidelines, there are generally three umbrellas that every website should operate under if they're trying to rank online.

They are:
Technical SEO: The act of making sure your website is structurally sound, has clean code, proper titles, descriptions and more.
On-page SEO: Making sure your website's content is 100% unique, resourceful to the end user, topical and focused and never copied.
Off-page SEO: Making sure that any information off the website is 100% accurate (think your business name, address, phone number, email address and so on) as well as building high-quality links pointing back to your website from reputable sources like online directories, social profiles and more.
What's become more apparent over the years, especially in 2022 and beyond, is the importance of a website to have what's called a solid user-experience or UX.
User-Experience means that your website loads quickly, adapts to all screens and mobile devices, is super easy to navigate and is secure.
Without these main tenets in place, your website will struggle to hit your business goals and will take quite a while to rank highly in Google, Yahoo and Bing.
So now that you've got the gist on what search engine optimization is in general, let's dive in to why it matters for small business.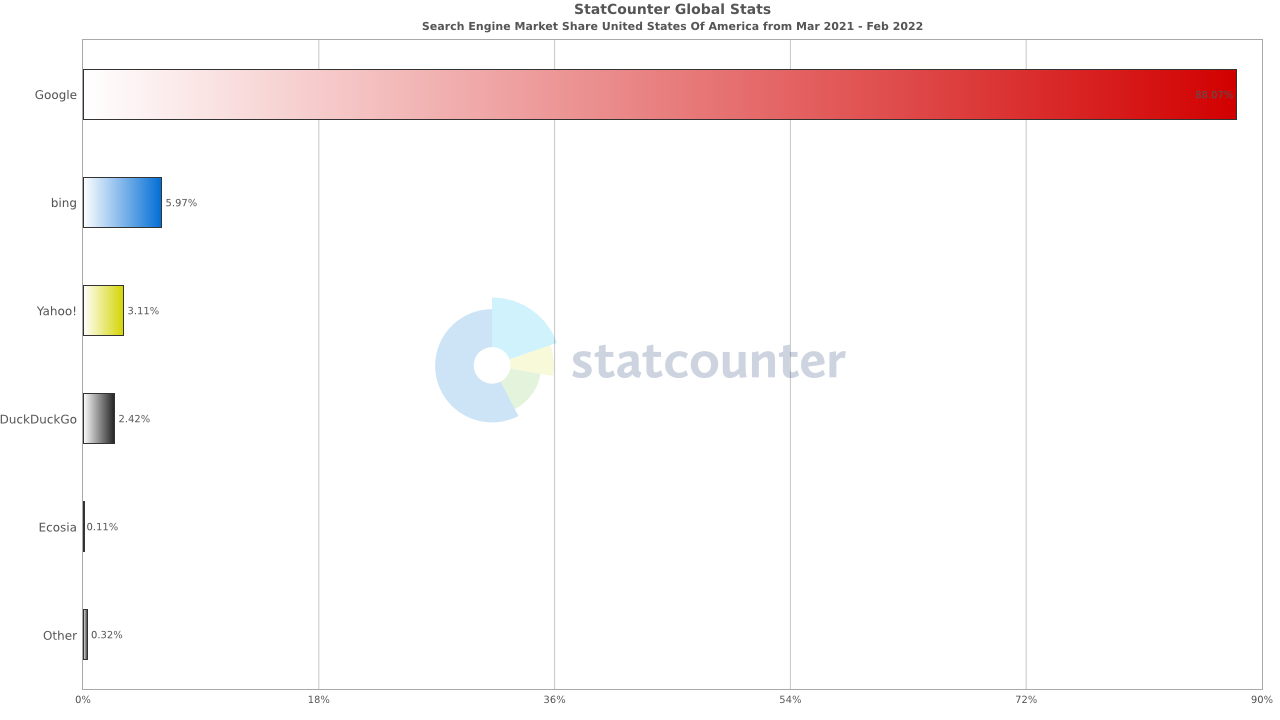 What's the most used search engine in the USA as of Q1 2022? It's Google of course, with over 88%. If you want to use SEO to improve your business, Google is the search engine you need to be talking to.
What are small business SEO services and why do they matter?
If we know that search engine optimization is the act of following Google's rules to get you to the top of their search engine results pages (SERPs), the small business SEO strategy means your website gets to the top of Google for one reason...
Getting you found for your products and services
In other words, optimizing your website so you get found for what you do versus who you are.
Anybody can get found for their brand name, but you don't get in front of a ton of new people if that's the only place you can be found in Google.
Nope, it's your products or services you want to rank for and the psychology behind this is extremely simple.
Ask yourself the question: What do I do when I need to find something?
9 out of 10 people are likely to say: "I go to Google."
Your potential customer operates in the exact same way.
So what's the conclusion? If you aren't getting found in Google for what you do, you're missing out on potential business—business that is going to your competitors.

So why are SEO services important for a small business?
Well, that's pretty simple too.
WebFX, one of the largest SEO companies in the United States, puts it pretty well.
A 30-second local TV commercial costs between $4K - $45K.
A 30-second network TV commercial costs between $80K - $600K.
A 60-second radio spot will cost you $200 - $1,000.
Magazine ads charge $50 - $120 per 1,000 copies.
1,000 direct mailers cost between $15 - $40.
When you consider that the average SEO campaign costs between $1,500 and $2,500 per month, getting you thousands of impressions, cost alone makes SEO worth the conversation.
In short, building your online presence through SEO techniques is one of the most cost-effective ways to get your business in front of potential customers.
Here's the deal, SEO costs money. So you might be thinking, what if I did SEO myself? What if I truly spent the time to learn and optimize my website on my own?
Let's look at that real quick.
Can you get SEO rankings from DIY?
We'll say it like this—anything is possible.
DIY SEO may feel like something worth doing because paying a digital marketing agency to do SEO for you feels like buying insurance.
You know you need it, but should it really cost that much?
In short, yes.
Time is money and DIY SEO takes a ton of time (emphasis on a ton).
Once more, you're not an expert in the field. By tackling complex actions and theories without proper guidance or training, it's not only not a valuable use of your time, you could actually make mistakes that could harm the long term viability of your website.

If this quote confuses you, SEO will confuse you. It means you're not ready to tackle DIY just yet.
Remember when we said Google changes their algorithm hundreds of times a year?
That means by the time you grasp the basics of SEO, your knowledge may already be outdated and you'll have left more money on the table by trying to learn it yourself versus hiring a professional at an affordable rate.
But here's the beauty of it—SEO doesn't need to cost an arm and a leg.
It will cost something, but that something has one purpose, get you found by new internet users to get you more leads and sales.
We also said there are over 38,000 agencies in the United States and there are over 240 firms who provide Milwaukee SEO services.
That means you have options and numerous price points to choose from.
So the question isn't "Should I do DIY SEO?". The question is "How do I make sure I choose the right Milwaukee SEO agency?".

5 things you should do when looking for a Milwaukee SEO company
When you have this many digital marketing agencies to choose from you need to ensure you choose the one that's going to provide the right marketing strategy for you.
Here are 5 no brainer tips, to make sure you're not hiring a company who won't get you results or have your best interests at heart.
1. Get a free website audit
A website audit, or website assessment, is an evaluation of your website from a search engine perspective, covering topics like:
Technical SEO
On-page SEO
Off-page SEO (backlinking)
Competitor analysis
Keywords you want to be found for
Current organic traffic numbers
Social media scores
Domain Authority
And other ranking factors
It's the 30,000 foot view of your website and numerous Milwaukee SEO companies provide this sort of evaluation.
To get off on the right foot with any of these companies, this evaluation should be 100% free and educational. While many companies view this as an opportunity to sell their company to yours, it should always be, first and foremost, an education tool to make sure you know what your website's online visibility is and how it can be improved.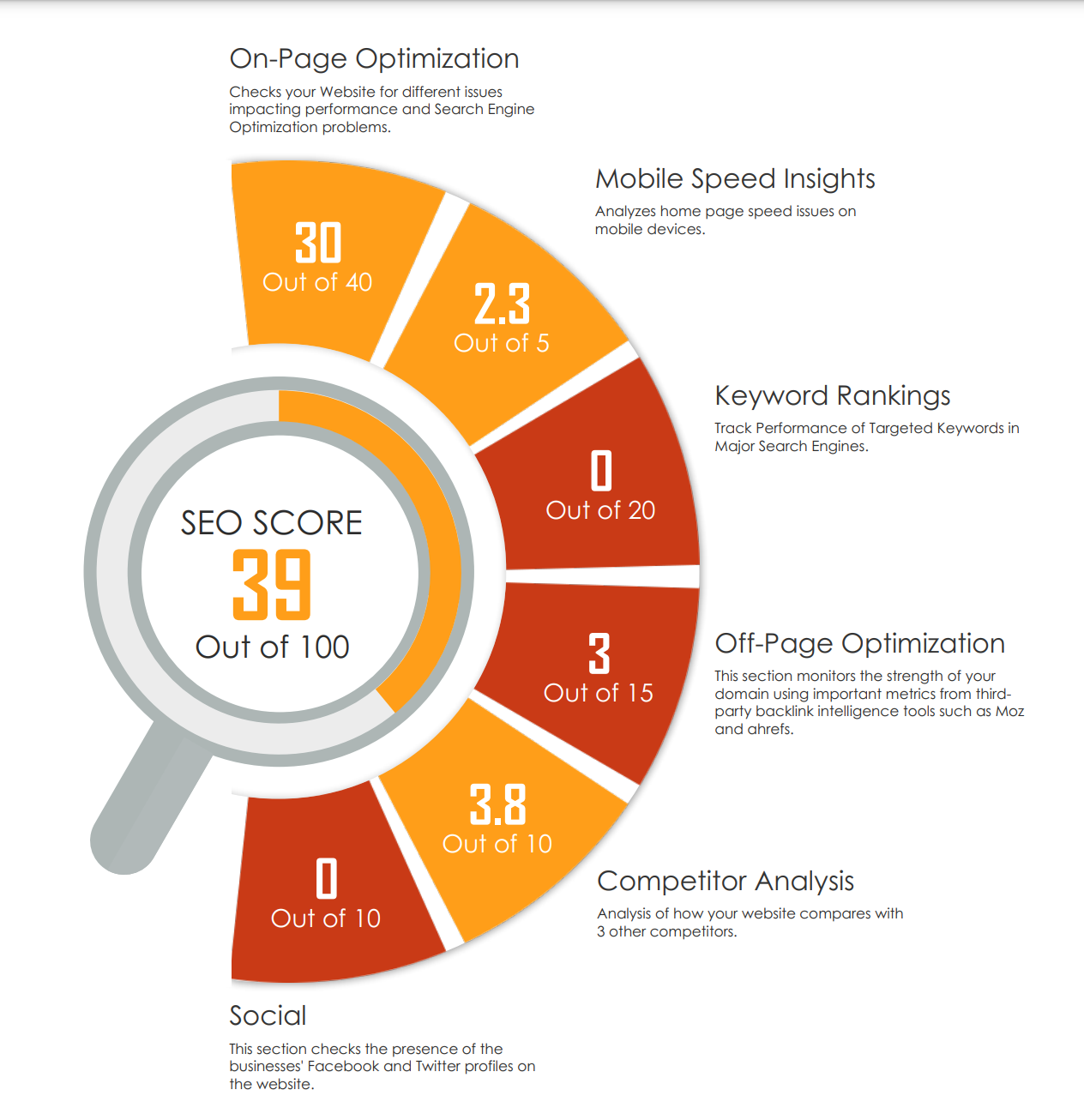 Here's an example of a score from one of Agency Jet's website audits. This is just one of over 15 pages in the audit.
2. Look at reviews and case studies
There are too many choices out there to not work with someone who has stellar reviews and case studies to boast.
If a company isn't recognized for the business SEO services by their customers, they shouldn't even get a look from you.
Their website should feature numerous case studies. Look at them closely and ask yourself a few questions:
Have they worked with people in our industry?
Do these case studies have photos to prove the numbers?
Is there a direct quote from someone at the company?
What type of SEO plans did they take advantage of?
They should also have at least a dozen online reviews for their business on Google, Clutch or UpCity.
If you're not seeing high ratings in high quantities, look to a company that can boast great reviews.
3. Get references and actually call them
The industry average for an SEO campaign is about 6 months.
Why so low?
Small businesses and SEO agencies didn't confirm if they're a good fit for each other before they signed the dotted line.
It's important that you get a list of references, agencies should have no problem giving this to you by the way, and that you call these clients and ask them the tough questions.
Here are a few questions that will help you get a feel for the agency your vetting:
Do you feel like you've gotten reasonable ROI?
How does the agency communicate with you? How often?
What tools are they using to prove the results?
Do you get reports to your inbox?
Do you understand the work they're doing?
Can you confirm if they do white hat SEO work?
How long have you been working with them?
Can you prove that they've improved your Google rankings?
What's something you're not thrilled with?
Why talk to references? You shouldn't be on your own when it comes to making a major business decision.
If you do it right, you'll be working with this digital marketing company for years. Speaking with their clients and asking the tough questions cannot be overstated. It makes a big difference.
4. Talk to more than one agency
You should never work with a company simply because you like them. There has to be more to it than that.
When you're deciding on who you should work with, it should be a process of elimination. It should be weighing the pros and cons of multiple agencies.
Competition is good. Make these agencies compete for you before you've given them your business.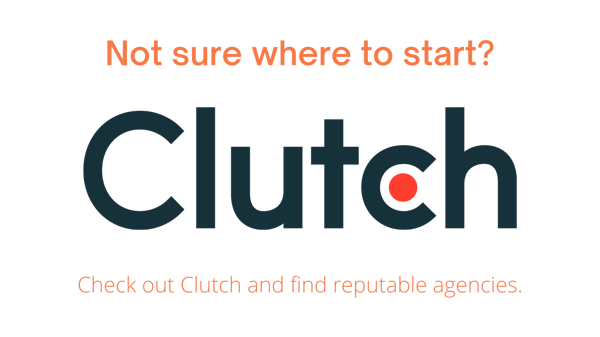 Some things to be thinking about while you're vetting multiple companies:
Which has the lowest cost?
Which has the lowest deliverables?
Do any of them provide guarantees?
Who has the best online reputation?
Do they have more digital marketing services than SEO?
Did they show me their digital marketing strategy ahead of time?
Who has a proven track record of success?
5. See transparent pricing and deliverables BEFORE working with them
The last tip should be pretty straightforward.
Don't pay for something if you don't know what it is.
Some agencies charge hourly retainers. Some have a set of monthly deliverables.
Regardless of how the agency operates, you can operate in only one way—full transparency.
Any agency who is coy about their pricing or what you get for that cost should not be a serious contender to get your business.
You don't have to understand SEO but you have to know what it is you're paying for.
So you've learned that you're not alone. You should seek a reputable agency, talk to their clients and talk to more than one agency at a time.
But you probably have a few more questions about this whole search engine optimization services thing. Here are a few more common questions asked by business owners who have considered buying SEO services in the past.
Frequently asked questions
How do I get more customers to my business website?
There are numerous digital marketing channels to help your website attract customers. Among them is SEO, digital advertising (Google Ads), social media marketing, email marketing, digital reputation, content optimization and more.
A multi-channel approach from the digital perspective is always recommended to get more eyes on your website. SEO solutions and digital advertising are some of the most common ways to expand your digital footprint to new customers.
How do I know if my website will convert organic traffic?
To convert any traffic of any kind, especially organic traffic from Google search results, means your website needs to have a very clear message and be user-friendly.
It's heartbreaking to not see your website hit the top pages of Google. It's even more heartbreaking to hit the top pages of Google, only to see your visitors bounce away because they couldn't understand your website or what it was you were bringing to the marketplace.
Making sure your website loads quickly, is easy to navigate, clearly outlines what it is you're offering and ensures that someone can either contact you or check out of the shopping cart easily will help improve your website's chances of converting new traffic.
What is local SEO? Is it different?
Local SEO and SEO in general follow the same principals. They are both aimed at helping your website be found by prospects looking for your products and services.
Local SEO campaigns will focus more on directory building and getting you found in your specific area. You'll also get more substantial work on your Google Business Profile (also known as: Google My Business) and see Google Map rankings take a big part of the core strategy.
What is domain rank and why is it important to SEO?
Domain Rank is a search engine ranking score developed by Moz that predicts how likely a website is to rank in search engine result pages (SERPs).
Domain rank is important to SEO because it helps website owners quantify how credible their website is and it pays attention to an often overlooked metric—backlinking.
Continuing to build high-quality backlinks and improve your domain rank will give your website the best chance to rank online for the long term.
How long will SEO services take to rank my website?
This is largely dependent on your starting point. If you've never marketed your website before, it's going to take a bit of time to see considerable progress but it's important to note, no matter how well your website has already performed or how much traffic you're currently getting, SEO takes time. We're talking months not weeks.
Most companies will see trends in rankings and traffic start to form in under 6 months and most companies will feel an impact to their bottom line from solid SEO strategy in under 12 months.
How much should my small business pay for SEO?
Now that's the question. If we're asking if Milwaukee SEO services are worth the cost, for instance, you should be able to find rock solid work for under $5,000/month, regardless of your business size.
Many small businesses will be able to find affordable SEO services ranging from $1,000 to $5,000 a month.
It is rare for a small business to ever have to pay over $5,000 a month for a business SEO campaign.
Is SEO worth it for small business in 2022?
Some will say that SEO is dying out or that it's dead already but it couldn't be further from the truth. When you consider that there are over 450,000 small businesses in Wisconsin and the SEO industry has grown at a clip of 17.2% year over year, the industry is only continuing to grow.
Is it worth it for your small business? It is if you properly vet a reputable company who has a proven track record of results.
It's hugely important that you identify your budget and your business goals but, should you find an agency who aligns with those goals, SEO is one of the most cost-effective ways to get eyes on your business.
So now that you've had your questions answered, the final step is to figure out some of the best SEO agencies in Milwaukee. Let's do a quick dive.
What are the top Milwaukee SEO companies?
As of this writing and according to Clutch, there are over 240 SEO agencies in the Milwaukee area. There are a lot of great options to choose from. Here are the top 5 SEO agencies in Milwaukee (by reviews).

1. Agency Jet
We could claim self promotion but the truth is, Agency Jet is the highest reviewed Milwaukee SEO company in 2022.
Agency Jet features a 4.9 average rating on 30+ reviews and was founded in 2015.
Here's a direct quote from one of our clients:
The most impressive and unique thing that Agency Jet does is educate their clients about SEO throughout the time spent with them. Every time we complete a monthly virtual meeting, I've learned something new. Previous SEO companies had a "set it and forget it" feel. We never really knew what we were paying for and we came out of meetings feeling confused and unsure. With Agency Jet, their honesty and transparency is fantastic. We come out of our meetings feeling confident and comfortable with our choice in partnership.

2. Rocket Clicks
Rocket Clicks was established in 2007 and have 25 reviews with an average 5.0 star rating.
They tout themselves as a true marketing partner who "don't stick your account in an automated machine and set it and forget it."
Here's a direct quote from one of their clients:
Rocket Clicks' dedication to being a good partner is impressive. They aren't looking for quick money; they want to make sure that they can provide what we need, and they really work with us as a trusted partner.

3. SocialSurge Marketing
SocialSurge Marketing started in 2017 and holds 7 reviews on Clutch with an average 5.0 rating.
They state that "Digital marketing may be done electronically, but there's a human behind every device. We bring the human component to marketing - The way it should be."
Here's a direct quote from one of their clients:
They are professional and eager to produce a product that you are 100% pleased with.

4. Momentic Marketing
Momentic Marketing has 5 reviews on Clutch with an average rating of 4.9 stars and was established in 2018.
They state that "With a laser focus on SEO, Momentic is able to have a laser focus on your brand's visibility on search engines and a laser focus on what your audience is looking to you for."
Here's something one of their clients had to say:
Momentic's work was good, thorough, and fast. They're SEO specialists. It was a pleasure to work with Momentic, and I'm excited to continue working with them moving forward.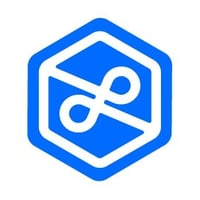 5. Lightburn
Lightburn is one of the longest standing agencies, having been founded in 1998. They have 4 reviews in Clutch with an average 4.9 rating.
Here's what they offer: "From Fortune 500 businesses to fast-growing startups, we are proud to partner with clients across various industries to build their brands, find new customers, and drive growth and profitability."
And here's what one of their clients had to say:
First of all, we like their project management, and the fact that they don't make promises they can't keep. They're also great at idea generation and we always come to solutions by working together on ideas we want to integrate into the website, such as Apple Pay. they're also very efficient in their costs, especially for the results we're getting.
Here's the full list of top SEO companies in Milwaukee.
Summary
When it comes to deciding if small business SEO services are worth the cost for your Milwaukee business, the answer is pretty clear.
If you have a sufficient budget, take the time to vet numerous companies and get all of your tough questions answered, you'll find that SEO provides a superior and cost-effective business growth strategy that helps you get found for your products and services.
So maybe the question isn't: are Milwaukee SEO services worth the cost?
Maybe the question is: why haven't I invested in Milwaukee SEO already?
Milwaukee SEO doesn't have to cost an arm and a leg and it certainly doesn't have to be painful.
Follow the above guide, vet the top companies, make sure you find a good fit and you'll be well on your way of finding a long term provider who gets results.
---
So where do you go from here?
Speaking of the 5 tips. Tip #1 is getting a free and educational website audit. Agency Jet happens to have that very thing.
Click the button below to get what our clients have called "the best 90 minutes in marketing" scheduled today.

Join the thousands of SEO-obsessed readers on our mailing list