Painless website development that sets your company apart
Agency Jet excels at bringing your vision to life with creative thinking and on-time delivery—no headaches included.
All of the beauty, none of the hassle
The entire scope is mapped out ahead of time. Discovery calls, wire frames, follow ups, user-testing and lightning speed.
Yep, that's an Agency Jet webdev project all right.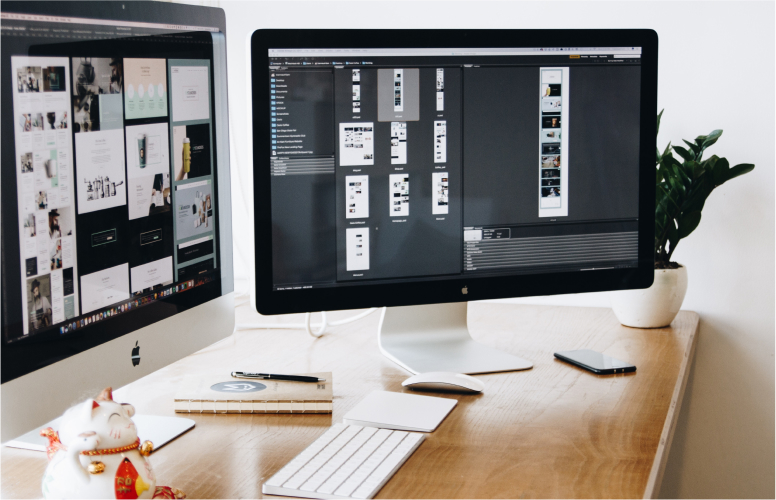 What getting a site from us looks like
Whether you get a template site, a custom site or an e-commerce site, we deliver gorgeous design that performs.
Here's how we do that:
A website is the most impactful way to put your brand's best foot forward. We get to know you at an executive level.
We wire frame everything up, provide unique copy and graphics and build a site you're proud of.
It's gotta work. We put each site through rigorous testing to ensure all the links, buttons, pages and everything else work on launch day.
A nice website that doesn't convert to sales is a billboard in the desert. Every website we build has SEO and conversion in mind.
Affordable web

development

services
Because we're so transparent, there are

never any

surprises

with cost and we have some of the most competitive rates in the industry. If you want something out of scope, no worries. We'll quote it ahead of time instead of surprising you with an extra fee.
Building beautiful websites that convert
If you're going to invest thousands of dollars, it better mean you're returning at least 3X your cost in the near future. In other words, design is not enough. It has to be your #1 sales tool. Those are the kind of sites we build.


We've designed it all. Simple template sites. Complex custom sites. Full scale e-commerce sites. That's why we start with a discussion on what you need. Then we make it happen.
No surprise fees—ever. If it goes outside of scope, we'll let you know ahead of time. Your vision is more important than our bottom line.
Dozens of CMS platforms, numerous plugins and stellar experience in custom coding, if you can imagine it, we can build it.
Flexible. Equitable. Capable.
Truthfully, there are people that design websites and there are people that design a website to be your #1 employee—we're the latter.
But do you need a

design?
Chances are you do. But before diving head first into web development quotes. Get something for free. That's our guided assessment that's been called "the best 90 minutes in marketing".
Our full list of

capabilities
Custom Web Application Development
Content Management Websites
E-Commerce Development
User Experience Planning Responsive Website
Development Business & Community Portals
SAAS
Software Development Online Sweepstakes
Contest Websites Mobile Application Development
CRM Integration
Accounting System Integration
Payment Gateway Integration
Social Media Integration
SMS Messaging Integration
Online File System Integration
Email Marketing Integration
3rd Party Service Integration
Web Video Conferencing Integration
WordPress
ExpressionEngine
Magento
Shopify
ZEND
CodeIgniter
PHP
XML
AJAX
JavaScript
jQuery
XHTML 4/5
Apache
Linux
Bootstrap
MySQL
REST
JSON