International SEO that reaches far and wide
To reach the globe means insane focus. Our international SEO strategy gets you found in every corner you need.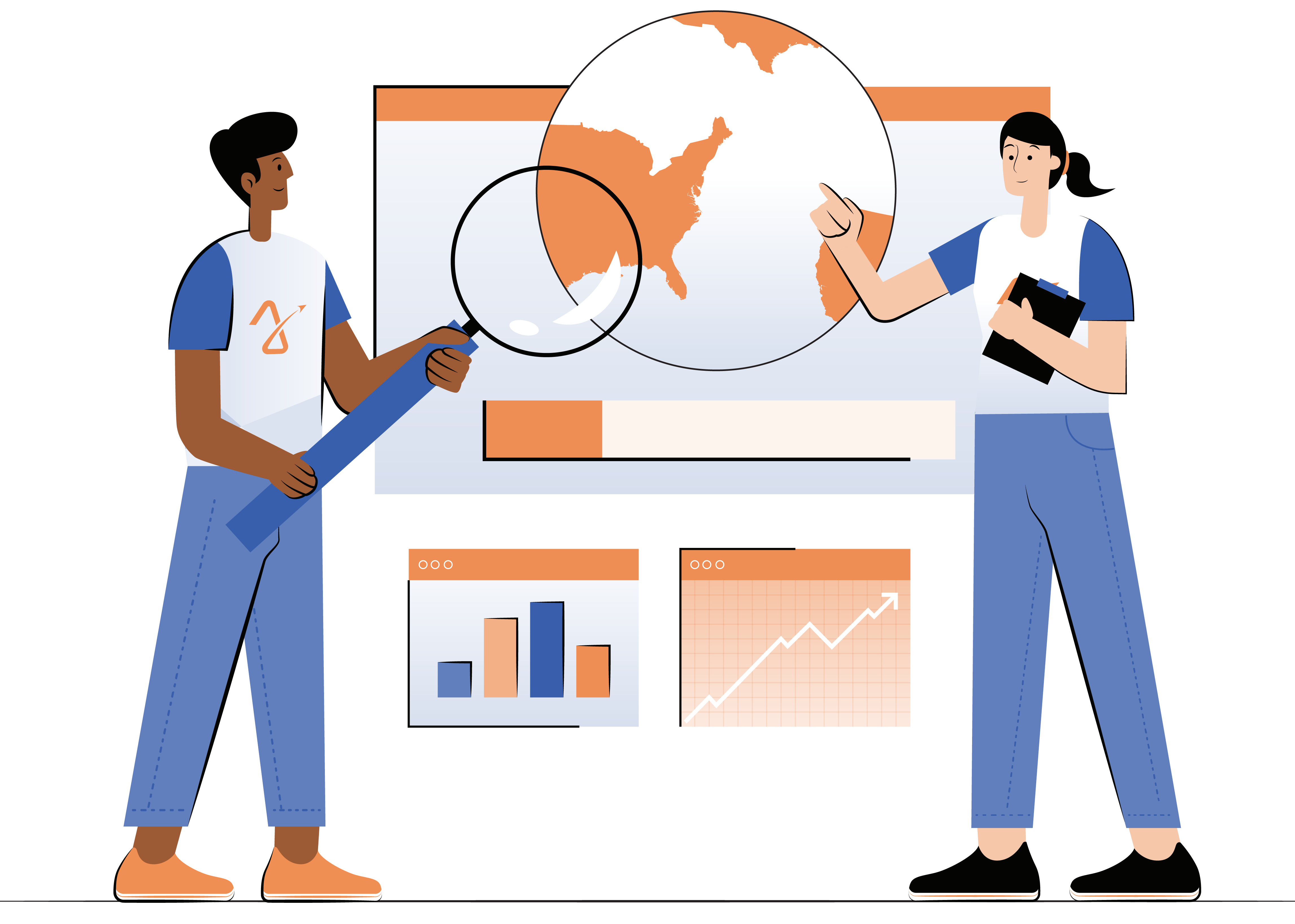 Want to learn about SEO for free with no sales pitch? Submit your name and number above and we'll call within 24 hours to answer your questions.
How does an international SEO consultant actually work?
Wanting a broad reach means you need a team of experts to help get you found locally, nationally and internationally. But how does it work?
Getting your immediate area locked down is always a priority. Owning that space saves on shipping, labor cost and more. We leverage digital to do just that.
The website's got not chance to rank well if it doesn't have good bones. Top-down upkeep will lay the foundation for a solid international SEO strategy.
What do you do best? Where do you want to grow? Your international SEO campaign needs to reflect these. Don't just get found, get found for what you actually do.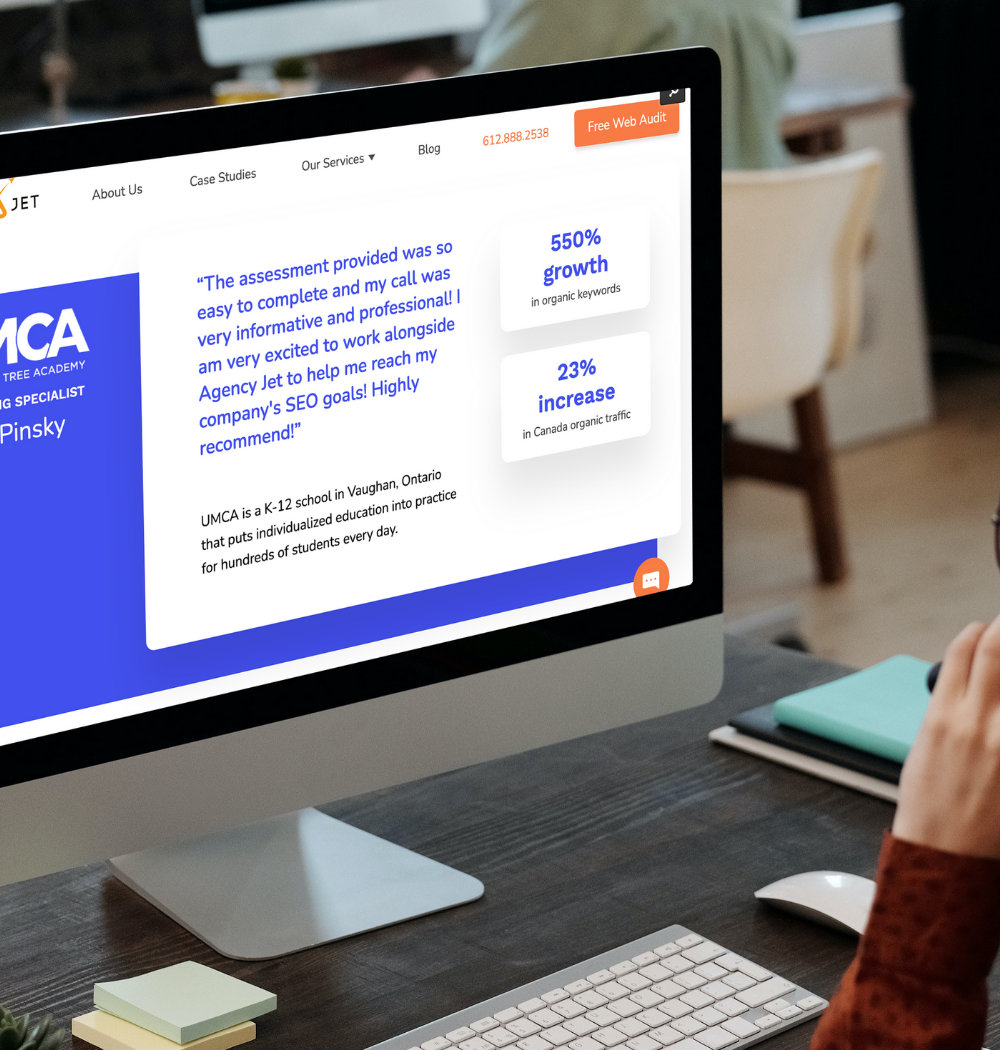 When you need a set of key phrases to improve in rankings, you apply a focused international SEO strategy. That's exactly what Canadian school UMCA Rich Tree Academy did. Within 6 months, 25 of their 30 key phrases rose in ranking with over half of those 25 hitting page one in their local area.
Is Agency Jet the international SEO agency for you?
We can't say for sure but we know we've been right for our clients. When it comes to our performance, we let them do the talking.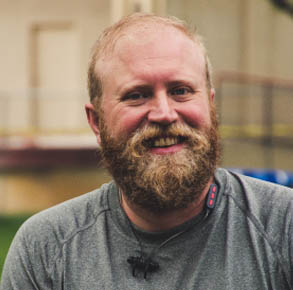 International Design Services
"Trust their process. They'll give you lots of options in the beginning about how to handle it and pick your keywords. Rely on their expertise in that because they do this on a grand scale. They know how to do this stuff."
Why choose an SEO agency versus a marketing employee or DIY
Of course you're looking to save as much money as possible while growing your business. Here's the breakdown.
| | | Hiring a Marketing Employee | |
| --- | --- | --- | --- |
| | | | |
| | | | |
| | | | |
| | | | |
Hiring a Marketing Employee
All you need to know about international SEO services
What is international SEO?
International SEO is a series of activities that combine to help a website be found in numerous countries and languages. Through focused targeting in technical SEO, content management and off-page SEO in numerous languages and locations, a website should increase in visibility in search engines with an international SEO strategy.
How much does international SEO cost?
International SEO services cost largely depends on how many countries and languages you're targeting as well as what industry you're in and how competitive it is. All international SEO strategies should be customized to you and your business. Oftentimes, prices will range from $1,000-$8,000/month. International SEO services for less than $1,000 would not be considered high-quality.
How can I do SEO for an international website?
While international SEO strategy is difficult, you'll want to cover some of the basics like determining what international content you'll provide, making sure your URLs are set up to be SEO friendly using subdirectories or geo-specific structures, making sure your hreflang tags are set up properly for language targeting and your technical SEO is set up. Any quality international SEO agency will include all of these factors in a customized campaign.
Are all international SEO companies created equal?
Very few SEO companies are set up to do international SEO services well so it's important you vet numerous companies who offer international SEO consulting. When doing so, it's important you ask for examples of results from other international companies the SEO agency has served to ensure they can handle the task for your business.
Should I use international SEO for my small business?
International SEO services can be on the pricier side. So long as you have a monthly budget of $2,000 or more, your business will benefit from a focused strategy from an international SEO company.
How long do international SEO services take to work?
While largely dependent on your industry and the number of countries and languages you need to target, so long as you've invested properly into a world class international SEO company, you should start seeing upwards trends on your targeted phrases, visibility and traffic within 4-6 months.
The one thing advertised

as free that actually is
It wouldn't be valuable if all we did was sell you. That's why we don't do that. This thing is 15+ pages long and guided by an expert. We won't bug you after if you don't find any value either (although, we have to say that's never happened).
Here's how Agency Jet provides world class international SEO services
International SEO is a complex beast and the best way to get ahead is outlining your goals. We get those sorted out, decide which areas and languages you want to target and come up with a customized strategy that will yield results.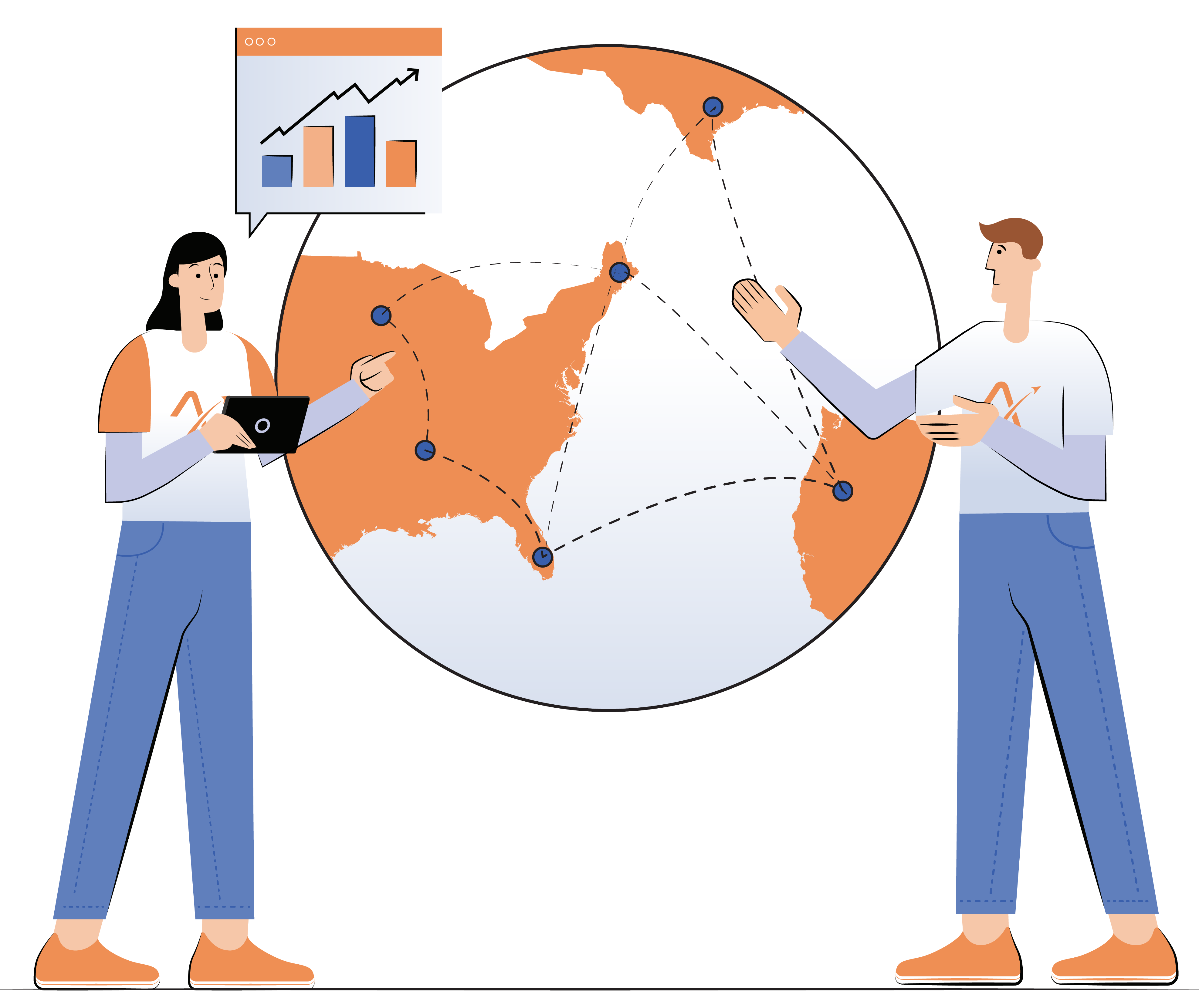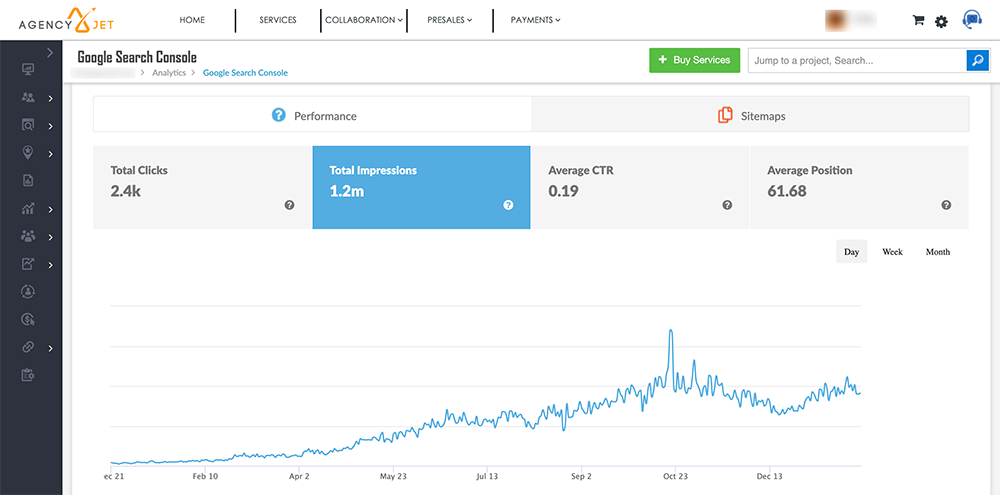 Technical SEO, no problem
We'll show you every single item we work on—and there will be a lot. Making sure your website is technically sound is a factor in your success. Then we tailor your messaging to the phrases (think your products and services) you want to be found for around the globe.
Good agencies get results with an international SEO strategy. Great agencies get that and teach you how they did it. Our whole mission is for you to be educated enough to do the work yourself someday. It happens all the time because we're giving you a ton of valuable knowledge every time we speak.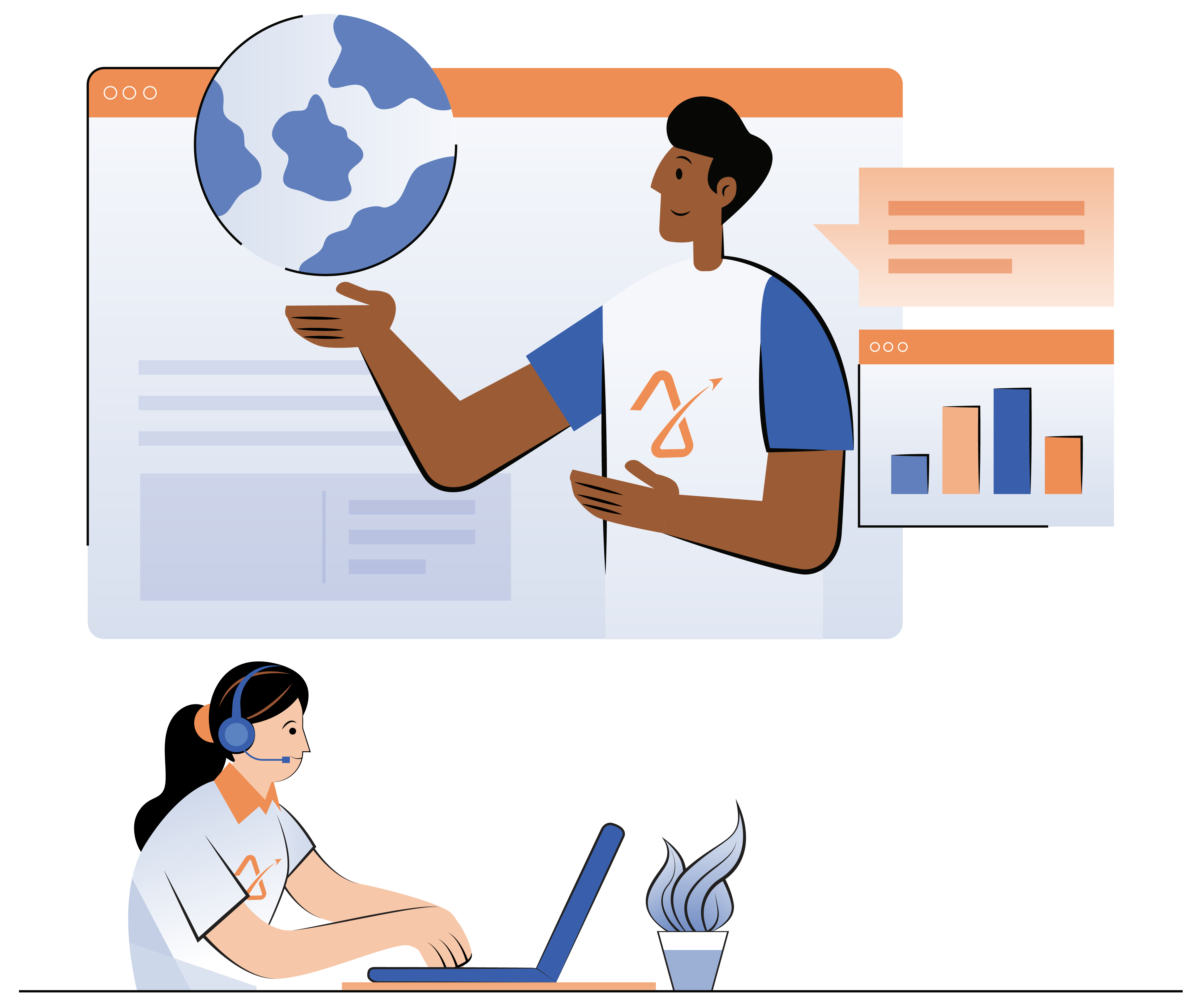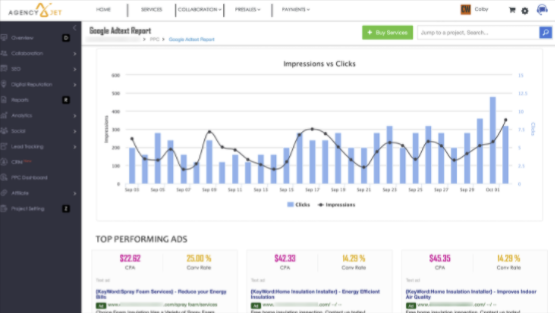 With reasonable expectations, a customized plan and the most transparent reporting on earth, you'll start seeing growth in your target areas. If you don't see upwards trends on your key phrases, get rid of us and we'll make sure all our work is transitioned into your ownership (but we can't say this happens often).
Transparency, Education, Results
It's who we are. We show you absolutely everything, make sure you understand every word and deliver on what we promise. It's why we're one of the few agencies who can boast our high client retention numbers.
The best 90 minutes in marketing? And it's free?!
We must be crazy to give away this much value but if we didn't, we wouldn't be practicing what we preach. Valuable information doesn't have to cost an arm and a leg—and this value only costs you your time. Plus, we never sell to you.
People automatically go to the internet to get information about the products and services they need. 97 percent of users turn to search engines when looking for local businesses. That's why small businesses should be investing in local SEO services.