Local SEO for small business that scales
Getting found in your area doesn't happen with a sandwich board anymore. Our affordable local SEO services get you more visible online than ever.
Want to learn about SEO for free with no sales pitch? Submit your name and number above and we'll call you within 24 hours to answer your questions.
Do local SEO services actually work?
The internet is more personal than ever now. So whether your primary customer is 100 miles from you or 100 feet from you, using local SEO for your small business is actually the most effective way to make that connection. But how does it work?
Also known as NAP syndication, getting your business found on highly sought after local directories is a must for any SEO campaign.
Optimizing your Google Business Profile page is a key pillar of your success in the local market; getting you found organically and in Google Maps.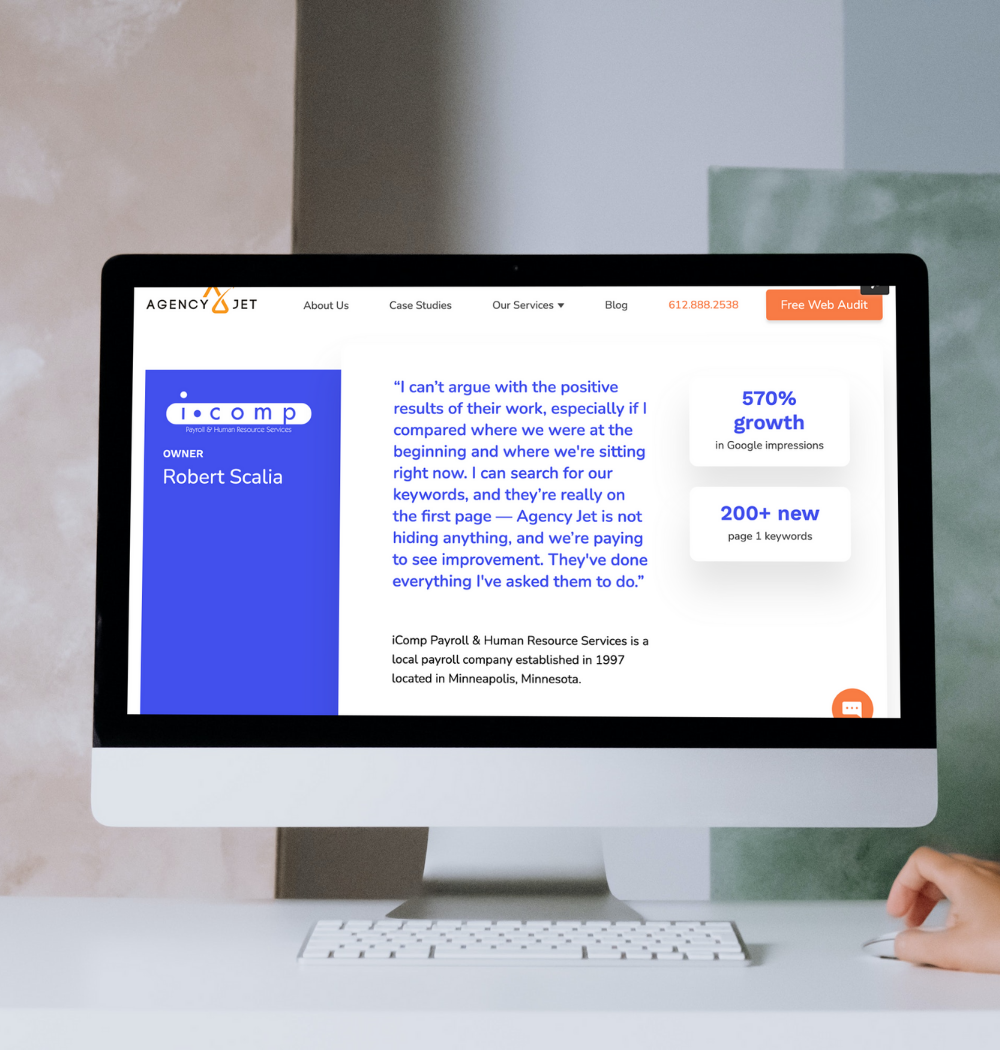 Want to see how a local SEO client of Agency Jet's grew keyword visibility by 304% in 10 months? That's iComp Payroll Services. In less than a year they hit #1 for over 50 keywords and expanded their business nationally.
Is Agency Jet the local SEO company for you?
We can't say for sure but we know we've been right for our clients. When it comes to our performance, we let them do the talking.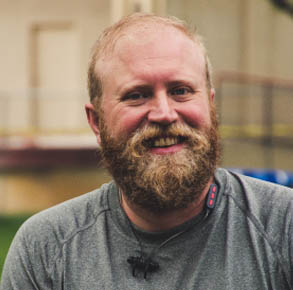 "We have been a client of Agency Jet for a few years. Agency Jet's work is impeccable; the company employs a talented group that is knowledgeable and always professional. The company prides itself on transparency and strives to educate their clients about the in's and out's of SEO. We will continue to partner with Agency Jet because they produce measurable results!"
Why choose an SEO agency versus a marketing employee or DIY
Of course you're looking to save as much money as possible while growing your business. Here's the breakdown.
| | | Hiring a Marketing Employee | |
| --- | --- | --- | --- |
| | | | |
| | | | |
| | | | |
| | | | |
Hiring a Marketing Employee
All you need to know about local SEO services
What is local SEO services?
Local SEO services are a form of digital marketing that are specifically aimed at helping your website look good in search engines (Google) for people searching in your local area for your key products or services. This is achieved by having a focused strategy around key phrases and producing unique and relevant content and backlinking strategies, as well as technical SEO, to achieve optimum growth in your local area.
How much does local SEO cost?
Local SEO cost can vary greatly across the United States with freelancers offering the services for as low as ~$200/month to some of the larger corporations charging >$10,000/month. Because local search engine optimization isn't a regulated industry, it's important that you evaluate numerous companies and find a price point that is suitable to you. On average, you can get good (and sometimes stellar) results for ~$2000/month.
Are all local SEO companies created equal?
Unfortunately no. Numerous companies assume their clients won't understand the work and therefore don't feel the need to explain or show the work to their clients. Great agencies go above and beyond, not only in results achieved for the client but also in their transparent reporting, explanation of complex terminology in easy to understand ways, and by being prompt in their response and unmatched in their customer service.
Should I use local SEO for my small business?
Local SEO services is one of the fastest rising marketing sectors in the world—and for good reason. Because of its relatively quick impact, affordable local SEO services are available to small businesses as not only a clear avenue for long term growth, but in many instances dramatic growth in less than 12 months.
How long do local SEO services take to work?
Every agency will tell you something slightly different but most of the time you can see trends start to form within a few months of starting a solid local SEO campaign. After a few months, great agencies will know what to do to leverage that growth into more dramatic impact by the 12 month mark. It's extremely common to see clients have positive trends in keywords and traffic during year one and have those trends turn into clear ROI in year two.
Why should I choose Agency Jet as my local SEO company?
Call us crazy but we are one of the only agencies to guarantee our results. Every Agency Jet client is promised an upwards trend in the majority of the key phrases we're working on by month 6. If you don't see that, you fire us and get your money back. We also have some of the highest client retention rates (96%) in the country and we record every single meeting we have. What's that mean for you? If we say we're going to do something, we better do it. So while our core mantra is "Transparency, Education, Results" our secondary mantra is "Do it right. Do it often." In other words, we don't just say we put our clients first—we actually do.
The one thing advertised

as free that actually is
Ever had an assessment of your website to see how a search engine and humans are perceiving it? Not like this. Ours is over 15 pages long, guided by one of our experts and considered the best "90 minutes in marketing". And it's truly free. If we start selling you something, hang up.
Here's what Agency Jet's local SEO services look like
You don't succeed in growing your business in the digital space by just writing content and getting links. The R&D Agency Jet completes sets the stage for what will be an extremely successful campaign. We get your goals and tell you how we're going to accomplish them.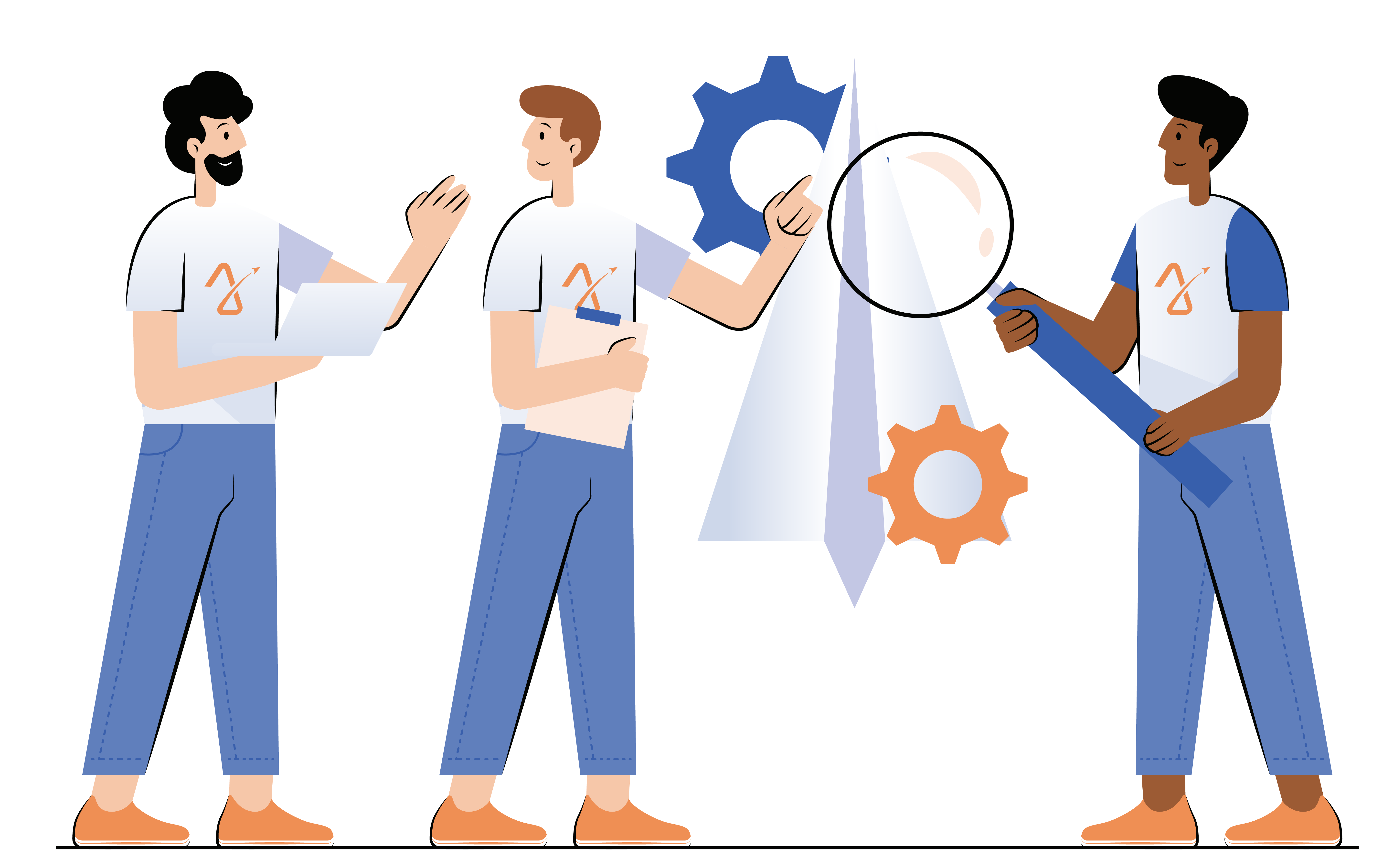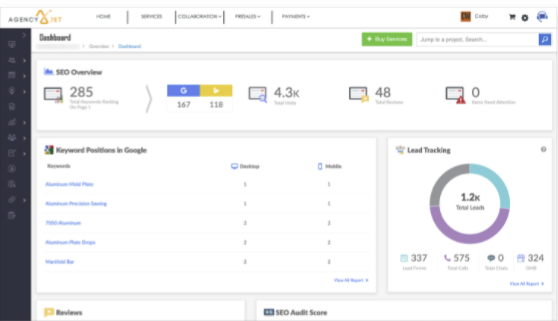 See absolutely everything
After the R&D is completed and you get a custom strategy that tailors our deliverables to your business, not you to ours, we start implementing it. And you get to see it all, in your inbox, in your custom dashboard and through virtual meetings.
A lot of our clients came from other agencies. Their main reason for leaving? That agency didn't talk to them enough. Not us. We give you full rundowns every month in monthly calls and put communication at the top of our list. You'll never have to wonder where a task is at. We also explain everything we're doing; not hide behind the geek speak.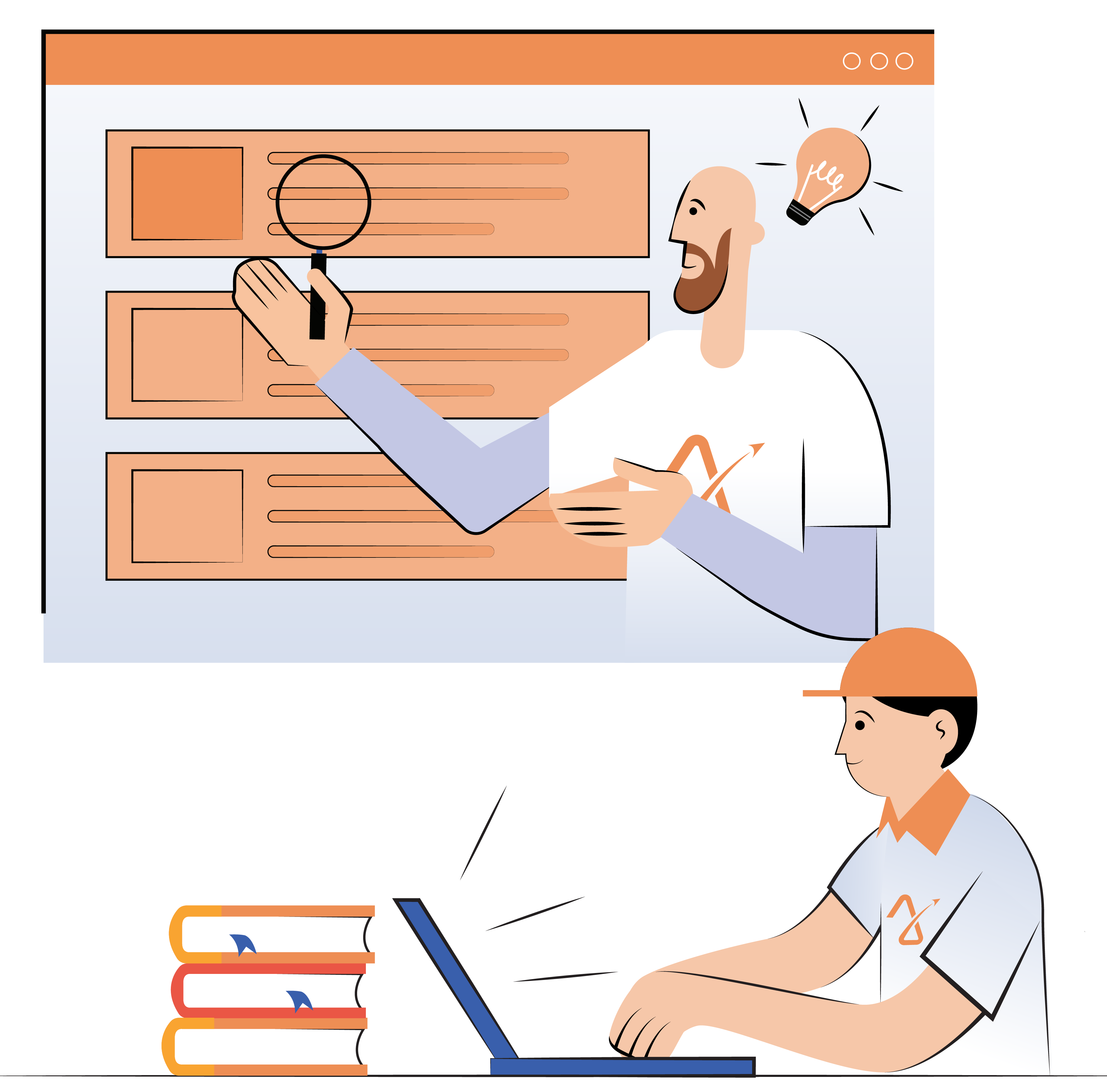 Buried after a bit of scrolling on this page is something you'll hear from any one of us: if you don't see an upwards trend in your keywords by month 6, you fire us. No clients have. That's why our average client retention is 4X longer than the industry average.
Transparency, Education, Results
It may seem simple but do you have any clue how few businesses actually honor these? See how we're different. Chat with us without any pressure to buy whatsoever.
90 minutes of super valuable stuff
It doesn't have to be 90 minutes, but most people stick around for our world-class website assessment that doesn't cost a thing.
Basics of Local SEO
People automatically go to the internet to get information about the products and services they need. 97 percent of users turn to search engines when looking for local businesses. That's why small businesses should be investing in local SEO services.
Local SEO is a critical part of any digital marketing strategy. It helps businesses rank in local search engine results pages (SERPs), improve visibility, and drive more website traffic. It helps them appear more prominently on local searches, allowing them to stand out from their competitors and increase customer engagement.
With 70 percent of potential customers saying that they are more likely to visit a store because of the information they find online, businesses need to stay competitive and increase their online presence. Local SEO services allow companies to reach potential customers and build trust by optimizing their websites for local search engine queries and listings.
How Can Local SEO Services Benefit Your Business?
62 percent of consumers will not engage with a company if they can find information about them online. This is why it's crucial to optimize your website for local SEO. If people don't see you in local search engine results, they won't know about your business and you miss out on potential clients. Local SEO services put your brand out there, improve brand awareness, and increase your chances of being found on local searches.
It's essential to include comprehensive and factual information on your website. Having accurate information about your local business, products, and services on your site is a crucial part of any local SEO strategy. Be consistent across search engines, online directories, and social media platforms for the best results. This helps build trust and credibility with potential customers and enables you to rank higher in local search results, helping you establish your brand as a reputable and reliable authority in your industry.
"Near me" searches have shot up 136 percent since last year, and they are continuously increasing. Moreover, more than 50 percent of these searches result in physical store visits. Local SEO leads customers near you to find you by using various tactics, such as creating web pages, listing products on your Google Business Profile, optimizing content with location-specific keywords, building backlinks from local websites, and overseeing online reviews and testimonials.
Whether you have a small or medium-sized business in an online or brick-and-mortar setting, working with an expert local SEO company like Agency Jet can provide a tailored and comprehensive local SEO strategy that engages customers and drives more traffic to your website.
Characteristics of Top-ranking Local Websites
Search engines such as Google prioritize the most authoritative and trustworthy local websites when ranking them, and several factors influence your website's local SEO rankings. Optimizing your website according to these criteria is crucial to rank higher in SERPs and stay ahead of your competition.
Here are some of the top characteristics you should consider when optimizing your website for local search engine results.
Google Business Profile
Google is the most popular search engine, with 89 percent of consumers using Google's search services at least once in the past 12 months. Additionally, 91 percent of customers use Google to look for information about local businesses in their area. That's why it is essential to set up your Google Business profile and keep it updated with accurate information about your business.
Google Business Profile, formerly known as Google My Business (GMB), is an essential tool for local SEO, allowing you to create a business listing on Google for free. It's a platform where businesses can create and manage their presence on Google Maps and local searches. This helps customers locate your physical store and find relevant information about your business, such as an address, contact details, hours of operation, product descriptions, and more.
16 percent of brands with a Google Business Profile receive at least 100 calls monthly. A complete and up-to-date Google Business Profile helps you reach your target market, increase visibility and trustworthiness, boost local search engine rankings, and create more leads for your business.
On-page Optimization
On-page optimization, also known as on-page SEO, is the practice of optimizing web page content for your target location, which is fundamental for local SEO. This includes optimizing page titles, meta tags, headings, content, URLs, images, and other elements with location-specific keywords related to your business or industry and ensuring that all your site's content aligns with Google's guidelines.
Optimizing for local SEO means optimizing your website for a particular location, allowing it to rank higher in local SERPs. This helps you to establish a strong web presence and offers customers the information they're looking for on the first page of their search results. Additionally, optimizing with relevant keywords gives you an edge over competitors and helps to boost your website's visibility.
The algorithm of Google and other search engines constantly changes, leading to ever-changing website rankings. These changes also introduce new techniques and strategies for local SEO optimization. This means you must stay up-to-date with the latest trends and adjust your SEO strategy accordingly.
Local Keywords
Executing keyword research and analysis is essential when creating a local SEO strategy. It is necessary to use the right keywords for your website to rank higher in SERPs and for your target audience to find you.
Local SEO requires the usage of specific keywords that are related to your business and its location. For example, if you run a salon in New York City, you want to use keywords like "New York salon" instead of only "salon." This helps customers find your business more quickly and lets search engine algorithms know your business's location.
For local SEO, you need to consider the keywords that customers will likely use when searching for businesses like yours in their area. This will help you identify your local SEO campaigns' most valuable and relevant keywords. Additionally, these keywords must be sprinkled across your website content, including in your titles, meta tags, headings, product descriptions, URLs, blog posts, and more, to ensure effective optimization.
NAP Consistency
Your NAP (name, address, and phone number) is critical to your business's online identity. It's also an essential element of local SEO, as having consistent and accurate information about your business across the web helps to increase your visibility in SERPs.
To ensure accuracy, you must ensure that all information related to your business is up-to-date and consistent across all online platforms. You need to ensure your business NAP is the same on every website where information about your business appears. This includes confirming the data on your website is the same as on all of your business listings in local directories, such as Yelp and Yellow Pages, and social media accounts, such as Facebook, Instagram, and Twitter.
When your NAP is consistent across the web, you can be sure that customers can access accurate business information. Google algorithms will also recognize you as a reliable source. Additionally, local SEO efforts such as citations and reviews become more manageable when all data is consistent online.
Having a unique NAP for each location can be beneficial if you have multiple physical stores. Suppose there are any changes in your NAP. In that case, you should update all the relevant websites, directories, and social media accounts quickly to ensure accuracy and prevent any confusion from your customers.
Online Reviews
73 percent of customers become more trusting of companies if the company has online reviews on its website, and 88 percent of customers tend to trust online reviews as much as they trust personal recommendations from friends and family. Having positive customer reviews can be highly beneficial for local SEO.
High-quality customer reviews can increase your visibility on SERPs, as search engines use this information to determine the reliability and credibility of your brand. Additionally, customers are likely to choose companies with better ratings and a higher number of customer reviews, paying attention not only to the number of reviews but also to the quality of those reviews. This means that having positive reviews will help to draw more customers to your business.
It's also vital to note that 84 percent of customers explicitly look for negative reviews before purchasing. This means that it's equally significant to be proactive in responding to negative customer reviews. How you react and handle complaints can impact the customer's opinion of your brand and its trustworthiness. Additionally, 89 percent of customers are more likely to choose a brand that responds to reviews from clients.
Local Link Building
Link building is an integral part of local SEO, helping promote your brand and increasing its chances of reaching your target market. Building links from local websites related to your products and services and other popular websites in your area is essential. This will create awareness and help boost the trustworthiness of your brand among potential customers in the region.
Local link building is a long-term strategy as it can take some time to make an impact. However, it's still one of the most effective ways to reach potential customers and build relationships. Additionally, you should strive to get backlinks from high-authority websites in your industry or local area to widen your digital footprint.
When creating links, focus on quality over quantity and ensure they come from relevant and influential websites with a good reputation. Having links from such sites will help Google algorithms trust your website more as a reliable source of information, as Google considers backlinks one of the most substantial ranking factors in its SERPs.
Mobile-friendliness
People heavily rely on their smartphones for day-to-day activities. With the increasing usage of mobile phones to search for products and services, your website must be optimized for mobile devices. This generally means ensuring that all content on the website can be read clearly on a small screen and that any interactive elements are appropriately designed for touchscreen use.
61 percent of customers will more likely engage with a local business with a mobile-friendly website. When creating or optimizing sites for mobile devices, make sure to include all relevant content and images to ensure a great user experience. It also helps to have a responsive design that adapts to any device your customers use.
A mobile-friendly website is a must for local SEO success since it provides the same level of experience and user-friendliness on the mobile version of your website and maintains a consistent brand experience across all platforms.
Additionally, 88 percent of mobile users will connect with a local brand within 24 hours, and 76 percent will likely visit a local store within the day after searching for it on their smartphones. This clearly shows that having a website optimized for mobile devices is necessary to attract and engage with customers in the local area.
Search Relevance
Google has a system of gathering users' search data and understanding what they want. As a business, you should also focus on being relevant to the search queries that customers enter into the search engine. This means creating content and optimizing it to align with what customers are looking for.
Providing clear and comprehensive information on your website content is vital to improving your search relevance. Include information such as contact numbers, addresses, directions to your store, products and services offered, opening hours, and other essential details related to the business for customers to find what they're searching for quickly.
Including keywords relevant to your local area within the content will help customers find you more efficiently and ensure that your website ranks higher in SERPs. You can use keyword research tools to identify relevant keywords related to your area or business. You can also use long-tail keywords instead of generic terms or phrases to make your content more search-friendly.
Website Security
Having a secure website is also essential for local SEO success. An SSL certificate adds an extra layer of security to your website and encrypts any sensitive information customers share. This also helps boost consumer trust in your website as they know their data is safe and secure.
Google gives websites with an SSL certificate the highest ranking position since website security ensures customer data on your site is safe and encrypted. SSL certificates can help Google algorithms detect if a website is trustworthy. This is particularly significant for local businesses as customers will be more likely to engage with a company that has taken the time to secure its website.
Content Quality
Ensuring content is on-point and relevant to your local area is paramount for successful local SEO. Create engaging and relevant local SEO content that resonates with your customers' needs.
Providing fascinating content that customers find helpful and easy to read and understand will help your website rank higher since Google algorithms favor sites with quality content. You should also include images, videos, and other multimedia elements to give your website an edge over the competition.
Small Businesses That Will Benefit From Local SEO
Local SEO is an incredible tool for small businesses, allowing maximized visibility in local search engine results. With the proper optimization techniques, small businesses can gain more exposure and attract more customers to their stores.
Local SEO also helps improve the customer experience and drives more traffic to your website, leading to more sales and increased customer loyalty. It is an excellent way for small businesses to get their message out without breaking the bank.
Local SEO is especially beneficial for small businesses that offer services or products in a specific geographic area. This includes:
Local coffee shops
Restaurants, bakeries, and other eateries
Bed and breakfast establishments
Boutiques and retail stores
Hair and nail salons
Massage therapy spas
Pet shops
Bookstores
Toy shops and comic book stores
Gift shops and novelty stores
Home improvement stores
Gym and fitness studios
Auto repair shops
Photo studios and galleries
Local SEO is the key to success for small businesses, giving them the competitive edge they need to stand out from their competitors. The more exposure and visibility your company has in local search engine results, the better your chance of drawing in new customers and maintaining customer loyalty.
Why Do You Need Local SEO To Grow Your Business?
Local SEO can give small businesses plenty of competitive advantages, helping them reach their target audience and gain more customers. Here are just a few of the benefits that local SEO can provide.
Drive Audience and Improve Conversion
Local SEO helps your website rank higher in local searches, ensuring you are seen first when potential customers look for businesses like yours in their area. It's an effective way to increase visibility and attract more potential clients.
Local SEO also helps improve customer conversion rates. 28 percent of local online inquiries result in customers purchasing, and roughly 78 percent of mobile searches for local businesses lead to offline purchases.
Cost-effective Marketing Solutions
Local SEO is a great way to promote your business without spending much on advertising and promotion. Instead of spending hundreds or thousands on traditional marketing solutions, you can use local SEO to reach your target audience and draw them in without breaking the bank.
It can also help you reach more people in less time and effort than traditional marketing methods. Your intended budget for advertising and promotion can be allocated more effectively with local SEO compared to other marketing solutions.
Grow Your Business Through Local Recognition
Local SEO also helps build up local recognition for your business. A higher ranking in search engine results means more people will become aware of your brand. Also, customers often gravitate toward companies that appear at the top of local search engine results, giving you an edge over the competition.
Locals tend to trust businesses that are already established in the area and have a good reputation. Local SEO can help you reach this level of recognition quickly and effectively, so you can start growing your business faster. It can also help you build a reputation as the go-to provider of products and services in your area, giving customers more confidence when choosing your brand.
Get Up and Close With the Community
Local SEO is a fantastic way to get close to the community and show them you care about their needs. You can create content highlighting local events, organizations, and causes, showing your customers that you are invested in their welfare and growth.
When you get close to the people in your community, you can better see their interests, needs, demand, and pain points. This way, you can develop better marketing strategies that appeal directly to them and draw in new customers for your business. This also helps increase customer loyalty and trust as they know they can count on you for the products or services they need.
Outperform Your Competitors
56 percent of business owners have not registered their businesses in Google Business Listings, a huge missed opportunity for local SEO. Additionally, many companies still exclusively use traditional marketing methods instead of investing in local SEO services or do not use them effectively. This gives you a great advantage if you take the time to master this type of marketing and use it correctly, helping you stay one step ahead in the game.
With the proper implementation of local SEO solutions, you can easily outperform your competitors and grow your business faster. You can move ahead of them in the local rankings and gain more customers that could have gone to them. Taking an active role in local SEO will also help you attract more customers and build a loyal customer base that will continue to support your business for years to come.
Our Local SEO Services
At Agency Jet, our expert local SEO specialists can help you create a compelling and comprehensive local SEO strategy for your business. We know the best techniques and tactics to get your business ranking higher in local searches.
Analytics Reporting and Tailored Strategy
We provide detailed analytics reports to give you a better understanding of your current standing in the local market. We are experts in Google Analytics and can help you track and analyze your local SEO performance. We gather your data and develop tailored strategies to meet your specific requirements and reach your target audience and business goals.
We also use this data to determine visibility problems and take the necessary steps to improve your local ranking. We monitor and evaluate metrics, such as website traffic, organic search rankings, click-through rates, page views, and more, to identify potential bottlenecks in your SEO performance and boost your local visibility.
Web Development
We have years of experience in website development and design, so we can create a custom-built website for your business optimized for local SEO. We also provide ongoing optimization services to keep your website up to date with the latest trends and ensure it is fully optimized for local search engine rankings. You can trust us to create a captivating website that attracts the right customers.
High-quality Content Development
We create suitable content that appeals to your local market, connects with customers on an emotional level, and helps you build lasting relationships. Our expert copywriters understand the importance of creating informative, persuasive, and engaging content so it stands out from the competition. We have you covered, from developing high-quality blog posts to crafting appealing emails and press releases.
Backlinking Strategy
We offer a comprehensive backlinking strategy to get your website in front of the right audience. We use tactics such as guest blogging, influencer marketing, and directory listings to help you build domain authority and ensure your site remains visible in local searches. We also monitor your website performance and backlinks regularly for any changes to ensure you are getting maximum results.
Technical SEO
We provide technical SEO services to optimize your website for local search. Our technical SEO experts can optimize your website so that search engines can quickly locate, crawl, and index your web content. We use the right keywords, ensure your website is mobile-friendly, and create internal links to help search engines understand your website better.
Business Citation Management
We manage your business citations and directory listings to ensure they are accurate and up-to-date. We create solid profiles on trusted local directories, like Google Business Profile, Yahoo Local, and Yelp, to maximize your visibility in the local market. This will help your business stay in front of potential customers and get the recognition it deserves.
Online Reputation Management
We manage your online reputation and provide solutions to improve client reviews. We monitor social media sites, such as Facebook, Twitter, and Instagram, for any negative comments or testimonials about your business that could damage its reputation in the local market. We can also help manage and respond to negative reviews and develop strategies to get more positive reviews and increase customer satisfaction.
Local Business Advertising
We develop local advertising campaigns tailored to your brand's needs and target customers in specific locations. We can also help place ads in newspapers, radio stations, television networks, and other mediums to increase your visibility in the local market and help you reach a wider audience. With our expertise, we will create an effective ad campaign that can help boost your sales and improve your ranking within the local market.
A Local SEO Strategy Tailored for Your Success
Your local SEO strategy can make all the difference. That's why you shouldn't just rely on any local SEO company. If you're looking to attract more customers and improve your local visibility, let Agency Jet help.
Our team of expert professionals can develop a custom-built local SEO strategy tailored to your needs and budget. We understand the importance of getting results quickly, and our strategies are designed to achieve maximum impact in the shortest time possible.
Contact us today to find out how Agency Jet can help you get the local SEO results that your business needs.