Local SEO for small business that scales
Getting found in your area doesn't happen with a sandwich board anymore. Our affordable local SEO services get you more visible online than ever.
Want to learn about SEO for free with no sales pitch? Submit your name and number above and we'll call you within 24 hours to answer your questions.
Do local SEO services actually work?
The internet is more personal than ever now. So whether your primary customer is 100 miles from you or 100 feet from you, using local SEO for your small business is actually the most effective way to make that connection. But how does it work?
Also known as NAP syndication, getting your business found on highly sought after local directories is a must for any SEO campaign.
Optimizing your Google Business Profile page is a key pillar of your success in the local market; getting you found organically and in Google Maps.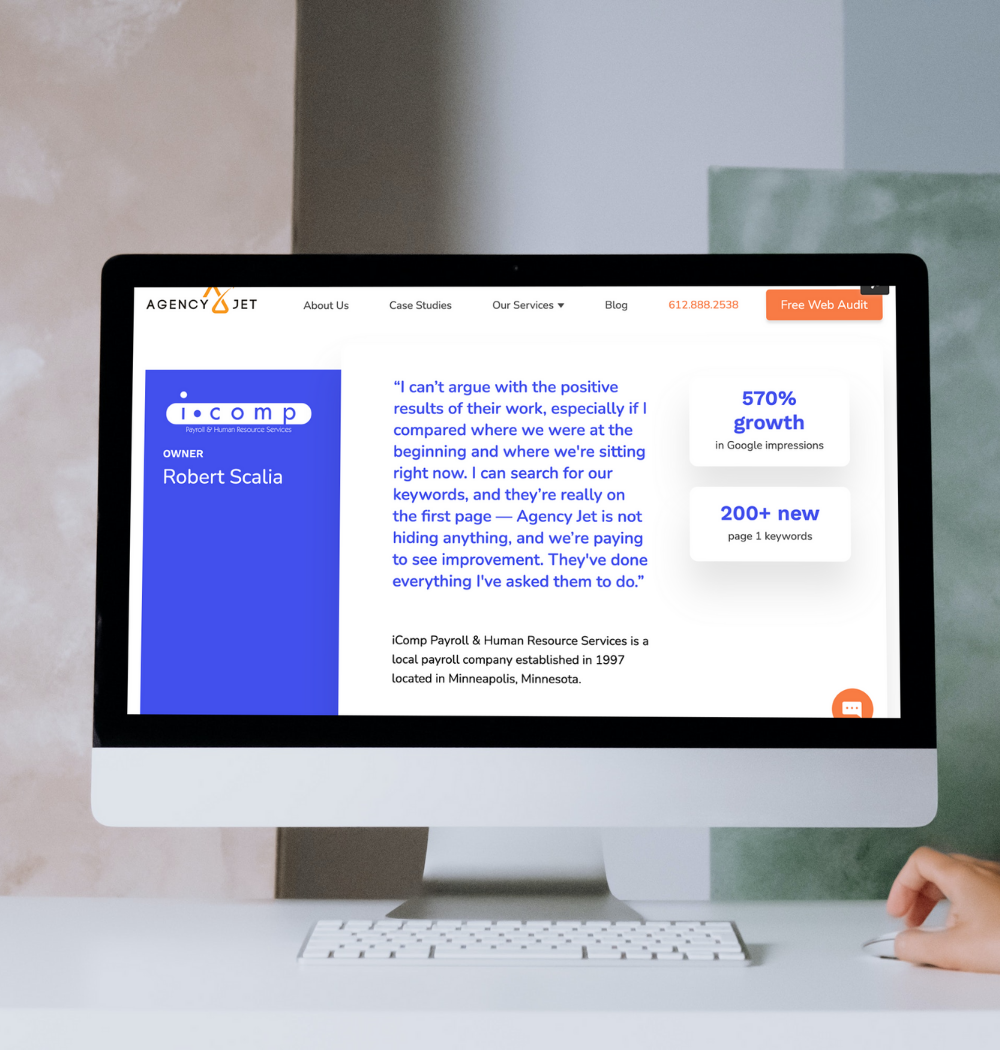 Want to see how a local SEO client of Agency Jet's grew keyword visibility by 304% in 10 months? That's iComp Payroll Services. In less than a year they hit #1 for over 50 keywords and expanded their business nationally.
Is Agency Jet the local SEO company for you?
We can't say for sure but we know we've been right for our clients. When it comes to our performance, we let them do the talking.
"We have been a client of Agency Jet for a few years. Agency Jet's work is impeccable; the company employs a talented group that is knowledgeable and always professional. The company prides itself on transparency and strives to educate their clients about the in's and out's of SEO. We will continue to partner with Agency Jet because they produce measurable results!"
Why choose an SEO agency versus a marketing employee or DIY
Of course you're looking to save as much money as possible while growing your business. Here's the breakdown.
| | | Hiring a Marketing Employee | |
| --- | --- | --- | --- |
| | | | |
| | | | |
| | | | |
| | | | |
Hiring a Marketing Employee
All you need to know about local SEO services
What is local SEO services?
Local SEO services are a form of digital marketing that are specifically aimed at helping your website look good in search engines (Google) for people searching in your local area for your key products or services. This is achieved by having a focused strategy around key phrases and producing unique and relevant content and backlinking strategies, as well as technical SEO, to achieve optimum growth in your local area.
How much does local SEO cost?
Local SEO cost can vary greatly across the United States with freelancers offering the services for as low as ~$200/month to some of the larger corporations charging >$10,000/month. Because local search engine optimization isn't a regulated industry, it's important that you evaluate numerous companies and find a price point that is suitable to you. On average, you can get good (and sometimes stellar) results for ~$2000/month.
Are all local SEO companies created equal?
Unfortunately no. Numerous companies assume their clients won't understand the work and therefore don't feel the need to explain or show the work to their clients. Great agencies go above and beyond, not only in results achieved for the client but also in their transparent reporting, explanation of complex terminology in easy to understand ways, and by being prompt in their response and unmatched in their customer service.
Should I use local SEO for my small business?
Local SEO services is one of the fastest rising marketing sectors in the world—and for good reason. Because of its relatively quick impact, affordable local SEO services are available to small businesses as not only a clear avenue for long term growth, but in many instances dramatic growth in less than 12 months.
How long do local SEO services take to work?
Every agency will tell you something slightly different but most of the time you can see trends start to form within a few months of starting a solid local SEO campaign. After a few months, great agencies will know what to do to leverage that growth into more dramatic impact by the 12 month mark. It's extremely common to see clients have positive trends in keywords and traffic during year one and have those trends turn into clear ROI in year two.
Why should I choose Agency Jet as my local SEO company?
Call us crazy but we are one of the only agencies to guarantee our results. Every Agency Jet client is promised an upwards trend in the majority of the key phrases we're working on by month 6. If you don't see that, you fire us and get your money back. We also have some of the highest client retention rates (96%) in the country and we record every single meeting we have. What's that mean for you? If we say we're going to do something, we better do it. So while our core mantra is "Transparency, Education, Results" our secondary mantra is "Do it right. Do it often." In other words, we don't just say we put our clients first—we actually do.
The one thing advertised

as free that actually is
Ever had an assessment of your website to see how a search engine and humans are perceiving it? Not like this. Ours is over 15 pages long, guided by one of our experts and considered the best "90 minutes in marketing". And it's truly free. If we start selling you something, hang up.
Here's what Agency Jet's local SEO services look like
You don't succeed in growing your business in the digital space by just writing content and getting links. The R&D Agency Jet completes sets the stage for what will be an extremely successful campaign. We get your goals and tell you how we're going to accomplish them.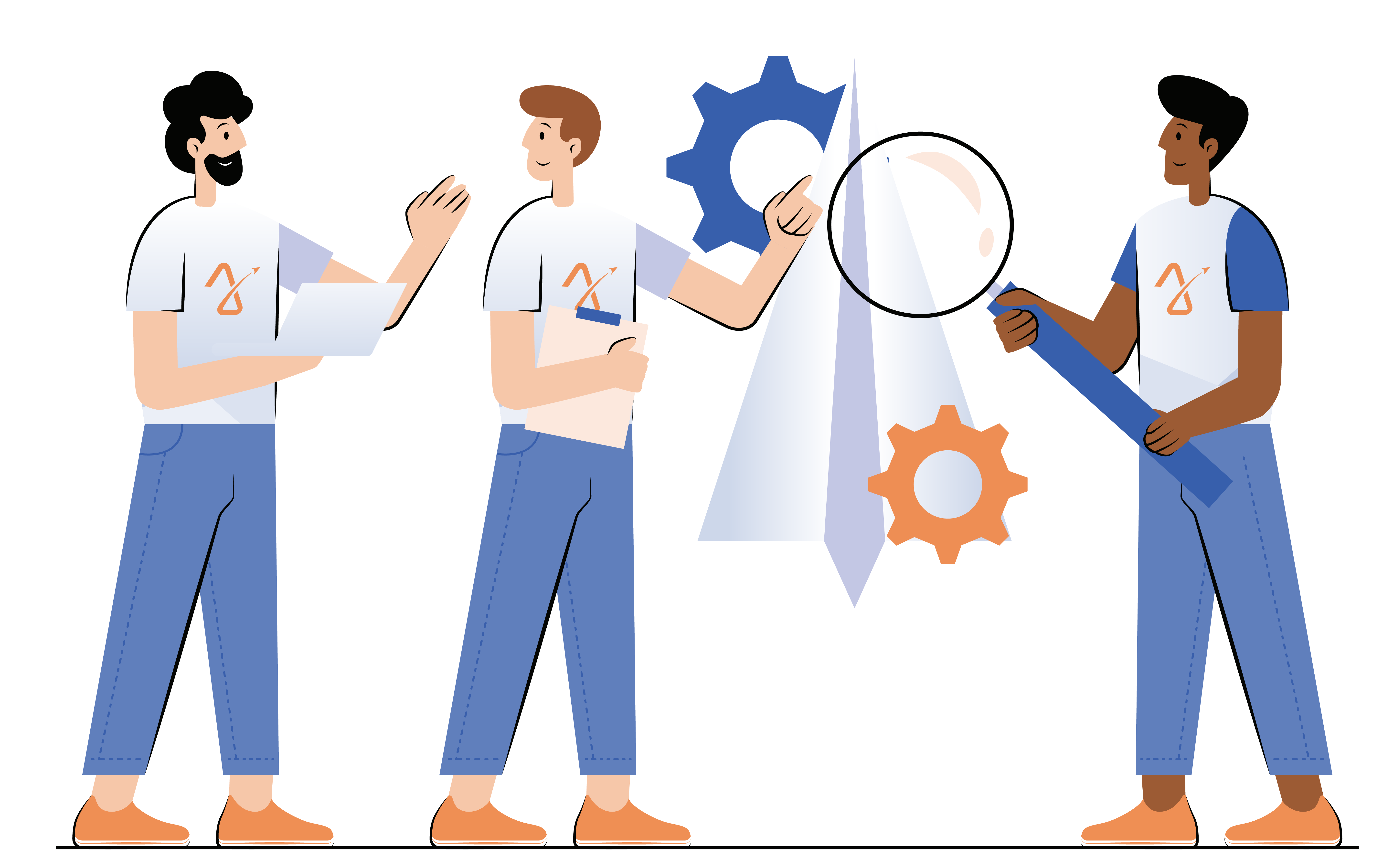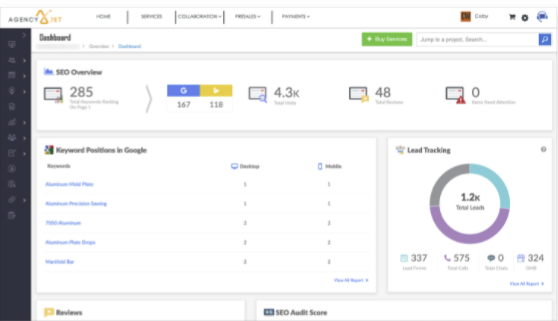 See absolutely everything
After the R&D is completed and you get a custom strategy that tailors our deliverables to your business, not you to ours, we start implementing it. And you get to see it all, in your inbox, in your custom dashboard and through virtual meetings.
A lot of our clients came from other agencies. Their main reason for leaving? That agency didn't talk to them enough. Not us. We give you full rundowns every month in monthly calls and put communication at the top of our list. You'll never have to wonder where a task is at. We also explain everything we're doing; not hide behind the geek speak.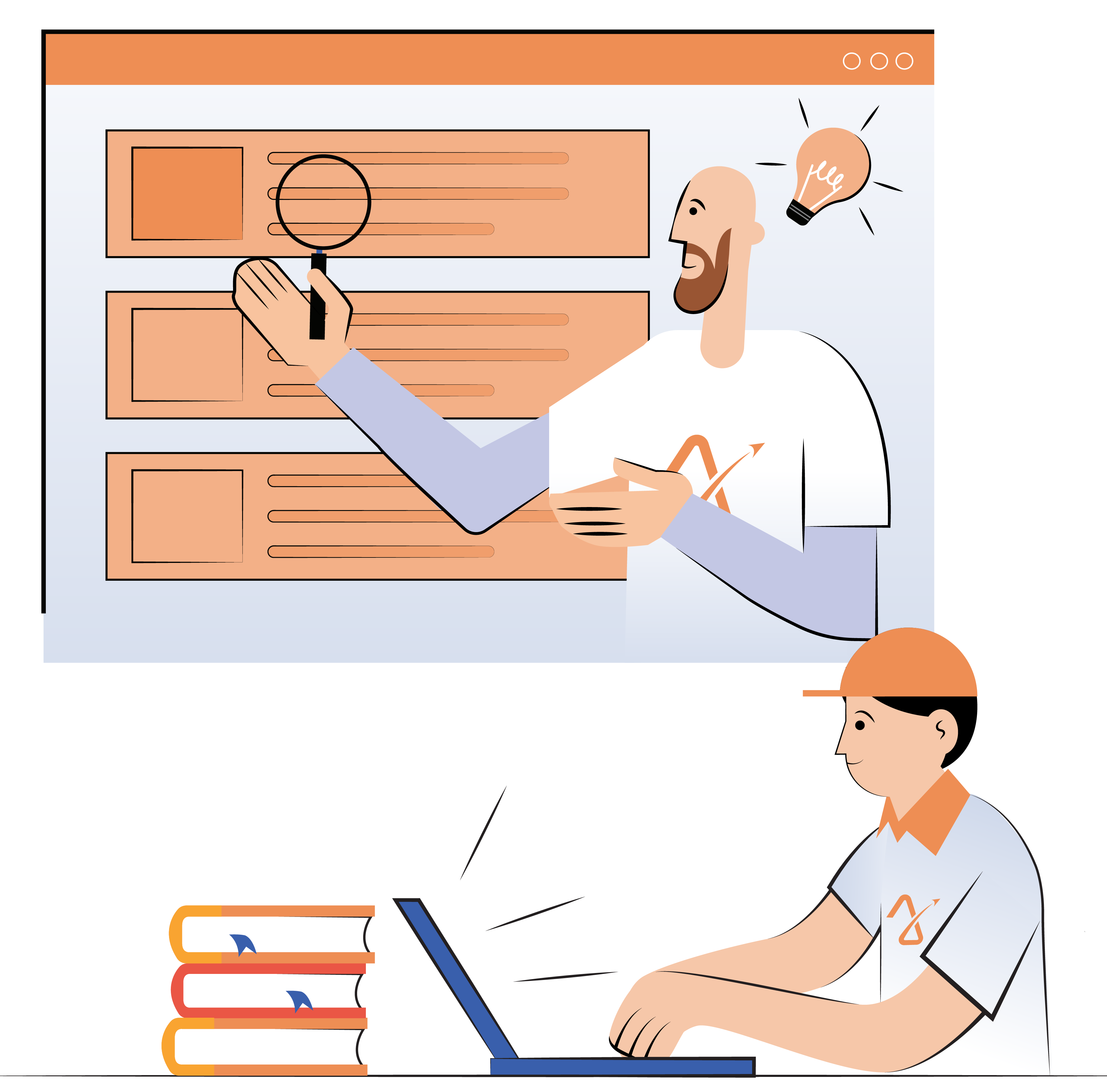 Buried after a bit of scrolling on this page is something you'll hear from any one of us: if you don't see an upwards trend in your keywords by month 6, you fire us. No clients have. That's why our average client retention is 4X longer than the industry average.
Transparency, Education, Results
It may seem simple but do you have any clue how few businesses actually honor these? See how we're different. Chat with us without any pressure to buy whatsoever.
90 minutes of super valuable stuff
It doesn't have to be 90 minutes, but most people stick around for our world-class website assessment that doesn't cost a thing.