Looking for an SEO partner in Milwaukee means you have a lot to choose from. See how Agency Jet sets itself apart.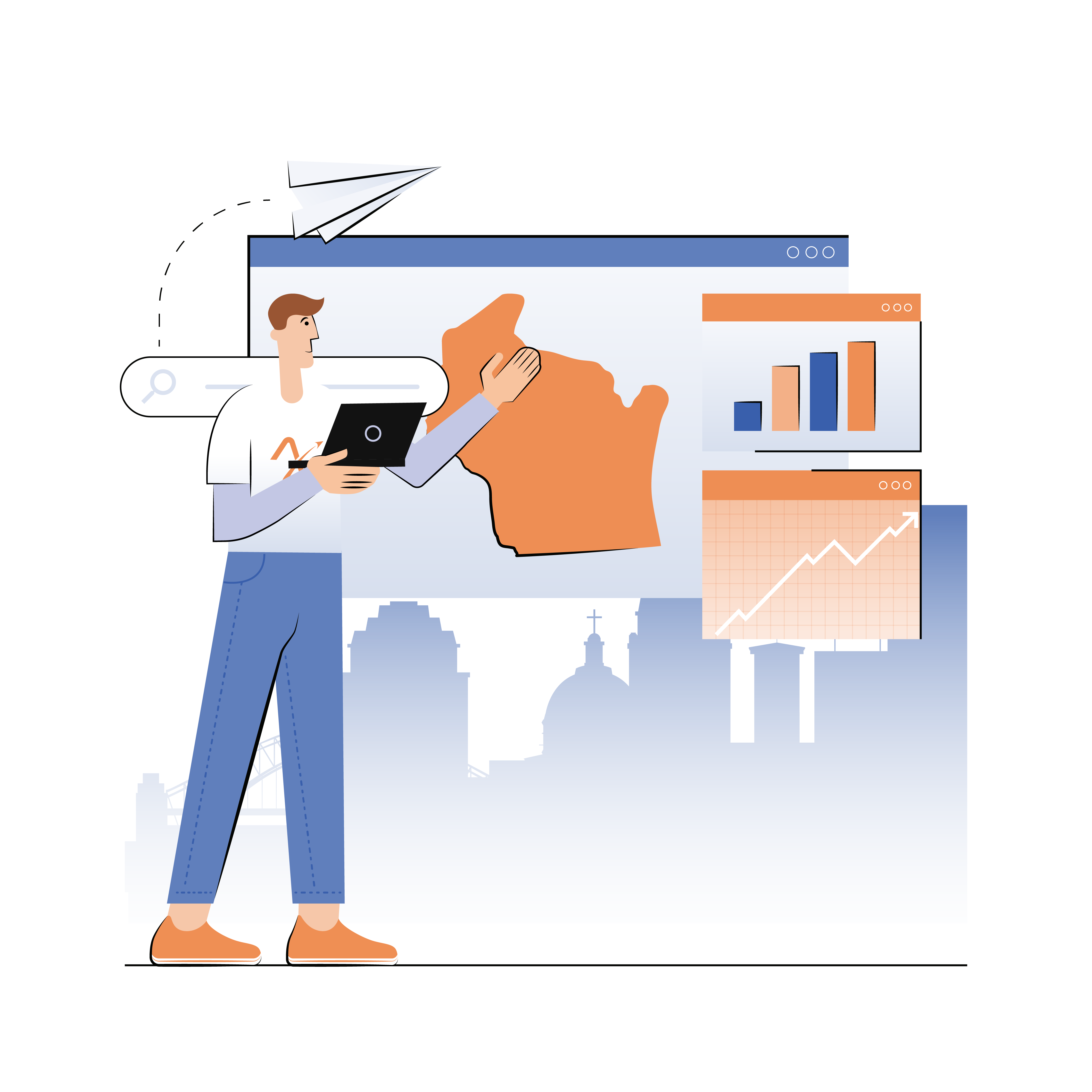 Want to learn about SEO for free with no sales pitch? Submit your name and number above and we'll call within 24 hours to answer your questions.
Why would you work with a Milwaukee SEO company?
If you're a business owner or marketing manager and have heard of SEO but don't know how it can help your small business, read on. It's one of the most cost-effective marketing techniques out there. Here's the basics on how Agency Jet delivers SEO services.
It's not a list of deliverables, it's a plan tailor-made to your business. We learn your goals and create the digital collateral that will hit those targets.
One project manager for life, a custom dashboard that's up 24/7, recorded monthly calls, guaranteed results and expert customer service. And those are just the basics.
Our team's combined experience in this space is decades long. We consider ourselves in the customer service business first and the SEO business second.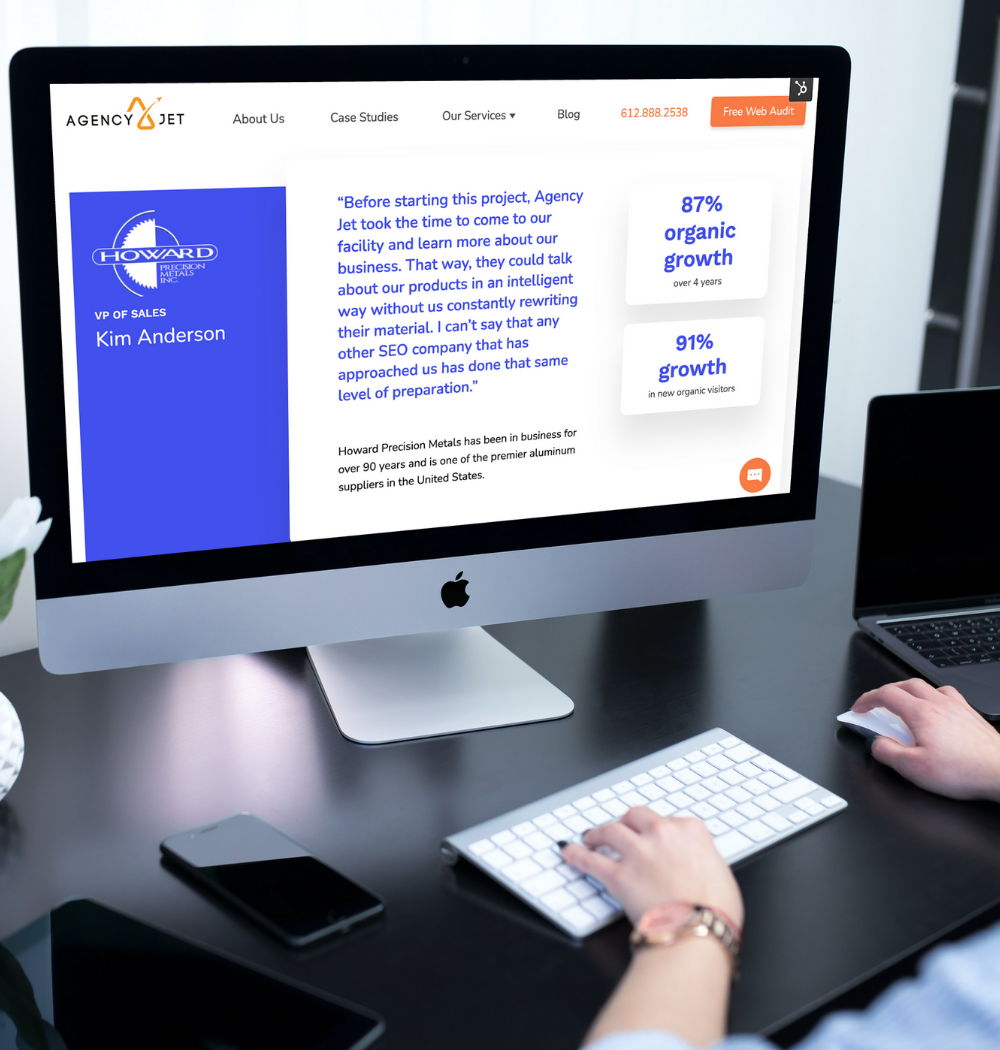 More record breaking sales months than you could count on one hand. Howard Precision Metals is one of Agency Jet's longest standing clients, and for good reason. Since this Milwaukee company started with us, they've tripled their page one keywords and organic traffic and that traffic is only 13% branded. What's that mean? They consistently are getting found by brand new people in Google for their products, not their name.
How does Agency Jet rank as a Milwaukee SEO company?
Our reviews are in the hundreds and our average star rating is 4.95. You don't get that fanfare by producing poor results, right?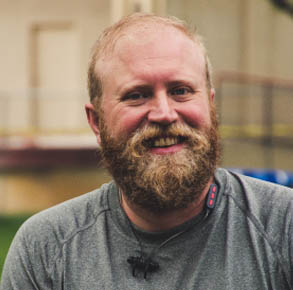 "Agency Jet offered the most flexible starting plan at an extremely reasonable cost. They were also very transparent and communicative, and we could tell that they were invested in our success. [They're] incredibly communicative and [have] fast response times. [A] great Basecamp dashboard allows us to see, in real-time, what steps are being taken on our project."
Why choose an SEO agency versus a marketing employee or DIY
Of course you're looking to save as much money as possible while growing your business. Here's the breakdown.
| | | Hiring a Marketing Employee | |
| --- | --- | --- | --- |
| | | | |
| | | | |
| | | | |
| | | | |
Hiring a Marketing Employee
All you need to know about local SEO in Milwaukee
Milwaukee SEO is the series of actions approved by Google Guidelines to help your business website get found in their search results (SERPs) for your key products and services in the Milwaukee area. This is done through technical SEO, on-page SEO and off-page SEO.
How much does Milwaukee SEO cost?
It's important you talk to multiple agencies when looking for a Milwaukee SEO partner. You'll get quoted anywhere from <$1000/month to $10000/month. You'll find that the best SEO services in Milwaukee will often be somewhere in between with most high-quality service providers offering monthly prices between $2000-$5000/month.
How can I do Milwaukee SEO?
DIY SEO is extremely difficult and actually so time consuming to do well that hiring a SEO agency in Milwaukee is actually more cost-effective. Should you be determined to do SEO on your own, it's important to invest in getting your name, address, phone number and website listed on high-quality local directories. It's a Google best practice and one of the best places to start.
Are all Milwaukee SEO companies created equal?
Unfortunately no. There's so much variety in quality in this industry. The best way to protect yourself from hiring a low-quality provider is by doing your homework. Check their reviews, get as much free information as possible, look at their pricing and see how straightforward it is, ask if they record calls, ask if you'll have regular meetings, ask if you own the work or if they do and ask if they do white hat SEO. If the answer to any of those questions is "no" or if they don't have high quality reviews and references, it's not the right agency.
Should I use Milwaukee SEO for my small business?
When you consider that hiring a local SEO company for your small business in Milwaukee is 2 or 3 times cheaper than hiring one marketing employee, it's a no brainer. These agencies will also guarantee their results, show you all of their work and educate you on how those results were gotten. Marketing employees rarely do that. The beauty? If the agency doesn't deliver, fire them. It's a lot easier than firing an employee.
How long do Milwaukee SEO services take to work?
The general answer is in 3-6 months you'll see positive trends in your key phrases and organic traffic. Every industry is different however and if your website lacks quality, that may extend the time period before the agency will get you rock solid results. What makes SEO so fantastic is that, when done properly, once the results start rolling in, they're long lasting.
The one thing advertised

as free that actually is
Everybody wants something from you these days, right? Well, all we want is your time and attention. We never talk sales unless you want us to. This is 90+ minutes of pure education and you're not on the hook for anything.
Built in Milwaukee for Milwaukee small business
All strategy, all success
You've had it before, you work with a company who only talks about what they do, not what you need them to do. Not us. Our plans are customized to your goals and targets and we make sure everyone is on the same page before we even begin.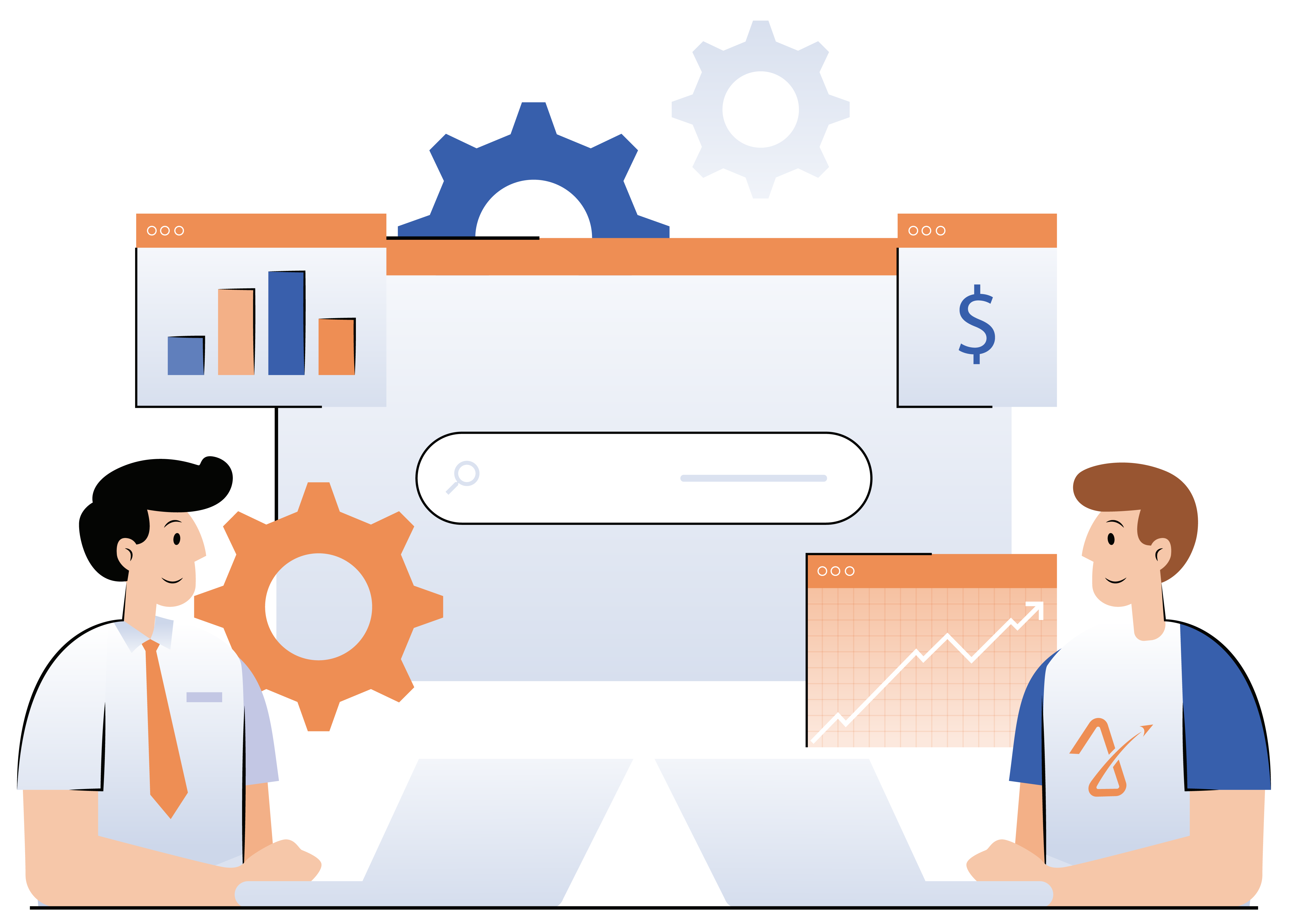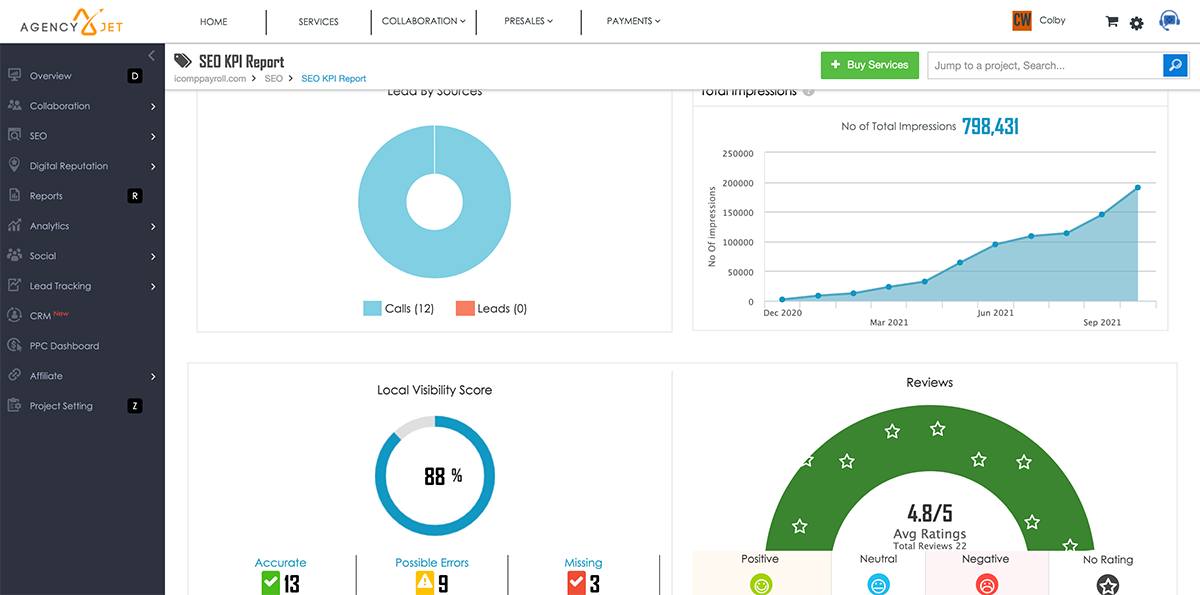 Good bones, great foundation
Chances are we'll be optimizing your existing website. With your custom strategy in hand Agency Jet gets to work on all the housekeeping required to make sure Google can be aware of your site. Then we'll begin consistently spreading your message to get you found. And you get to see the whole process unfold.
There's plenty of room for geek speak in SEO and most agencies shy away from including their clients in it. We're the opposite. We make sure all the complex language is made accessible, so you actually learn something along the way and see where your ROI is coming from.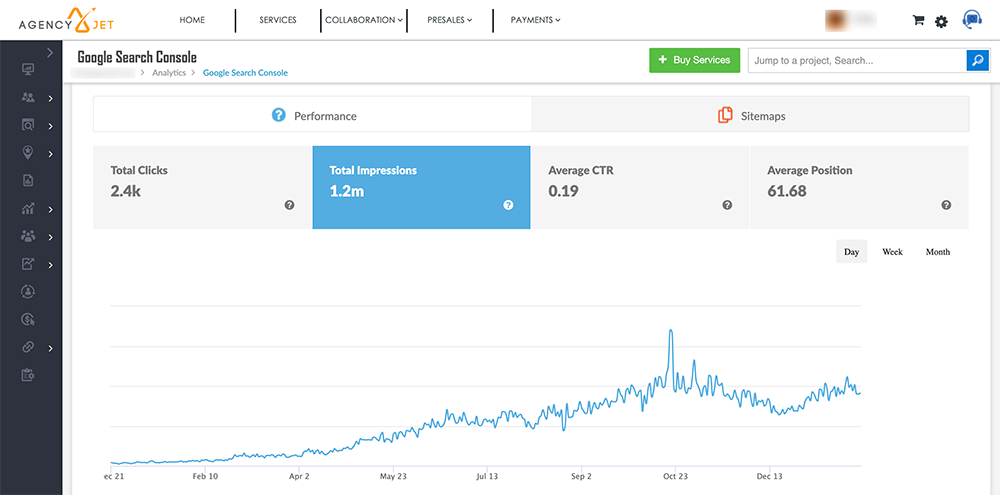 Our clients pay month-to-month, which means we better deliver every month. The industry average for an SEO contract is <6 months. Ours is 22 and we have dozens of clients who have stuck with us for longer. You don't keep clients by disappointing them. Our process is proven and we won't apologize for that.
Transparency, Education, Results
It's written on the wall, in our emails and on our calls. Agency Jet lives Transparency - Education - Results. Translation: we show you everything, we make sure you understand why it's valuable and we get you found in search engines. It's that easy.
If you've never had an assessment of your website by a professional company, now's a great time to get one by an agency who won't spend time selling you or misleading you. This is pure education. If you work with us, great! But you're certainly not required to. Use this information in any way you see fit. It's yours after all.
People automatically go to the internet to get information about the products and services they need. 97 percent of users turn to search engines when looking for local businesses. That's why small businesses should be investing in local SEO services.