How To Improve Your Google Business Profile Listing in <10 Minutes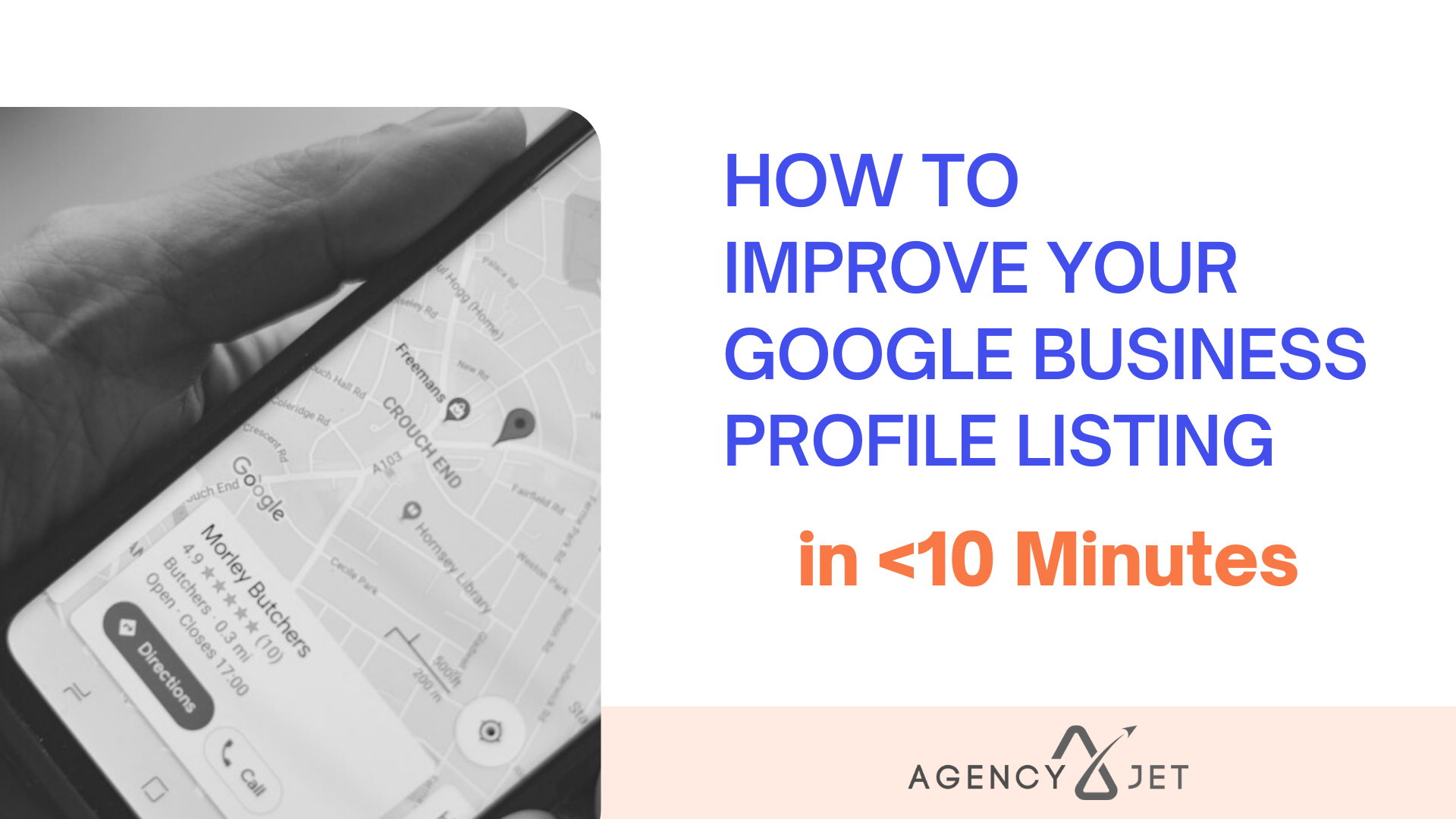 These days, having an online presence is crucial for businesses.
The World Wide Web's extensive reach can help you scale your company to new heights. However, growing your audience and getting new customers organically won't be a walk in the park.
Thankfully, you can enlist the help of professional small business SEO services. Additionally, you can also maximize the tools at your disposal to reach your target market.
By completing any one of the following recommendations for your Google My Business, also known as Google Business Profile, you'll have improved your business profile in minutes.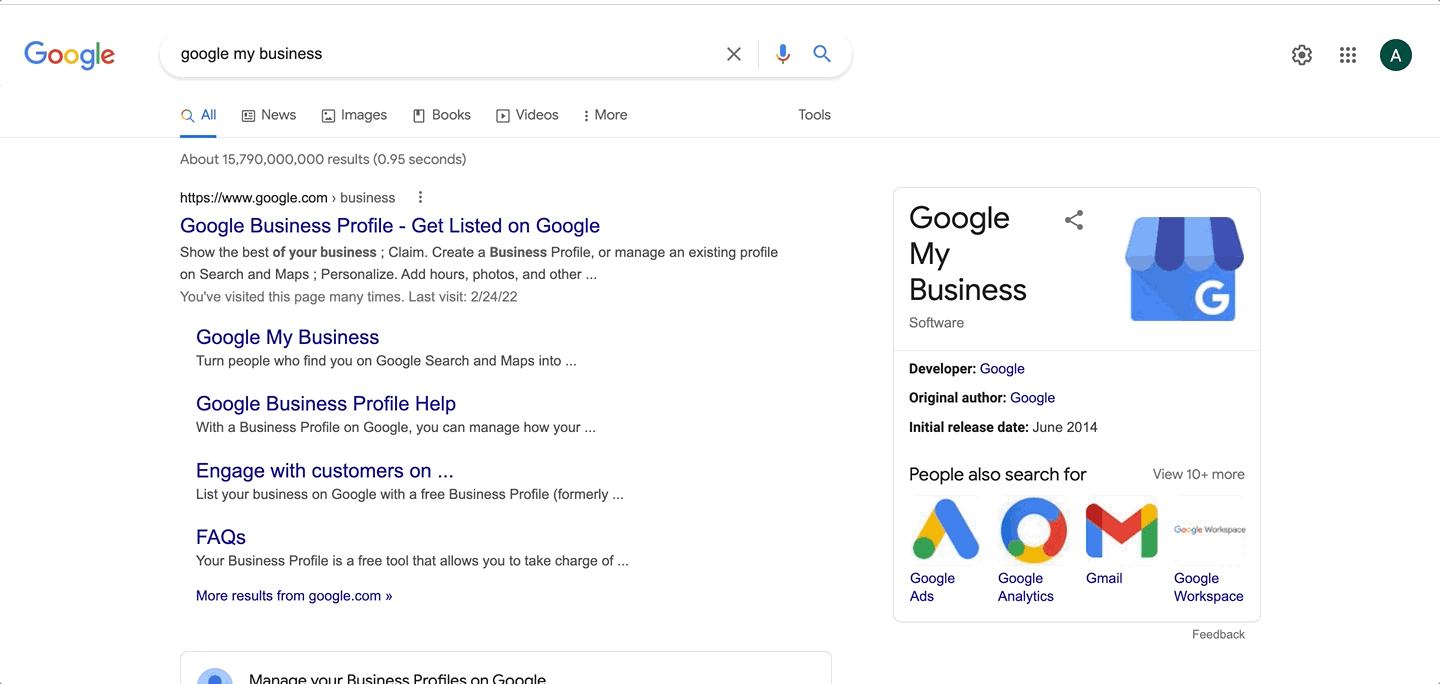 What Is a Google Business Profile?
Google has created a free tool to boost search engine optimization (SEO) for your business, especially locally. The search engine's Google Business Profile (GBP), formerly known as Google My Business (GMB), allows you to provide firsthand information about your company on Google Search and Google Maps.
Have you ever noticed how certain companies show up when you Google search for certain terms?
For example, if you type the word "restaurants" in the search box, Google automatically displays restaurants near your location on the left side of the computer screen. On the right side, you'll see the Maps section showing you where those establishments are located in case you want to eat there in person.
These are called Knowledge Panels, and with these, Google makes it more convenient for users to find what they need. In this scenario, they may be hungry and are looking for a place to eat, so getting all this information is useful. Moreover, the potential foot traffic is useful for the companies promoted in these sections.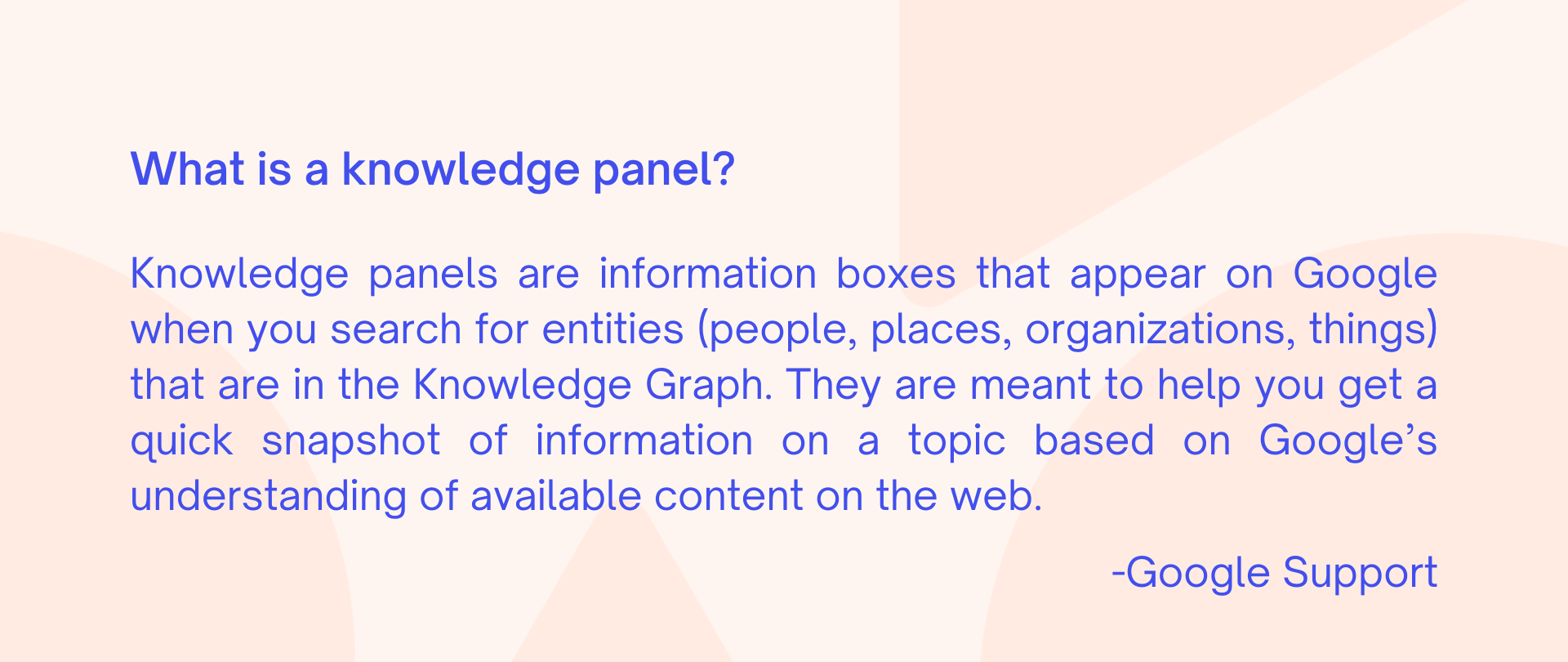 Importance of a Google Business Profile
Google gives business owners significant control over the information displayed on their GBPs. You only need to connect your personal Google account with your business profile on the platform.
Being able to provide firsthand information to potential customers is important because you want to lead consumers to your store.
If you don't organize your Google Business Profile, users won't have an idea of your opening business hours, location, products, and services.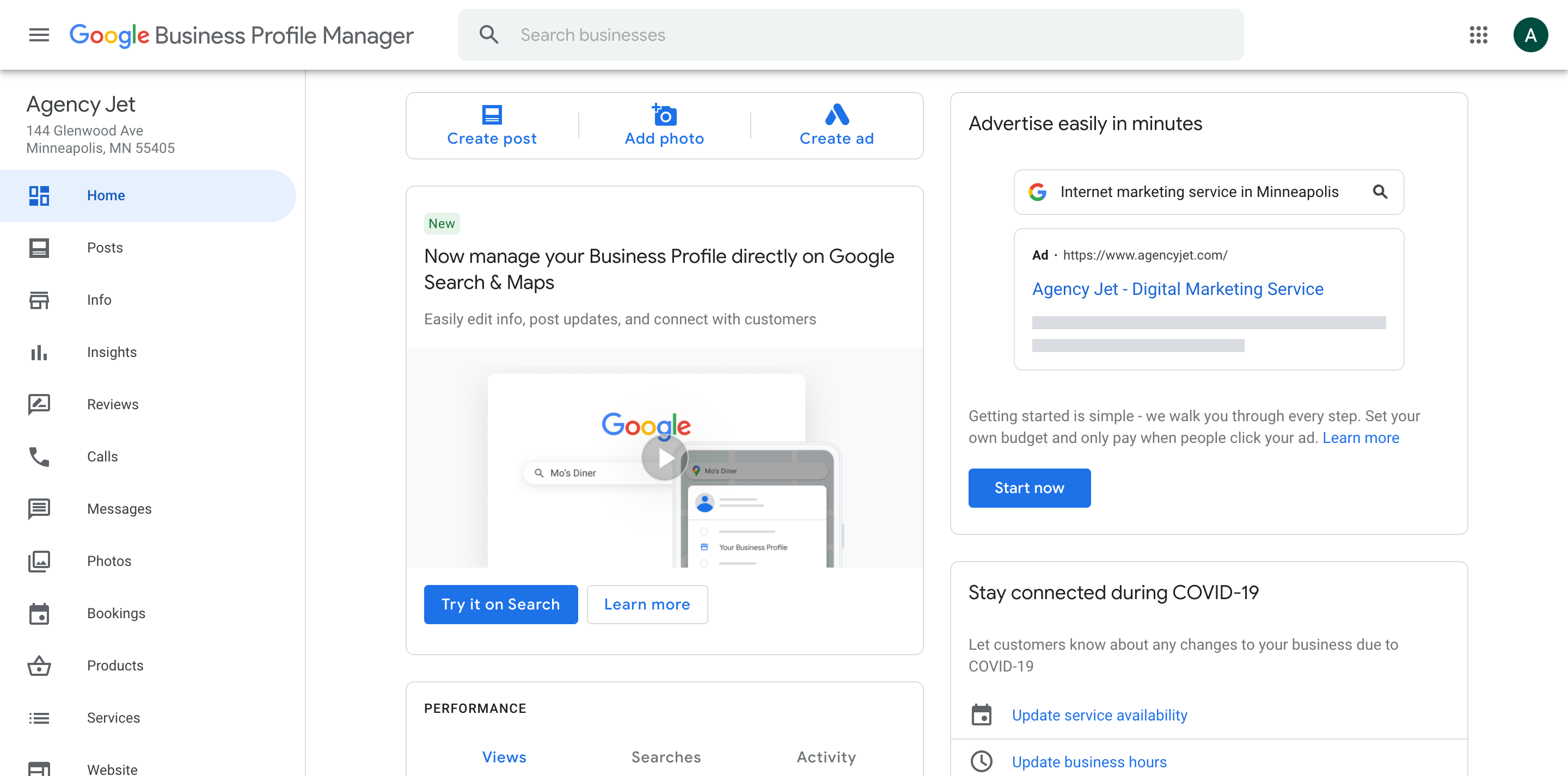 It's highly likely that they'll look for another business profile rather than asking you for these details and having to wait until you respond. Thus, you lose sales opportunities.
On top of that, maximizing this tool can help you stand out from your competitors.
Your competitors might show up higher in the search engine results pages (SERPs) for keywords in your niche. However, if you optimize your Google My Business page, you can show up at the top of the Knowledge Panels and local searches.
And, let's face it, no one ever scrolls down to the bottom of the first page, much less visit the subsequent pages in the SERPs.
Tips To Improve Your Business Profile Listing Quickly
Now that you know the importance of your Google Business Profile, it's time to optimize it.
It's never too late to claim your business and improve your listing.
If you're unsure what to do, you can have a small business digital marketing agency optimize your Google Business Profile for you. Nonetheless, Google has made its business profile tool relatively easy to use.
As such, here are some tips to help you boost it quickly:
Make Sure All Profile Information Is Present and Accurate
Just like your website, your Google My Business should provide information about your company.
This includes the basics, like your company name, business address, website, and business phone number.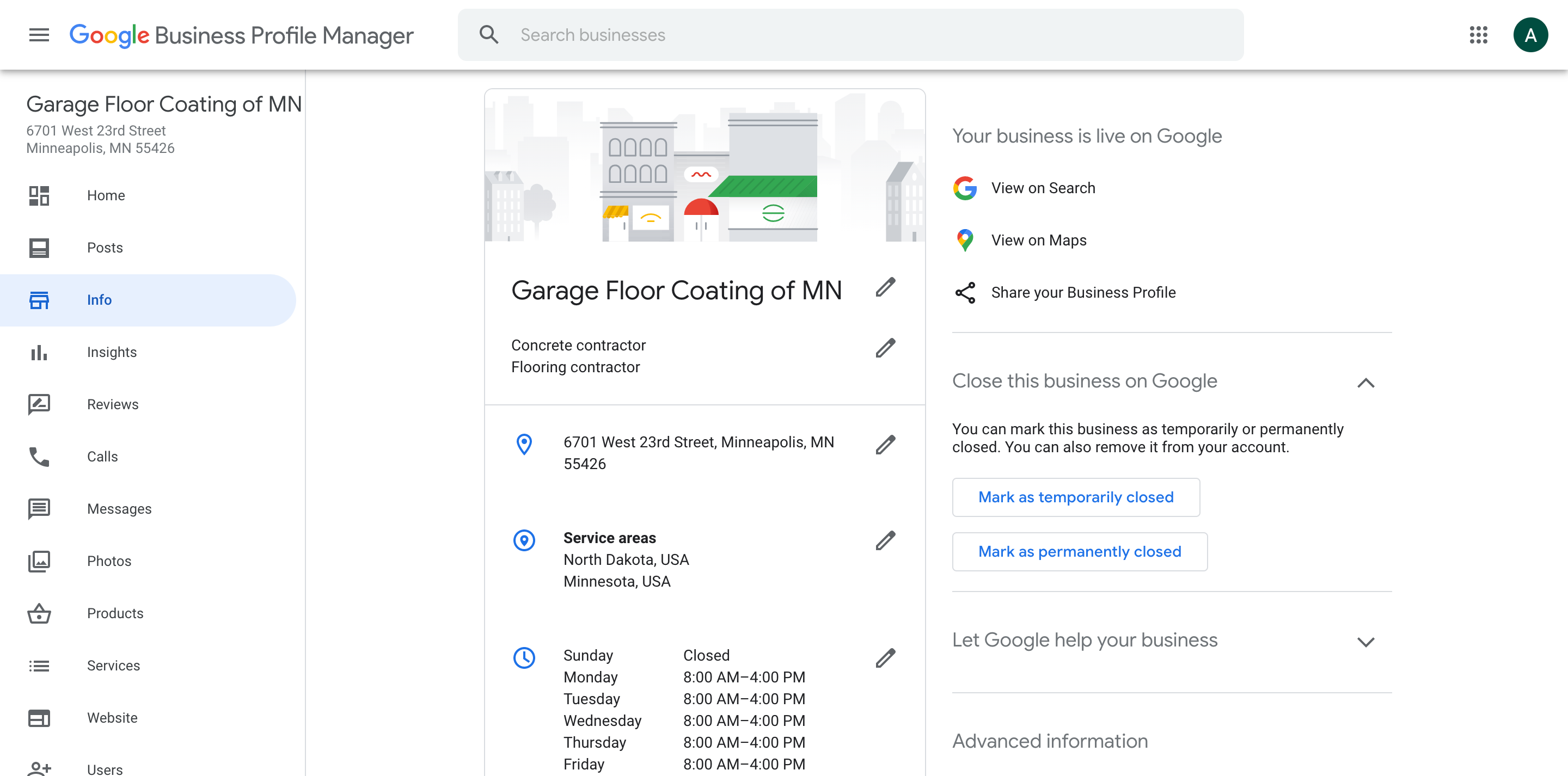 To make your Google Business Profile more comprehensive, add more details, such as your business description, operating hours, categories, and, if applicable, make sure it features positive reviews for the company left by happy customers.
Note that you should follow Google's Guidelines when posting information.
For instance, your business name mustn't include marketing taglines, store codes, or special characters.
Also, your business description must be accurate and relevant. It shouldn't mislead users or display low-quality and distracting content, including a focus on promotions and offers.
This is your chance to lead future customers right through your doors. Make sure to maximize your Google Business Profile and have it reflect accurate information. You should also update it if there are changes in your operating hours, think holiday hours, menu, services and more.
Publish High-Quality Photos of Your Business
Photos are a great way to catch the interest of prospective customers. Aside from providing firsthand information, you should publish high-quality images of your business.
If you run a restaurant, you can showcase the ambiance that awaits diners. On the other hand, companies can upload images of their offices to give their brands a human touch and make them more than just a name.
Adding a high-quality photo or two also lends more credibility and authority to your company. It's so easy for scammers to con people through the Internet. However, you can use images to show people that you're a legitimate business.
Google places a lot of weight on photos. In fact, the search engine wrote on their Google Business Profile support center that businesses with photos get more engagement, such as receiving location requests and website click-throughs, compared to those without images.
You should upload your logo to boost your branding. It will help reinforce your company's image and name to current and potential customers. Your logo will also be highlighted on your business profile.
Next, choose a cover photo, known as a featured image that showcases what your company is all about. It will be displayed at the top of your profile.
Another thing to upload is your business photos. These are different images that highlight various aspects of your business, such as the exterior photos and interior photos of your offices, photos of your products, common areas, and even your employees.
Make sure to upload high-resolution photos. Pixelated or blurry images will harm people's perception of your brand. Your photos should be in JPG or PNG format with a recommended resolution of 720 px tall and 720 px wide.
Avoid making significant alterations or using filters excessively. Your photos should represent reality.
Post Your Awards and Accreditations
Another way to boost your Google My Business listing in less than 10 minutes is to publish your awards and accreditations.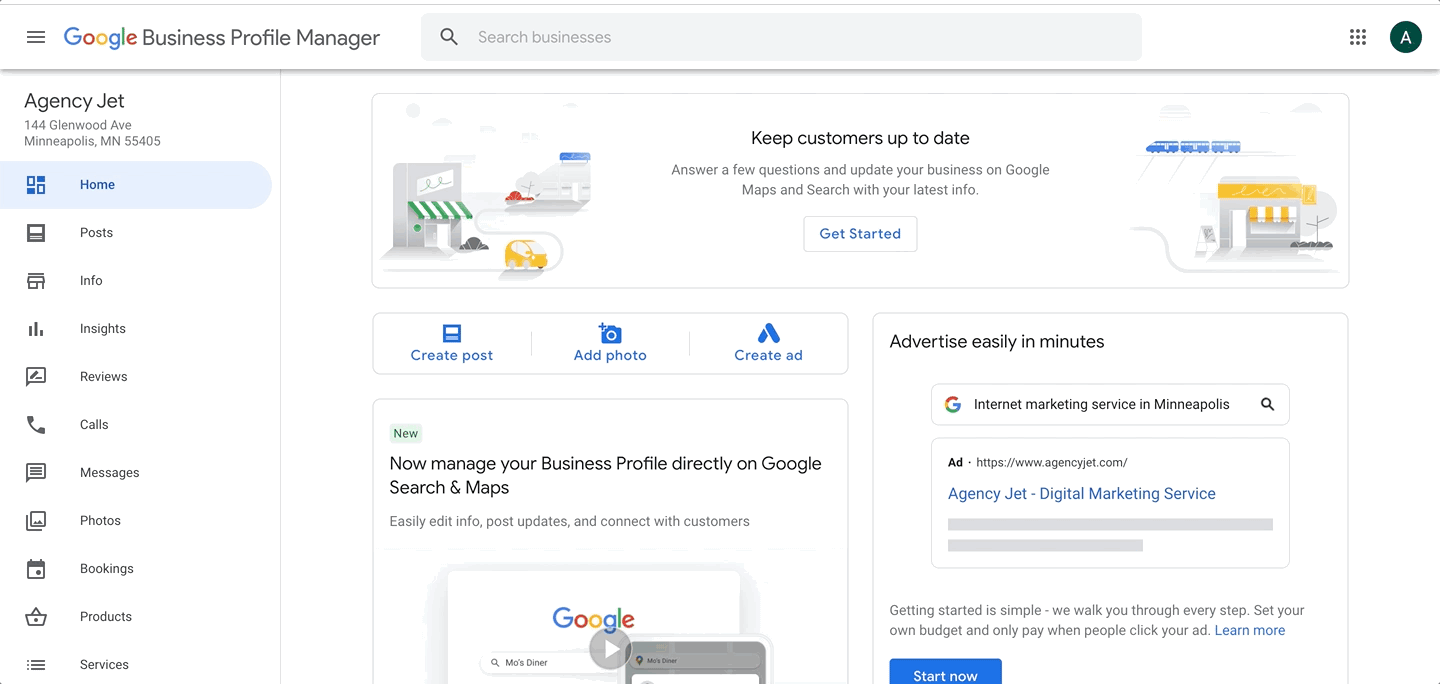 Maximize the platform's posting feature to share announcements with your current customers and target audience. Use text, photos, and videos on your posts to make them more compelling and attractive.
Posting about your awards and accreditations can boost your credibility. It shows potential clients that you're not just another business on Google and that you can provide value to them.
When posting on your Google My Business, avoid publishing off-topic or irrelevant content. Your posts should help customers understand your business better.
Optimize Your "Products" Section
The menu section of your Google Business Profile can be used for your products and services.
For establishments that sell food and drinks, this portion should list the food and drink items that you serve in your business.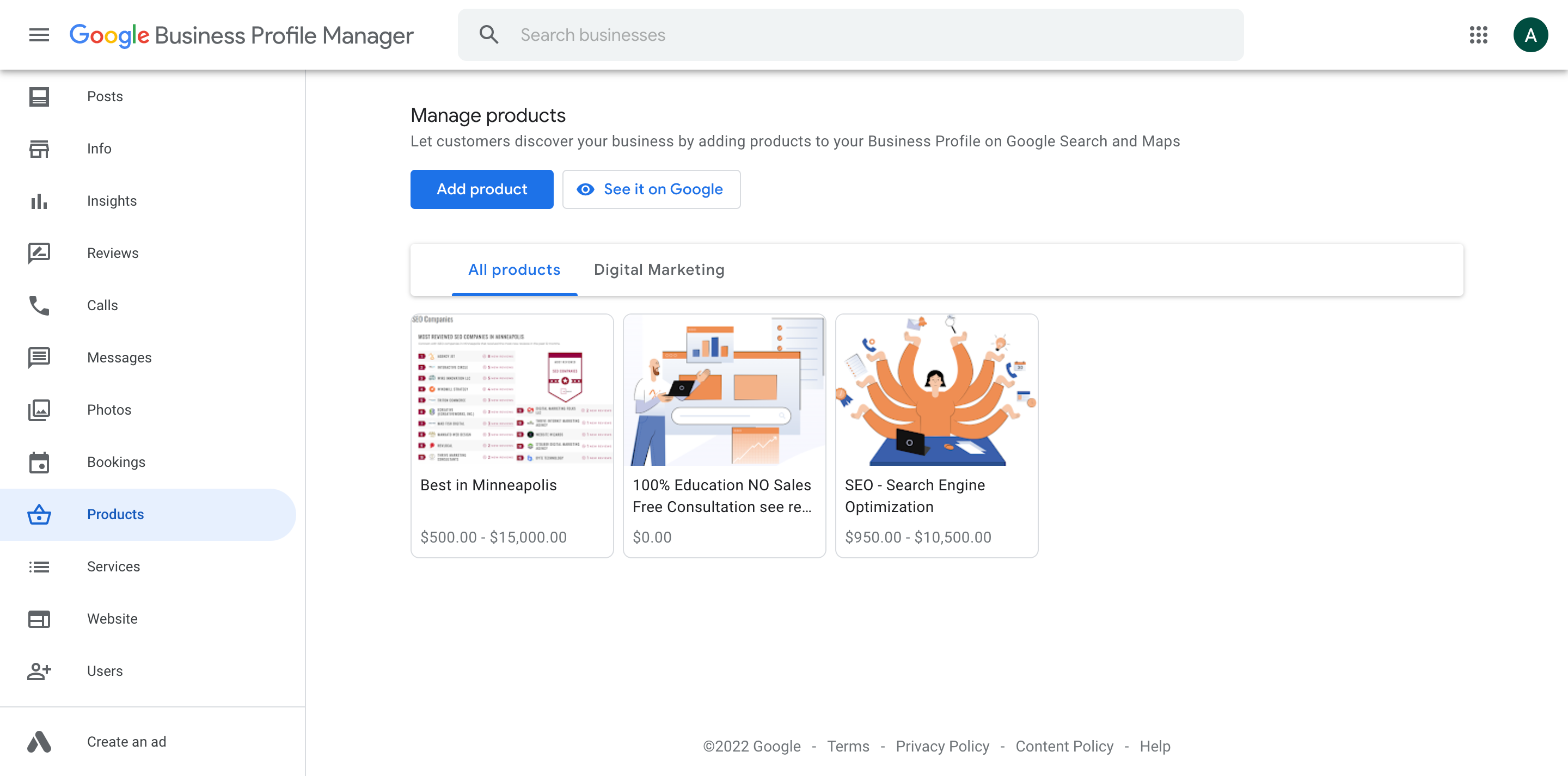 On the other hand, service providers, like barbers, spas, and car repair shops, and others should enumerate the services that customers can expect in their establishment.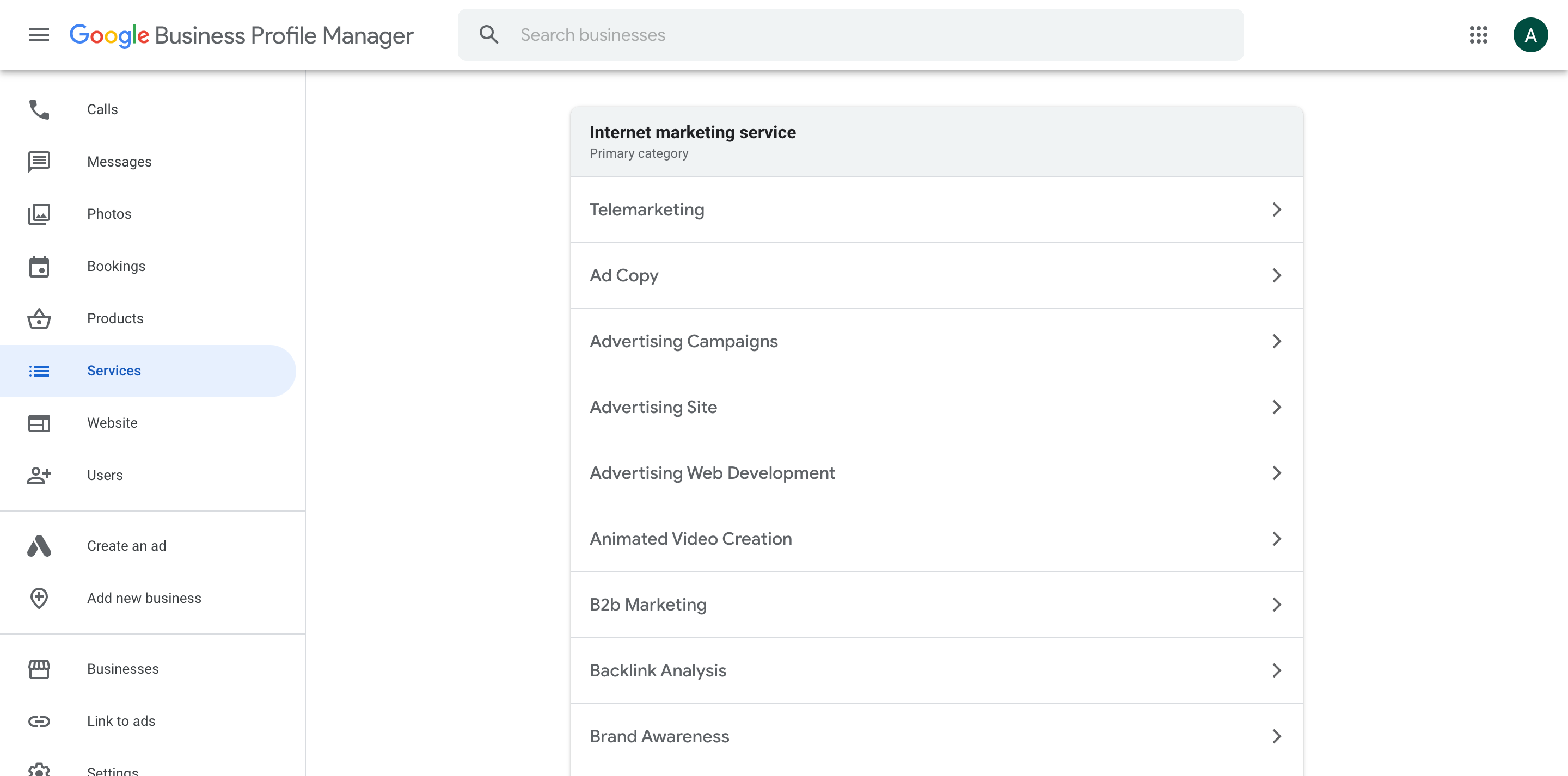 Regardless of whether you sell products or services, make sure that your business dashboard represents your actual merchandise or offerings.
As much as possible, list all of the products and services, not just the popular ones. You can also use menu URLs to link to your website so that you'll only need to update one place, especially for seasonal food and drink items.
Get Your Business Listings Google Guaranteed
Google has provided a way to help small businesses earn customers' trust quickly. They rolled out a "Google Screened" or "Google Guaranteed" feature for their Google My Business listings. Businesses just have to register and ask to be authenticated by the search engine.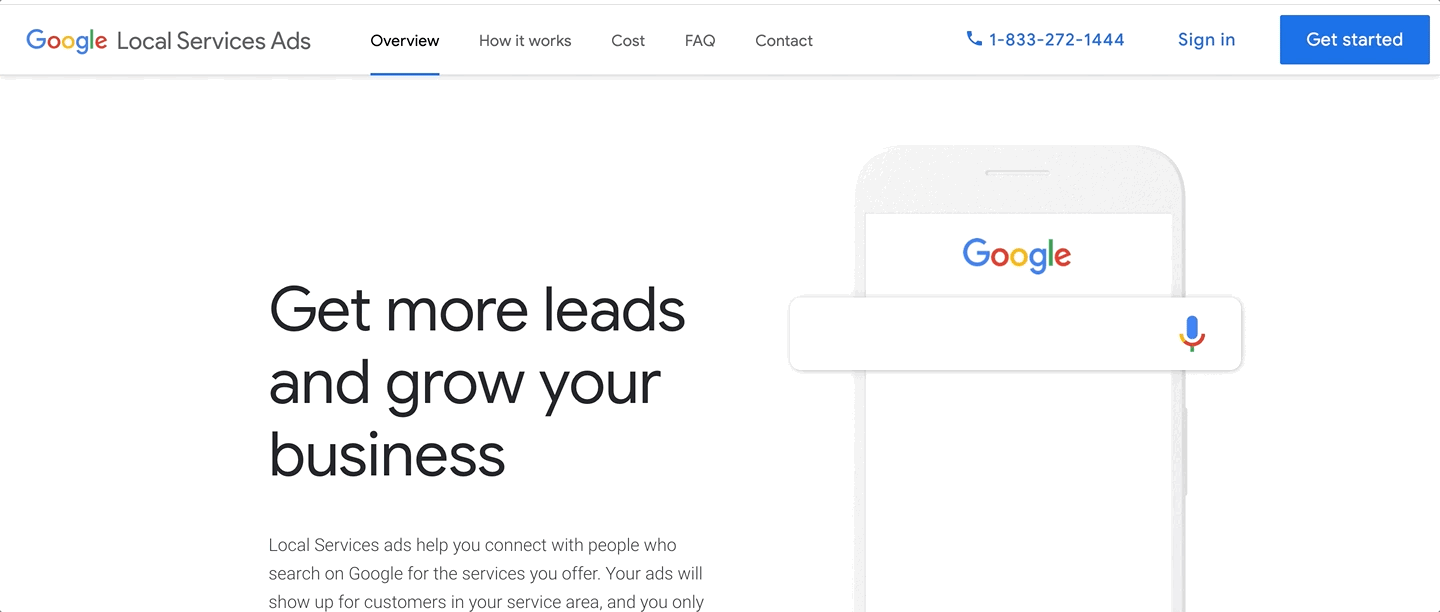 Companies will go through background checks, which are done by Google's third-party partners. Businesses with their own background check partner can also apply for verification using their results.
The business owner should accomplish the business entity background check for their company. For some categories, you'll have to provide Google and their background check partner with a list of service professionals since they'll also need to be verified.
Additionally, business owners must go through a criminal background check. Google has provided specific requirements for each industry on their Local Services Help Center.
Once you've completed the background check process, you'll see a green Google Guarantee badge on your Google Business Profile. This way, every time users search for your brand and its related search queries, they'll see that your business is verified by Google.
Aside from boosting your credibility and authority, it also adds a layer of protection for consumers. If you have this guarantee and a customer isn't satisfied with the service, Google can reimburse them as much as the initial amount paid. Consumers in the US can get as much as $2,000 in compensation.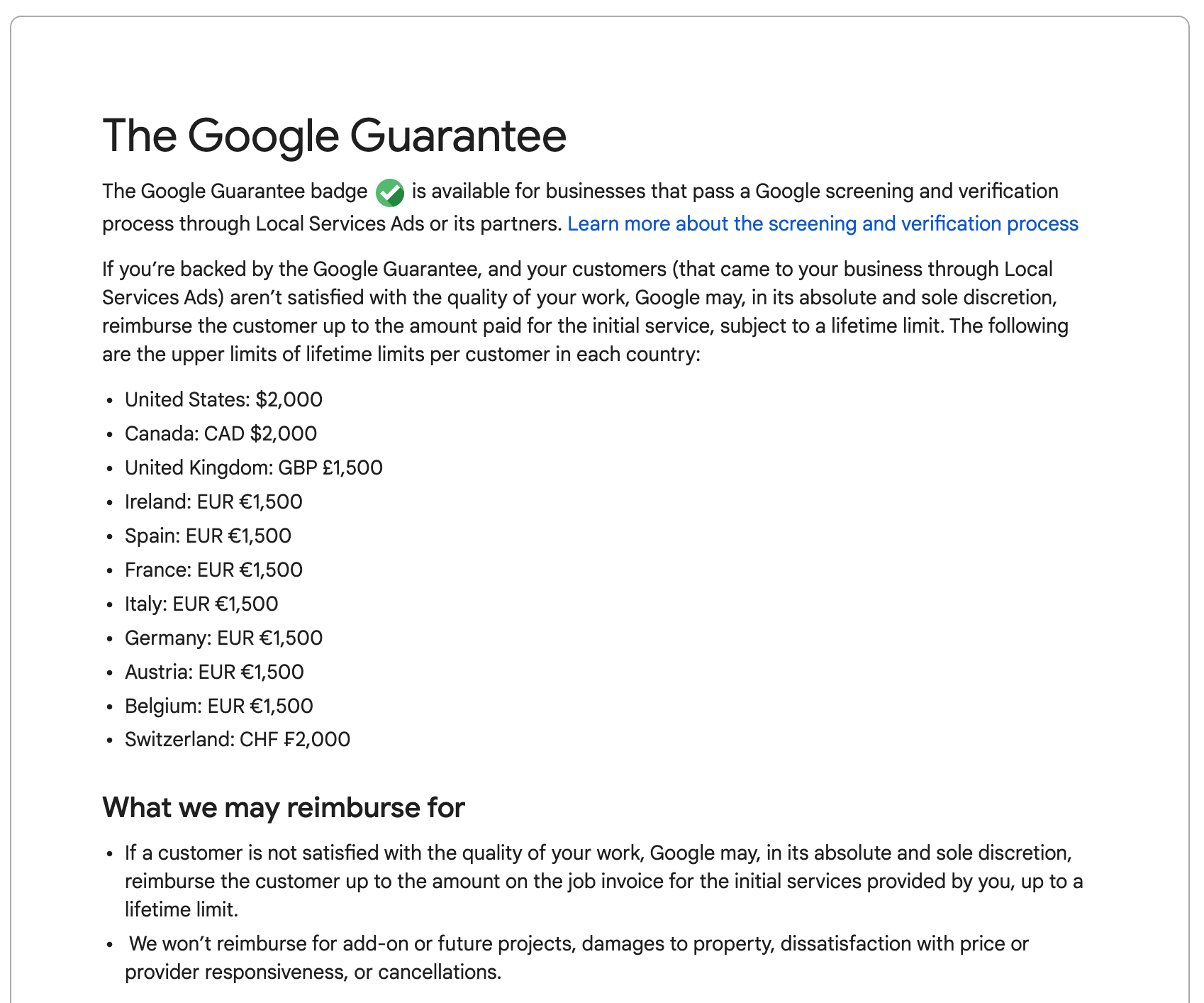 Of course, the search engine reserves the right to assess whether the claims are true or not. They won't reimburse customers for add-ons, future projects, property damages, cancellations, and price or provider responsiveness dissatisfaction, though.
The Google Guarantee is considered a stamp of approval on your business profile. This makes it easier to gain consumers' trust and is likely to boost qualified leads for your brand.
Ask Your Customers for Google Reviews
Another quick and easy way to boost your Google My Business is to ask your customers for Google Reviews. Just ask them to do a quick search to display your brand's Google My Business, and they can add their reviews using their profile. It's important that they're logged in so that the customer reviews are credible.
Today's generation of consumers checks online reviews before buying products and services, especially large-ticket items and services.
In fact, 90% of buyers check online reviews before visiting a business location. As such, you want to make your brand stand out by getting positive reviews for your Google My Business profile.
Your current customers are the best people to start with, particularly those who've been coming back for your products and services repeatedly. You can send them a quick message or email asking for Google reviews.
Make sure to compensate them for their time and cooperation. To incentivize your reviewers, you can offer promos or discounts for those who posted their feedback.
You should also make it easier for customers to publish their reviews. Place some tablets in your store and have people who enjoyed your products and services share their thoughts about your business.
Additionally, you should respond to these reviews as much as you can. Thank your customers for taking the time to post their feedback. Even if it's a negative review, you should still thank them for making you aware of these aspects and promise to improve your products and services.
Create a Q&A Section
Google also allows business owners to provide a Q&A section for their Google My Business profile. Take advantage of this feature by adding Frequently Asked Questions (FAQs) about your company, products, and services. The process is as simple as posting content on the Posts section.
You can definitely ask the questions and answer them yourself. It won't go against Google's standards as long as the inquiries are relevant to your business and industry.
The first thing you should do is to collect questions that you and your team commonly receive and provide detailed answers for each one. Post the questions and answers on your Google My Business page.
Note that anyone can post questions and answers on a brand's Q&A section. That's why it's important to optimize this part of your Google My Business. Always answer queries from users as well. Make sure you don't miss a question by setting up alerts on your profile.
Set Up Messaging
Google has developed a messaging tool that allows customers to contact you through your Google listing. With this, people can easily reach out to your company from direct search results. Setting up messaging can boost your GBP listing quickly since it makes the process more convenient and timely since they won't have to click on your website and look for your contact information.
Activate messaging for your business on your profile through the settings. Afterward, your GBP listing will show a message button under the Overview section.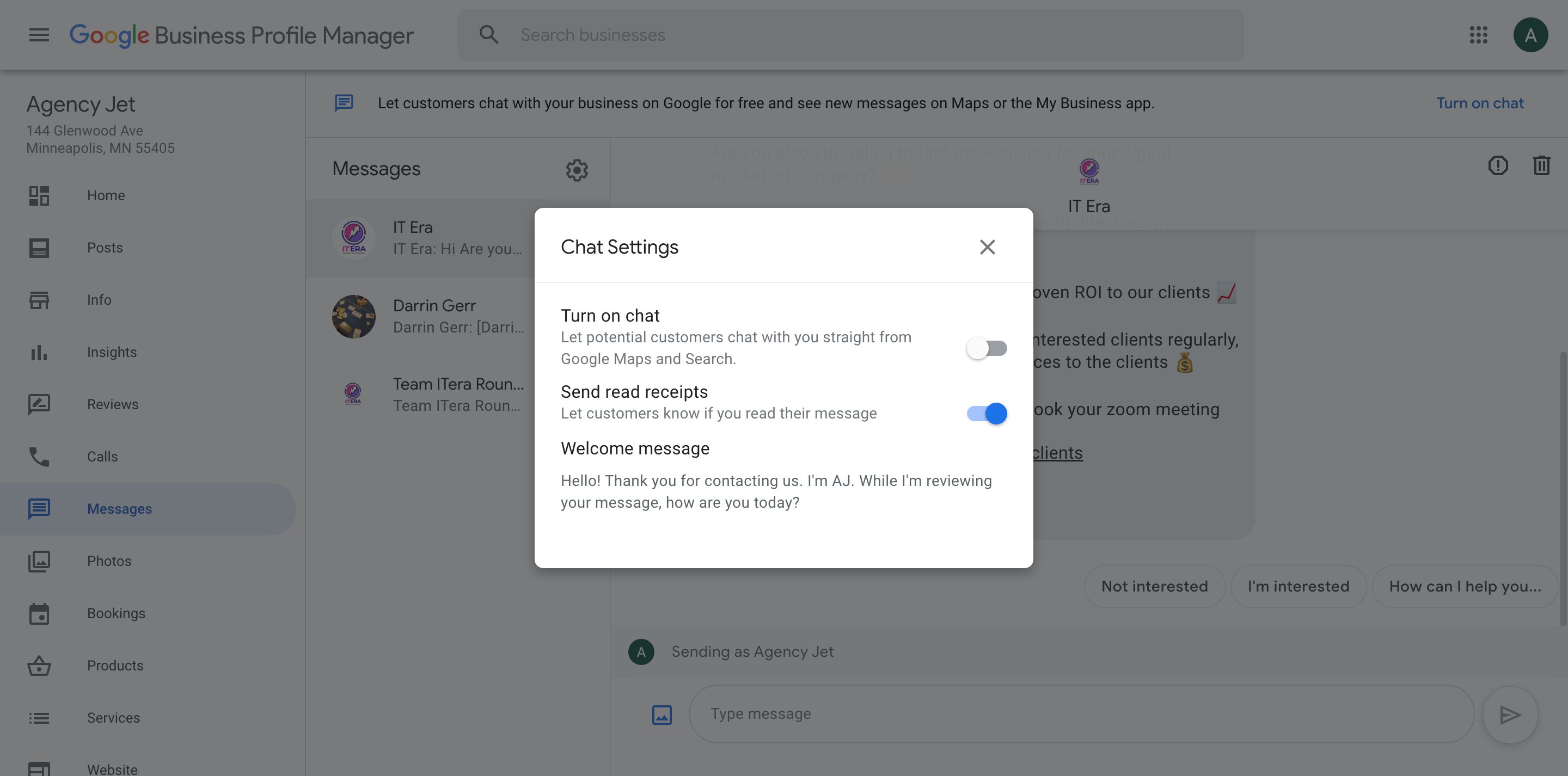 If someone sends you a message, it'll show up in your business profile. You'll also receive notifications. You can also set up an automated welcome message to let users know that you received their inquiry and will get back to them soon.
Takeaway
Optimizing your Google Business Profile is crucial for ensuring potential customers receive accurate information about your business.
With these tips, you can improve your listing quickly. To generate more engagement and leads from your business profile, make sure to post high-quality content regularly and update your company details when needed.
---
If all this seems overwhelming, Agency Jet offers Milwaukee SEO services for small businesses that include Google My Business optimization. Give us a call or take advantage of our 100% free and educational website assessment that has been labeled "the best 90 minutes in marketing" and doesn't include a sales pitch.
Join the thousands of SEO-obsessed readers on our mailing list