Business success directly correlates to the number of sales you get. Getting people to recognize your brand is one vital step, but your efforts ultimately fall short if they never buy anything from you.
The sales funnel represents the stages people go through when purchasing something. Awareness is the first one, and it happens when people enter through the top of the funnel. From there, they progress to becoming interested in the product.
Next, people move towards the bottom of the funnel while weighing the factors influencing whether they buy. Action is the desired outcome from there. Finally, your goal is to retain customers that decide to purchase.
You can make a sales funnel more effective on a modest budget. Here are some actionable tips to try.
Build Specialized Landing Pages
People want to see relevant information as they move through the sales funnel. Dedicated landing pages can give that material to them. They give people details about a highly specific aspect of your business or an offer, reducing the distractions that site visitors could encounter on your full website.
Campaign-specific pages closely target the intended audience. That's why it's best to use them once people already know some things about your business. You might make a page that urges people to sign up for a free trial or a demo walkthrough. Alternatively, if you're running a webinar soon, the landing pages could drive registrations.
While considering how to make a landing page win people over, remember to keep the content centered on a particular action. For example, if you're offering a free trial, emphasize how your product can help people and that they can experience it for themselves with no risk.
Make the content structure as straightforward and user-friendly as possible. Use bullet points and short paragraphs to aid readability. If you have any relevant statistics about how people benefited from your product or service, add those for effectiveness.
Focus on Your Content Strategy
Paying more attention to the kind of content you publish, where it goes and which audiences you target can increase conversions while demonstrating to the audience that you provide valuable information that they need and want.
Content marketing can also help you become more acquainted with your audience and know which products they're likely to buy. Now-famous beauty brand Glossier turned its first four products into 40 total offerings by taking insights and information from its popular blog. Your current and potential customers may comment under a post, respond to a social media poll or otherwise tell you what interests them.
Start by understanding your target audience. What challenges do they face? What needs do they have that current products or brands don't meet? Which factors are the most important in making them decide to buy certain products over others? Once you know the answers to some of those questions, develop content that caters to the people who will see it.
Decide on your content frequency, too. While on a tight budget, you may not have the funds to hire people for a content team. That's okay. Figure out how often you can publish with the available resources. It's better to pick a manageable frequency from the start than become overextended by trying to do too much.
Improve Your Email Engagement Process
Email outreach remains relevant at all stages of the sales funnel. Messages can get people aware of and interested in your brand, plus provide them with offers that cause first-time or repeat purchases.
Statistics show that people get 125 emails per day and double or triple that as senior executives. That means it's essential to stand out with your efforts. Use the first few lines of the email to prove that you've done your research about their industry or needs, describe what you have in common with them and specify why they should keep reading.
If possible, tailor your content to match actions that recipients took on your website. For example, if a person signed up for a newsletter, send them a thank-you message along with something extra, such as a discount code for their next purchase.
When sending a message explicitly designed to increase purchases, use the subject line to convey urgency and benefits. One possibility is to say something like, "Up to 60% off all hiking boots — Sale ends tomorrow!" That way, people know what's in it for them if they open the message and not to delay in acting.
Prioritize an Excellent User Experience
Ensuring that you offer an outstanding user experience is another valuable way to improve your sales funnel. Estimates suggest that approximately 80% of people go to competitors' sites due to poor user experience. You can help people enjoy your site by making relatively simple design decisions.
For example, adding a horizontal navigation bar at the top of the site aligns with what people expect while matching the pattern that many unconsciously follow when reading website content. Also, choosing a maximum of four to five categories establishes a hierarchy and prevents people from getting overwhelmed. Assign all other content to an appropriate subcategory.
User experience extends to offline interactions, too. You might have a dedicated phone extension for people to use if they're thinking about making their first purchases and have some lingering questions. Some individuals still prefer hearing a friendly voice on the other end of the line rather than using a chatbot or typing an email — especially if they're getting ready to make a significant purchase.
Assess all the ways that people could encounter your brand or company. Then, determine what you could do to make those experiences as pleasant and seamless as possible. People develop opinions, often without even realizing it. That means anything you can do to help them see your brand positively could increase conversions.
Optimize Your Calls to Action
Your call to action (CTA) might only include five words or less. However, it's a crucial part of guiding people along the purchase journey. Look at all your webpages and other content to verify that each one has a single CTA. That way, there's no question about the desired next steps for someone to take.
If you create specific pages for particular groups — as suggested in the earlier tip about landing pages — adjust your CTA to match those segments. For example, when targeting people to sign up for a service, you might say, "Give us a try today." However, if the goal is to encourage them to register for a seminar, the prompt could be, "Click here to sign up."
Look at aspects beyond the CTA phrasing, too. Do your color and font choices help the CTA stand out from the surrounding content and draw a person's eye? If you designed a CTA button, examine the overall size. Is it large enough for people to see and tap on if using a mobile device? Perhaps you want to make some changes to existing CTAs but aren't sure how to start. In that case, split tests could give valuable clarification.
Performing them involves showing one CTA version to a group and using a different one for another. After using them for a predefined period, you look at the metrics to see which one got the desired response most often. You should ideally only make one major thing different between the two. Otherwise, it's challenging to figure out which aspect affected consumers the most.
Start Enhancing Your Sales Funnel
These tips prove that you can steer people through the sales funnel and increase their chances of purchasing, even without a massive budget. Before moving ahead with one or several of these tips, pick a few metrics to track. Then, it's easier to see whether the changes made get the results you'd hoped to achieve.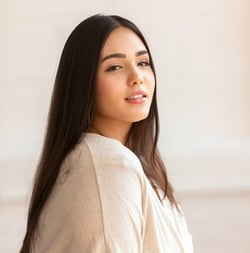 About the Author
Eleanor is the editor-in-chief at Designerly Magazine. She was the director at a marketing firm prior to becoming a freelance web designer. Eleanor lives in Philly with her husband and dog, Bear.