HubSpot vs WordPress: The Definitive CMS Comparison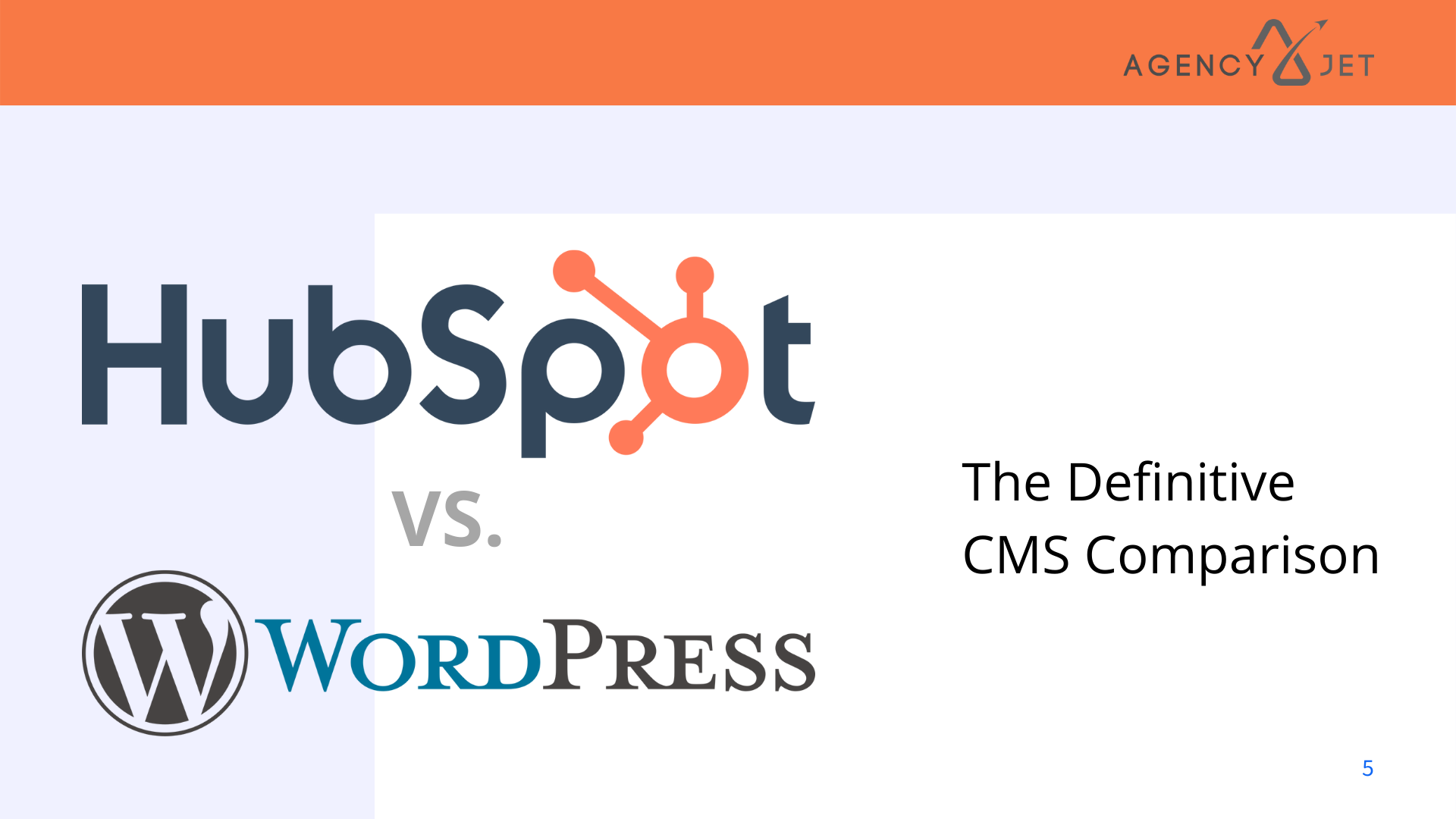 Superstar entrepreneur Gary Vaynerchuk once said, "If you're not putting out relevant content in relevant places, you don't exist." Any marketing expert can attest to this. After all, we live in an era with a global digital population of five billion people.
Online strategies have become an equalizer for companies of all sizes and industries. Small businesses and mega-corporations alike can use digital means to reach their target market without breaking the bank.
Content management systems (CMSes) have been game-changers for many organizations, as they enable non-technical users to create standout materials. However, choosing the right CMS can be difficult. Many clients ask us which is better — HubSpot vs WordPress CMS? However, there's no one-size-fits-all answer; it depends on the distinct needs of your business.
This post will walk you through the key differences between the HubSpot CMS and WordPress CMS so you can determine which platform will help your company go head-to-head with your competition in capturing, engaging, and converting your target audience.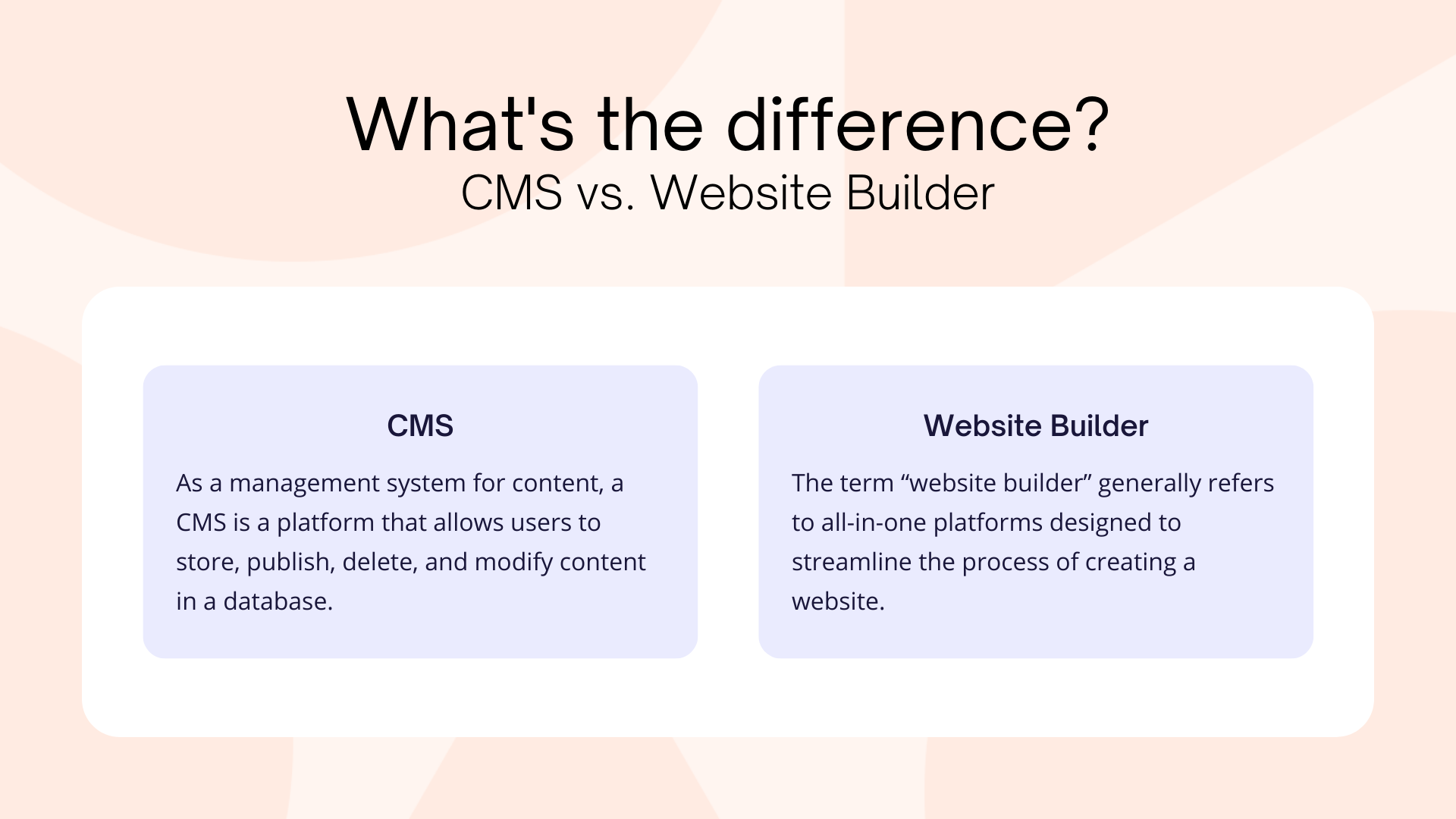 What Is a Content Management System?
A content management system is a software application for managing content. It enables users to develop, revise, collaborate on, publish, and store online materials.
A CMS has two core components:
Content management application (CMA): A CMA is the front-end component of a CMS. This lets users create and manage content through templates that automate repetitive tasks.
Content delivery application (CDA): A CDA provides the back-end services that support the CMS in storing, publishing, and improving digital materials.
Top CMS providers typically boast these features:
Content creation: Allows even inexperienced users to create and format personalized content on their own
Content storage: Keeps materials in one place for better tracking
Shared dashboard: Assigns permissions and tasks for various team members
Intuitive search: Helps users index and retrieve available data based on attributes like the author, keywords, and publication dates
Automated publishing: Lets users quickly share content across various platforms
Whether you outsource web design services or not, you can use a CMS platform to boost your online presence. HubSpot and WordPress are two of the most recommended CMSes in the marketplace today.
So, when you directly compare HubSpot CMS vs WordPress, which is better?
Let's delve into more details.
What Is HubSpot?

Founded in 2006 by Brian Halligan and Dharmesh Shah, HubSpot is a software developer and marketer focused on inbound marketing. Upon its inception, HubSpot started serving the needs of small businesses. It later moved steadily to expand its market to include larger organizations with at least 1,000 employees.
Today, the company offers solutions for the following:
Content management and smart content capabilities
Social media marketing
Search engine optimization (SEO)
Web analytics
Integration with third-party plugins
Thousands of themes
Customer support
Sales tools
Online marketing tools
And more
HubSpot's goal is to help companies market their products and services better via an all-in-one platform. To achieve this, it developed one cloud-based platform for all digital marketing efforts. This includes CMS, social media posting, email marketing, and more. Together, these tools enable organizations to nurture qualified leads until the sales team can convert them.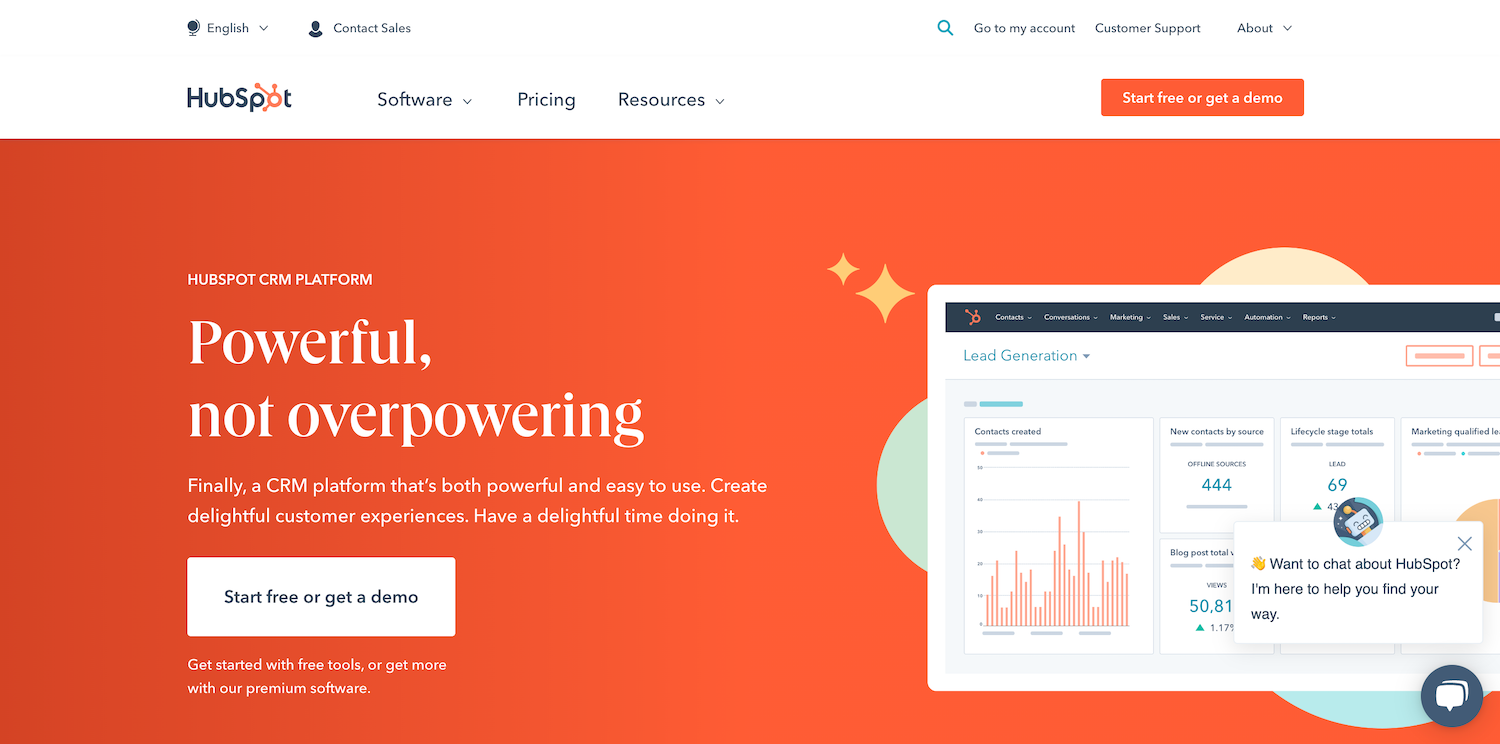 One of HubSpot's most-improved features is its CMS component. It has become a full-service CMS, providing users with a secure, fast, and easy-to-use platform that integrates seamlessly with many customer relationship management (CRM) tools.
What Is WordPress?

WordPress, on the other hand, is a free, open-source software CMS. The company started operations in 2003 when Mike Little and Matt Mullenweg developed a new program from a little-known blogging tool called B2/cafelog. The duo wanted to create an improved blogging platform from the original B2 code case.
Initially a blogging tool, WordPress quickly became an extensive CMS company offering flexible solutions for small and large websites alike. You can create various kinds of websites using this platform, including blogs, e-commerce sites, business pages, and more.
Additionally, the company offers robust CMS features, such as:
SEO features and plugins: WordPress provides users with an impressive code base for SEO.
Speed: This platform believes in a lean framework that removes anything that slows down a site.
Mobile-friendliness: Most WordPress themes available today are either mobile-friendly or responsive.
Ease of use: The CMS company offers uncomplicated settings that are accessible even for inexperienced users.
Custom menus: WordPress lets businesses create various navigation options so they can customize their users' experience on their website.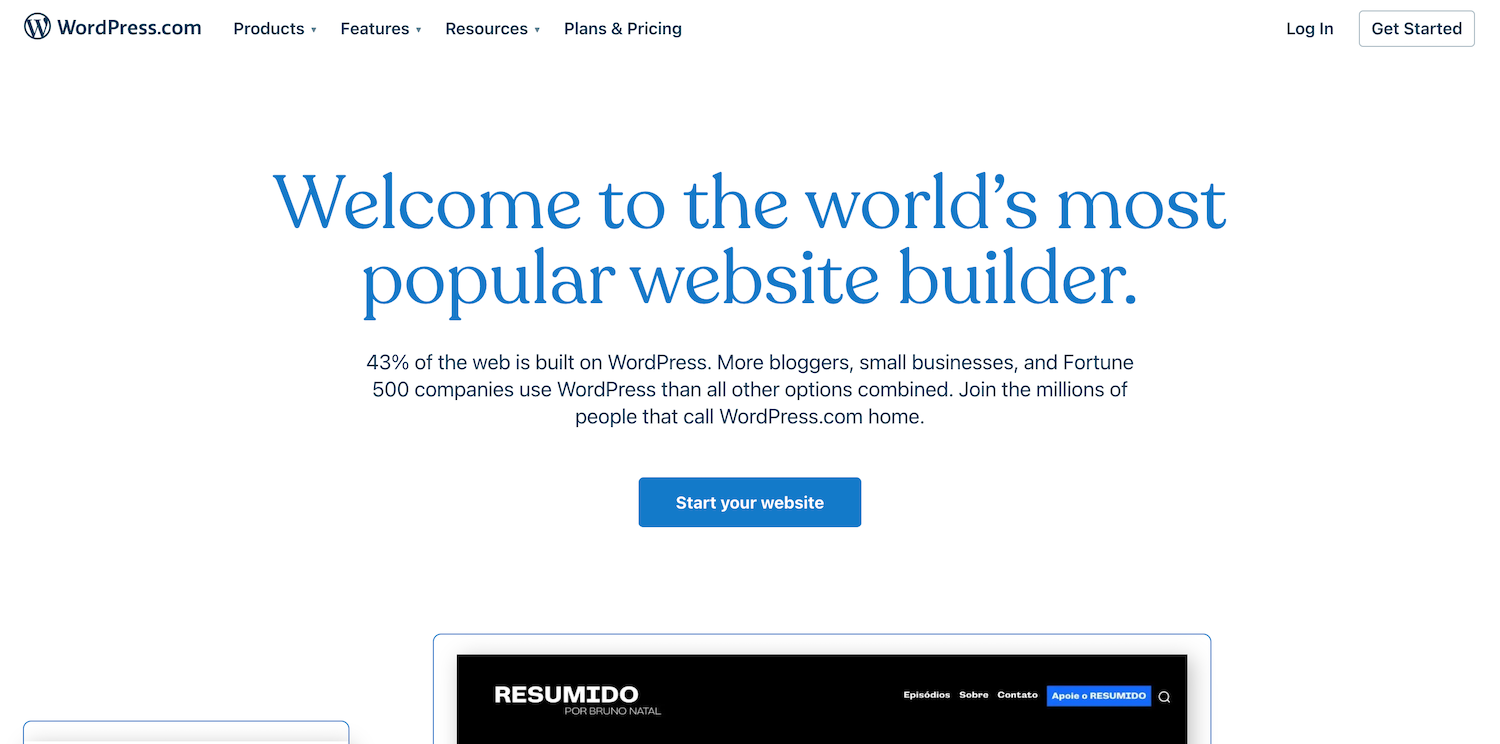 However, this has yet to clarify whether you should look into HubSpot web design services or WordPress web design services. Now that we've established the basics, we'll discuss how these platforms compare to each other.
Key Components
A CMS should offer components like the ease of use, template choices, SEO, and fair costs. If you're thinking about HubSpot vs WordPress, you can rate how well they hold up to one another based on these features.
Ease of Use: Design Beginners
A CMS should make it easy for non-developers to create website content. If you're torn between HubSpot vs WordPress CMS for your first website, this should be at the top of your mind.
HubSpot offers a drag-and-drop feature with modules. The platform covers elements like images, menus, social media buttons, headers, text, and more. However, if you want to build something more advanced, you will have to create a custom theme from scratch or find options from the limited module marketplace.
Meanwhile, the WordPress user interface is user-friendly and functional even for novice users. If you want to add a design or function, you can simply use a theme or a plugin. The WordPress dashboard uses an uncomplicated dashboard with various menu options.
For us, HubSpot offers a better experience for beginners out of the box, as long as you don't need any additional features as your site grows. However, if you want to add more features like analytics, speed boosters, or event calendars, we recommend choosing WordPress.
Ease of Use: Backend
The CDA serves as the backend of CMS. It stores and manages the content that site owners or web design services input through the CMA for publishing.
HubSpot's creators designed their CDA as an inbound marketing tool. Later, they transformed it into a CMS. Now, you can find everything you need in the CMS Hub for CDA, but at an extra cost.
WordPress, on the other hand, does a great job at simplifying its backend operations. You can make code decisions even without opening HTML or CSS panels. WordPress also offers a flexible backend option so experts can toy around with specifics.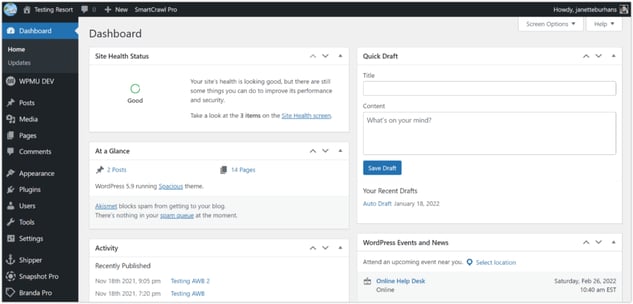 -Source
If you manage a small business and are still learning the ropes about CMS backend, give WordPress a shot.
Ease of Use: Adding Content and Media
When comparing HubSpot CMS vs WordPress's ability to add content and media, we'll tell you upfront that both are winners.
With HubSpot CMS, you can upload images, fonts, and other files to a tool and publish them as content. Afterward, you can edit, organize, and delete them as needed. You can also share them with teammates or other departments via a download link.
Similarly, if you have Administrator, Editor, Author, or Contributor privileges in WordPress, you can easily add or update content.
Templates and Themes
Are you looking for a platform that will provide you with templates and themes that you can use right out of the gate? Both HubSpot and WordPress can help you in this department, but the latter does it better because of its massive library of free tools. Remember, WordPress has been around longer than HubSpot and has used thousands of designs since its inception.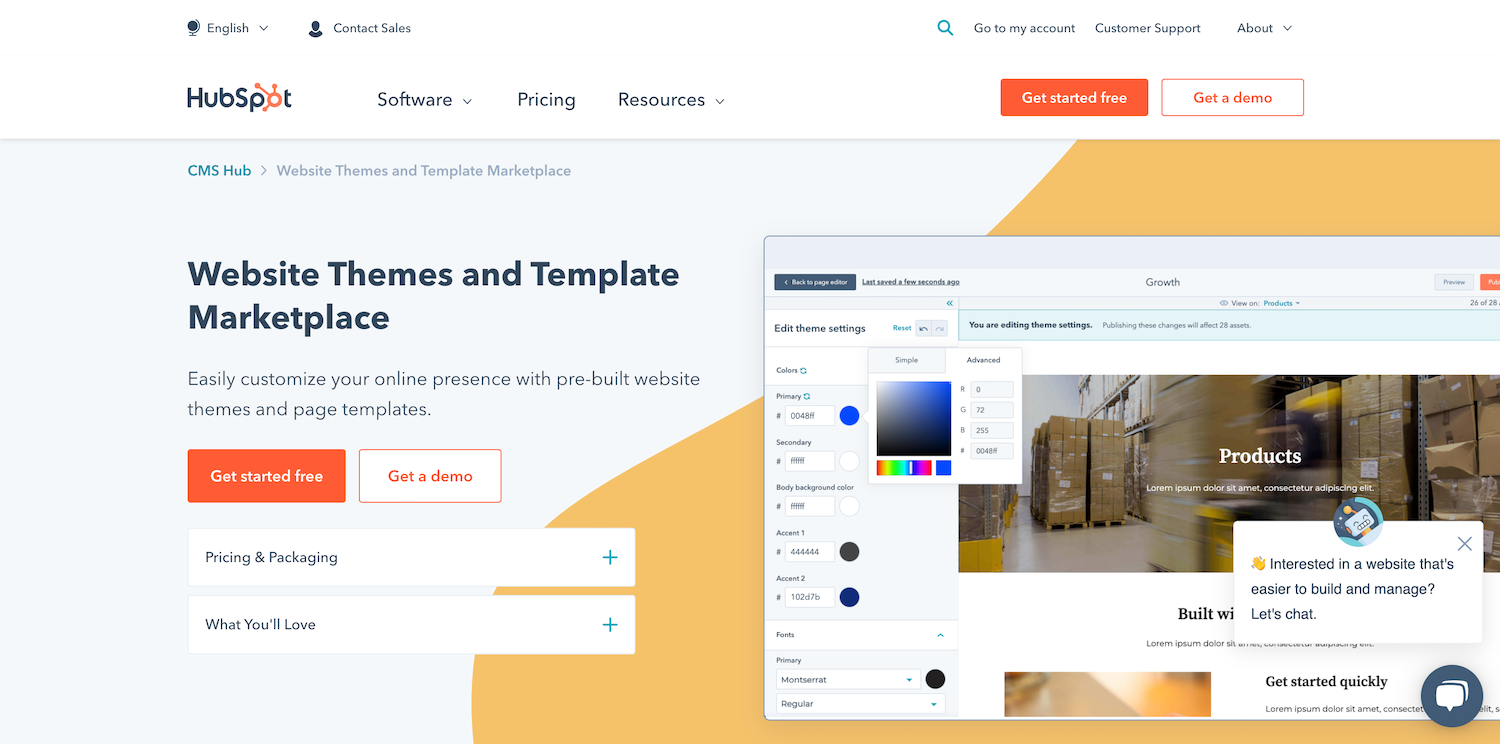 HubSpot Website Themes and Template Marketplace
HubSpot templates and themes are getting more popular because you can easily transport them across different accounts. You can customize multiple tools using one panel, even without HubSpot web design services.
However, WordPress wins in this category with 9,755 free themes, some already with built-in templates and page variations. Many theme editors allow you to apply different page versions to individual pages, allowing you to differentiate your homepage from something like your archive page. This means you can often stack an additional theme's features onto your existing theme.
Search Engine Optimization
As a modern company, you should optimize your pages for search engines, especially Google. Here's why: According to recent Google search statistics, the industry leader processes over 8.5 billion searches daily.
If you want to capture targeted audiences through this platform, you should observe SEO best practices, and CMS software can help you do just that. Here are some strategies to remember:
Load speed: Google states that the ideal site load speed should be two seconds or less. Otherwise, you risk losing visitors.
Mobile-friendliness: Mobile internet usage worldwide has reached 32 billion. Your layout should address the mobile optimization needs of this market to boost your SEO ranking.
Navigation: Apart from user experience, an easily navigable site also helps crawlers find your content. This helps Google determine which pages are important in shaping your authority and brand identity.
Social shares: Modern businesses should use multiple platforms to reach their audiences. For this reason, social sharing is essential for SEO.
Keyword use: HubSpot offers a content strategy tool in its Marketing Hub. This tool can help you identify hot topics, find keywords, and enhance your content to generate more traffic in the long run.
HubSpot and WordPress are two of the best CMS platforms for ensuring your success in terms of SEO. So, if you're thinking HubSpot CMS vs WordPress for SEO, which should you choose for your brand? Let's discuss each platform's SEO capabilities in more detail.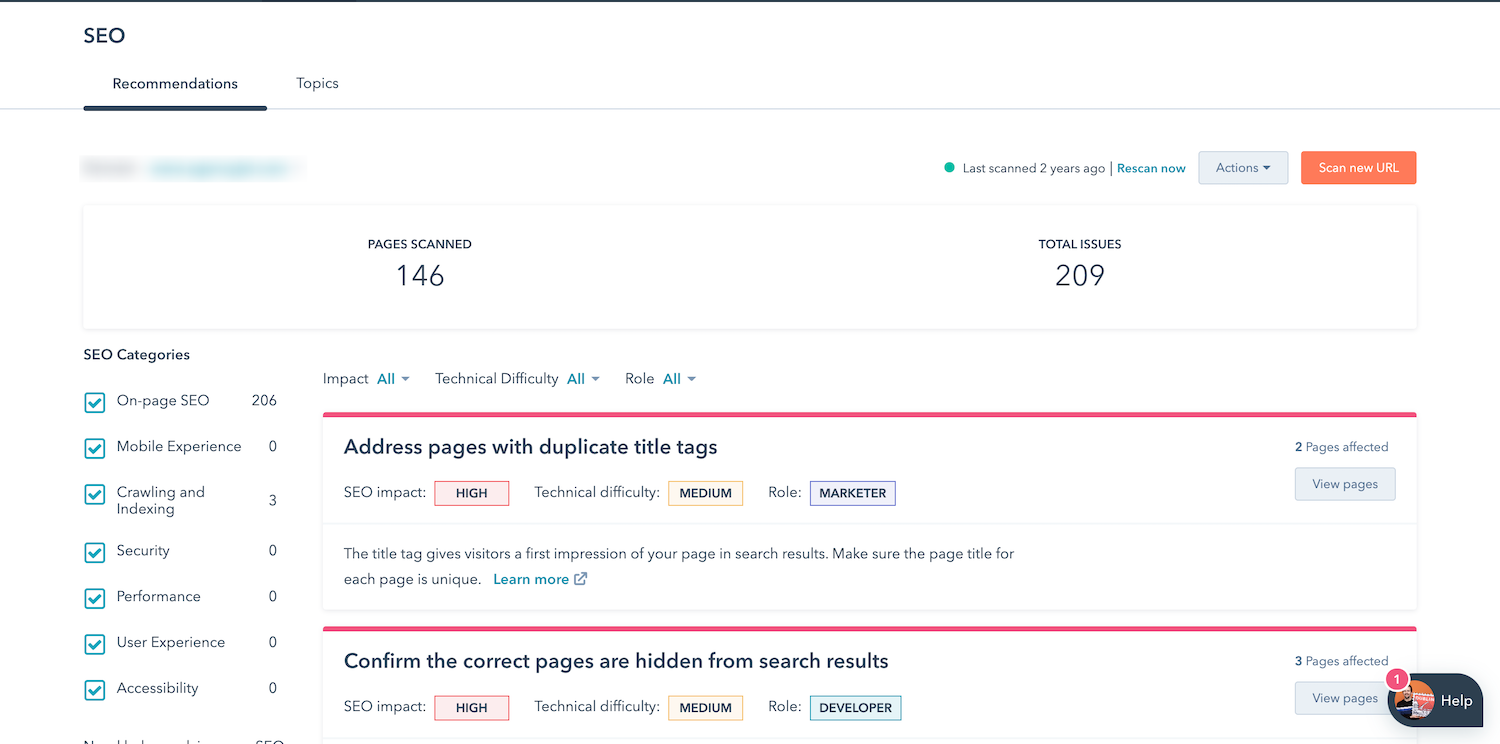 The view of HubSpot's SEO section.
First, let's talk about HubSpot. The company claims to offer "everything you need to build and scale a powerful, optimized website that converts." It provides users with an all-in-one CMS software and a handful of analytics tools that makes it an ideal SEO tool. Even without HubSpot web design services, you can view recommendations and analyses to help you make sound choices for your brand.
With HubSpot CMS, you can enjoy the following features:
A blog platform
Dynamic content
Visual page builders
Hosting capabilities
Interactive forms
Landing pages
Email marketing campaigns - for an additional cost
Additional marketing tools - for an additional cost
The interface is user-friendly, and administrators can oversee operations from their mobile devices. Even if you work remotely, you can easily manage your site's ranking.
Additionally, you can check out HubSpot Academy for an extensive range of free SEO, social media, email marketing, inbound sales, and content marketing courses, complete with globally-recognized certifications. SEO has a steep learning curve, but you can learn the essential skills to grow your business here.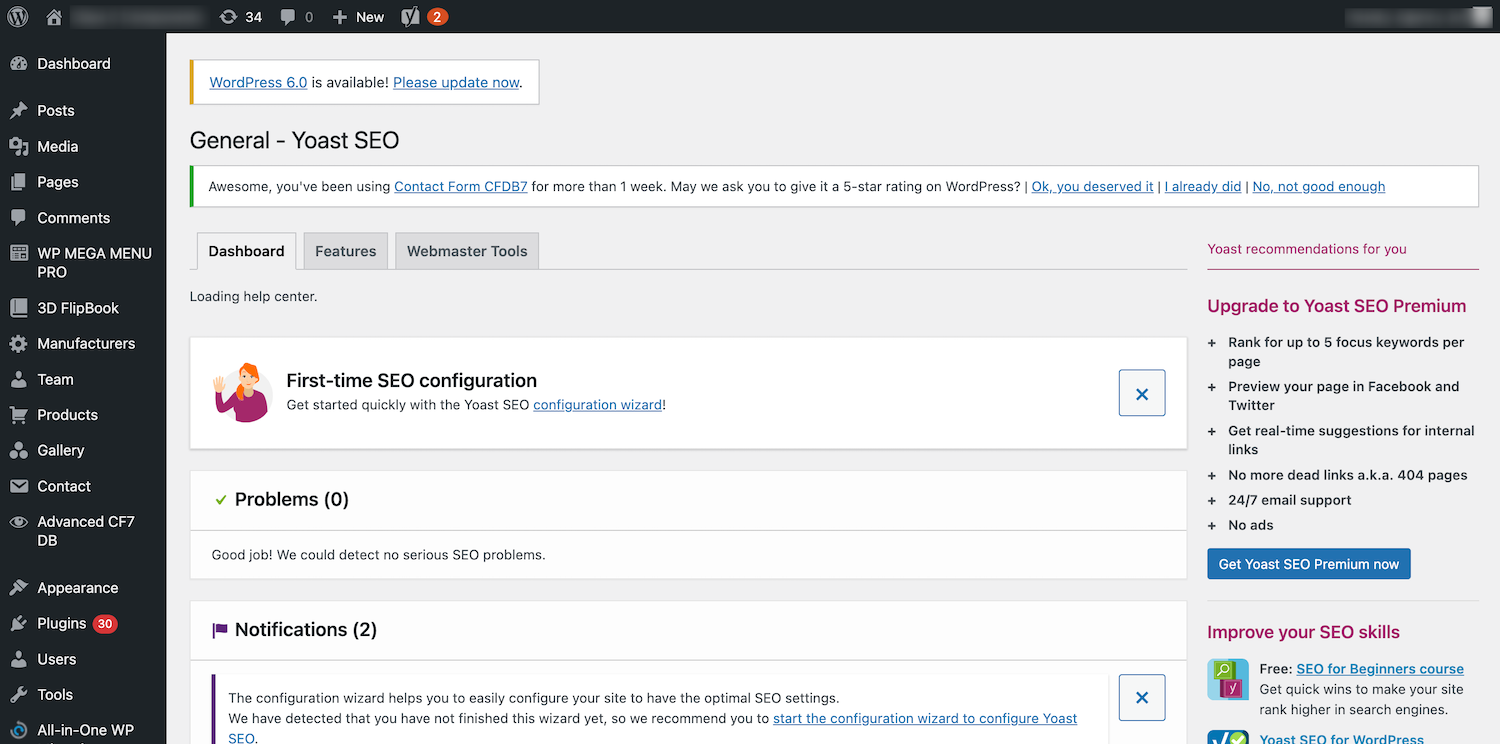 The view of the WordPress Yoast SEO plugin.
WordPress is no SEO novice, either. Apart from its wide range of themes and templates, WordPress also offers plugins. Some plugins — such as Yoast SEO — offer free services that are ideal for beginners. We also suggest checking out other plugins, such as:
XML sitemap plugins
Blog plugins
Keyword research plugins
With the right SEO plugins on your site, you can easily implement SEO tactics to boost your ranking. However, despite these functions, we have to go with HubSpot as the clear winner for the most SEO-friendly CMS.
After all, the HubSpot CMS software contains everything you need to enhance your searchability; you don't need to rely on additional plugins to achieve your desired results.
We also recommend the HubSpot Academy for digital marketing novices and experts alike. Their certification courses can keep you up-to-date on ever-evolving SEO best practices.
Cost to Start
Both HubSpot and WordPress offer free CMS services that are recommended for small businesses.
HubSpot CMS Hub shares the platform's pricing methods: Starter, Professional, and Enterprise. The Starter pack costs $25 per month, while the Professional and Enterprise systems cost $400 and $1,200 monthly.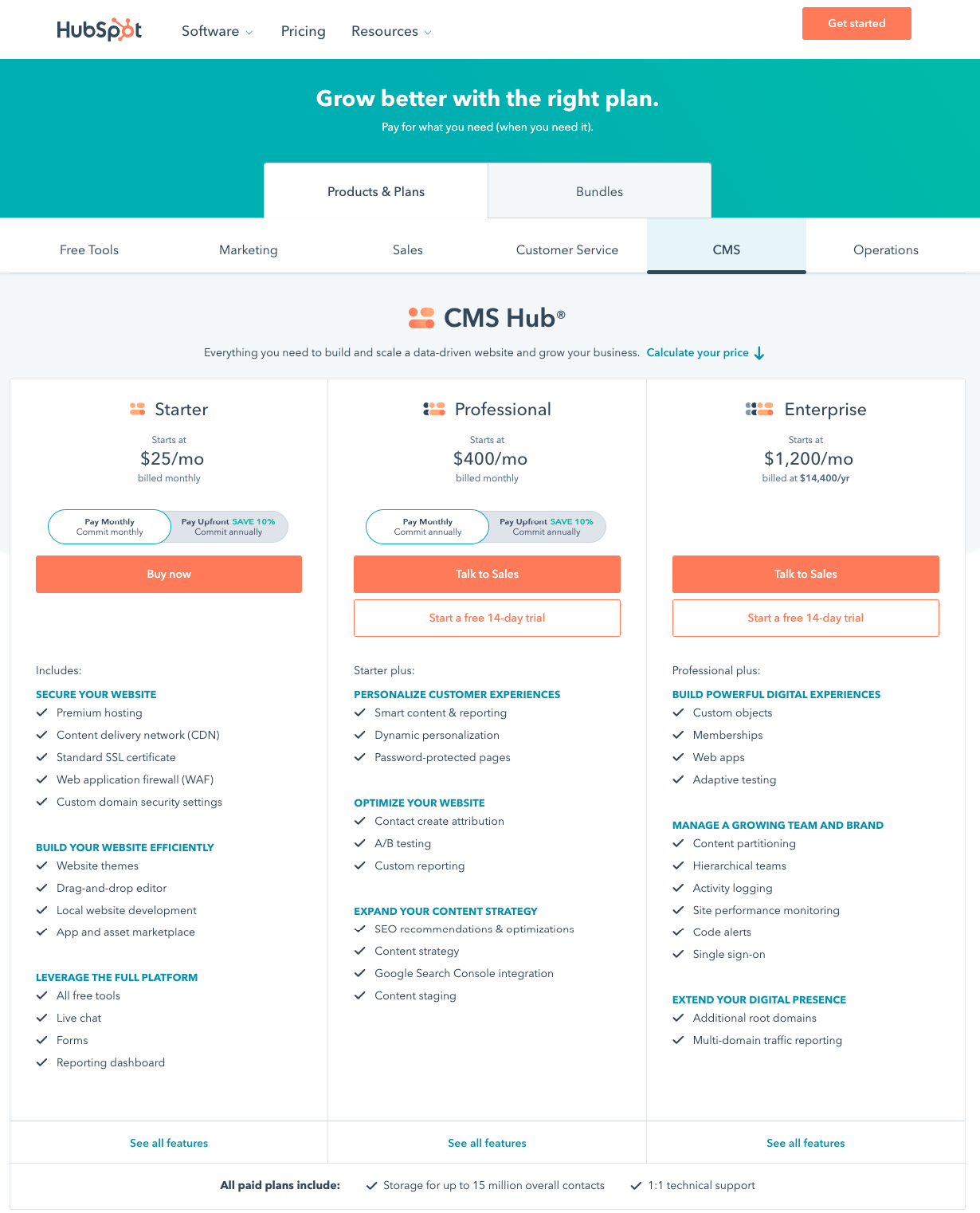 The CMS Hub Starter offers a free CRM platform, a responsive drag-and-drop editor, and a multi-language creator, among other features. If you want to try it out before you start paying $25 per month, you can try out the free trial to see how it works for you.
WordPress, on the other hand, is a free content management system with complimentary templates, themes, and plugins. However, you'll end up needing a few investments to keep your site running.
Cost to Maintain
When it comes to maintenance costs, there's no clear winner in the HubSpot vs WordPress debate. Ultimately, your distinct business needs will determine how much you need to spend to maintain your site.
The HubSpot pricing scheme seems pretty straightforward, but every additional software element you add to your site will cost you money.
Similarly, WordPress offers free CMS services, but you will need to pay for your domain name, hosting, and security either monthly or annually. Hiring WordPress web design services would cost you a one-time fee of about $1,000 for a basic site.
Other Factors to Consider
HubSpot CMS and WordPress CMS are industry leaders in their own right. Both CMS software brands have loyal followers that swear by their services. Apart from their ease of use, templates and premium themes, SEO, and costs for startup and maintenance, how else can you determine the winner of the HubSpot vs WordPress CMS debate?
Below are some factors we recommend you consider before deciding what's best for your business.
Which Companies Use HubSpot and WordPress CMS Software?
Gauging the number of users that HubSpot and WordPress have won't be an apple-to-apple comparison. Instead, let's check out the most prominent users that each platform has.
HubSpot is a leading name in CMS software. Today, many organizations from over 120 countries use the company's intuitive tools and integrations for their digital marketing efforts. Isos Technology, Caton Technology, and Synlait Milk are some of the most notable brands that swear by this platform. You can check out their sites by following the links above to see if HubSpot is the solution for you.
The most popular WordPress users, on the other hand, boast brands like Sony Music, Time Magazine, and Disney Books. They all use WordPress CMS, though they apply different templates, themes, and plugins. Visit these sites at the links above to see what WordPress can do for large businesses.

How Scalable Is the Software?
Your business might be small now, but it won't always be. Once you expand your company, your CMS should be able to grow with it. How scalable are HubSpot and WordPress?
HubSpot software solutions boast optimized services that are ideal for scalability. Let's go back to the previous examples of HubSpot users — Isos Technology, Caton Technology, and Synlait Milk. You can see they're all relatively new but ambitious organizations. With their examples in mind, you can start on a free plan but still grow your authority with HubSpot CMS.
WordPress is also highly scalable and can serve organizations of vastly different industries and sizes. Apart from its standout security, it can accommodate logins from tens of thousands of users at any time from one organization.
Frequently Asked Questions
Which Is Better: HubSpot CMS or WordPress?
As we've discussed, there's no one-size-fits-all solution for all small businesses. Instead, it's best to understand your distinct needs as an organization and find features that address them.
In this article, you will find comparisons across various components, including ease of use, templates and themes, SEO, and costs. Build your strategy first and match these features to what will fit your business goals.
Why Should You Choose HubSpot Over WordPress?
WordPress offers standout components, including its ease of use, wide range of free templates, themes, and plugins, and potentially smaller startup costs. If these are what you need to boost your digital marketing efforts, then choose WordPress over HubSpot.
However, according to the HubSpot customer spotlight page, the CMS software company now serves over 143,000 organizations worldwide. It seems like it's here to stay, and its growth is not showing any signs of slowing.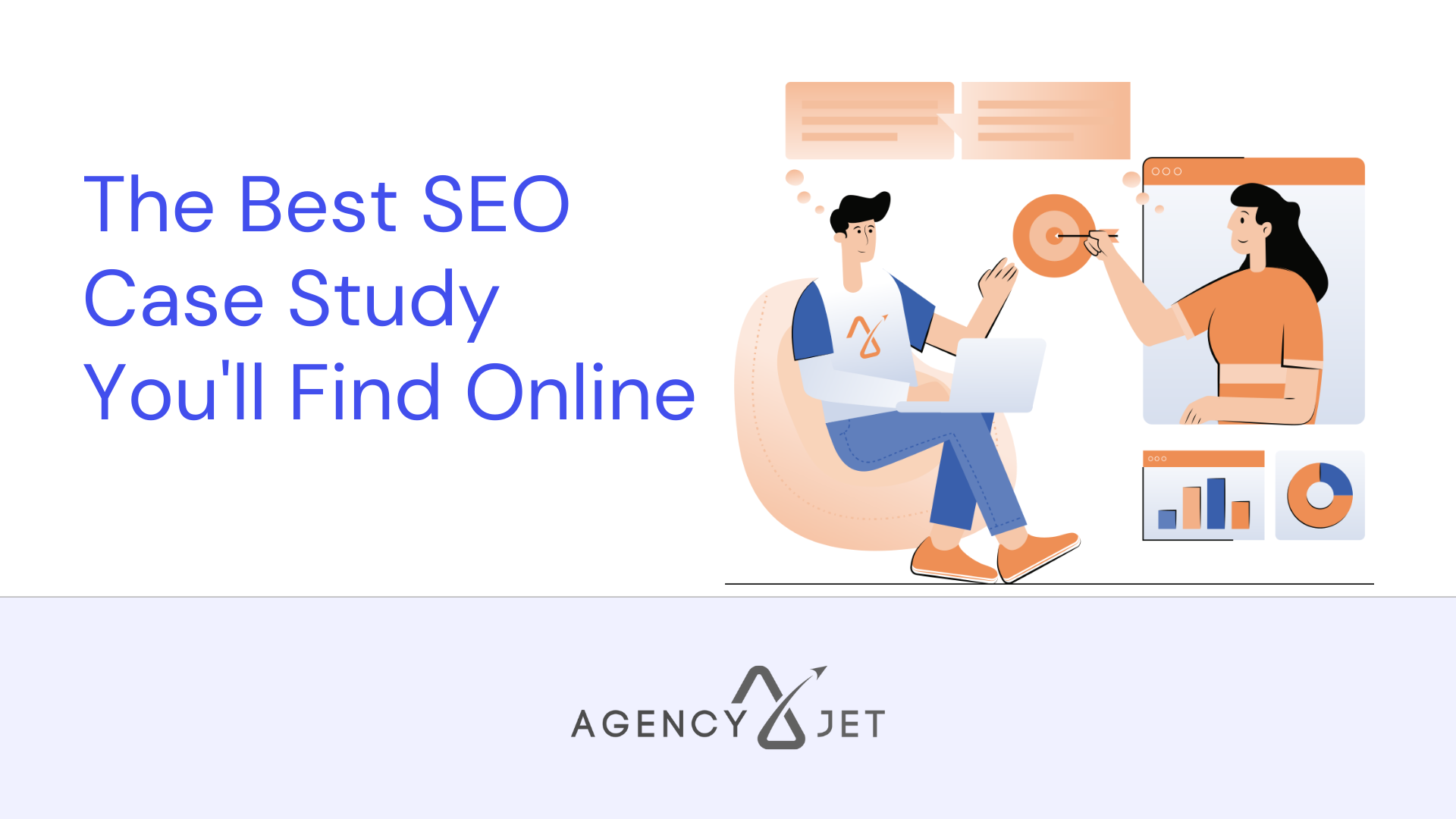 Want to read a case study of a company that actually changed from WordPress to HubSpot? That's us! Read Agency Jet's 5000+ word case study about the switch.
One of HubSpot's standout features is its SEO capabilities. It provides users with blog post platforms, landing pages, and interactive forms all in one CMS software. The best part is that you can oversee your efforts from virtually any device in the world as long as you have an internet connection.
One of the other huge advantages of HubSpot is their support network and online knowledge base. They offer a ton of resources on things like buyer personas, marketing strategy, how to write content for search engines, industry statistics and a whole lot more.
Is WordPress a CMS?
Many consumers still associate WordPress with personal blogs, which is how the company got started back in 2003. However, it has since become a popular open-source platform that enables users to develop, revise, and publish digital content, and the company has done quite well with it judging by its global website usage of 34% for over 75 million sites.
Can I Use HubSpot with WordPress?
Yes, you can use HubSpot with most WordPress forms and popup builders. HubSpot offers a WordPress plugin that you can use to enjoy CMS, CRM, marketing, and sales features on your WordPress backend.
If you want to enhance your WordPress site with HubSpot's SEO, analytics, and training capabilities, you can combine the two in this way. We would recommend doing this if you have the right web design services on your side.
Elevate Your Online Presence Now
Which platform wins the HubSpot vs WordPress debate? The answer is up to you. Only you can determine which solution will help you achieve your targets. We would happily recommend using either HubSpot or WordPress as your provider, and if you want, you can even use them together to enjoy the strengths of both brands.
HubSpot is an SEO master. You will have to spring for the complete package, but the results are worth it. WordPress, on the other hand, offers exceptional ease of use even for inexperienced users. When you find the ideal combination, you can revolutionize your digital presence.
However, no matter which software you use, creating a CMS is a complicated process that requires an expert touch. If you don't have experienced marketing teams on your side, it's best to work with an agency that can build a custom solution for your needs.
Regardless of what website platform you're on right now, it's always good to take advantage of a free and educational website audit from a professional. At Agency Jet, we focus on helping small businesses with their digital marketing efforts. Our clients stay with us four times more than the industry average because we provide them with unmatched value.

So, what are you waiting for? Reach out to us online or call us at 612.888.2538 to take the first steps towards building your business's web presence right.
Join the thousands of SEO-obsessed readers on our mailing list