Standing out on the Internet can be a difficult task. Since 2015, Agency Jet has brought a results-driven digital marketing approach that ensures your SEO and web design are set up to succeed. After all, since 75% of users don't scroll past the first page of Google, your business requires the best.
Our clients are thrilled with our digital marketing services! They continue to leave us great reviews on Clutch, a B2B ratings and reviews platform that uses verified client feedback to rank companies. On Clutch, we hold a 4.9/5.0 rating over 12 reviews, which makes us one of the top SEO firms in the Minneapolis area. We're thankful to all the people who've taken the time to leave us such great feedback.
In a recent project, we provided web development and SEO/PPC services for a law firm. Our team optimized Google Ad spending and helped redesign the site along better SEO principles.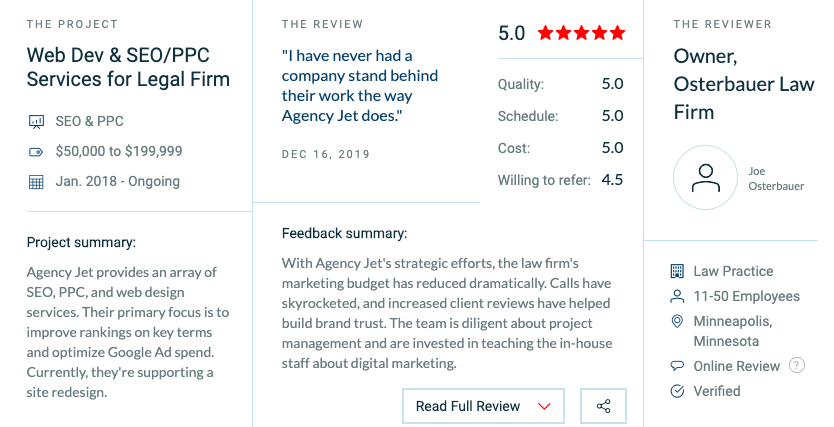 The results have been impressive. We've significantly condensed the law firm's marketing budget and saved a significant amount of time. There has also been a 20% increase in leads.
We also recently provided digital marketing and SEO support for a medical equipment company. After a thorough site audit, we helped the company interpret data through Google Analytics and increase sales on their website.
"My boss and I are very impressed with the results they've obtained in a short period of time. We're thrilled with their work so far," said Deborah Brown, an executive at Danlee Medical Products. "In less than six months, we have a 2%–3% increase in the cost of orders being placed by customers. So, not only are we getting more orders but the orders are better in terms of dollars. We're getting substantial orders because of their work. I can attribute our success to their work because hiring them was the only thing we've changed in our process since starting with them."
Our work is also featured at The Manifest, a business-to-business blog that provides prospective buyers with research and insights into the industry. At The Manifest, we rank as the No. 1 social media marketing company in Minneapolis. Buyers can also find portfolio content at Visual Objects, a site where companies can showcase digital work to potential customers.
If you would like to start a project, feel free to contact us.