Did you know Google has made significant changes for local search?
Why should you if you said no?
Because you're concerned about your business and how to sell your products or services right?
When you're looking for a movie time, or a restaurant near you what do you do? Do you get the LOCAL newspaper or break out the Yellow Pages? Hell no! You just pick up your minicomputer (aka your cell phone) and look it up on Google right?
So, what makes you different than any other person you want to do business with?

NOW THAT I HAVE YOUR ATTENTION YOU MUST READ THIS ENTIRE BLOG TO HELP YOUR BUSINESS.
It's imperative you hire the right people at your company or you hire the right digital marketing company to get you found on Google, Yahoo or Bing when people are looking for your products and services so they will consider your company versus your competition.
If you don't have people at your company doing that work or if you haven't hired a digital marketing partner, then you're failing.
But the great news is you can succeed and add 15% to 50% to your bottom line with little effort.
How do I start learning about Search Engine Optimization?
If you asked this question, you know you need education. Start with an assessment of your marketing and website online with a reputable Digital Marketing Company that specializes in search engine optimization. Contact them for a website assessment that is not only on paper but comes with a live demo of your company and how to improve your online presence. If the company that you have found does it at no cost, ask if the meeting can be recorded. This way you can go back to review the video or show other people in your company the assessment as well.
Do a self-check on your current Search Engine Optimization Locally
Do you need to adjust anything? When was the last time you adjusted anything on Google (off page work not on your website)? After all you don't know what you don't know until you know, right? After reading this you will be in the know.
One of the main themes discussed is centered around the fact that Google search today is less about displaying organic web page results and more about featuring your business's services or products.
Searching on Google could show an abundance of Google-owned properties. Ask yourself how many of the properties you see are ones you are aware of. Is your company using this multitude of properties to increase your digital footprint?
This is your DIGITAL BILLBOARD online:
Paid listings and ads
Reviews on your business snack pack
Knowledge panel
Review carousel
Local business listing
News carousel
Images carousel
Research carousel
Refine by brand carousel non-Google SERP features
E-commerce URLs
Review URLs
Today, we are seeing result pages where Google features occupy virtually the entire page and organic web page results were barely visible.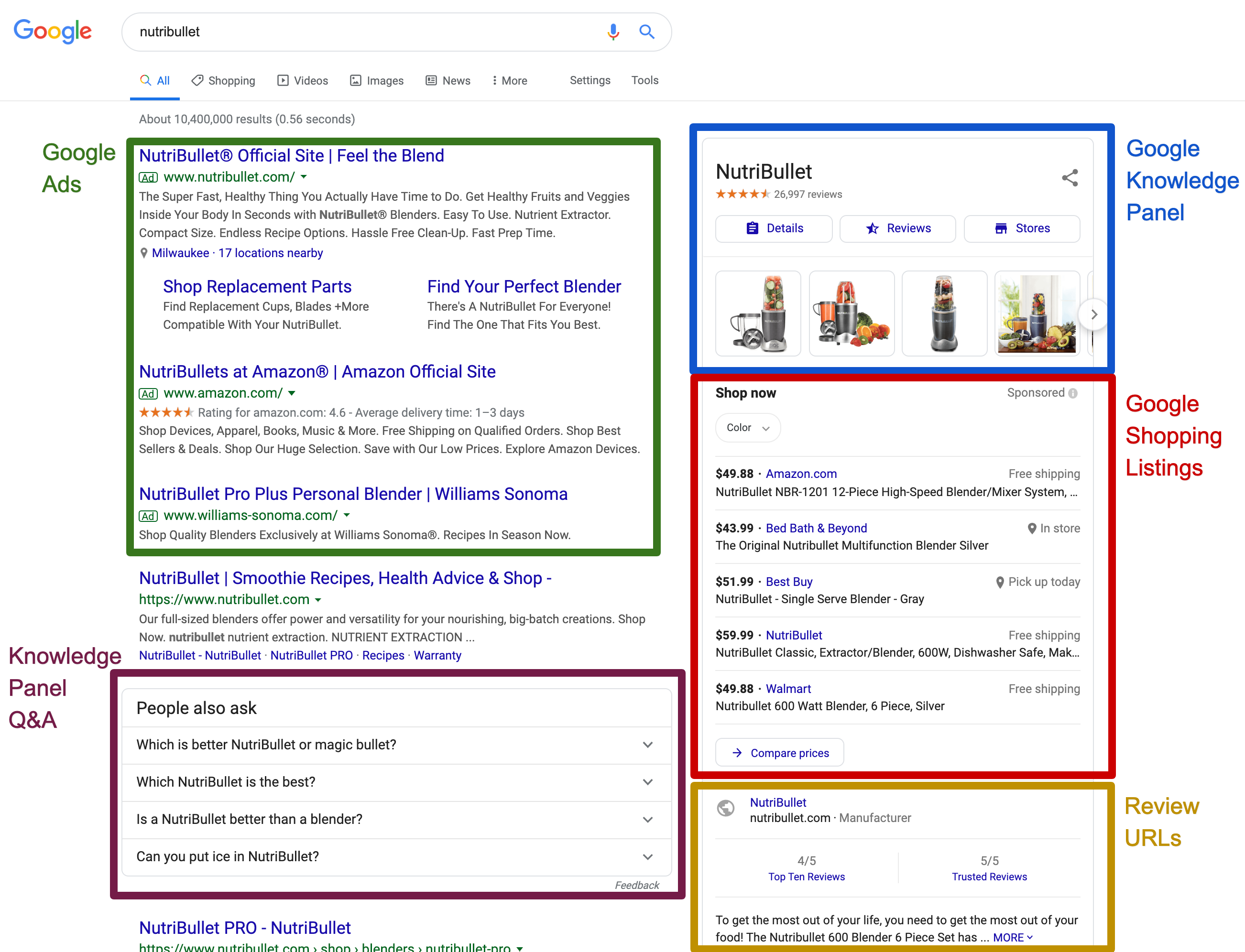 The impact is clear: More and more information will reside on Google's servers instead of on the web itself. Google "curates" the vast majority of content users see, so webmasters must rely on Google's platform and less on their independently owned websites.
To those who complained that traditional search engine optimization (SEO) relied too much on following Google's rules, thanks for playing — you can now turn in your game card. We will soon be entering the local search arena on Google's exclusive home turf.
Google's new local search world
This is one example of the new updates Google has introduced over the past year. As you can see, this blog is informational, as we are all about education. Read on to find ways to boost your search ranking within Google features.
Optimize your business on Google
Google My Business (GMB) now allows owners to add much richer content than photos and basic listing information. Here are a few examples we would recommend.
Google Posts will allow your business to share dynamic content with potential new clients as distinguished from more permanent content such as name, address and phone number (NAP) information. Some of the examples might include, business mixers, events, announcements or seasonal content. You can put your posts on in the form of simple text, quality photos or informational videos.
Google Q&A. Users can ask questions about your product or service, and you or a member of the public can answer. This is a way to engage with customers and add relevant content to your listing.
Google Snack Pack. Allows potential clients to see reviews of your company, store hours, images, and mapping. It builds confidence with potential clients and is imperative for local search engine optimization. Just click on this link for an example of a Digital Marketing Company's Snack Pack in Minneapolis, MN.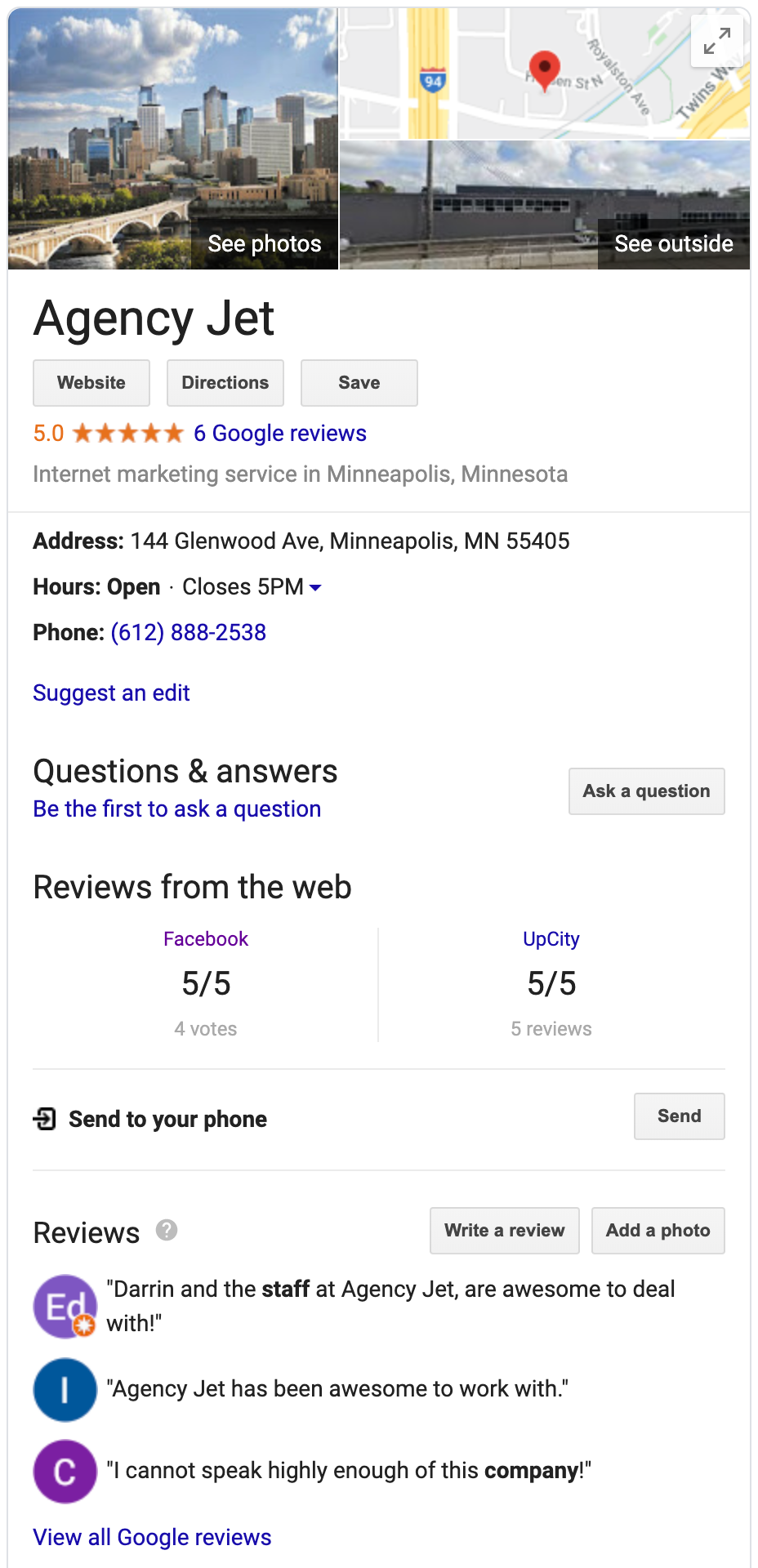 Here's an example of Agency Jet's snack pack. Your business should have one too.
Google Messaging. Unlike Google Q&A, messages are personal and do not appear on your listing. Messages are sent to the business that responds directly to the customer.
Google Bookings. Google bookings integrate with supported scheduling partners to provide appointments and reservations and insights through your GMB account.
You must actively manage your Google My Business listing
We always recommend you regularly check on the listing to make sure it hasn't been updated with an aggregator's outdated information or a false, prank photo. With the consistent release of new features it's highly recommended to make frequent, if not daily, checks to your Google My Business listing.
Some people of the the the Google Q / A feature say it's become an open message board for the public. The intent is to answer questions and not leave messages. You may find reviews, some old clients going off on rants, or possibly spam by competitors. More importantly legitimate questions left unanswered can reflect poorly on the business.
The new GMB requires frequent attention and some pampering in order to ensure their addition has a positive impact on your listing. If your team doesn't have time to maintain the work or even keep updated on the changing world of algorithms of Google, Yahoo, and Bing it's imperative you look into search engine optimization companies for small business to do the work for you. Treat them as an employee working for you.
If the investment is $1,600 a month that is a $10.00/hr employee working full time for you with no medical, dental or 401K. Their entire goal will be to direct traffic to your website to increase leads or online sales. At only $10.00/hr!
Do yourself a favor and take the first step with a website assessment.
Author: Darrin Gerr, CEO