SEO Pricing: Understanding What It Means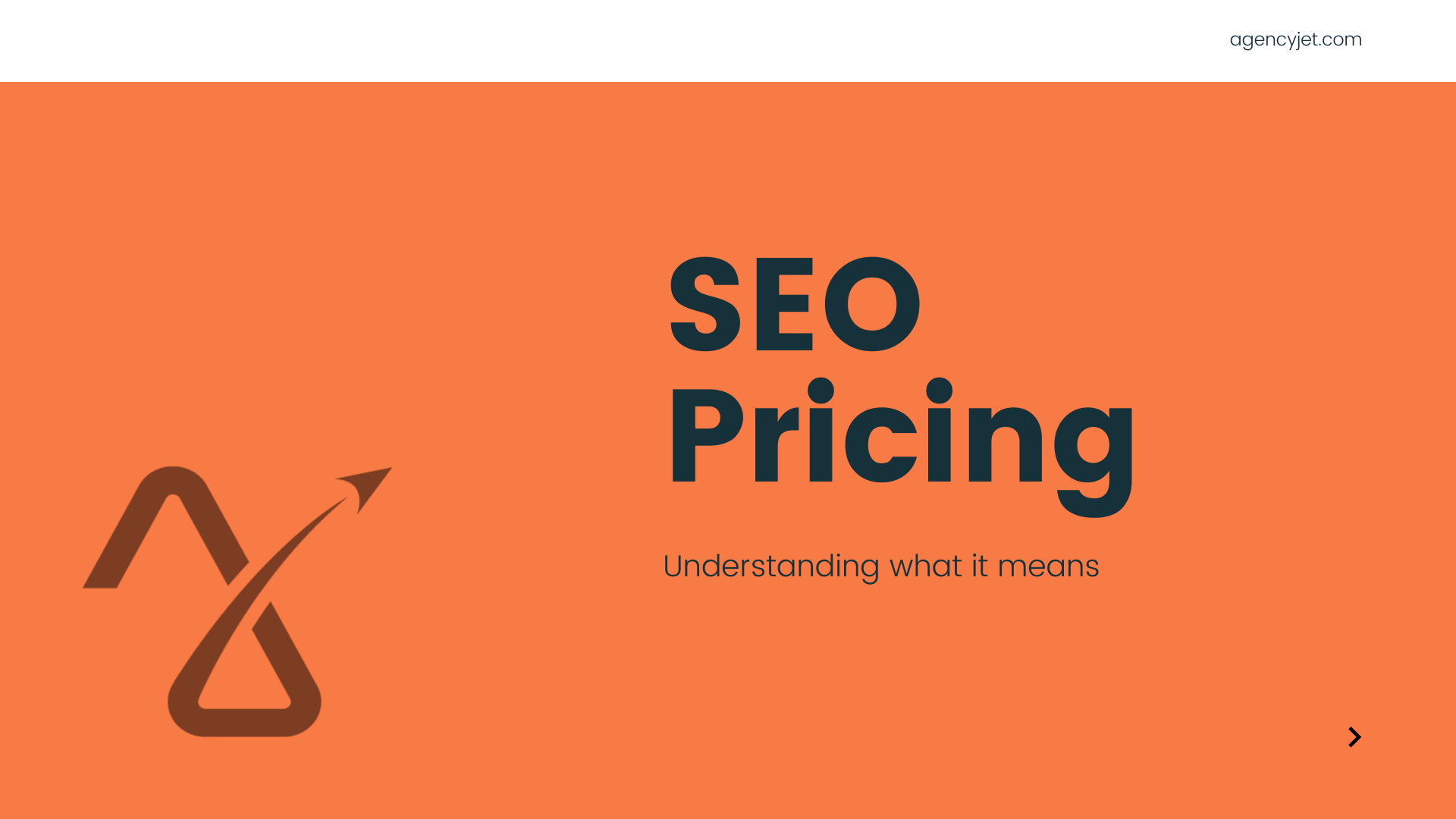 Learn about what SEO pricing should mean for your business when you're looking to hire a digital marketing company from our Director of Client Strategy, Colby Wegter.
<<<Transcript>>>
00:04 - 00:12
Hey, guys, welcome to this video, I just wanted to basically kind of continue on with pricing and what it actually is in the SEO industry.
00:13 - 00:14
First and foremost, it's not regulated, right?
00:14 - 00:29
So if you're going to make a decision to do SEO for your website, it's actually one of the fastest, actually, marketing tactics you can do, it's one of the easiest to show actual growth as far as marketing tactics go.
00:29 - 00:35
So, I just wanted to kind of identify what should you pay for this, because there's a lot of different prices out there.
00:35 - 00:43
And this, actually, in just follow up to our post earlier in the Week, Affordable Local SEO services, go ahead and check that out.
00:43 - 00:50
It's actually talking about pricing quite a bit, and what you can expect today in this industry, and what you should avoid.
00:50 - 00:52
So, let's actually go into it a little bit.
00:52 - 00:53
First and foremost.
00:53 - 00:55
This is what we're going to discuss.
00:55 - 01:00
We're going to talk about the SEO industry itself, what cheap SEO looks like.
01:00 - 01:14
And it's, it's not good, we're going to talk about Agency jet, and pricing varies, but we're gonna at least go into what you can kind of expect from a pricing outlook for agency jet and then of course, understanding what deliverables you get for that price.
01:14 - 01:17
And then finally, we just kinda recommend doing your research.
01:17 - 01:29
If you are looking for SEO for your company and you're thinking about maybe hiring a freelancer, or you're thinking about hiring an agency, or maybe even an internal marketing employee, what that kinda looks like.
01:29 - 01:31
So, let's dive in.
01:32 - 01:35
First and foremost, like I said, the SEO industry isn't regulated.
01:36 - 01:39
And there is a huge amount of variation, more or less.
01:39 - 01:48
There is basically, you could get SEO for as cheap as a couple of hundred bucks to SEO, for that can be $10000 a month.
01:49 - 01:51
And so how do you actually make the right decision?
01:51 - 02:07
Well, one thing we know is that SEO is not necessarily that valuable at the lower price point, and then at the higher price point, you know, the 10 grand a month, it should really be offering way more than just ranking online.
02:07 - 02:09
There should be branding packages involved.
02:09 - 02:13
There should be actual online reputation strategy.
02:13 - 02:17
There should probably be even print and other marketing strategy.
02:18 - 02:21
So, let's just kind of talk about what you get with normal SEO.
02:21 - 02:30
And the first thing is, is not to get cheap SEO, So if you're getting a couple hundred bucks, even 3, 4, or $500, those exist out there.
02:30 - 02:31
Again, not regulated.
02:31 - 02:34
Anybody can start an SEO company.
02:34 - 02:41
I could technically run an SEO company from my bedroom right now, which is my home office, because we're still stuck here and quarantine, right?
02:42 - 02:50
And even though I have a wealth of experience, and could probably do that work for lower, just me, you really should be trusting your SEO to an agency.
02:50 - 02:58
Because there are a lot of people less ethical than me, who are advertising, cheap SEO services all inclusive for $300.
02:59 - 03:01
It's, it's not all inclusive.
03:01 - 03:03
And if it is, it's using dangerous tactics.
03:03 - 03:05
So, cheap SEO looks a lot like this.
03:05 - 03:13
You see this image, this is actually pulled from fiverr, or maybe you've heard of it before, but it's a kind of the gig economy where you just hire somebody.
03:13 - 03:19
If you just want to hire a random freelancer to write you a blog post or you want to have even you know on fiverr, you can get anything.
03:19 - 03:23
So, you can hire a random photographer or a voice-over actor, whatever it is.
03:24 - 03:27
You can go to fiverr and hire that person as a gig, right?
03:28 - 03:31
But if you just look here, I just typed in SEO.
03:31 - 03:34
The first thing you see, are people promising.
03:34 - 03:41
Multiple backlinks, 100 domain Authority, Backlinks, all of this stuff is quantity, not quality.
03:42 - 03:45
And you can't really vet this person, even if they have high rankings on, fiverr.
03:45 - 03:48
You shouldn't be buying links for $20.
03:48 - 03:55
You shouldn't be by one-off SEO type services, because SEO is based on a total strategy.
03:55 - 04:01
So if you're actually just buying kind of ALA carte little things to help your your website improve in Google.
04:01 - 04:14
It's not standing behind any core strategy and so you're just basically grasping at straws hoping that you're appealing to Google without actually a straight line mission on how you're gonna look good in Google.
04:14 - 04:23
So if you have gone to fiverr you know someone who's gone to fiverr or whatever we're, not writing off fiverr We're not writing off the gig community.
04:23 - 04:26
You know gigs are excellent.
04:26 - 04:38
I use fiverr for a lot of different things, But I definitely don't use it for SEO Because I don't want, a random person, I've never met, who, I cannot vet their credentials to do random links for me.
04:38 - 04:44
Because the problem with these is they'll post your website Then link to it from a variety of other websites out there.
04:44 - 04:52
It's actually a good strategy to have high quality linking from other websites, But you can't verify the quality of these, these sites.
04:52 - 04:59
So if you are absolutely compelled to do this, make sure you're actually asking for what sites they link to you from.
05:00 - 05:06
Because chances are they're not going to be very reputable sources if they're doing it for $20.
05:06 - 05:11
They certainly are not making sure that they have good connections to boost your website.
05:12 - 05:17
And this is also linked to link farming, which is a black hat SEO tactic.
05:17 - 05:23
But it's just a phrase, basically, that determines linking from low quality sites and huge quantities, That's link farming.
05:23 - 05:33
So unfortunately, if you, you go this route, you will probably more likely find someone who's going to be link farming than creating high quality links.
05:33 - 05:42
So cheap SEO, even in a couple of hundreds, even up to $500 sometimes, can really, really be poor quality, and so that's where you need to vet people.
05:42 - 05:52
But Agency, Jet, for instance, we are, go ahead and vet us, you know, we have dozens of high quality, high echelon SEO clients.
05:52 - 05:53
We have a bunch of small businesses as well.
05:53 - 06:06
So what we've done basically is created this system talking about various deliverables, so you can see on site content there, you can see actual, like off page content.
06:06 - 06:08
You can see kind of what the core strategy is.
06:08 - 06:15
All of this is just a list of deliverables that is actually kind of the baseline for what a custom strategy will be.
06:15 - 06:29
So every single client gets a custom strategy with us, and we do that, based on their websites, health, how long it's been around, the actual industry, they're in, the amount of competition that they have, when competing for their products, or services.
06:30 - 06:37
And so every single client gets a different price point based on those factors, and so that's why we don't actually have pricing in here.
06:37 - 06:40
We're definitely not in a couple of hundred dollar range.
06:40 - 06:44
We are not appealing to people who are buying a SEO based, strictly on price.
06:44 - 06:52
We're not the agency for you, but we're definitely not, in the 5000, even 10000 a month agencies, for most of our clients, we're.
06:53 - 06:55
We're definitely in that middle range between those two.
06:56 - 07:02
And we're actually one of the most affordable all in one SEO Services, that actually has custom strategies.
07:02 - 07:08
And not only do we have custom strategies, we actually have monthly calls, as well, with clients, which a lot of agencies don't do.
07:08 - 07:12
And 100% custom reporting from your dashboard.
07:12 - 07:19
So, all of this, you see in real time, all of this, with the goal of basically educating clients is our actual mantra.
07:19 - 07:21
Is transparency, educational results.
07:21 - 07:23
So, we're 100% transparent.
07:23 - 07:35
And what we do, educate you every step of the way, because we find business owners who know what we're doing, actually, see the return on investment, rather than just looking at us as a line on a balance sheet.
07:35 - 07:38
And then seeing if it went up or down as far as results go.
07:39 - 07:41
It's really the companies that dive in with us.
07:41 - 07:50
That think of us as a partner, not just a service, that actually stick around because they see the results, but they also feel valued and get a ton of education with it as well.
07:50 - 08:00
A lot of agencies just, they don't see their clients, as someone worth educating, they think they're, they're just kinda ignorant to the work they do and so they don't really include them in its now.
08:00 - 08:02
There are a ton of great agencies out there.
08:02 - 08:04
That's not meant to be a blanket statement.
08:04 - 08:09
There are a ton of awesome ones out there who do some similar work to us and really put their clients first.
08:09 - 08:12
But that is an absolute mission here.
08:12 - 08:14
Client, first, employee second, investor.
08:14 - 08:18
Third, we take care of you, the clients, then, our employees will be happy.
08:18 - 08:21
And, of course, our investors will benefit from that because our clients stick around.
08:21 - 08:28
So, it's a pretty simple mantra, but it's definitely kind of breathed into every single thing we do.
08:28 - 08:41
So, as far as pricing goes, again, we're not at that low end at all, we definitely value our services, So we're not just gonna sell it for a couple hundred bucks but we're not nearly at the high-end either and we're right in the middle more or less and really provide.
08:41 - 08:42
Excellent, excellent work.
08:43 - 08:48
So, when it comes down to it, you really need to understand these deliverables.
08:48 - 08:53
What we recommend is, if you're talking with us or another agency, look at a list of deliverables.
08:53 - 08:57
If they don't even give you a list of deliverables, you should probably head in the other direction.
08:58 - 09:04
That's not to say that you should be boxed into a list of deliverables where that's all they do for you.
09:04 - 09:10
We actually absolutely make suggestions outside of our deliverable list for our clients because, again, we're putting them first.
09:10 - 09:13
So not everyone fits conveniently into a box.
09:13 - 09:18
We're actually trying to help people, no matter what industry you're in, or how much competition you have.
09:19 - 09:32
We can typically pay attention to data, actually kind of see where you're leading as far as your high margin products and services, and put you in the right place so that Google finds you, and that you're actually getting a big return on that.
09:32 - 09:37
But, deliverables are just the baseline strategy is really, really where you want to be focusing on.
09:37 - 09:42
So, when you're looking at deliverables, just make sure that they are focused on your products and services, that's what keywords are.
09:43 - 09:54
Make sure there are plans for on page and off page optimization, because you need to look at the website to look good, but you also need to be speaking of the website the way Google wants to be spoken to.
09:54 - 09:56
That's where high quality backlinks come in.
09:56 - 09:57
And that's off page content.
09:57 - 10:03
And link building, basically, not link farming link, building very, very big distinction there.
10:03 - 10:06
And then technical SEO, of course, make sure that the website's healthy.
10:06 - 10:12
If you have an agency who's strictly just going to put you in a box, give you a couple pieces of content, maybe link to you a couple of times.
10:12 - 10:23
Without actually making sure the website itself is healthy, you're wasting money because it doesn't matter how much content they're actually linking you to if your website does not speak to Google the way, it needs to be spoken to.
10:23 - 10:26
So obviously, that should definitely be included.
10:26 - 10:32
And if you've never received a website audits before or an assessment, We give ours away for free.
10:32 - 10:34
And we've given over 2500 of these.
10:34 - 10:39
Of course, we don't have 2500 clients just from those assessments.
10:39 - 10:42
So there are plenty of people who don't work with us who have found that information.
10:42 - 10:44
Extremely valuable.
10:44 - 10:53
Some of those people even already have agencies that are running their SEO for them and they can take our free audit, put it in their face, and say this is broken.
10:53 - 10:54
Why aren't you doing this?
10:54 - 10:57
And then they can actually make their current agency better.
10:57 - 10:59
So I would definitely encourage you to check that out.
10:59 - 11:00
It's on our website.
11:01 - 11:04
It's actually in our main menu, it says free assessment right at the top there.
11:04 - 11:05
So go ahead and apply for that.
11:06 - 11:07
No strings attached.
11:07 - 11:12
It's not a sales pitch, it's just to give you basically the evaluation of your website and see where you're at.
11:12 - 11:13
So that is important.
11:14 - 11:15
And then the last one here is just extras.
11:15 - 11:21
It's obviously, if your agency cares about you, there are going to be ideas flowing all the time.
11:21 - 11:24
They're not just going to deliver it and then drop you off.
11:24 - 11:27
There will be a lot of conversation to improve your site.
11:27 - 11:29
Improve your company from a digital perspective.
11:30 - 11:40
Make sure that that's outlined with them, that when you have these discussions, they're not just charging you to talk about it, and those sorts of things, they might charge you for the work, which, of course, hours and labor, that makes sense.
11:40 - 11:42
But there really shouldn't be any sneaky charges in there.
11:42 - 11:50
Make sure that they, actually, if they're going to do something for you, it's a very clear outline of how long it will take, How much it will cost, the expected results?
11:50 - 11:51
All that sort of stuff.
11:51 - 12:05
So definitely read contracts and deliverables to make sure that there aren't any surprises in there, but, honestly, extras can play a huge role in having more content, having more high quality links, that sort of thing.
12:05 - 12:11
It's not all about quantity, But if you have a good strategy, more quantity never helps or never hurts.
12:11 - 12:12
It always helps.
12:12 - 12:12
It never hurts.
12:12 - 12:14
So, that's kind of important.
12:14 - 12:18
Just make sure you understand Deliverables don't just buy on price.
12:18 - 12:27
This is probably one of the most important slides to you, because while you should be buying on level of investments, because SEO is an investment, it's not an expense.
12:27 - 12:37
You should really be making sure that the deliverables are something you're comfortable with and if you don't understand at all, because there will probably be some phrases and terms in there you've never heard of before.
12:37 - 12:39
Make sure you're asking that question.
12:39 - 12:43
Make sure you're hopping on phone calls with the actual company to see if they're helping.
12:43 - 12:48
You. If they're not if they're a little bit churlish about it, or they're not giving you a full amount of information.
12:48 - 12:53
Just keep in mind, there are 12,000 plus agencies in the United States who do this work.
12:53 - 12:56
So you're not pigeonholed into any of them.
12:56 - 12:59
You should be 100% comfortable with them, no matter what.
12:59 - 12:59
Right?
13:02 - 13:09
Then, as far as choosing that company, once you get a good vibe and things like that, this actual first point is the same, phone calls.
13:09 - 13:11
How do you feel about them?
13:11 - 13:16
Do they understand what they're saying, or do you understand what they're saying?
13:16 - 13:18
And do they sound like the authority on
13:19 - 13:21
Those resources, definitely.
13:21 - 13:27
You know, use that, kinda get a personal engagement, gut feeling if you like them, but then go ahead and check references, check reviews.
13:28 - 13:31
Don't just buy strictly based on gut feeling.
13:31 - 13:36
It could just be somebody's brother-in-law or somebody in their basement doing SEO all by themselves.
13:37 - 13:45
And potentially again, you need to vet these people, they're not 100% guaranteed to only do white hat SEO, which is following Google's rules.
13:45 - 13:50
They might be in the black hat SEO, which is not following Google's rules and could potentially penalize your website.
13:50 - 13:55
So, you really need to make sure, through References, Reviews, just get these unbiased opinions.
13:55 - 14:00
Identify if this company has helped other people before and all the better.
14:00 - 14:03
If they've helped people in your industry, then you know that they can actually do good work for you.
14:03 - 14:10
So, just, always, always, always, vet people to the farthest degree and, of course, shop around.
14:10 - 14:12
You know, don't just look at one agency.
14:12 - 14:15
Get a good vibe, and say yep, that's it, Actually.
14:15 - 14:18
Look around, there are tons of agencies that are going to be at that same price point.
14:18 - 14:21
See which one suits you best and go from there.
14:23 - 14:28
So if you want to get in touch with Agency Jet, if you want more information, go ahead and check out our social profiles.
14:28 - 14:32
Facebook is a good resource, or LinkedIn is just packed with a ton of stuff.
14:32 - 14:41
As far as new blog posts coming out every single week, good information, SEO industry wise, business wise, you know, we do a lot of work for a lot of different companies.
14:41 - 14:46
So we have a pretty good grasp on what it is to look good online for various industries.
14:47 - 14:49
And then of course, Clutch, you might not have heard of before.
14:49 - 14:55
But it's actually a database ranking, different companies.
14:55 - 14:58
So we are one of the highest ranking SEO companies.
14:59 - 15:04
We are working on building up our web design ranking as well, because we've done so many good projects with that.
15:04 - 15:09
We've just been really focused on SEO, but we are broadening our website design division as well.
15:09 - 15:16
So we have, we are one of the highest rated, as far as reviews nationwide, so if you want to check that out, by all means, go ahead and do that.
15:17 - 15:23
And then, lastly, this is just one example of information that should be valuable to you.
15:24 - 15:25
There is a ton more stuff on our blog.
15:25 - 15:27
So go ahead and check that out.
15:27 - 15:31
It's really a perfect example of how you should be appealing to Google as well.
15:31 - 15:37
There's a lot of quality in there that Google's looking for for things that we want to rank for, So you can use that as a model.
15:37 - 15:44
But really, you should be using it because it's a fantastic resource to actually learn more about digital marketing, and how you can help your company.
15:44 - 15:50
Again, every single blog we produce is thinking with the client first, the employee second, and the investor third.
15:50 - 15:58
They're really not serving our interest as much as it would be for someone like you, a business owner, to actually learn more about how you can help your company.
15:59 - 16:01
So, we would definitely recommend that.
16:01 - 16:01
Of course.
16:02 - 16:07
If you have any other questions, go to agencyjet.com, leave us a line on our Contact page.
16:07 - 16:08
Give us a call.
16:08 - 16:20
We are here for you, whether you're clients are not, and we definitely want to actually help you guys move forward beyond Coronavirus beyond 2020, and actually show Google that you are worth ranking.
16:20 - 16:24
So, thanks again for your time, and I hope you found this video helpful.
Join the thousands of SEO-obsessed readers on our mailing list