The 8 Most Common Misconceptions About SEO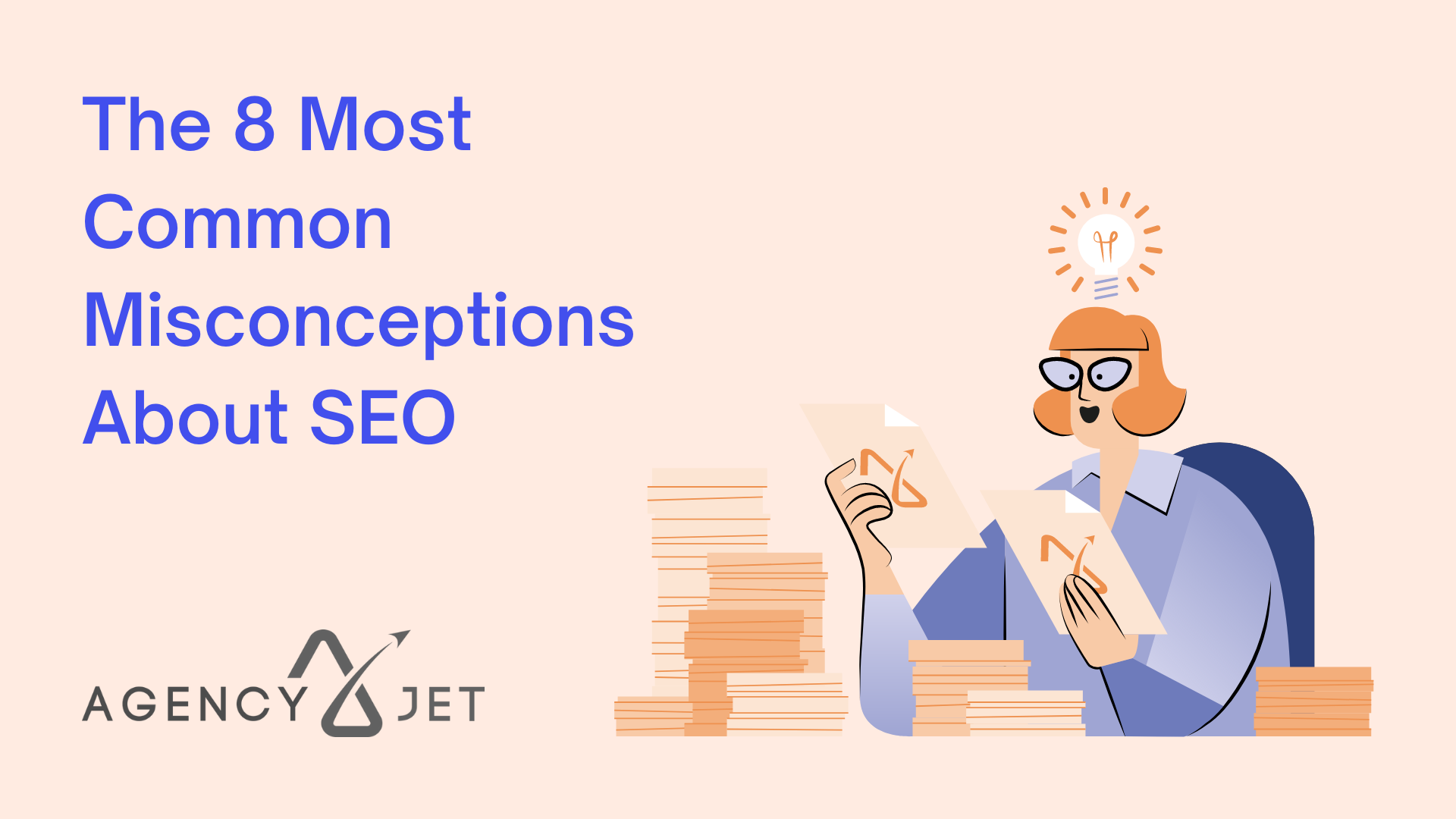 Search engine optimization or SEO is talked about a lot.
Is it effective? Should I use it for my business? Should I do it myself or hire an SEO company?
These are just a few questions that a small business owner could be contemplating everyday.
If you're reading this, chances are you've heard of SEO and are considering whether business SEO services is a smart move for your company.
But chances (also) are that you've heard a lot of different things about search engine optimization and aren't really sure what's true and what's not.
There are indeed a lot of misconceptions about SEO and it's fair enough. There are over 38,000 SEO agencies in the United States alone who claim expertise in SEO strategy but a lot of those companies will talk about SEO in a whole host of ways.

So what's the point of this post? It's to get the 8 most common misconceptions about SEO out of the way.
By getting the truth on these misconceptions, you'll be better equipped to decide if small business SEO services are right for you.
But let's make sure you know exactly what SEO means.
What is Search Engine Optimization (SEO)?
Search Engine Optimization (SEO) is the process of making sure your website appears high up in search results when someone searches for something related to your business. The better your webpages appear in search results, the better chance you have of attracting attention and attracting potential and current customers to your business.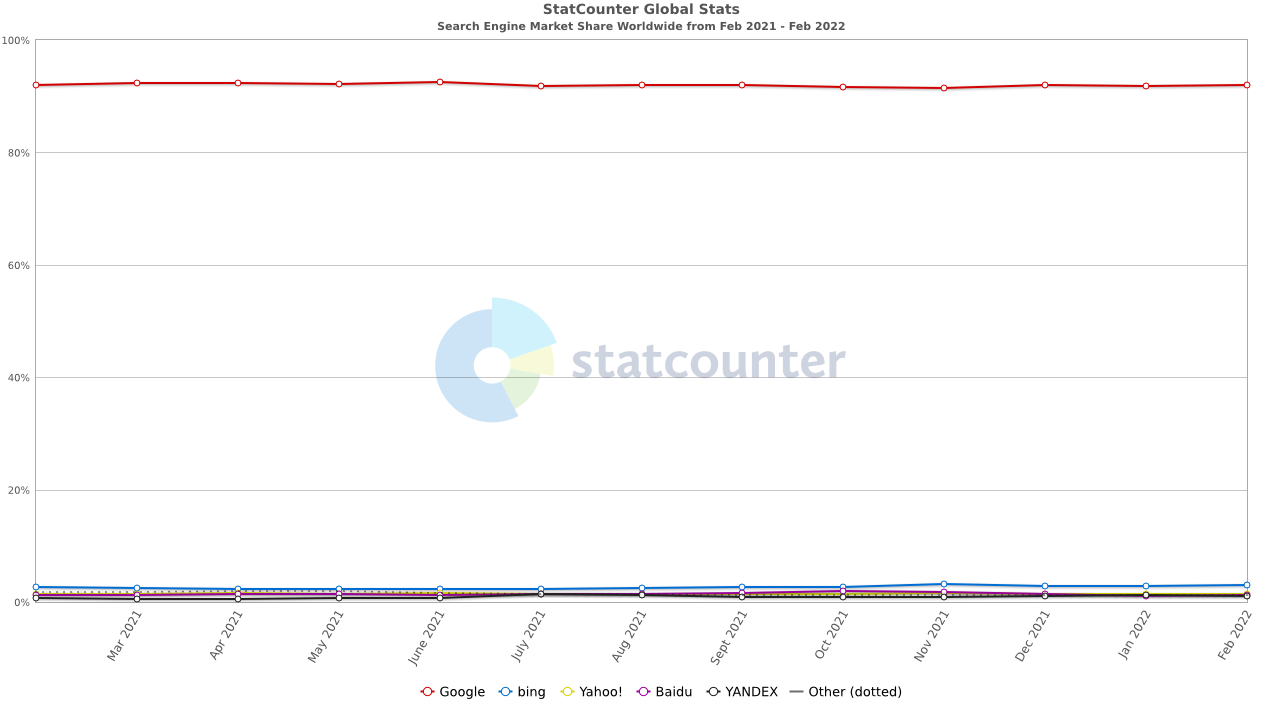 Here's the search engine market share breakdown in Q1 of 2022. Google holds over 92% of worldwide search.
In other words, your website is the foremost billboard or #1 employee for your business. But a website without SEO efforts is a beautiful Ferrari stuck in the garage without an engine. People won't see it because it isn't ranking in search engines (IE: Google).
An SEO campaign is the engine inside the Ferrari that gets it seen and interacted with by your potential customers.
If you want an even more in-depth analysis on SEO and its importance, Search Engine Land, the foremost authority on SEO news, is a great place to start.
Now you know what SEO is and that your website needs it, let's identify some conversations that get thrown around the SEO industry that aren't true.
Here are the most common misconceptions about SEO today.
Misconception #1: SEO pricing is ridiculously high
You may think paying for SEO services would cost an arm and a leg but the reality isn't the case.
We want you to think of two things when considering SEO cost.
1. Time is money.
2. Expert versus employee.
Let's unpack #1.
If you're a small business owner, you are doing a million things at once, right? You're monitoring the balance sheet, keeping track of payroll, making sure orders are fulfilled, answering 100 emails—and that's all before lunch.
SEO ranking takes time. A lot of time. There's actually pages and pages (and pages) of SEO guidelines that Google recommends people follow just for their website to have a chance of ranking in online search.
Go ahead and check them out. Take a few minutes and digest. Now ask yourself: Do I have enough time to even read this?
The answer is likely no.
It's true. There are over 200 potential action items these guidelines outline to help your website rank. Many of them are highly technical and not only require a ton of time to read about them but to implement them? That's a full time job.
Which makes it pretty obvious that as someone running a business, you're not going to have time to do it.
So your next thought might be: I'll hire an employee with digital marketing experience to do it for me.
That leads us to #2.
Even if you did hire an employee who claims to be an SEO expert, they're only one person, doing hundreds of activities by themselves.
Once more, if you get a good or great SEO expert working in house, you'll have to pay that person a pretty penny.
According to Payscale, the average marketing manager makes over $67K per year.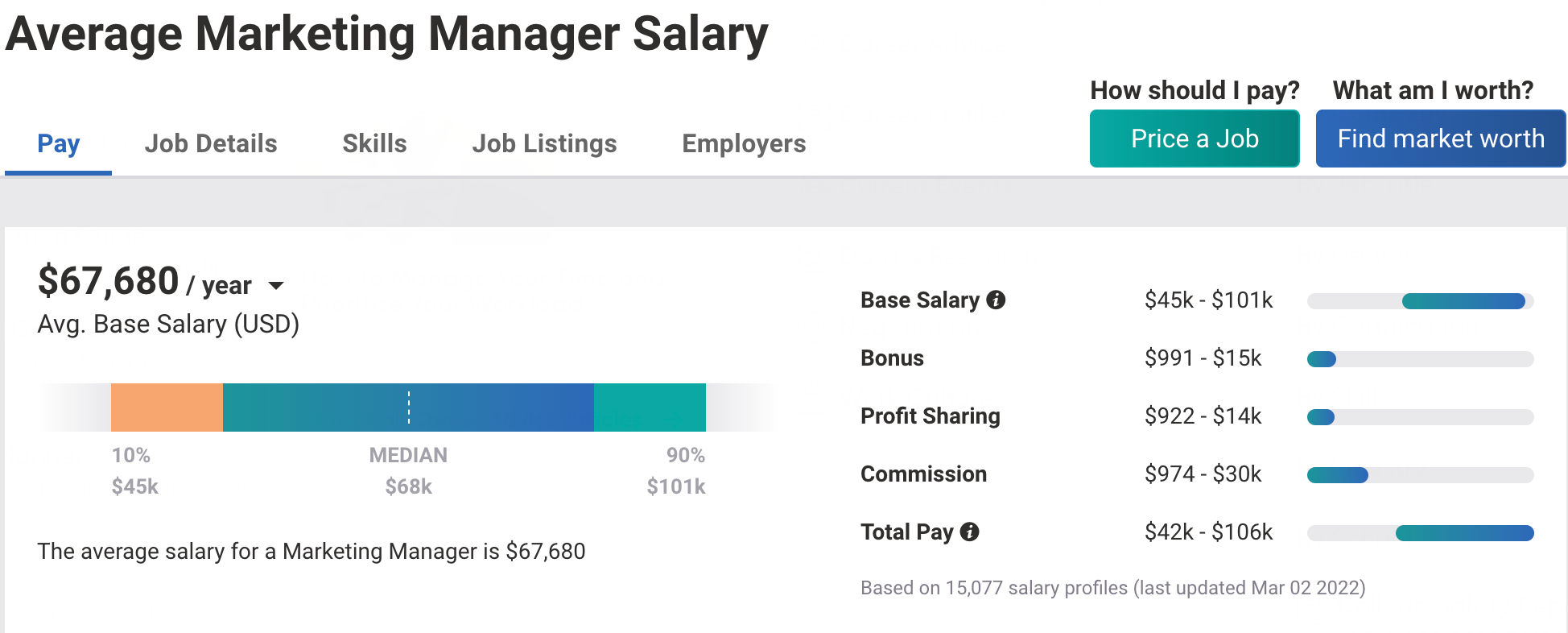 And here's one more thing to consider. Unless you give them full autonomy, that person is going to answer to you and do what you ask.
That's a person not experienced in SEO strategies dictating what's best to someone who does know it.
Tack on the fact that you have to pay that person health insurance, give them vacation days and sick days and probably offer them a 401k means they cost A LOT more than $67K/year.
Misconception debunked:
Hiring an SEO company to provide local SEO services for your small business or national SEO services for your growing business is going to cost you around $2-3K/month.
And you know something else? When you hire an SEO firm to handle your online presence and content marketing, you'll get not one SEO expert but several.
You also don't have to:
Supply them hardware
Give them sick and vacation days
Pay their insurance costs
Give them a parking space
Provide a whole host of other sneaky costs associated with having an in-house employee
So are SEO services really pricey? In comparison to the time it takes to do it yourself or the cost associated with hiring one employee versus a team of experts, you could say hiring a professional digital marketing agency to get you better SEO ranking actually costs half as much—at a minimum.
Misconception #2: SEO only takes a month or two
Let's be honest with ourselves: how many marketing techniques do you know of that are going to double your business with only 4 weeks worth of work?
If you've got any, leave a comment on this post!
But the reality is, there are no "straight to the top" techniques that last days, weeks or even a couple months.
SEO efforts take months and months and months and then years to help you truly dominate your sector but that doesn't mean you're throwing money down the drain.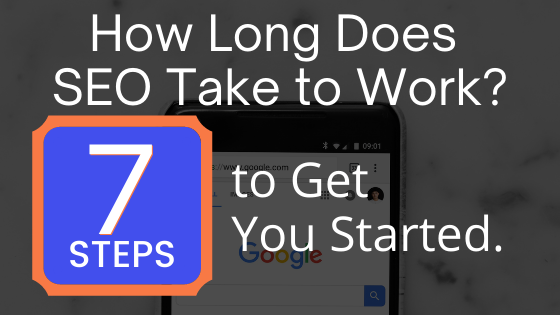 Curious how long it takes to actually see results with SEO? Click the image above to learn more.
The reason is simple. Google is a tool that helps users find things they need. And Google has no incentive to help you rank for a product or service simply because that's what you sell.
Think of ranking in a search engine like dating. If the goal is to build a long term relationship and then become married (for instance) do you think you're going to get a marriage proposal on the first or second date?
It's the same mentality here.
Google wants to know why they should place you on the top pages of their search engine rankings and they're certainly not going to do so if you only follow their guidelines for a couple of months.
Misconception debunked:
Search engine optimization strategy is about consistent effort every single month for several months. It's the 21st century and getting your business found takes a lot more effort than putting an ad on TV or putting a sandwich board outside your storefront.
The #1 demographic that you're trying to please should be search engines and search engines have made it very clear—they need to see consistent work both on and off of your website talking about why you and your products and services matter.
In SEO, there are no shortcuts.
Misconception #3: SEO only happens on your website
If you want organic traffic from Google to just magically appear on your website, having a website isn't enough.
You could talk about your key products and services in the greatest of detail on your website but if you're not leveraging assets away from your site, your potential customers are way less likely to show up.
An often forgotten about and highly important aspect of high search ranking happens with off-page work.
What we're really talking about is link building.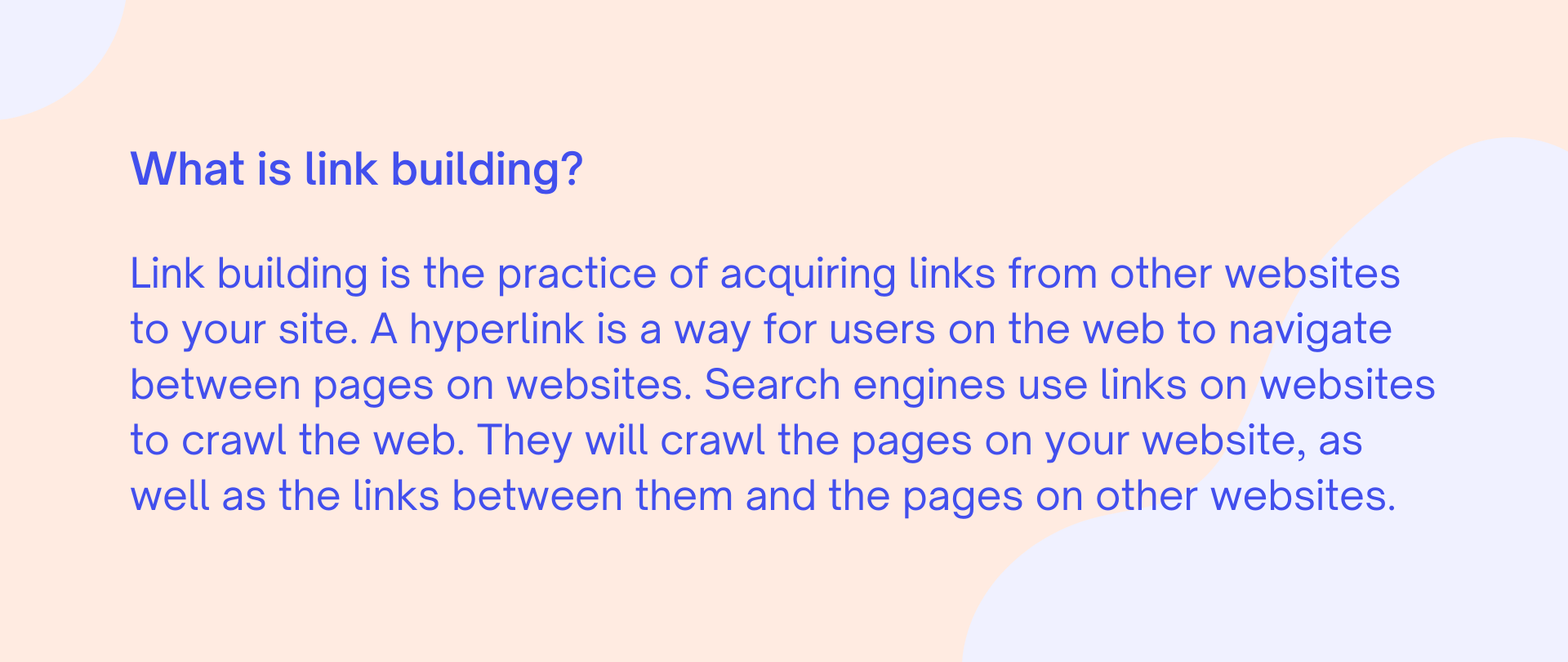 In fact, Google lists the quality of your backlinks as one of the most important ranking factors long term.
If you want to use an analogy, think of your website as a party.
Your website is so cool, it's like the best party on the block. It's got all the drinks and snacks anybody could ask for. The music is always perfect and the fun doesn't stop.
But when it comes time for the party, nobody is there. What did you forget?
Invitations.
Backlinks are the invitations to users and search engines telling them "this is where the party's at".
Misconception debunked:
Having a website with no off-page SEO isn't good enough. You need backlinks.
Moz likes to call backlinks "a vote of confidence" to show the true value of your website.
Any SEO professionals worth their salt will have a highly detailed strategy around backlinking to help your website rank.
Misconception #4: You just need more quantity than the other guy
Online marketing for your business website might seem super simple. Just do more than everybody else.
But doing more doesn't always equal success.
In fact, if you try and do it all and don't have a focused content strategy or linkbuilding strategy, you'll simply turn into a master of none. Or worse, spammy.
If you want to reach prospective customers and appeal to Google alike, you need to focus on what you do well and talk about with the highest level of quality you can muster.
Take this example of payroll companies for instance:

One has more backlinks and referring domains but less traffic. Why? Because quantity doesn't always win.
The quality of your link portfolio and search citations matters way more than how many of them you have and it's one of the most effective ways to compete with larger companies. More on that later.
Misconception debunked:
Let's revisit the dating analogy again and this time, let's picture you're across the table from Google at a fancy restaurant.
All of the sudden, you stand up on the table, make passionate eye contact with Google and scream "Look how awesome I am!" And you do it several times.
Is Google going to fall in love or cut the date short?
That's quantity.
If you sit there and hear what Google wants, then ask related questions, offer unique insights and don't sell yourself too much.
That's quality.
It's not all numbers. It's who has the best message and who plays by Google's rules best. Those are the websites that perform and show up on page one of Google for an important search term.
Misconception #5: SEO won't help you compete with large companies online
You might be thinking that you can't compete or have no right competing with larger businesses but you'd be wrong.
John C. Maxwell calls this sort of thinking "The Comparison Gap", believing that others are better than you, so there is no point in trying.
A highly effective SEO campaign with a focused content marketing strategy can cut right through that.
Why? Google and other search engines like it are highly topical tools.
If you write resourceful and unique information when optimizing your content for your products and services, it gives you a fighting chance of hitting page one for those key products and services, placing you right there with the big boys.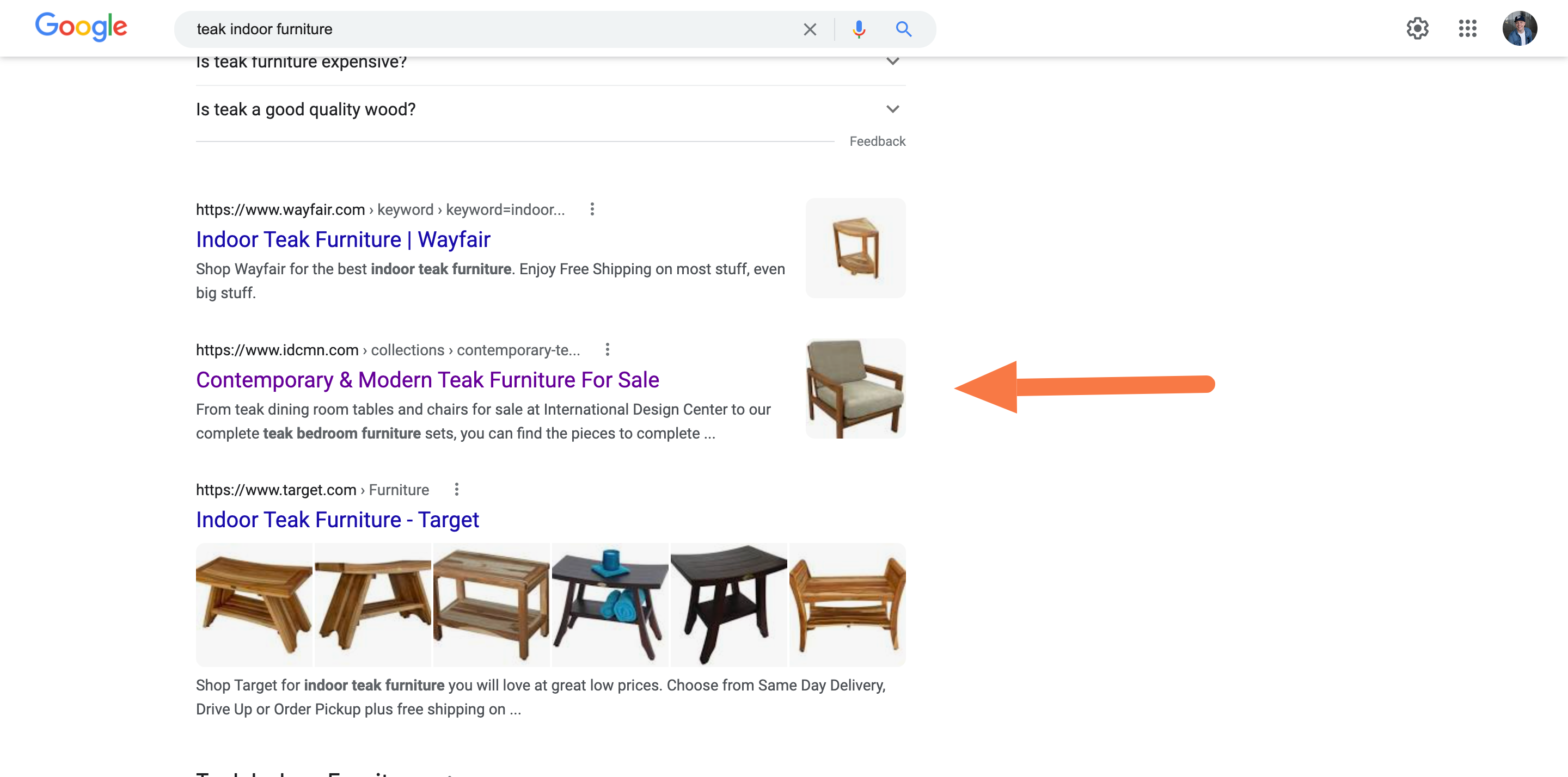 International Design Center (IDCMN) has a single store in Minnesota, yet here they are on page 1 competing with giants for a highly sought after keyword. Why? High-quality SEO and content.
The content optimization gives you the chance to not only outwrite and outexplain the competition but also to show your prospective customers your unique point of view.
Good SEO agencies never have a one-size-fits-call content strategy because that's never going to set you apart from your competitors.
By having a custom strategy focused around key phrases that matter to your business, you'll not only have a better chance of making your business visible on page one but you'll also increase your chance at conversion.
Misconception debunked:
Remember earlier when we were talking about quality over quantity? It's precisely this approach that helps you get a leg up in a competitive landscape.
By having a unique digital presence talking about your particular contribution to the marketplace, you'll set yourself apart, increase your search optimization and rankings and build credibility.
You combine that with customer reviews from happy clients, a strong social media presence, consistent citations and a unique point of view and you'll be competing on page one.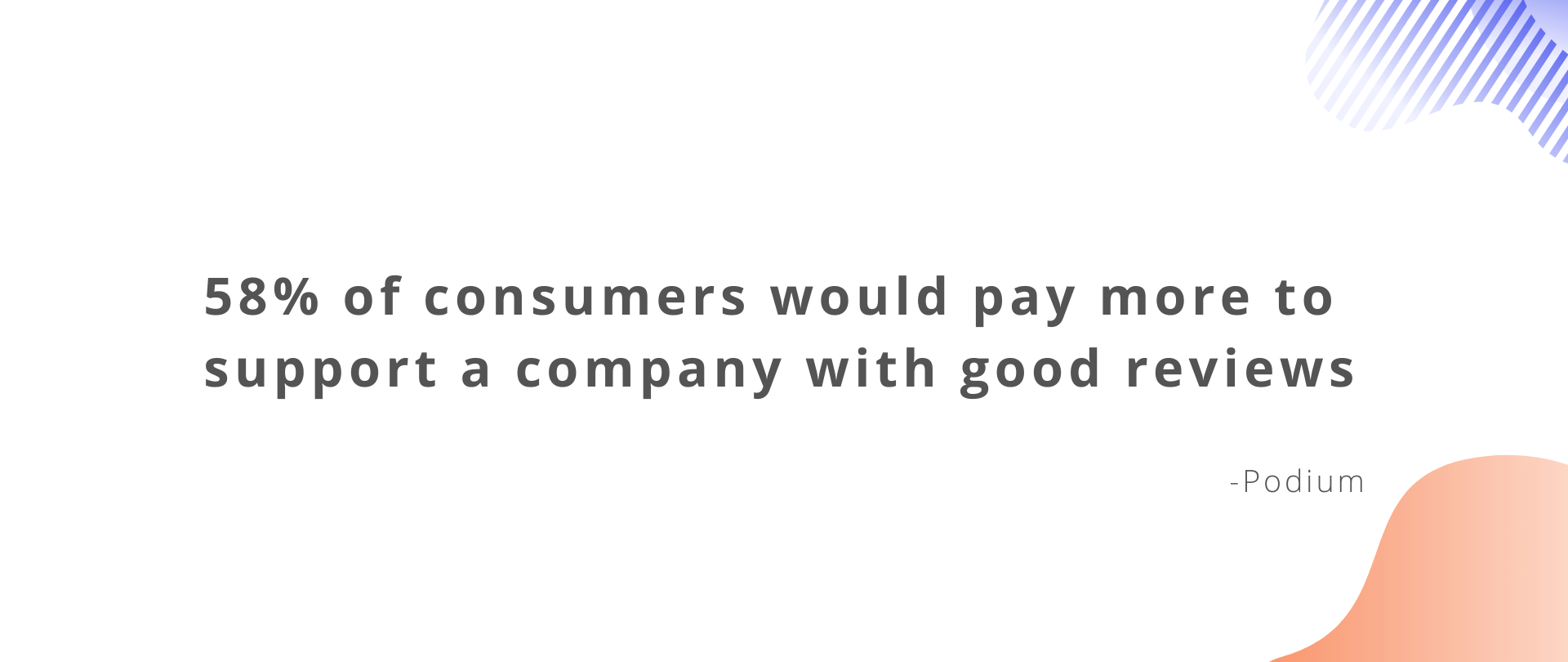 You're trying to get to page one of the search engines for sure but don't sleep on reviews. You're not going to get thousands of people in a single day so you need to use reviews to build your credibility. It converts prospects at a higher rate.
Believe us when we say, Google doesn't care about how big your business is. They care about who has the most helpful and focused message around a given search topic.
Misconception #6: Keywords are dead
This one is a bit more controversial but a lot of people say that basing your SEO strategy around target keywords is a poor move.
Let's give a quick history lesson on this one.
In the past, keywords were the #1 part of any strategy for a very specific reason: quantity mattered more back then.
If you wanted to rank for "garden patio furniture" worldwide, you just needed to use that phrase on and off your website more than someone else.
So it's true, that form of using keywords is dead.
But you also can't expect to rank on page one of Google if you never mention the keyword phrase you want to be found for at all, right?
As you've learned already, your keywords are your products and services and you need to talk about them in a way that's unique to you and helpful to the user.
If that's how we're describing keywords, keywords are very much alive.
Misconception debunked:
It's getting more and more common for digital marketing services to not include keyword research as part of their core offerings any more.
But failing to do extensive keyword research is to your disadvantage and this is for two simple reasons.
1. SEO tools like SEMrush, SpyFu and more are extremely helpful at showing where your competitors are ranking in Google.
2. Keyword research helps make it clear what is being searched and how many times it's being searched every month. These are called search volumes.
For those two points alone, there's a ton of value in keywords. If you know what your competitors are doing well for and you know how many times users are searching for those things, you'll make your targets more and more focused and you can align these keyword targets with your business goals.
So keywords aren't dead. Trust us, you want keyword rankings. But if we're to entertain that they're out of style, we'll simply say there are a lot more digital marketing tactics to help you improve your business. Keywords is simply one of them.
Misconception #7: Local SEO services for small business are pointless
We get it. You're a small business and you're only doing business in your immediate area.
So why would you need to speak to this massive, ever-changing algorithm of Google to do business locally?
It's a fair question but a misguided one.
Local business SEO services is not only a highly cost-effective way to get your business found in your local area but a fantastic way to help you show up on Google Maps.
And let's face it, your competitors are already doing it. Any competitive analysis will show you that.

If you want to know the difference between SEO services and local SEO services, it really comes down to the specifics of the plan.
While SEO services will aim at having broad appeal to the most potential customers, local SEO services for a small business will focus on having a focused appeal to the most potential customers in your immediate area.
This happens with content optimization focused in your area, building search citations with your business listing that feature your business hours, website, phone number and the address of all your physical locations.
This also focuses a ton of work off site through citation building and management and beefing up your Google Business Profile as well as providing reports for things like online reviews, monitoring your digital footprint through online reputation tools and providing a competitor analysis.
Misconception debunked:
In the end, local shoppers do the same thing as national ones. They go to Google.
In fact, 46% of all Google searches are looking for local information and 72% of consumers that did a local search visited a store within five miles. (source: HubSpot)
When you also consider that Google ALWAYS prioritizes your immediate area when you do a search, it's actually the most effective way for businesses to get in front of prospective customers.
You read that right. Affordable local SEO services is the most effective way to get seen by prospects for your local small business.
Misconception #8: You should pay for an analysis of your website
Before you'd consider spending money on SEO marketing services, you'd probably want to know how good your current website is performing and figuring out what it lacks, right?
Something as valuable as this should cost money, right?
Well, there are certainly digital marketing companies who will charge you to audit your website.
But you shouldn't have to pay an SEO company simply to find out where your website is at.
There's no denying it's valuable but there are hundreds of companies who will provide you a robust analysis of the state of your current website without charging you a penny.
And the best ones will not only run the audit of your website for you but walk you through it as well.
Misconception debunked:
So how do you find one of the best SEO companies who will provide you a risk-free website assessment at no cost?
Agency Jet happens to have one of these. We don't charge you a thing, we walk you through the whole thing and we don't pitch a sale to you whatsoever. It's purely educational.

We've also been told by some that it's the "best 90 minutes in marketing" so we'd certainly consider ourselves a great choice.
But we also are big fans of a ton of other companies out there. Be sure, when you're inquiring about a site audit from them, that you'll get a professional to help walk you through it and make sure you're not getting sold on that call.
No one's got time for that.
Summary
So there you have it: The 8 most common misconceptions about SEO.
When you consider there are so many SEO agencies out there and that the digital marketing industry isn't regulated, people can say anything they want about anything.
There will be people in the SEO industry who disagree with some of these misconceptions.
What's important for you, as a small business owner, is to make sure you're speaking with multiple agencies if you're considering national SEO services, local SEO services or something in between.
The biggest error a business owner can make is only talking to one agency and trusting them implicitly.
Talk to more than 3 agencies. Get your questions answered. And make sure you find the right fit for you.
SEO is one of the most cost-effective strategies a small business owner could use to help improve their business and working with a great SEO company will debunk your preconceptions and prove its worth.
Use these misconceptions to your advantage in conversation with those agencies, decide on one and then get out there and get found.
Join the thousands of SEO-obsessed readers on our mailing list