When you tell people you work in the SEO industry, they give you the classic "I've heard of that but don't know what it is" look. So what does SEO mean? In this blog post we'll tell you what SEO is and how it can be useful for your business's website.

SEO is Search Engine Optimization
SEO is a simple phrase to describe complex actions to get your website visible online. In short, SEO is the act of building a high-quality website that search engine algorithms can easily crawl over and index into their SERPs (Search Engine Results Pages).

Still doesn't make sense? Powerful search engines like Google, Yahoo and Bing look at your website for content, design and user-experience to determine if your website is valuable to someone searching for your terms online. Unlike the pre-internet days where you had to scan the Yellow Pages or get referrals from friends for goods and services, these algorithms crawl the entire web to find relevant websites to what you searched for.

Therefore, if you're optimizing your website for search engines, your website has high-quality and relevant content to match what users are searching online. Your website also has a clean and easy-to-use design that adapts to fit mobile screens. And your website loads quickly and displays its information clearly.

Who is SEO useful for?
In a word, everybody. Primarily, SEO is used for small and medium sized businesses as a way to save money to build up their online presence. It doesn't cost any money to rank in Google organic results.

Ask yourself this question, "Where do I go to find goods and services I need?"

The answer? Online. The Internet. Google.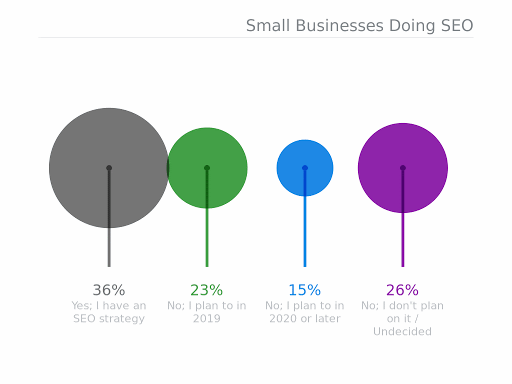 Source: Clutch.co Small Business Survey
If you are looking online to find goods and services or to simply learn more about a product, your potential customers are too. Almost any buyer in the 21st century now starts their buying process by going online and more particularly going to Google. In fact, Google has held a 92% market share on worldwide search in the last calendar year.

No matter if your customers are impulsive buyers or calculated ones, showing up on the first page of Google rankings for highly searched phrases relevant to your business can cause a drastic growth in your company's bottom line and having an SEO strategy to get you there will be vital in seeing this growth.

While SEO is hard work, it isn't impossible and there are some basic principles you can follow to help you rise in the rankings.

How to improve your company's ranking online in 2020
Google's algorithm is complex and changing all the time. That said, there are some basic principles to follow when it comes to ranking online.

Here are some basic best practices to improve your website in the search engines:

Content is king. There are no shortcuts when it comes to looking good for the search engines. Writing thin, poorly researched content or content that is taken word for word from other websites that are already doing well is a recipe for disaster. Google values original content that has a focused message. If you sell industrial scale systems it doesn't make sense for you to be talking about personal scales people have at home any more than it does to talk about downhill skiing. While quantity of content is useful the quality is paramount.

Context is queen. To the same point, it's vital to know what your potential customers may be searching online. It's one thing to guess about what people are searching, it's another to know. Using valuable tools like SEMrush or Google Keyword Planner helps companies identify how often people are searching for what they sell. Once you have an understanding of the demand online, you can formulate your high-quality and unique content around those keyword searches.

Make the website easy to use. Google's algorithms take thousands of things into account but one of the core factors outside of content is user-experience. Having a flashy design is great but if it makes it difficult for users to navigate, they'll spend less time on your site and even worse, bounce away. Having clear and defined menus, content with links where people can learn more and easy to navigate checkouts for e-commerce sites are all vitally important to not only how Google sees your site but how your potential customers do too.
What is bounce rate?
Bounce rate keeps track of how many visitors come to your website and don't do something (ie: leaving your website without seeing more than one page or clicking on anything). The higher percentage of people who bounce, the less your website is keeping people. Having a high bounce rate is one indicator that your website is difficult to use or doesn't have enough relevant content to the people who find it.
It's all about speed. When Google is crawling your site, it wants to do it as quickly as possible to identify what your business does so they can rank you accordingly. Clear and defined sitemaps and navigation are key but it's also important to make sure your website is hosted on provider that can deliver quick loading speeds. According to a blog by Neil Patel, for every second that it takes your website to load you lose 10% of people. This means that if you're an e-commerce company making $50,000 a day, a 1 second page delay could cause you to lose over $1 million every year.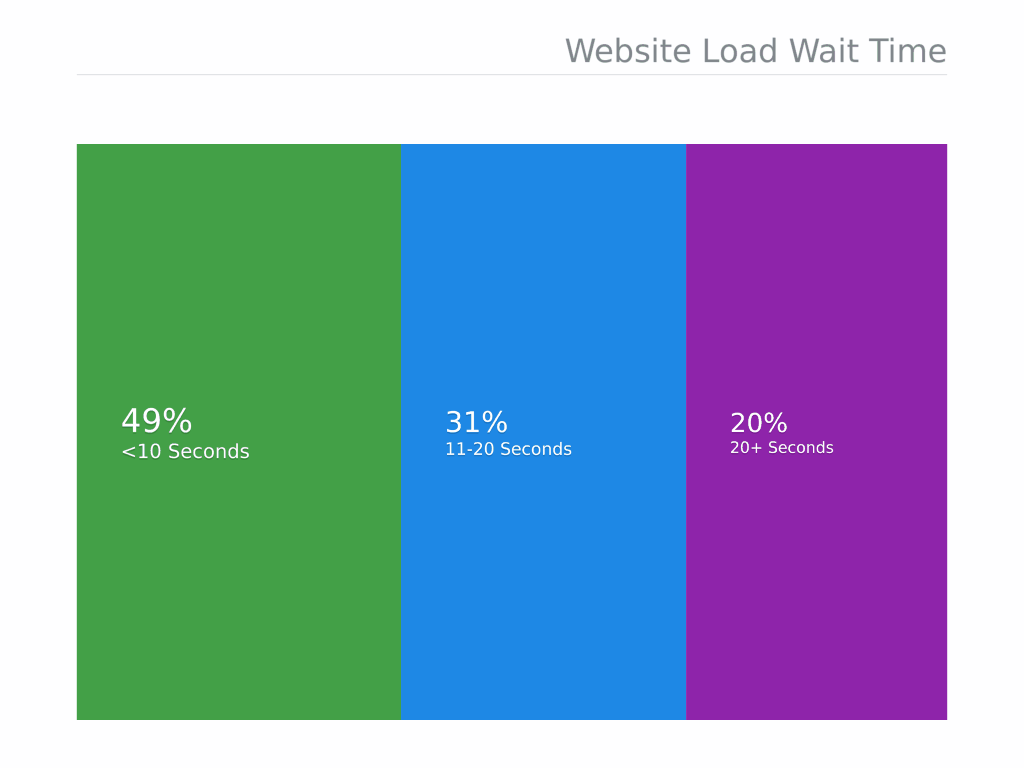 On average, half the people who navigate to websites leave if the site takes longer than 10 seconds on mobile devices.
Source: Neil Patel
Negative practices for SEO
It's a lot easier to get penalized for bad search engine optimization than it is to get rewarded for good search engine optimization. If you want to give SEO a try for yourself or if you hire an SEO agency to handle your business's online reputation, be sure that the following practices are not being used.
Keyword stuffing. About a decade ago, if you wanted your website to rank online for a specific term, all you'd have to do is put that keyword phrase on a single page hundreds of times. Nowadays, if you overuse a keyword even a dozen times on one page, this is considered keyword stuffing. Trying to outsmart Google with quantity instead of quality is a zero sum game and is likely to get your website flagged for blackhat tactics.
Poor backlinking. A backlink is simply a link to your website from somewhere else. Think of backlinking like a networking event. The more high profile people you know at this event, the better likelihood you have a stellar career. Backlinking is the same way. If you have a lot of links from websites considered authoritative in the eyes of Google, your website will feed off of them and look authoritative too. It's also important the links coming to your site are relevant, not random. Many people to this day think backlinking is more about quantity than quality but having thousands of low quality websites linking to you is far less beneficial and potentially harmful than having a handful of links from highly authoritative websites. The penalties for breaking this rule can be stiff. Just ask J.C. Penney who decided to break this rule in 2010.
Thin content. From reading about the best practices for SEO, this one's a no brainer. Trying to rank well in Google with lackluster content not only won't help you get to the top pages of Google, it is also likely to harm your site. Plagiarized, irrelevant or outdated content is a one way ticket to Google's blacklist. Once you're website is there, it's completely removed from all search results.
In Summary
SEO is definitely something that takes a considerable time investment but so long as you play by the rules, avoid taking shortcuts and work on it regularly, you can begin to see your website take off online.
If you're worried about SEO being too much of a time commitment or simply want to know the baseline of where your website stands feel free to get in touch with us or take advantage of our 100% free website assessment.