What Questions Should You Ask Your Local SEO Company?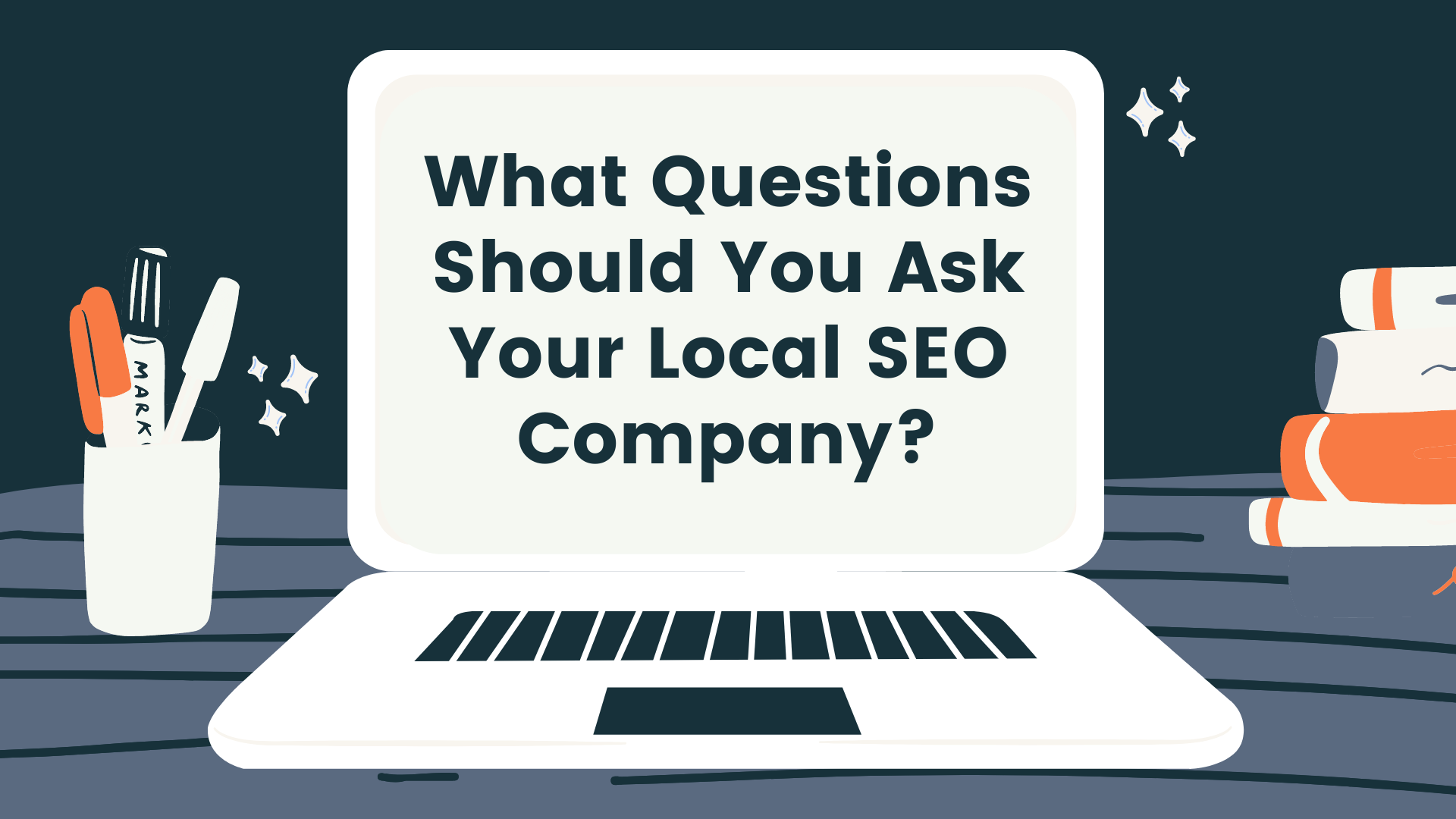 With the recent growth of e-commerce, it's vital for businesses to create a strong online presence. Businesses won't earn profits, gain customers, or thrive long-term in the industry if they don't maximize their influence on the World Wide Web.
While entrepreneurs can simply create a website, solely using this platform isn't enough. SEO is a powerful marketing tool and creating a website without it won't make the platform visible online. This can also prevent entrepreneurs from scaling their businesses in the long run.
Why Is SEO Important?
SEO stands for Search Engine Optimization and is the practice of improving a website to increase its visibility for relevant online searches. The better visibility the website has in the Search Engines Results Pages (or SERPs), the easier it'll be for entrepreneurs to market their brand, attract new customers, and retain old ones.
There are several ways to make a website SEO-friendly, like publishing high-quality content, making the website compatible with all devices, and creating an XML sitemap. However, incorporating these into a website requires specific skills and tools — resources that most entrepreneurs don't have.
The need for SEO-friendly websites is one of the reasons why more and more entrepreneurs are investing in local SEO companies that can provide local SEO for small businesses. These companies are composed of trained individuals who can make any website SEO-friendly.
So, What Questions Should You Ask?
With the number of local SEO companies operating around the globe today, choosing one isn't easy. Entrepreneurs who don't have any experience in selecting a local SEO company or aren't knowledgeable on what factors to consider end up working with the wrong company.
To make this process easier, this section lists down some of the most common questions one should ask before choosing a local SEO company to hire. The answers to these questions will enable any entrepreneur to know the SEO company better and determine which one perfectly suits their needs and wants.
What Is Your Client Retention Rate?
Local SEO companies run a business, so expect that they will consistently market themselves as the "best" in the industry. SEO companies will speak very highly of their services to attract customers. However, you shouldn't believe all of these things unless they can prove that they have good client retention rates.
Client retention rate is the measure of the number of customers that a company continues to do business with for a specific period of time. The higher the SEO company's retention rate is, the more repeat customers they have. This number speaks volumes of the credibility of their services and the quality of their customer service.
When choosing a local SEO company, make sure to ask about their client retention rate and select a company that has the highest rates.
Do You Have Clear Success Stories or Reviews?
Aside from asking about the client retention rate of the SEO company you're eyeing to hire, it also pays to ask about their success stories or reviews. The information that previous clients give about a local SEO company will help you learn more about their work ethics and credibility. The reviews of their previous clients will also help you determine whether the SEO company can meet what they promise.
Before choosing a local SEO company to hire, ask about their success stories and client reviews. A local SEO company that can provide this means that their local SEO services made their clients happy and satisfied.
If the local SEO company you're talking to can't provide any success stories or client reviews, start looking for other options. A company that can't provide this usually means that they're still new in the industry or haven't had satisfied customers under their belt.
Are You a White Hat SEO Firm?
All local SEO companies promise to improve the SEO ranking of your website, but you have to determine how they're going to do it. White hat and black hat SEO techniques can improve the visibility of your website, but one technique is better than the other.
White hat SEO techniques are like heroes — these tactics work within the terms of services of any search engine to improve the ranking of any website. Black hat SEO techniques, on the other hand, are villains because these tactics are unethical and violate guidelines set by search engines. Black hat SEO techniques can improve the rankings of your website, but once search engine algorithms determine that you're violating their guidelines, your website can get suspended or blacklisted from all SERPs.
Make sure to ask about the SEO technique used by the SEO company you're eyeing to hire. A company that only uses white hat SEO techniques can cement your website in the SERPs, help you earn a spot in Google's good books, and enable you to build a network with online users.
What Do Your Local SEO Campaigns Include?
Hiring a local SEO company will require resources from your pocket. Aside from the money you'll have to pay them, you also have to spend time informing them about the nature of your business and the goals you want to achieve.
To ensure that your resources aren't wasted, always ask about what is included in the company's local SEO campaign. Keep in mind that the SEO techniques necessary for claiming your Google My Business listing and optimizing relevant keywords on your website are two different things, so only hire a local SEO company that offers services suitable to your needs.
Will You Provide Weekly and Monthly Reports?
Creating an SEO-friendly website is a long-term effort. Regardless of how many years the SEO company has been in the industry, they can't improve the ranking of your website overnight.
When choosing a local SEO company, look for one that will provide weekly and monthly reports to you. These reports will enable you to determine the progress of their strategies and assess if they're meeting your expectations.
Some of the most common SEO reports you can get from a reputable SEO company are keyword research reports, competition analysis reports, and basic website audit reports. Other important reports to ask from the SEO company you're going to hire are link-building validation reports, structured data reports, website mobile interaction, and number of user reports.
Can I Speak With You Every Month?
As mentioned, improving the SEO rank of your website requires long-term efforts. Aside from making sure that the SEO company provides you with detailed reports about their progress every week or month, it's also important that you can speak with them on a regular basis.
Since you'll be paying for their local SEO services, you'll likely have tons of questions for a local SEO company, and you must have answers fast. Paying for a local SEO company and not hearing from them for months can cause anxiety and stress.
A local SEO company that speaks with you every month will give you peace of mind knowing that you're not kept in the dark and are actually in the loop of what is going on with your business's SEO efforts.
Can You Guarantee Success?
Because hiring a local SEO company isn't cheap, it's common for entrepreneurs to choose a company that guarantees results in a specific period. Entrepreneurs often think that these guarantees are a 100% assurance that the local SEO services that a company provides are flawless.
However, when choosing a local SEO company, it's best to choose one that doesn't guarantee success. The algorithms of search engines change regularly and making guarantees about something that a local SEO company can't control can lead to inherent ethical problems. Search engines, such as Google, also make thousands of changes to their algorithms every year, and it's impossible for a local SEO company to control any of these.
You should only hire a local SEO company that boosts your confidence with education and setting clear expectations before they start working. A reliable SEO company will back up its claims with supporting evidence, expert credentials, and relevant case studies.
Instead of giving guarantees, the SEO company you'll hire should give you the assurance that they will work to the best of their knowledge and abilities while keeping your business's best interest at heart.
Have You Ever Worked With a Business Like Mine Before?
Local SEO services can boost any website's rank, but the strategies used will vary based on the niche of the website. Entrepreneurs operating in the healthcare industry and beauty and cosmetics will need different sets of keywords to improve the ranking of their website.
To ensure that the money you'll pay to the SEO company doesn't go down the drain, only choose a company with experience working with a business similar to yours. If your business sells supplements, the SEO company you hire should have worked with similar companies in the past. If your company sells children's apparel, make sure that the local SEO company you hire has also worked with a business that sells similar products.
Working with a local SEO company that has experience working in the same niche as your business can guarantee that they can handle your project and deliver satisfactory results. Their experience will also make it easier for them to improve your website's SEO rank because they already know which strategies work and which don't in your niche.
However, also make sure that the company isn't working directly with your competitors. They should be committed to your success in your particular niche, not multiple companies' success.
What Is Your Payment Structure?
Money is always part of the picture when you hire a local SEO company. As mentioned, local SEO services aren't free, so expect that you'll have to pay a certain amount of money to improve the ranking of your website in the SERPs.
Information about their payment structure is something that you should always ask before deciding which local SEO company to hire. This information will enable you to budget properly as you'll know how much their services cost and when you are expected to make the payment.
SEO companies have different payment structures. While some charge by the project, others require their clients to pay a retainers' fee every month. If you want to work with a local SEO company that charges per project, expect to pay between $1,000 and $7,500. When hiring a local SEO company that requires a retainer's fee, you need to budget around $500 to $5,000 every month, depending on the local SEO services you want to receive from them.
How Do You Measure Success?
It's hard for a local SEO company to guarantee success, but there are ways to measure it. Knowing how a local SEO company can measure its success is an essential factor to consider because this will determine if your expectations are met or not.
You can ask the following questions to shed some light on how the local SEO company determines the success of their projects:
Do they aim to increase your online traffic by X% within X months?

Do they want to see an X% increase in a specific metric?
Whatever their answer is, this will give you an idea of if their measurement of success is something that would justify the investment you're going to make with them.
Aside from knowing how they measure success, it's also important to ask about the metrics that they track. Ideally, you should hire a local SEO company that measures their progress using keyword rankings, search traffic, and on-page metrics, such as bounce rate and time on page. A local SEO company that uses these metrics shows that they're experienced and have been successful with their efforts in the past.
Knowledge Is Power
As a company that has offered local SEO services for years, we understand that most entrepreneurs are pressured to choose a local SEO company fast and end up making the wrong decision. An SEO campaign is the key to the success of any website, which is why a lot of entrepreneurs make rash decisions thinking that all SEO companies provide the same results.
There are several things to consider before choosing a local SEO company — and we hope that this article provided direction. Whether you choose us at Agency Jet (and become a part of our 96% client retention rate), are sticking with your current agency, or simply assessing your options — these are the questions you need to be asking. It's easier for an entrepreneur to narrow down their options and hire the best local SEO company when asking the right questions.
Join the thousands of SEO-obsessed readers on our mailing list