"Agency Jet offered the most flexible starting plan at an extremely reasonable cost. They were also very transparent and communicative, and we could tell that they were invested in our success."
Custom Sock Club makes high-quality custom socks for businesses that are looking for trade show giveaways, employee appreciation gifts, client prospecting, and more.
Custom Sock Club was one of Agency Jet's shorter standing clients but in 9 months Agency Jet was able to get tremendous numbers. The plan for them was to allow Agency Jet's SEO team into the fold so their internal marketing staff would have more time for other projects. Their main goals were:
Grow organic traffic and keep similar quality
Accumulate more page 1 keywords to support high volume phrase "custom socks"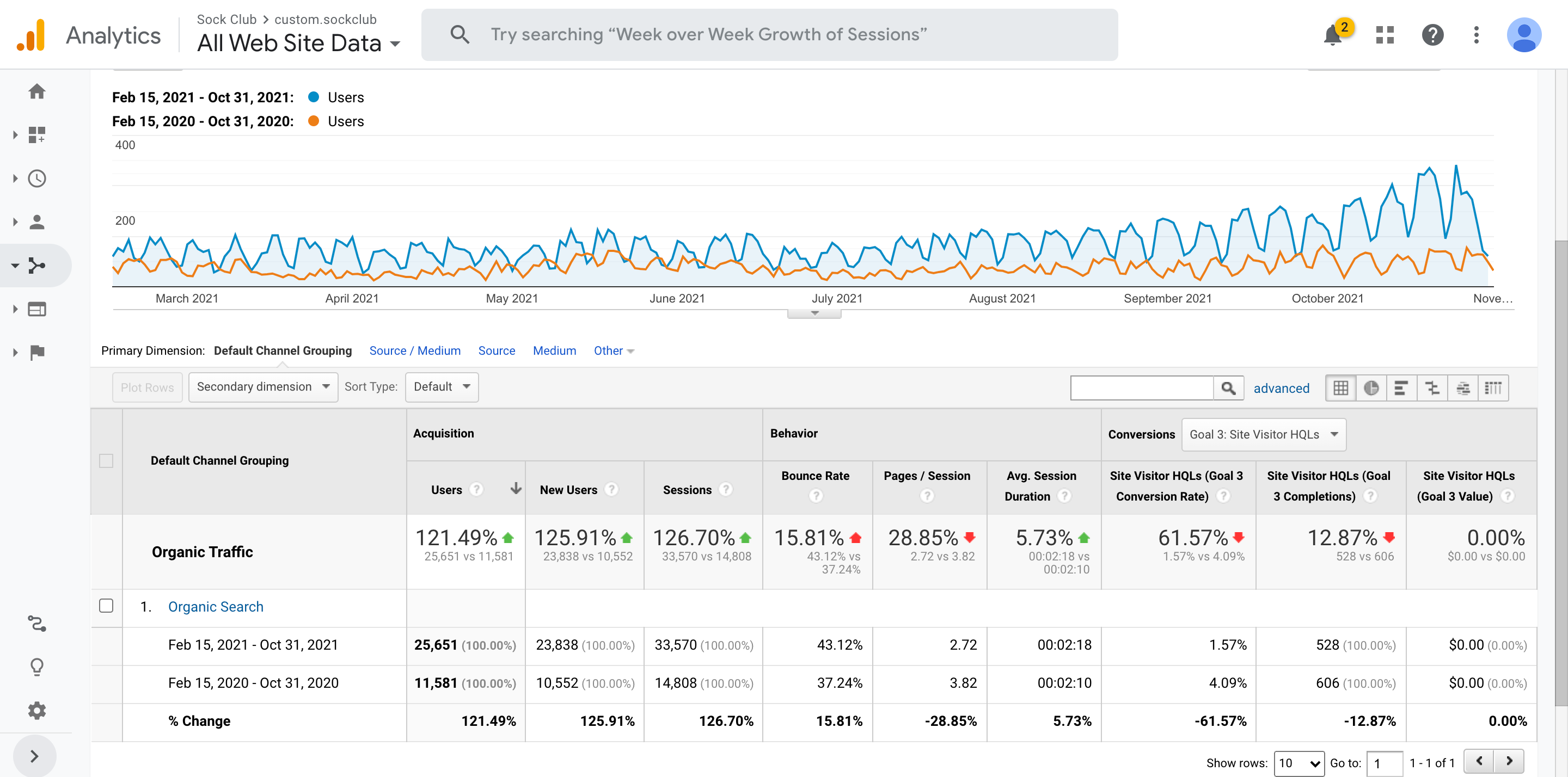 Custom Sock Club signed up for Agency Jet's E-Commerce SEO Jet 50 plan, which is a plan focusing on national long tail keyword phrases to support their product line.
Custom Sock Club was going to focus on the keyword "custom socks" which has 33K/monthly searches. Agency Jet would focus on dozens of more specific phrases.
Custom Sock Club was getting a tremendous amount of links all over the place but few were high quality. Agency Jet would apply their white hat SEO approach to improve this.
Custom Sock Club was always fending for themselves and didn't have a true SEO partner who cared about their success.
Agency Jet followed Google Guidelines to a tee and created 242 high domain authority links before Custom Sock Club departed.
Probably the largest reason Custom Sock enjoyed working with Agency Jet. Monthly calls were vibrant, useful and full of action items.
Within 9 months, Agency Jet helped Custom Sock Club's organic traffic more than double compared to the previous year.
Even with that many new people coming into the site, the average time on site for organic users actually went up.
A keyword like "custom socks" put a lot of eggs in one basket. Agency Jet focused on hundreds of other phrases so CSC wouldn't suffer if they lost a spot for the BIG keyword.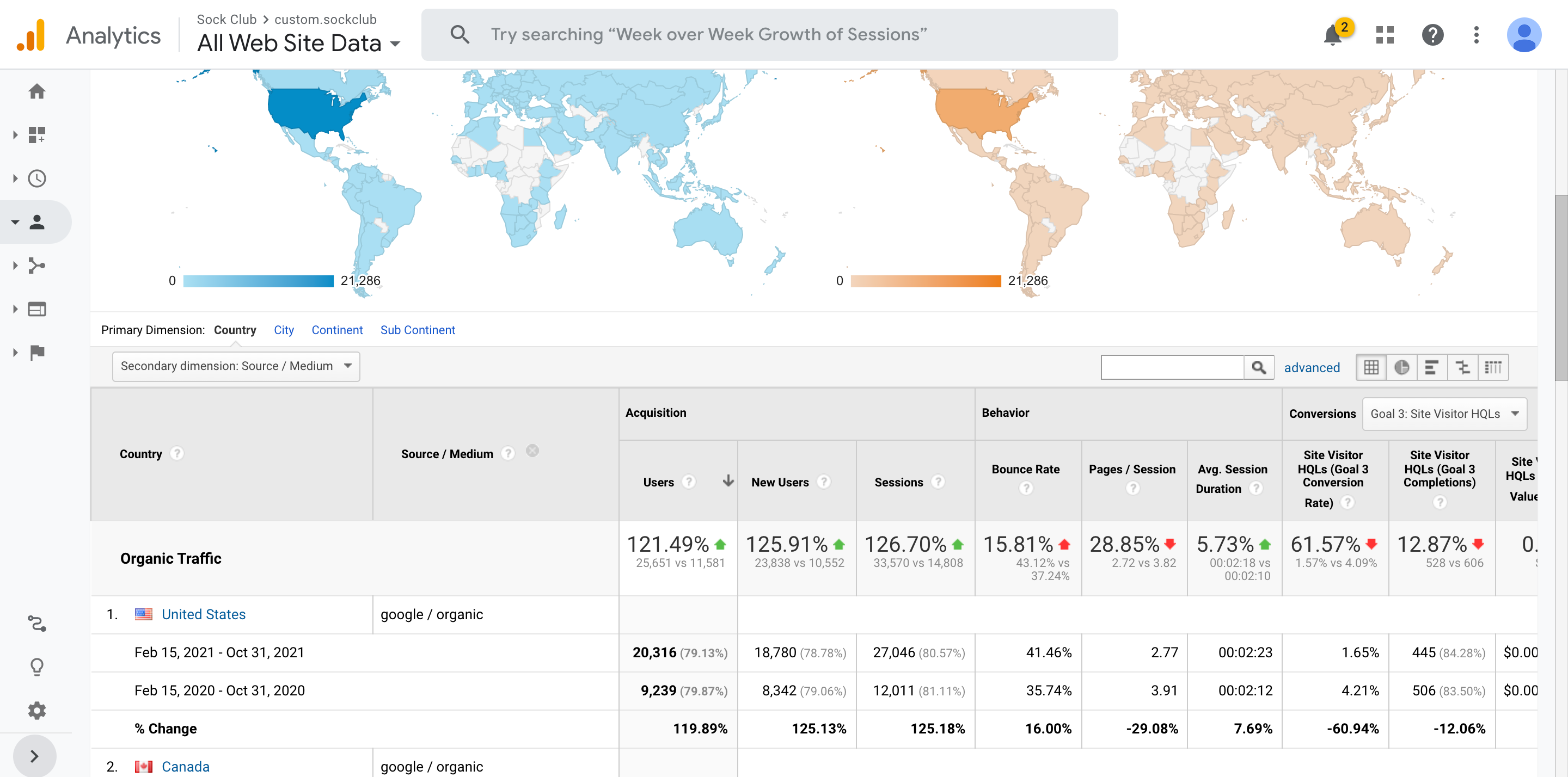 These traffic records that were broken weren't poor quality. Custom Sock saw their USA organic traffic more than double in 9 months.
The reason Custom Sock Club only stuck around 9 months was because one of their main goals was to learn out techniques so they could bring it in house. In <1 year they felt comfortable implementing what we taught them一showing Agency Jet truly cares about client results over our bottom line.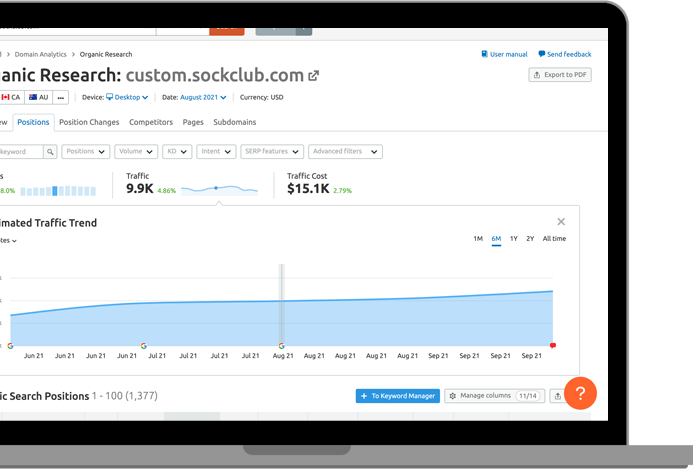 Want to get results as good as these?
Custom Sock Club got one of these assessments for free, you can too!