Partner + CLient Strategist
If the last name didn't already give it away, Artem Kuznetsov was born in the Eastern European country of Belarus. After moving to the US in 1993 and without a word of English, Artem quickly immersed his mind in everything and anything creative. His inability to sit still and urge to create made him a natural people magnet. In 2002, he joined Pre-paid Legal, where he gained sales and leadership experience by building a sales organization of 500+ people. It was around this time that he had an opportunity to meet Anthony Robbins.
Artem was so inspired that any amount of failure only motivated him more. In fact, he lives by Napoleon Hill's quote, "every adversity, every failure, every heartache carries with it the seed of an equal or greater benefit." In 2002, he co-founded a publishing company that published two unique pocket-sized magazines with monthly distribution of 25K+. In 2004, he co-founded Ad3pt, a creative agency that delivered solutions via print, design and web. In 2008 along with many restaurant clients Ad3pt gave birth to Sip n' Sample, a marketing program that brought foodies and up-and-coming independently owned restaurants together.
The final stepping stone prior to joining Agency Jet was BestHive, a web development firm that Artem co-founded in 2011. After fast and organic growth BestHive was sold in 2015 to a bigger agency.
Today Artem is a partner and Lead Web Strategist for Agency Jet. He works with new and existing clients, assisting them in creating stunning and functional websites and web applications.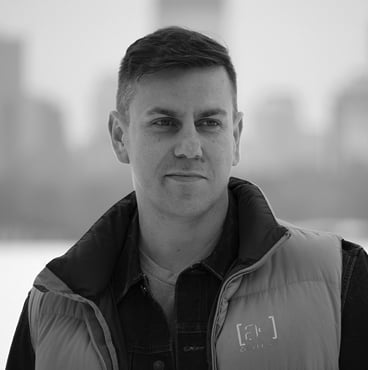 Spent 4 months off the grid in SE Asia
My first dog was named INVOICE
Fluent in Russian & English
Food: Thai & Russian

Hobby: Yoga & Self Realization

Artist: Хор Турецкого

TV Show: Law and Order

Office: Minneapolis / Las Vegas
Every adversity, every failure, every heartache carries with it the seed of an equal or greater benefit.
Decades of diverse ventures undertaken and years of web strategy
We can give you the assessment you need
Our free and educational website assessment is chock full of information and guided to give you all the context you need about where your company website stands.
There's no sales pitch included. We're just big on gifting valuable stuff.