"The key to any marketing partner is transparency, and Agency Jet's fearless approach to an open book and allowing us to see how our money is being spent is a refreshing change in the mysterious world of mastering your SEO. We couldn't be happier with our decision to learn and grow with the strategic help of Agency Jet."
UglyDeck is a premier builder and supplier of decking materials in the Upper Midwest, headquartered in the Twin Cities.
UglyDeck had strong brand recognition in the Twin Cities. UglyDeck joined Agency Jet in late 2020 in part to take advantage of more transparency with their SEO partner. Along with numerous internal marketing efforts, UglyDeck started with a national Jet 100 SEO campaign. Here's what their main goals were:
Increase organic users by a considerable margin
Increase impressions and clicks for national keywords with "deck"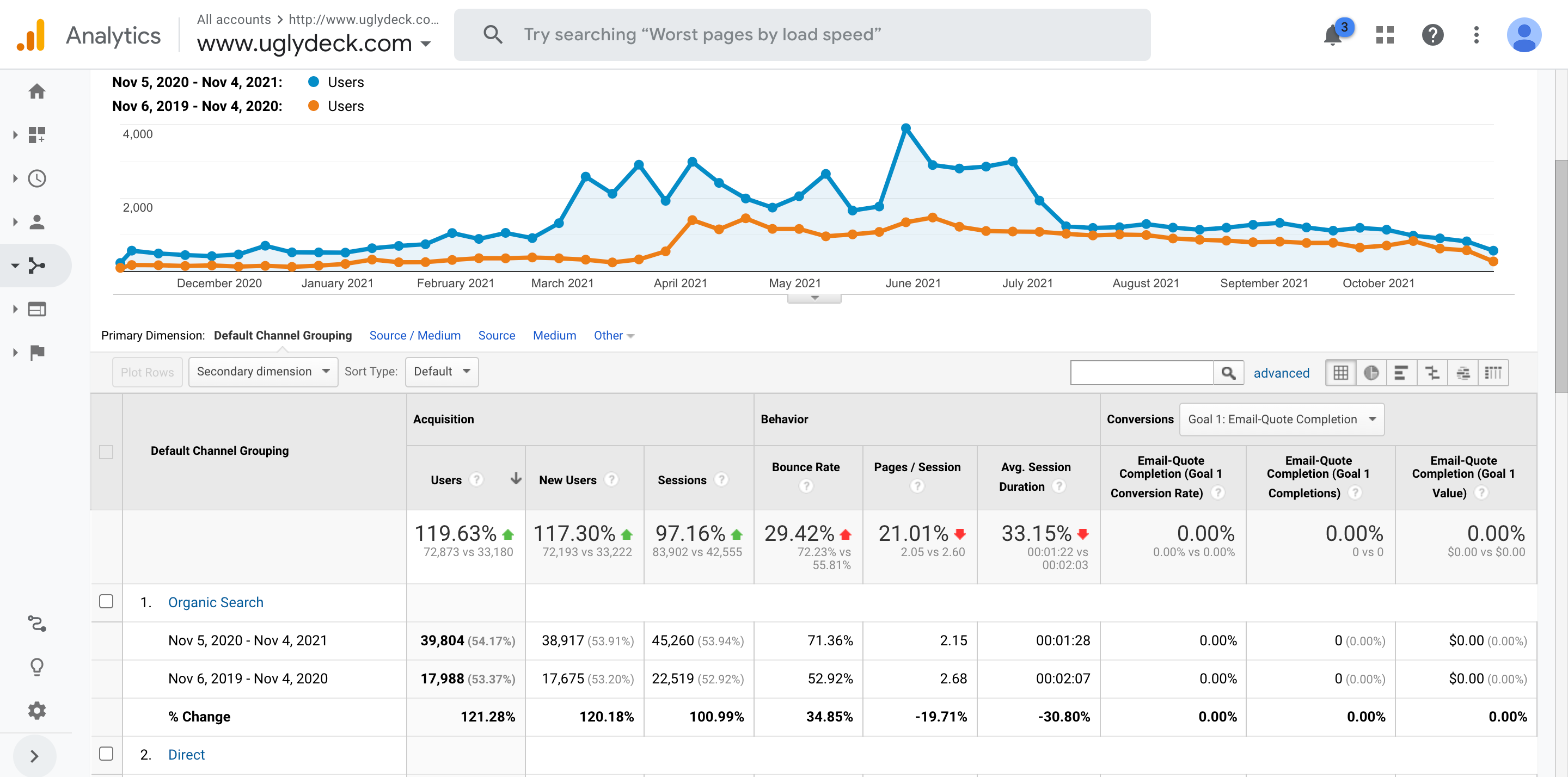 The national Jet 100 plan was chosen to accomplish two things. 1. Continue to grow the Twin Cities base. 2. Work on the USA as a whole and see key drivers.
UglyDeck had an in house web designer and copywriting team. Agency Jet would need to work collaboratively with these groups to see success.
UglyDeck had a fair number of backlinks but their quality breakdown was quite low. Agency Jet would have to increase the quality of their link portfolio.
UglyDeck had never eclipsed 18K organic visitors in a year. Agency Jet's comprehensive work would change that.
Agency Jet built a consistent portfolio of high domain authority links for UglyDeck and did so steadily every month.
Within on year, Agency Jet had helped UglyDeck eclipse 39K organic visitors in a 365 day period, sparking record breaking sales numbers.
From the first 6 months of the SEO campaign to the second 6 months, UglyDeck showed up 31K more times for the keyword "deck builder".
At the 1 year mark, Agency Jet had taken UglyDeck's page one keywords from 85 to 216.
Prior to working with Agency Jet, UglyDeck had never exceeded 19K new organic visitors in a year. 1 year in with Agency Jet and they'd doubled their previous high.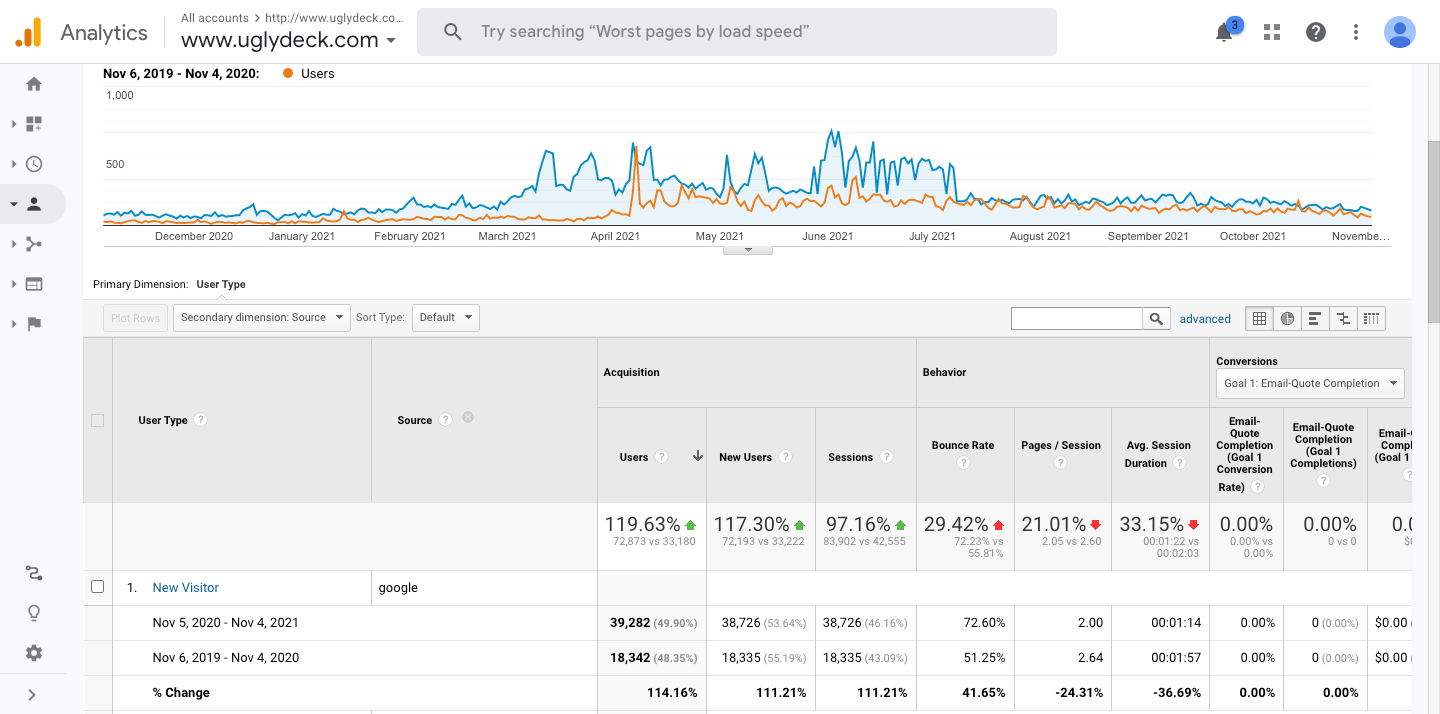 At the 1 year mark, UglyDeck was averaging 2000 more people per month from organic page 1 keywords than they had at the start.
Having worked with Agency Jet for a year, UglyDeck decided to expand their business to the Chicago area and open a sister company.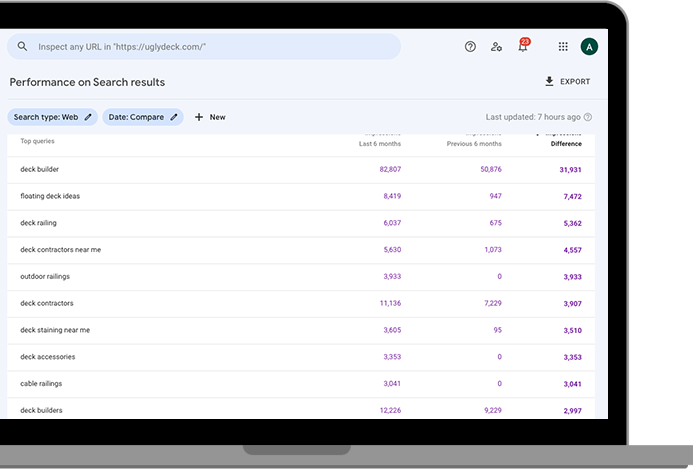 Want to get results as good as these?
UglyDeck got one of these assessments for free, you can too!