5 Small Steps to Rank on Google Maps for Local Business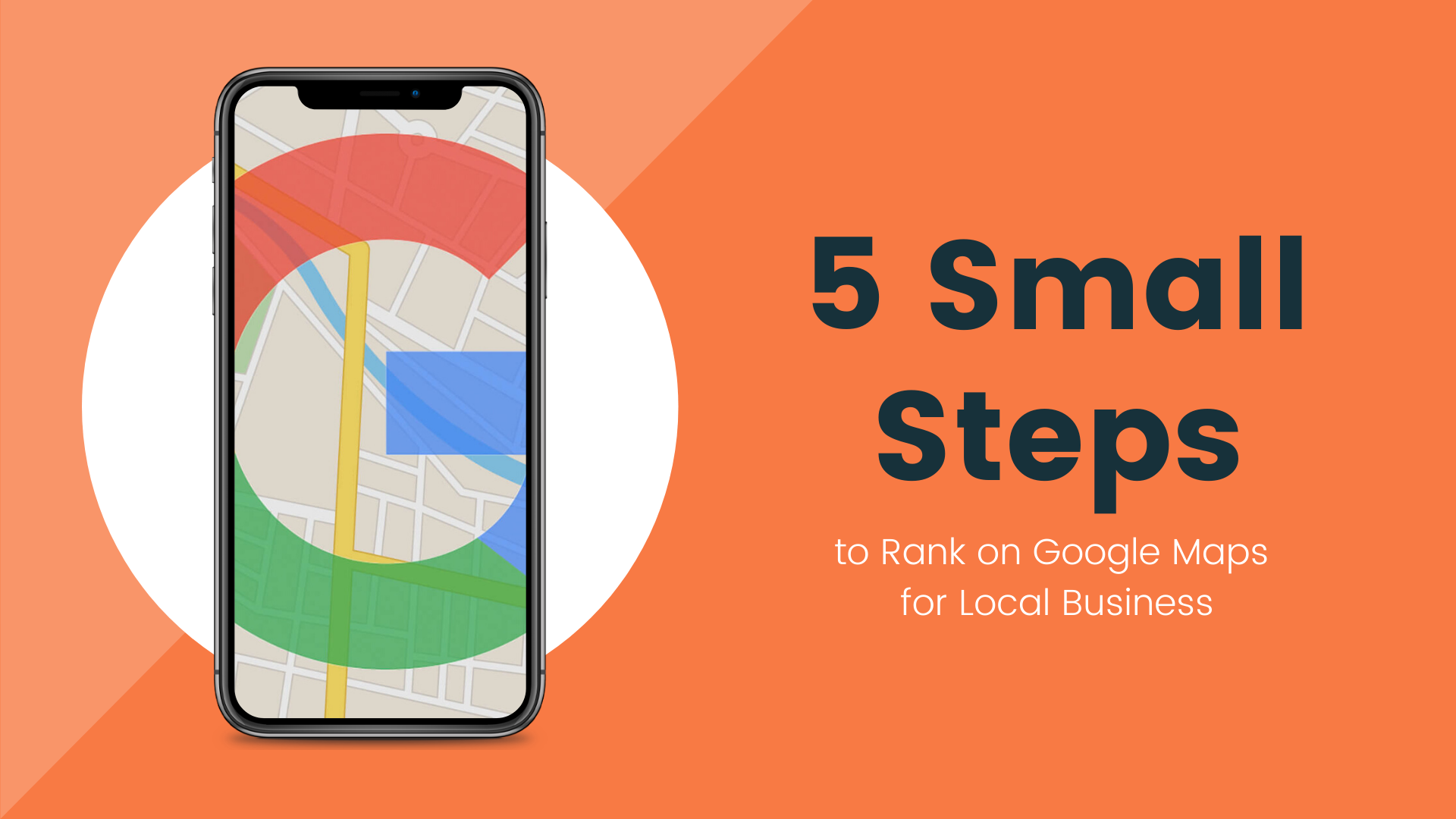 The most common question we hear from local business owners is "how can I rank in the top 3 results for Google maps even if I'm a small company, and is that part of your SEO packages for small local business?"
If you're trying to do it yourself it seems nearly impossible.
Many people have tried paid ads and realize they are expensive. It takes at least 5 months or even a full year (or more!) to rank organically in the search engines.
What should you do at this point?
Try ranking in Google Maps with SEO!
Should you want to learn how, go directly to the source and creator of Google Maps, or just keep reading to learn more.
The goal is to get recognized on Google Maps as it can act as a shortcut to being featured in Google search results for your company. When you're recognized on local Google Search, it will drastically increase your search engine visibility and targeted clicks to your website that have intent for your products or services.
My team at Agency Jet have read numerous studies and they have shown 30% to 35% of searchers clicked on Google Maps results, with the remaining clicks going to paid ads known as PPC, and organic local search results.
We recommend a dual approach to local SEO in our packages.
Obviously implement a strong SEO plan for your local SEO marketing to be found in your city or region but do all you can to increase your ranks in organic SERPs, which will take time.
You could acquire plenty of traffic from your competition by getting ranked in your local area by getting ranked on Google maps.
Google Maps suggestions for your local business's SEO marketing
Google Maps results typically show up at the top of SERPs, above the organic results and below Google ads.
Now let us imagine you were walking down the street with a friend in your neighborhood. While you're walking you are also talking on your cell phone. You are on a city street, and a large tree falls on you and you sustain injuries.
You have a lot of scratches, a severe cut on your head that needs stitches, you're dizzy, and you have a broken collarbone.
You are out of work for 4 weeks as you're too dizzy and have headaches. This is not your fault. You learned the homeowner was chopping down the tree in his yard and it fell on you. You tell a friend and they say you should call a Personal Injury Attorney. Having never interacted with a lawyer you decide to search online for a Personal Injury Law Firm Minnesota you see the results below.
Note only law firms are suggested and you see one of them has over 50 reviews and the others none. Would you call those with no reviews or the one with many?
You will call the most reviewed. Well why did you? It's simple. Google suggested them in your area so it may be easy to drive there to meet or because 60 people before you gave great reviews or you're just lazy and decide it's the first one I will give them a call.
No matter the reason, you will be inclined to call them to learn how they can help, right?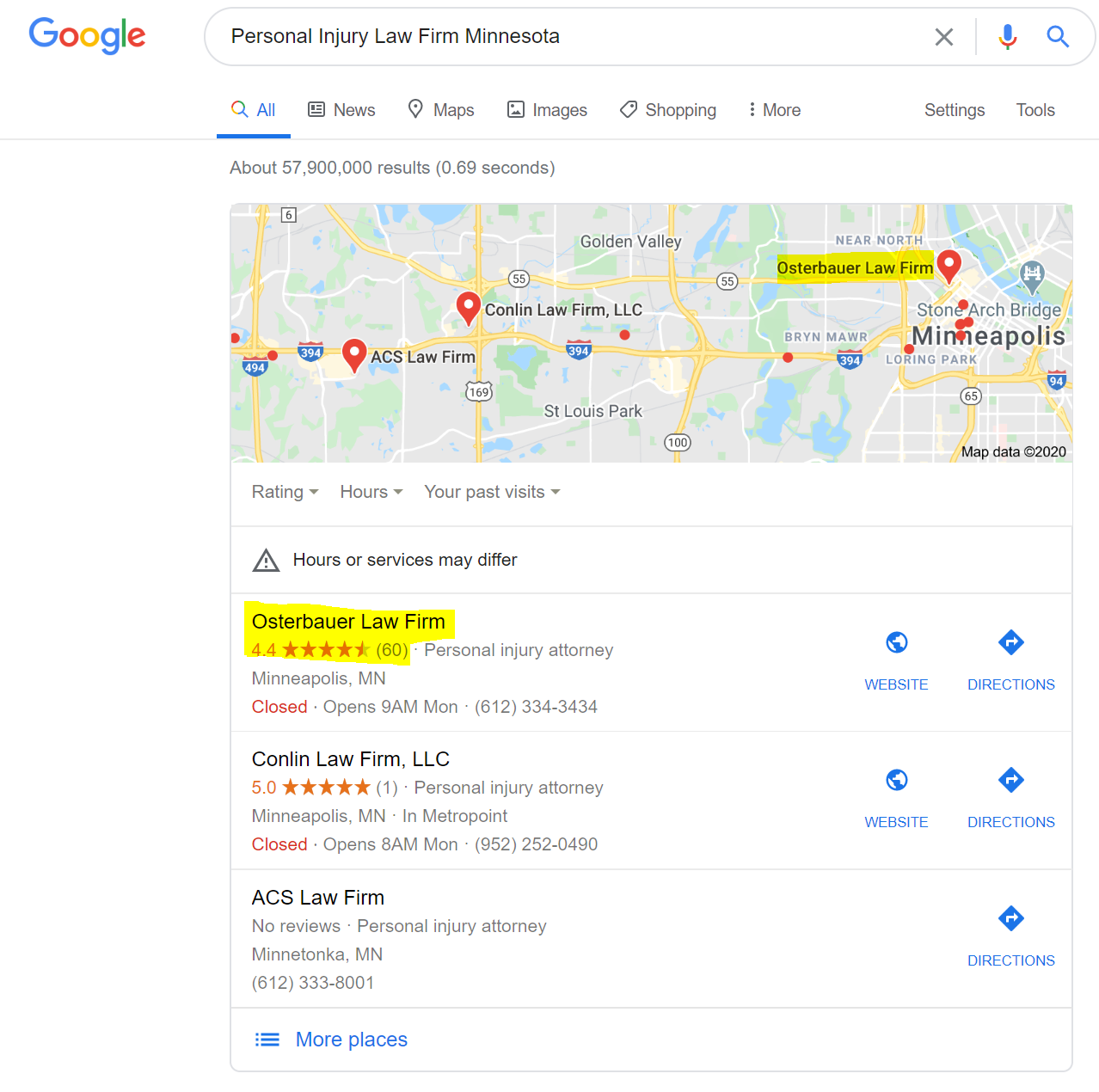 When your local business is displayed on Google maps for someone searching your products or services, you will drive a serious amount of new potential business to your company. This is targeted local traffic to both your website and physical business.
So do you want to know the secret to start ranking in no time!
1. Claim your Google My Business page and verify it
Obviously if you want to be mapped this is the first small step to be listed by showing up on Google Maps. You must claim your Google My Business listing for proper local SEO mapping.
In order to claim your business listing go to Google My Business. Once you're on the page click "Start Now" and follow all of the instructions which ironically includes a small 3x5 postcard in the mail with a code to confirm your business. This postcard will be sent to you at your business's physical address which will finalize your listing.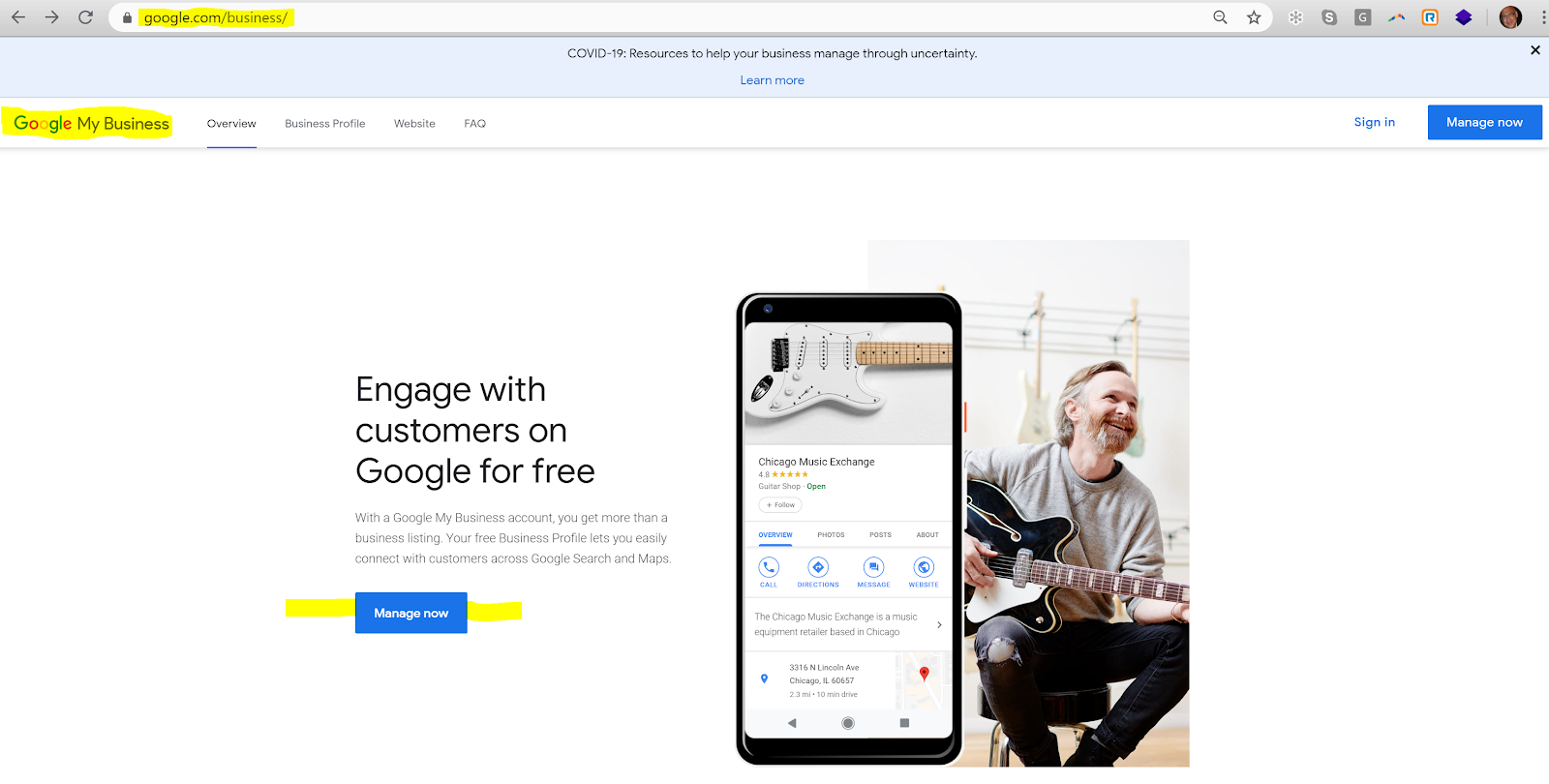 You will be asked to enter your business information by Google My Business and will need to add the following actions: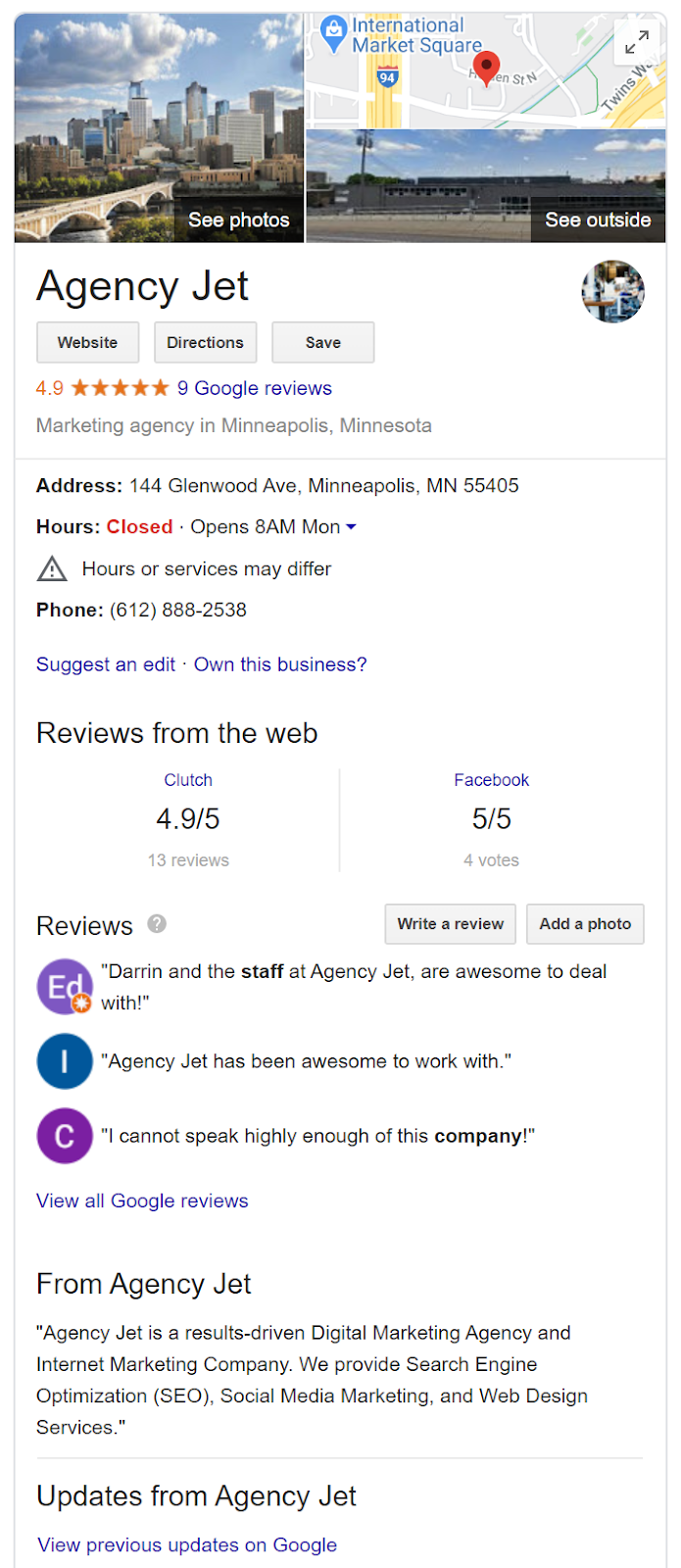 Business name
Category of your business
Phone Number
Business Hours
Business Address
Google will then send a postcard to your address with a code
Google wants to verify ownership of your local business via this postcard code
Add high-quality original images of your business.
Write a business description that matches your keywords to help SEO
You must make sure to enter the correct business information. Google My Business listing will be displayed exactly on Google Maps
This is Agency Jet's Google My Business listing. Notice that it has a clear description, contact information, photos, reviews and more.
We suggest you monitor your Google My Business page the 1st of every month to help make sure it's up to date and accurate.
People may suggest edits to your business page. You should check for updates by other people who have made suggestions. Check out all reviews as well.
This is a small step that renders big results. Now here is your next small step.
2. Fill out your business's NAP to the major local aggregators for proper local SEO
If not the most important, it is in the top 3 of the most important items to get links to citations for your local business. The links and citations will help your business to start ranking in the to search engines. You must get all the free organic listings like Google Maps, Yellow Pages, and HotFrog as examples. They will increase the trust and authority of your domain which is improving your MOZ Rank.
We will list websites during this blog, but these are small examples, as there are literally 100's of websites where you can request and add your business information for free citations. So you want another small simple secret? … I thought so … You can get most of them by simply submitting all of your information to the four major local business data aggregators:
These companies supply incredible business data to Facebook, Bing, Yelp, Google, Apple and other companies. When you decide to add your business info to these websites, you can get your business hundreds of citations and links. Another secret is many sites purchase their data from these sources.
How would you add the information to help my local SEO citations? It's as simple as following the directions on each individual page to submit your company.
3. Add your business to all directories that are available not matter how big or small
&

4.Reviews are not only important now but we believe will be a key to success in the future.
While local aggregators are a key to your mapping success you will want to make sure you submit your business to major local directories to help your local mapping. Those key directories will provide you with additional links and citations. When you do this it will give your company a much better opportunity of ranking in Google Maps and hopefully acquire a spot in the top 3 listings.
An example of a few high authority local business directories for SEO mapping is Yelp, Local.com, or even Yellowbook which are high quality directory links.
Good Advice when adding your business to directories
Consider using your keywords or phrases in your business if you can.
If you can add a description about your products or services, take advantage of every word possible.
If you have standard hours make sure they are added if possible.
Make sure a website is in the directory for backlinking.
Confirm that your NAP (Name, Address, Phone Number) is consistent on all directory websites.
Reviews while not monitored for accuracy in the past, are gaining traction and have been an important factor for ranking on Google Maps. Recently, it has become even more important as review websites are becoming well moderated, which makes it increasingly harder for people to create fake reviews. If you have people that love your business, you may want to ask them for reviews. This will help your local business while helping your local SEO organically and getting mapped.
Logic tells you the more reviews lets Google know that your business is popular by humans and may suggest that people might want to go to see you. We feel at Agency Jet, reviews offer a better chance of appearing in local maps results. Reviews also help new potential customers trust your business as many people are followers.
Good Advice about reviews
Link to all review websites and social media accounts.
Ask loyal clients to do reviews, spread them out over time versus all at once.
If your SEO company offers reputation management in their local packages, use this software to monitor your local reviews.
5. Add quality links from other sources for local SEO success
When you add quality links (aka backlinks) from high quality websites, this will increase trust and authority to your website. Try and increase your organic rankings through proper SEO packages for your small business.
If you are unable to, look for a company that offers SEO packages for small business. You're reading a blog by Agency Jet, and we can help you. While you can acquire more quality backlinks, there are a few particularly valuable methods for local SEO businesses like this.
Good Advice for adding quality links for proper SEO
We suggest that you submit press releases to local media.
Do you know an influencer in your type of business? Talk to them and see if they can help you by posting your URL to their followers.
We strongly recommend you inquire to high quality bloggers to write for you
Author: Darrin Gerr, CEO
More Resources
Join the thousands of SEO-obsessed readers on our mailing list