A Brief Guide on SEO Packages for Small Businesses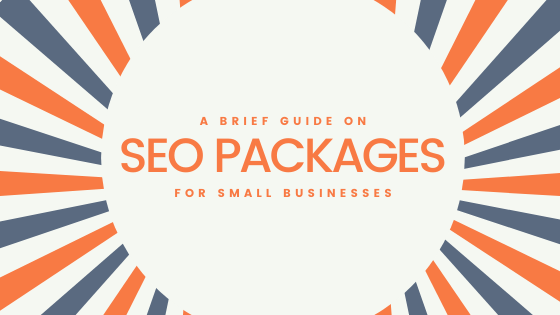 Did you know that over 90% of consumers will go online before they decide to make a purchase?
It's true.
In fact, 93% of all online interactions start with a search engine like Google. Picking up the phone has a whole new meaning. You're not picking up the phone to dial as your first response anymore, you're picking it up to search.
This in a nutshell is search engine optimization (SEO).
If you're a small business owner or a marketing manager tasked with getting your company more visible, search engine optimization is the most effective way to increase visibility to your brand and build leads, contacts and revenues.
This is where SEO packages for small business comes in. Looking good in Google is a whole lot harder than just putting up a website. In fact, there are over 250 main ranking factors that Google considers before they put your site on page 1 of their results.
You could try to knock off all these to-dos yourself to get your site ranked but let's face it, you're running a business. SEO takes time, effort and persistent effort at that.
So the question is not, "Should I buy an SEO package from a marketing company?" the question is "Why haven't I already bought an SEO package from a marketing company?"
Below, we'll cover the following:
What type of SEO package you need for your small business

What are some of the basic ranking factors

How does hiring an SEO/marketing company actually save you money

What should a small business SEO package include

What should your expectations be if you purchase an SEO package with a marketing company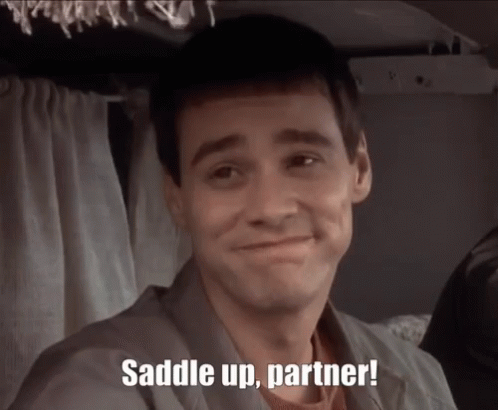 What type of SEO package you need for your small business
Before you purchase an SEO package from a marketing company, you need to look inward. SEO is diverse and there are plenty of capable companies out there so don't just pick the first company that pitches to you.
Do your research and find a company that fits your needs.
Questions you should be asking yourself (and your potential SEO provider) might include:
Are we doing business locally or nationally?

What are some common customer personas we have?

How much are we willing to spend on marketing per month?

Is our website built to convert or is simply informational?

What do we think our customers are searching online?
Want an even more exhaustive list? Download our "Questions for Your Future Agency" document here.
Answering these questions will go a long way in helping you make the right choice in a marketing company and save you a ton of money. Remember, you get what you pay for. If you want to go for the cheapest option, you do so at your peril.
More on that later.
But if you want to read up even more on how to choose a great SEO company, take a look at our post "5 Tips to Choose from the Best SEO companies for Small Business".
What are some of the basic ranking factors?
Unless you have hours and hours to dedicate to SEO, you're not going to see positive results. That's why SEO companies exist. Not only are they experienced professionals, they are solely dedicated to getting your small business website to the top pages of Google.
So how do they do that?
Remember when we said that there are over 250 ranking factors Google is taking into consideration? Those can be filtered into a handful of larger buckets.
Those buckets are:
Technical SEO

High-quality content

Authoritative backlinking

A good user-experience
These core elements help get your website from obscurity to relevance in the search engines.
When you provide excellent SEO services, you tend to get noticed. Here's what some Agency Jet clients are saying about us.
Here's a little bit more about each one.
Technical SEO: In short, this is about making sure your website is healthy and speaking to Google's algorithms the way they want to be spoken to. Having proper page titles, meta descriptions, H1 tags, rich snippets an XML sitemap, a Robots.txt file and Google Analytics properly installed are all important and baseline updates that need to be checked and completed if your website has any chance to rank.
High-quality content: How on earth should a consumer know anything about you if you aren't telling them who you are and what you sell? Google is the same way. If you don't have content explaining your products and services in detail, you're just a nice looking site with things to click on. Websites lacking in high-quality content struggle to rank for high volume keywords simply because they aren't robust enough. Content should be one of the main parts of any strategy an SEO company provides.
Authoritative backlinking: Associating your company's site with other high-quality sites builds your credibility online. Google loves that. The reverse of that is having your site linked to from low-quality and dangerous sites. You may have seen claims from companies or freelancers saying "I'll build you 500 backlinks in one day!" It's a trap. Most of the time these services are relatively cheap. Remember, you get what you pay for and cheap work could result in a massive headache for you down the line.

A good user-experience: Google's a business at the end of the day. Think of page 1 of Google as their top 10 recommendations. Do you think they want to recommend websites that are difficult to use? Of course not. User-experience plays a big role on your website's ability to convert site visitors into paying customers. Making sure it's fast, fits on all screens (responsive) and has clear navigation will ensure that people who visit your site won't bounce away without engaging it.
How does hiring an SEO company actually save you money?
Google's Webmaster Guidelines are no joke and the penalties for not knowing what you're doing are stiff.
Hiring an SEO company for your small business actually saves you money in the long run for one simple reason: They either get results or you fire them.
Hiring an SEO company eliminates you having to train someone. You don't have to pay this company medical, dental, vision or a 401K. Most SEO companies will actually cost less than a single marketing employee costs per month and by hiring a company, you'll have more than one person working for you.
SEO companies also can't survive unless they get results. So as long as you do your homework and make sure you're hiring an SEO company that follows Google Webmaster Guidelines (white hat tactics) the risk is quite minimal.
Again if they don't get results for you, fire them.
Finally, by hiring a team of experts who practice white hat tactics, you're avoiding potential ruin. Just ask JC Penney who hired a black hat SEO firm to do their work for them.
Whether a company is deliberate about breaking the rules or the group you hire simply doesn't know what they're doing, poor SEO work can have serious consequences and instead of saving money, you'll be paying a whole lot to repair your online image.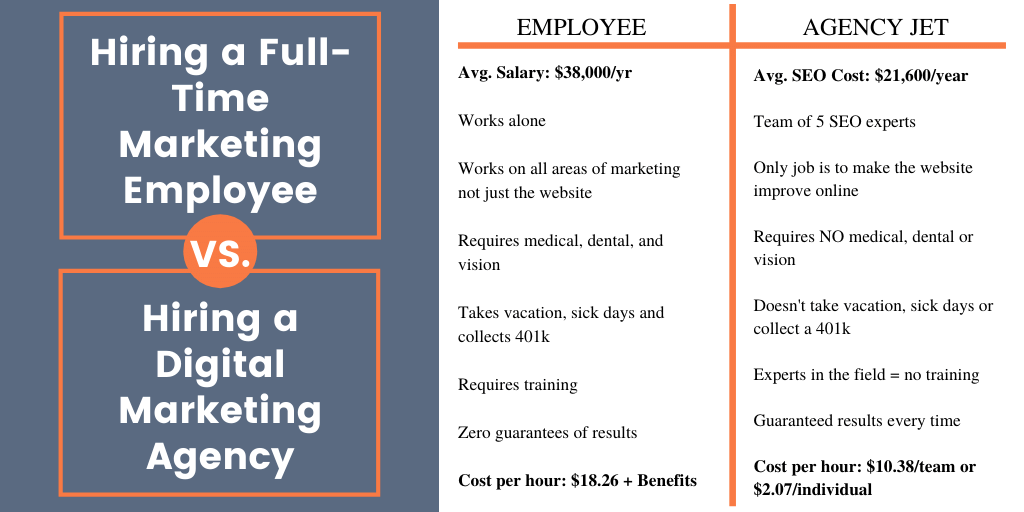 What does an SEO package for small business include?
With varying prices out there, every company will provide a different set of plans and deliverables but no matter how much you invest in SEO, you should receive the below features (at the VERY least).
A custom SEO strategy: SEO is not set it and forget it. SEO is not a short term solution. And SEO is not a one-size-fits-all. Small business SEO packages should be individualized to the company based on foundational technical SEO, the company's goals, the company's industry and level of competition in that industry.
Keyword research: With a general strategy in place, you and your SEO company should identify key targets and phrases you want to rank for online. Along with this keyword research should be a competitor analysis and keyword difficulty report. Once you've decided on a set of keywords, your strategy should change accordingly. In fact, your SEO company should restrategize regularly as Google changes their algorithm daily.
Website optimization: With a strong strategy and keywords in mind, you have to begin optimizing your site with high-quality content and technical SEO. Good website optimization features unique content that talks about your products and services and follows Google's Webmaster Guidelines.
Authoritative backlinks: High-quality backlinks build your credibility online. Diversity also plays a huge role in authoritative backlinking. Any SEO company worth their salt should be building high-quality backlinks regularly for your small business via off-page content writing, social profile posting, local directory posting and media syndication.
Weekly + monthly reporting: How will you know if the results you seek are actually happening? Reporting. This is every SEO company's ability to be transparent with their clients. Even better, highly-experienced and capable marketing agencies should be able to provide you a custom dashboard for your SEO campaign as well where you can see activity, key metrics and lead capture results.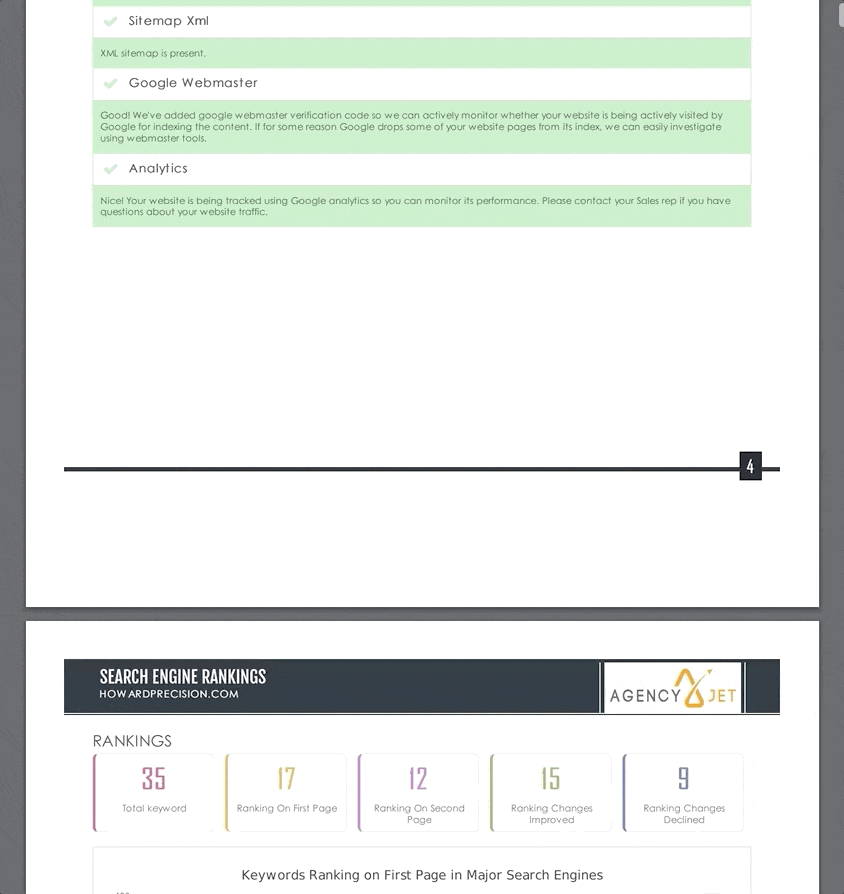 An example of a monthly report one of our SEO clients receives to their email inbox.
An ongoing education: You want results for your business and you're not an SEO expert, right? You need an SEO company that explains the metrics in a way that makes business sense. Getting monthly calls from your SEO company isn't the norm in the industry unfortunately but SEO companies that actively educate their clients are the truly special ones. It just so happens we at Agency Jet are one of the few who guarantees a monthly call with our clients.
What should your expectations be if you purchase an SEO package with a marketing company?
Nothing happens overnight when it comes to ranking in Google but the best part about rock solid SEO is that once you achieve page 1 results, it's very difficult to remove your website from that perch.
Implementing a successful online marketing strategy is a never ending endeavor but you should start to see considerable growth in your keyword rankings and organic traffic within the first four months.
Why so long?
Remember, Google has over 250 ranking factors to consider. If your website has lived below page 1 all these years, Google doesn't just give you the rankings you desire because you hired an SEO firm.
You have to earn it.
Google also isn't a simple transaction. Search engines change their algorithms daily and keeping up with the shifting landscape is another big reason to hire a digital marketing company.
Experts in the field should be able to keep up with these changes and still yield steady results.
At Agency Jet, our team of experts has two guarantees. If in the first 4 months you don't see an upwards trend in the majority of your keywords and more Google traffic to your site, fire us.
Zero clients have fired us by month 4.
Here are a couple of client results that you could expect for your website:

As you can see, by month 4 the client saw double the average monthly traffic they had before they started SEO. This is also a great illustration because it shows that SEO isn't always a diagonal upwards line. Google updates and seasonality will affect any website's site traffic but in less than a year, this client has seen their monthly traffic nearly triple.

A client in a completely different industry saw similar results. This shows how many keywords they had on the first 10 pages of Google. When they started SEO with Agency Jet they were ranking for 250 keywords. One year later they are ranking for 750+.

Here's the same client's top 2 page rankings, which went from sub 50 to over 100. This client has since gone on a maintenance plan to maintain their current rankings, as Agency Jet hit their company goals in less than one year.
Conclusion
So if the old question was "Why haven't I already bought an SEO package from a marketing company?" the new question should be "How soon can I get started with SEO for my small business?"
Digital marketing companies specializing in SEO actually pay for themselves over time because they guarantee results on their work.
Agency Jet is no different. If we don't do what we say, fire us, no questions asked. We never lock clients into a long term commitment and we never fail to get results. Our sole job is to make your website the number one employee at your company.

Not only is ranking in Google the new standard for improving your company's bottom line, it's potential to grow your business is endless.
Can you really afford to wait?
FAQs About SEO Packages
SEO packages are concierge services provided by digital marketing agencies to help your company website rise up in the rankings of search engines for your key products and services.

If you want to increase the traffic coming into your website from key terms around your products and services, you need SEO for your company website. Simply having a website is not sufficient to get it found online. SEO strategy is specifically focused on building your website's visibility to potential customers.

This depends on whether you're trying to get your company found in local, regional or national Google results but each SEO campaign focuses on white hat SEO, which includes technical SEO, on-page optimization, off-page optimization, and content management. All of our campaigns feature over 100 deliverables set on making your company website your number one employee.

Agency Jet guarantees results in the form of traffic and keyword rankings. If you don't see an upwards trend in both by the 4th month of working with us, you fire us. Also, everything we create for you falls under Google's Guidelines and is owned by you. We never hold a client hostage.

If you want to truly make an impact with SEO you shouldn't be paying only a couple hundred dollars a month for it. There are thousands of agencies who claim to provide SEO services but fail to considerably help your bottom line or report on the actions they are completing to help your website get found. You should be paying a minimum of $1000/month to see traction of your brand online and more inquiries and sales from your website. However, even with this bare minimum, you can't expect to see transformative results unless you're in a small market or highly-specialized industry. If you're in a competitive industry or a highly populated area, you'll want to take an aggressive approach to your marketing budget set aside for SEO to see success. That said, you can see massive gains to your bottom line for less than $8,000/month in almost every case.
More Resources
Join the thousands of SEO-obsessed readers on our mailing list