Customers From The Couch: Defining Local Search Engine Optimization Services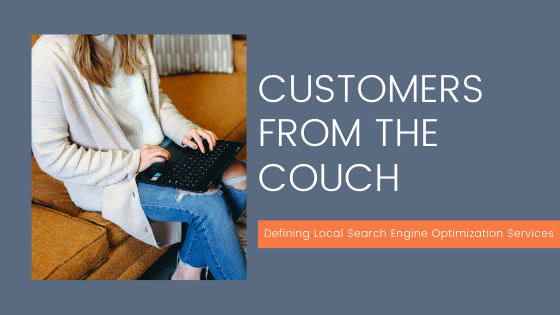 It's Sunday. Your favorite football team is playing (we're partial towards the Minnesota Vikings) and after the game, you're going to go shopping.
Not only do you need a few groceries from the place you always go to, you need a unique gift for your sister who's about to have a baby and you want to take the family to a new restaurant while you're running your errands.
This interaction doesn't start at the grocery store, it starts on your couch while you're watching the game.
If you're looking to buy locally what do you do? You go on Google, search stores + restaurants around the area, check out their reviews, their websites and you make a decision. All without leaving your home.
If you're a business owner, you have to ask the question, what makes the way you look for something different than anybody else?
Then you have to ask another question. "Is my business getting found online in our local area?"
Showing up for your business name is great. Showing up in your local area on the map and when people are searching your products and services is better.
How do you get found in your local area online? Local Search Engine Optimization Services.
Local Search Engine Optimization Defined
Search Engine Optimization or SEO is really the process of completing a series of actions to help Google find your website and rank you on their first page for highly relevant searches.
Local SEO is all about maximizing your visibility within a 25 mile radius of your business. Getting found for relevant keywords, showing up on the map and displaying reviews on your business in Google results are key to help get that business from the couch to your front door.
So what are the actions you need to complete to start ranking in your local area?
Let's first look at some statistics on why almost every business can use local SEO services and why those who don't use it are passing up some serious returns.
If You're Not First You're Last
Ranking online in your local area is literal money coming into your business.
If you don't put a marketing budget forward to help your business succeed online, your competitors will.
But no matter how strong your competition is, it's truly human behavior that makes local search engine optimization strategy so important.
8 Stats That Show Why Local SEO is So Important
97% of people learn more about a local company online than anywhere else.
88% of searches for local businesses on a mobile device either call or visit the business within 24 hours.
72% of consumers that did a local search visited a store within five miles.
78% of location based mobile searches result in an offline purchase.
18% of local smartphone searches led to a purchase within 24 hours. Only 7% of non-local searches led to a sale in the same day.
28% of the time local searches result in a purchase.
By 2021, mobile devices will influence more than $1.4 trillion in local sales.
"Near me" searches have doubled in the last year and grown by more than 900% in the last two years.
If you want to drive people to your storefront, SEO is where that transaction starts.
It's absolutely vital to be competing on the first page of Google in your local area for your products and services.
But how do you do that?
What You Need To Rank Locally in 2020
When it comes to ranking on the first page of Google and in the mapped results you'll need to tackle these 6 items at a minimum.
Here you are: Your Local SEO Starter Kit
1. Optimize Your Google My Business Page
Your Google My Business page is the cornerstone that holds all of this together. It looks like this:

The first thing you'll need to do is claim your business (if you haven't already).
Once it's verified, make sure that all of your information is correct.
Business Name
Address
Phone Number
Hours of Operation
Cover Photo
Your Website
This is going to play a huge role in getting you visible on the map, also known as the SEO 3-Pack, which looks like this: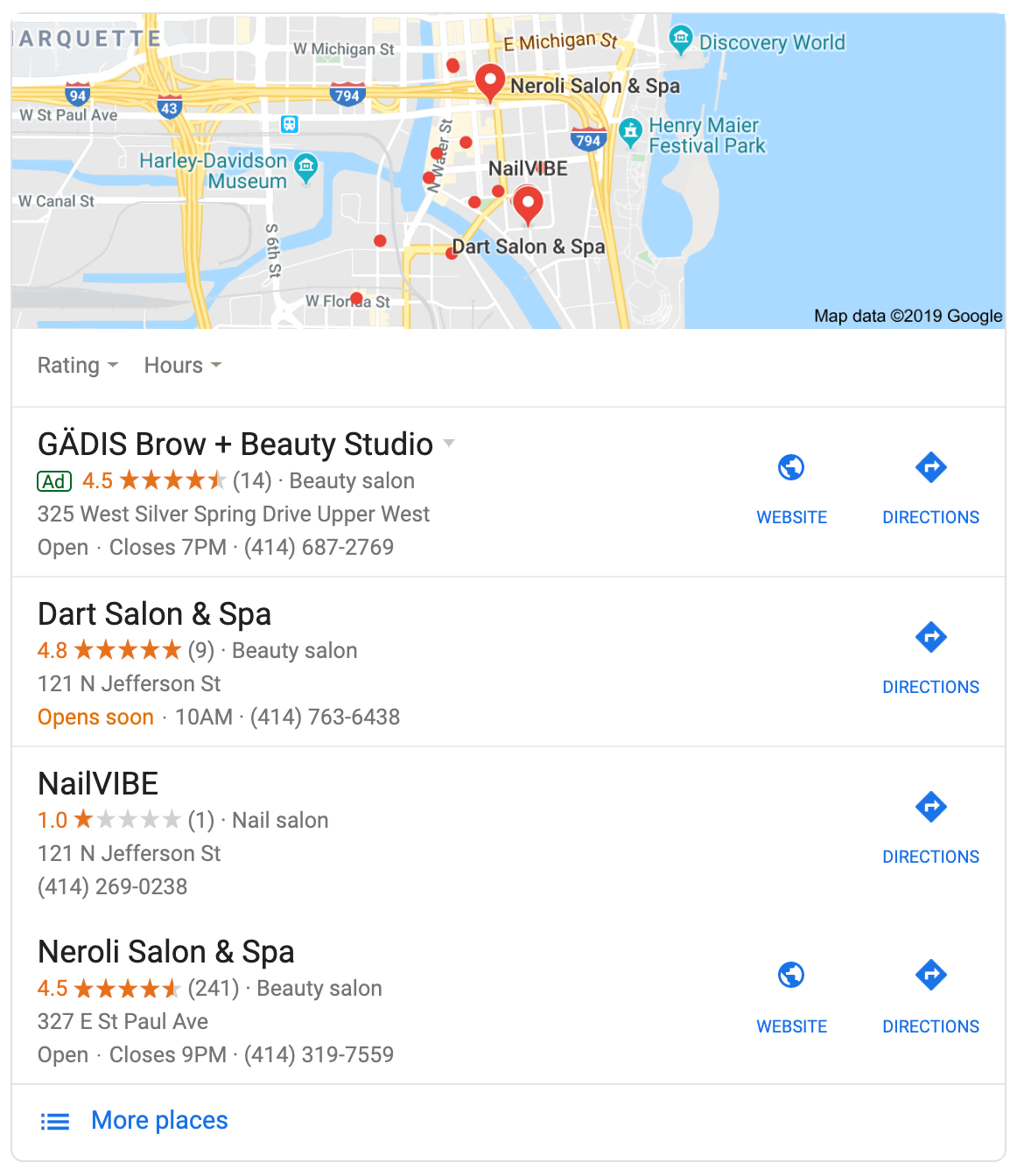 Getting found in the 3-Pack of businesses will allow potential customers to click on your business. They can view your website, get directions or save your business for later.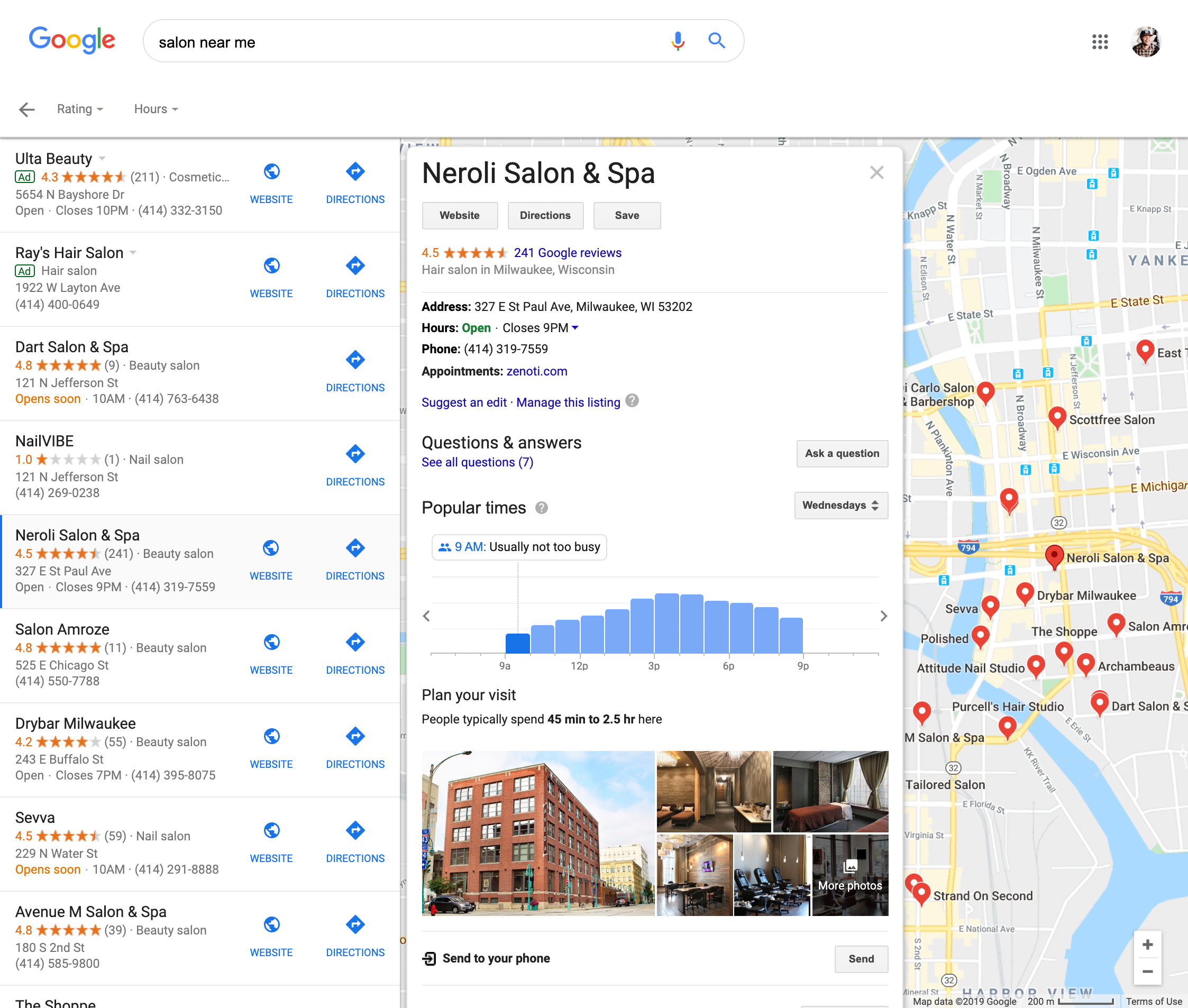 What's also vitally important in this process is reviews.
You can see all of these businesses stacked up with real reviews from their customers, which is drastically influencing the consumer's decision.
2. Rock Solid Reviews are a Must
Aside from having the closest location, having great reviews is really the name of the game to help you turn that consumer into a customer.
Why are reviews so important? Again, it's human behavior.
Local businesses have an average of 39 Google reviews.
72% of customers won't take action until they read reviews.
15% of users don't trust businesses without reviews.
Only 6% of consumers don't trust customer reviews at all.
Whereas people won't trust a business with an average of 3 stars or less, many consumers, especially millennials, don't trust businesses who have 5 out of 5 star ratings either.
What consumers are looking for is authenticity and it's been cited that businesses who have over 30 reviews with an average star rating of 4.2 to 4.7 produce the most sales on a local level.
3. Local Citation Building to Increase Visibility for NAP
NAP (Name, Address, Phone Number) syndication is hugely important to help Google place you at the top of the results for locally searched keywords.
Building these citations on sites like Yelp, Facebook, YP.com, Foursquare, Manta, Apple Maps and more will help Google confirm that your NAP is correct.
These local directory sites are also considered high authority sites by the search engines and by having your business correctly listed on them, it will improve that authoritativeness of your site as well.
The higher the authority the better your site will perform in searches and you're more likely to show up on the map and at the top of organic results.
4. Targeting Local Keywords
Google is smart so simply having your address on your company website should help you get found in your local area for your products and services (assuming you did steps 1 through 3).
But, making sure your keywords are focused on your products and services in your local area is a must.
When describing a product on your site, it doesn't hurt to let the viewer know that it's available in your local store.
Using the salon example in step 1, Neroli could say something like "Conveniently located in Milwaukee's Third Ward, our salon is just off The Hop line and situated at the corner of St. Paul Ave and Milwaukee St."
This descriptive content on your website helps confirm all of the NAP information off of the website, making a perfect marriage for the search engines.
5. Have GEO Pages on Your Site
Perfect for franchises, if you have more than one location for your business, it's important to have specific pages on your website for each location.
Or if you have one location but serve many, you can have specific pages for each area you serve as well.
Here's a staffing agency in the Washington D.C. area doing that very thing on their website: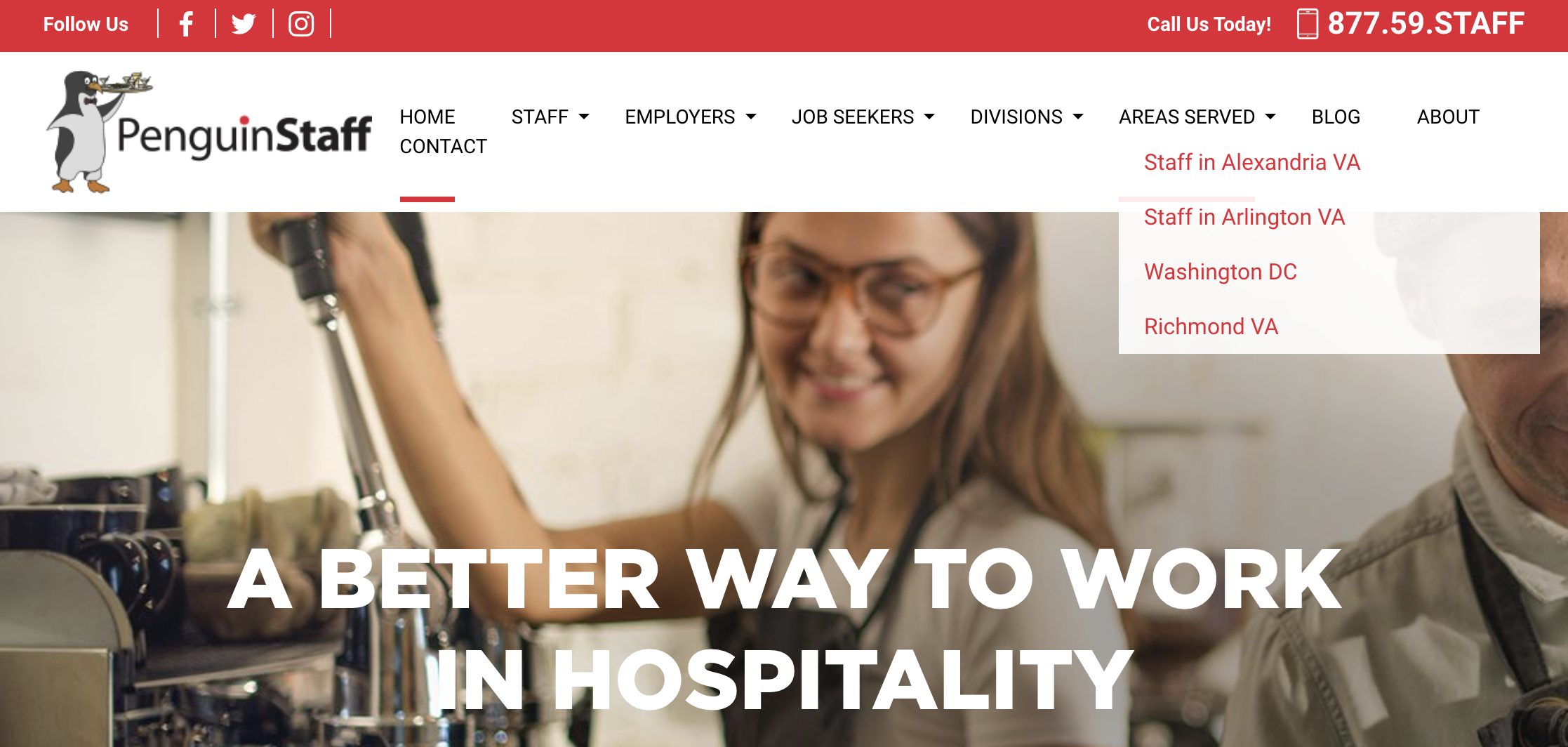 Each of these pages is an opportunity to tell potential customers and, more importantly, Google where you should be found online.
In fact if you search "hospitality staffing agency arlington va", you'll see their GEO page ranking on page 1 of Google.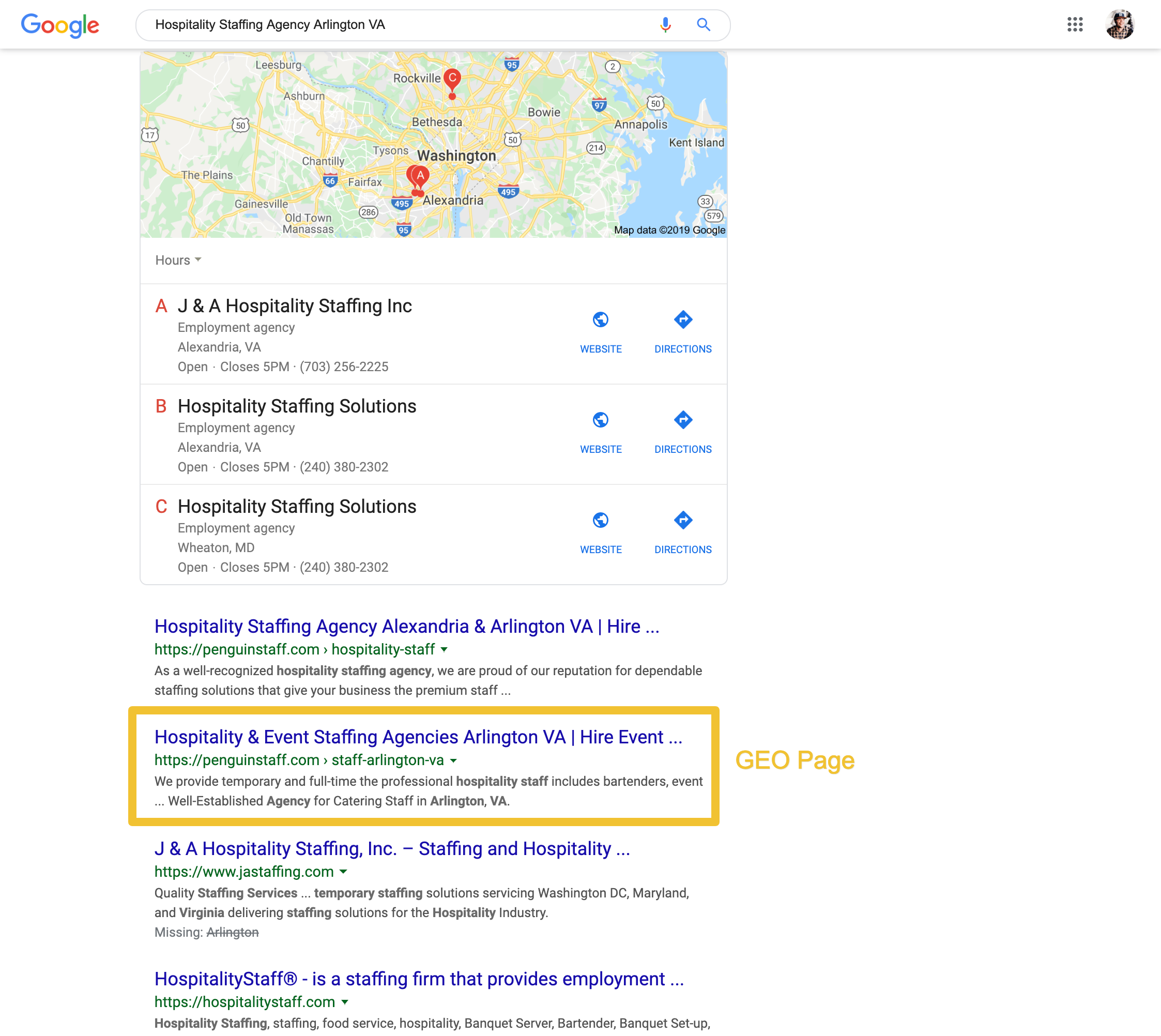 6. Have a Fast and Easy-To-Use Site
No matter how much work you put into local search engine optimization, if your website doesn't load quickly and/or isn't easy to use, Google won't be inclined to rank you highly.
Having your website load in less than a second is vital. In fact, for every second your website takes to load, 10% of people will likely leave. What's that? Business lost.
You can also easily lose business if your website has a poor UX (user-experience).
To make sure your website is easy to use, make sure your menu navigation is clear and streamlined, that there are multiple CTAs (Calls to Action) and that you have engaging content and imagery.
Finally, you'll want to make sure that the website responds to all screens, also known as responsive.
More than 60 percent of online searches are done from a mobile device these days and by not having a website that adapts to each and every screen it's on, you're asking for people to bounce away from you site.
Buying Local Search Engine Optimization Services Versus Doing It Yourself
Here are the advantages to doing local SEO yourself:
Here are the disadvantages to doing it yourself:
It's time intensive
While you don't need to be an expert there is a steep learning curve
You have to maintain and update regularly
Results aren't guaranteed
And here's the advantages to using a digital marketing agency for Local SEO:
You have a team of experts working for you
All updates are completed in a timely manner
The custom strategy will keep you ranking for important phrases and they'll continue to go after more of them for you
Results are guaranteed
You don't have to do any of it
And the disadvantages to hiring a digital marketing company:
So the question is simple. Do you want something free or do you want something with guaranteed results?
Enter Agency Jet
Doing local search engine optimization yourself is a strenuous task and if you're not an expert in the field, you could be wasting your time, or even worse, harming your online reputation.
Agency Jet has served hundreds of customers with our local SEO services and have a 4.9 out of 5 star rating because we do exactly what we say and we get results.
At Agency Jet, we know that every single business has their own unique brand to bring to the table. We've worked with dozens of different industries and delivered results for hundreds of different business.
What We're Determined To Do For You
Provide world-class customer service

Help your organic keywords rise in the rankings

Get you on the map

Bring in more foot traffic to your local business

Increase your Google My Business visits

Provide weekly education on all of our activities
All of this adds up to a consistent understanding of your investment with us and what returns you're getting from it.
In fact, we're so confident in our service, that if you don't see an upwards trend in your keywords and more Google traffic to your site by month 4, you can fire us, no questions asked.
Every single client at Agency Jet has received those same guarantees and so far, nobody has fired us by month 4.
Our mantra is "Transparency, Education, Results". While we know results should come standard in our industry, (and we get results in droves) transparency and education are something that truly sets Agency Jet apart.
Just check out our reviews! Clients consistently comment on how open we are and how much they are learning with us along the way.
We're experts in the field of SEO and can help your local business soar. Want to learn more? Check out our resources below.
More Resources
Join the thousands of SEO-obsessed readers on our mailing list