HOW TO: Add Backlinks to Your Shopify Store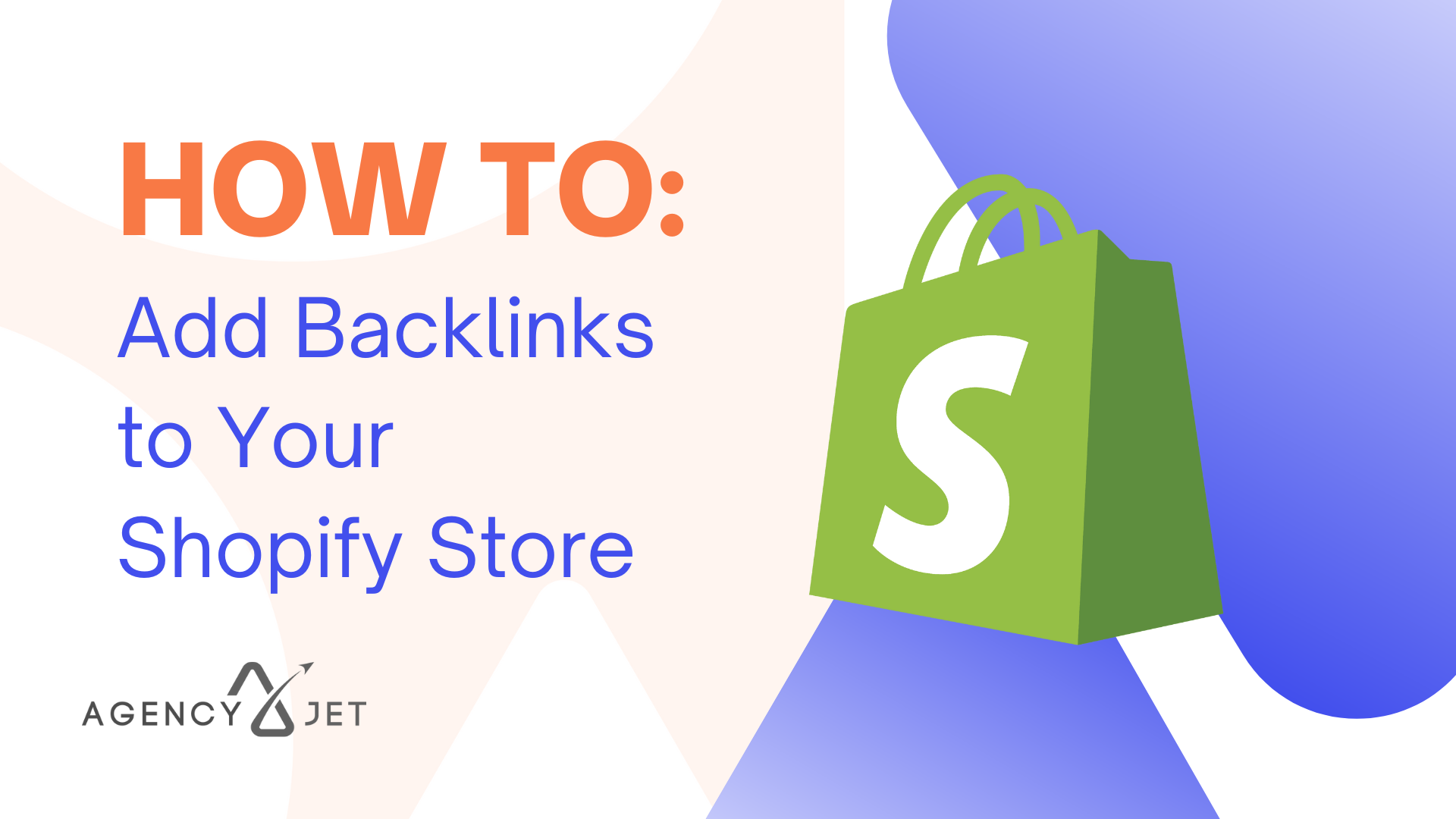 You've created the perfect Shopify store and are ready to make some sales, but the website traffic levels aren't where they need to be.
The answer lies in backlinks — essential for SEO success — but that doesn't mean it's easy. There's more to it than simply adding a few links here and there.
But don't worry.
We're here to give you the 411 on how to get quality backlinks that will bring your shop up in the rankings! Put away those link-building jitters and join us as we discuss why links are essential and how to add them strategically.
Sounds good? Let's get started!
What Is a Backlink?
To put it simply, a backlink is an incoming link from another website to yours. The other website links to your page as a reference or a way to provide more information about the topic their page is discussing.
Backlinks add value to your site because they show that other websites trust yours enough to link to it in their content.
When search engines crawl for content, these backlinks help signal that your website is a trusted source of information.

There are two types of backlinks.
1. Nofollow
Nofollow backlinks are typically used when someone wants to link to other sites without passing any SEO "juice" or authority from their site. This could be useful if you want to reference another website without giving them any SEO advantage over your content.
It's also helpful if you want to link out to external sources but aren't sure if those sources are reputable enough — you don't want any negative connotations associated with your website by linking out to less-than-trustworthy sites.
2. Dofollow
In contrast, dofollow backlinks can pass along some SEO juice or authority from one domain to another.
Dofollow links are great for building up your domain authority if done correctly, so this would be the link you'd use if you wanted traffic from another website directed toward yours.
However, it's vital to ensure that all your dofollow links come from high-quality websites that won't negatively impact your reputation or search engine rankings.
Why Backlinks Are Important for Your Shopify Store
But are backlinks a big deal? Absolutely!
Backlinks are an essential part of SEO and help to boost your website's domain authority, which is one of the factors search engines consider when ranking sites.
The higher your domain authority, the more likely you'll appear in search engine results for relevant keywords — meaning more traffic for your site. Let's examine why you should learn how to add links to Shopify.

Increases Visibility
Backlinks help boost visibility in search engine results pages (SERPs) and increase the chances of your store showing up on SERPs when customers search for services. The more links pointing to your Shopify page, the higher it will rank on SERPs, which means more potential customers can find your shop.
This is especially important if you're selling a niche product or service — you want as many people as possible interested in what you're offering to find your store quickly and easily!
Generates Referral Traffic
In addition to increased visibility on SERPs, having quality backlinks can also lead to referral traffic. When other websites link back to yours, more people will visit your site directly from those links.
This is extremely helpful if you're trying to increase brand awareness or expand into new markets — the more people who visit your site, the better!
Establishes Credibility
Having numerous backlinks from reliable sources helps establish credibility and builds trust with potential customers.
It shows that other businesses or influential figures have endorsed or recommended your products or services, which can go a long way toward gaining customer trust and loyalty.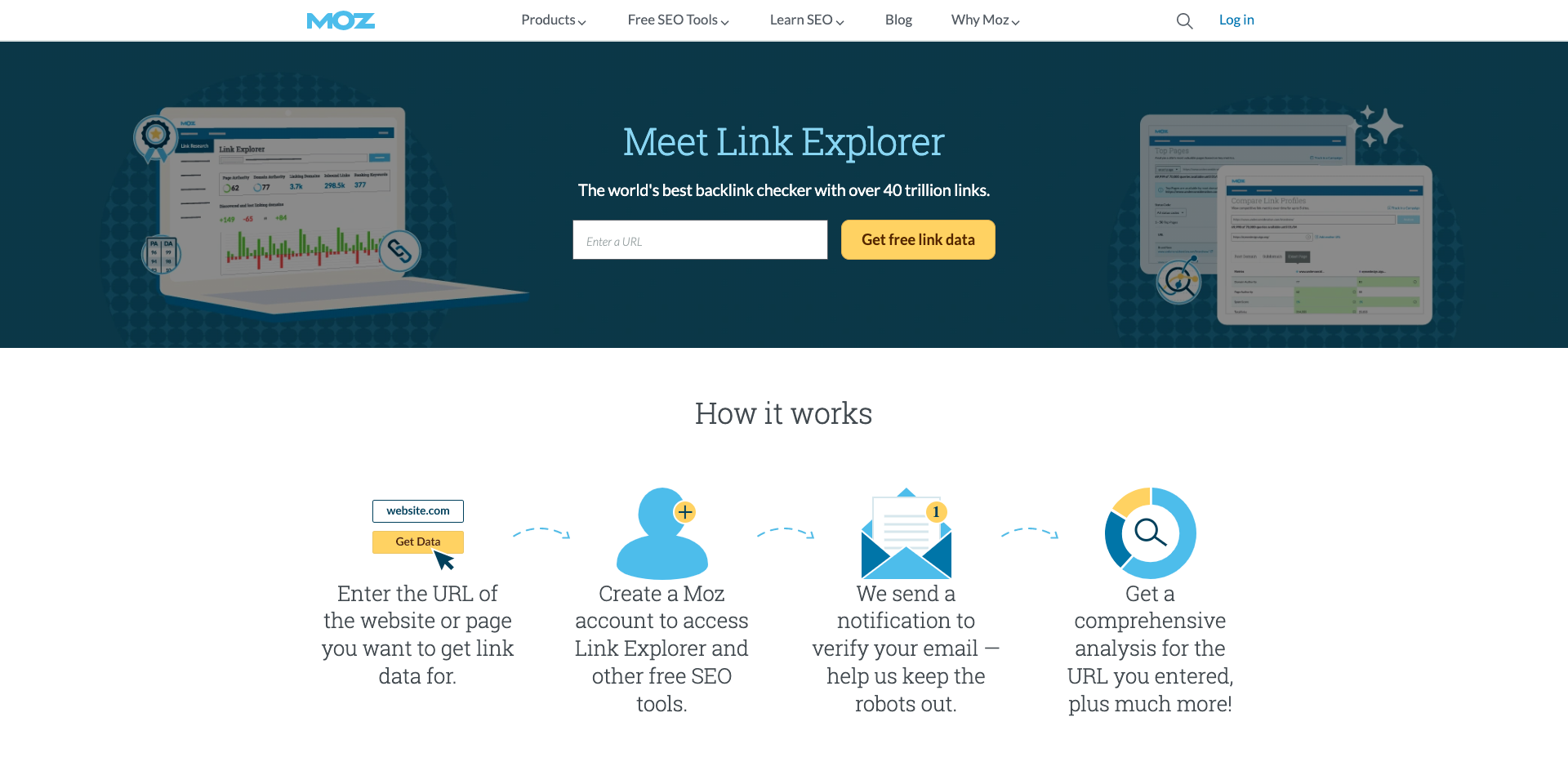 Want to know the quality of your inbound links? Moz is a fantastic tool to help you do just that. Just input your URL into their Link Explorer tool.
Helps Beat Competitors
Lastly, having a good number of quality backlinks gives you an edge over competitors who may not be investing in their link-building strategies.
By investing time and resources into creating valuable content that others want to link to, plus developing relationships with relevant industry influencers or bloggers who have access to large audiences, you can gain an advantage over competitors who may not be doing the same.

Strategies on How To Add Backlinks to Shopify
If building backlinks for your Shopify store has been a bit of a challenge, we've got you covered.
Our trusty list has all the good stuff you need to put your Shopify store ahead of the competition. Here are some of the best strategies on how to add links to Shopify stores.
Publish High-quality Content
One of the best ways to get backlinks from other websites is to create content that is so good that people naturally link back to it. That means that it should be interesting, informative, and engaging.
People are more likely to link content if it is relevant and helpful for their audience. Additionally, try to present content creatively; use visuals such as images or videos. People will likely link to your content if you make it stand out.
If this is new to you, check out this guide to the best CMS for beginners, which will help you establish a high-quality Shopify website.
Report Broken Links
This may seem like an unusual way to get backlinks, but it works!
When other websites have broken links on their pages — which happens quite often — you can contact them and let them know about the broken link so they can fix it.
A great way of doing this is using a tool called Broken Link Checker, which scans websites and reports any broken links they find.
You can then contact those websites and offer them a better replacement link — your website! This tactic works because web admins always look for ways to improve their website's user experience (UX) by fixing broken links. Plus, if they decide to use your link as a replacement, you get a backlink in return!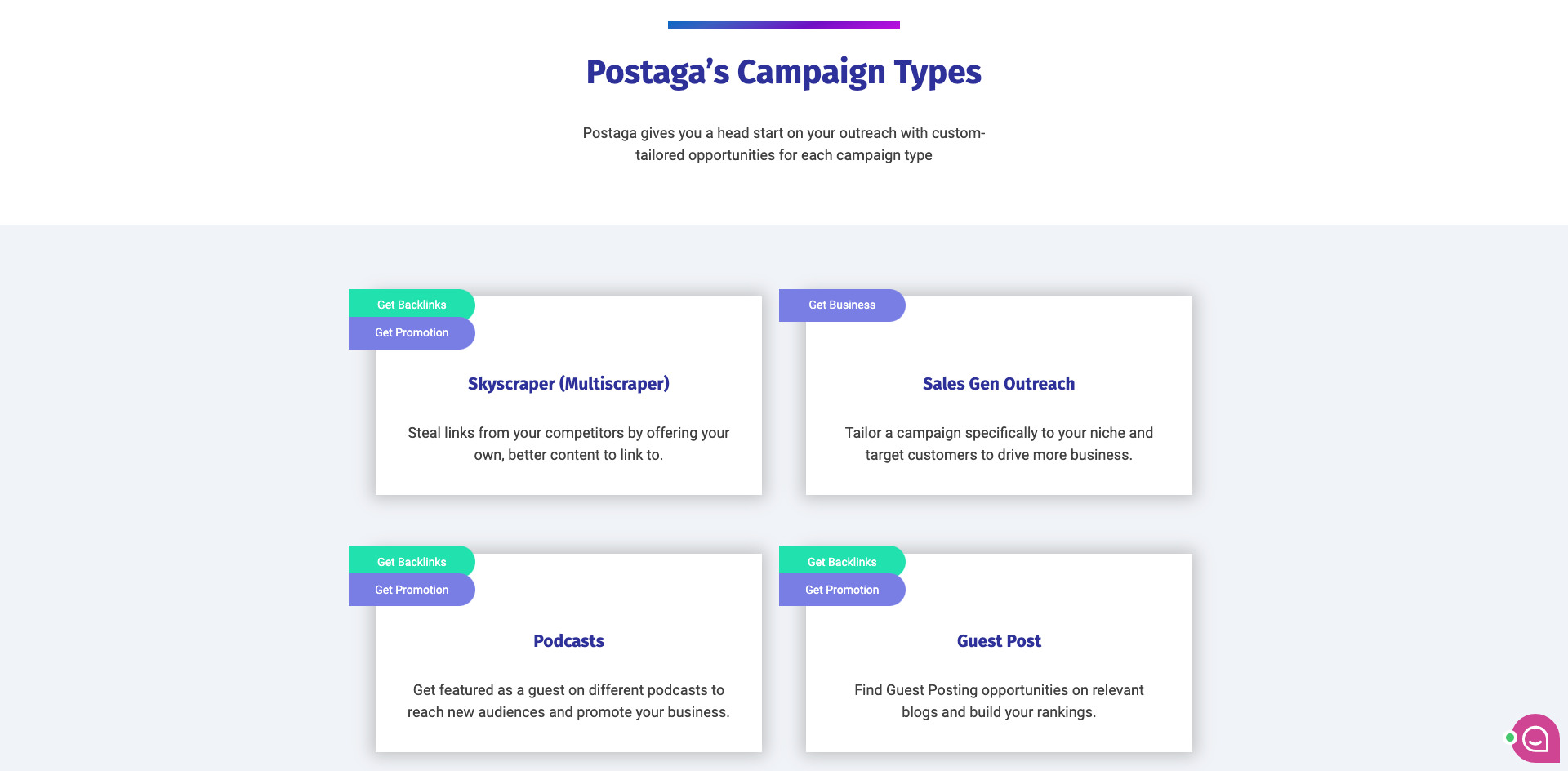 This technique, while extremely effective and valuable, takes a ton of time! But don't worry! There are tools to speed this up. Check out Postaga, an outreach and link-building tool that automates the process.
Reach Out to Your Network
If you have already built relationships with influencers in your industry or with other bloggers/content creators who have large followings online, then reach out and ask if they would be willing to add a link from their website/blog/social media accounts to yours.
Make sure that whatever content you are linking has value for your readers. Otherwise, they won't be interested.
Additionally, remember any strategic partnerships or collaborations you have done in the past. These could also be potential sources for new backlinks!

Ask for Product Reviews
Asking customers who have purchased from you to leave product reviews on their websites or blogs can also help.
This will benefit both parties — giving you a valuable backlink and allowing them to voice their opinion about the product or service they purchased from you.
You can send automated emails after someone has purchased in your store asking them if they would like to review the product or service they just bought. Then you can just provide a link with instructions on how they can do so.
Guest Post
Guest posting is one of the oldest yet most effective ways to get backlinks. Start by looking for blogs and websites related to your industry that accept guest posts and contact them.
When writing these posts, ensure that each post includes at least one link pointing directly to your Shopify store.
This way, when people read the post, they'll be able to click through and visit your website.
Guest posting also allows you to demonstrate your expertise in the field and reach new potential customers who may not have heard of your shop otherwise.

Join Communities
You can also consider joining online communities related to e-commerce, such as Reddit or Facebook groups, where people share advice and tips for running an online store.
These communities are great places for finding new customers and connecting with people in the industry who could help spread the word about your shop through their websites or social media channels.
Participating in these conversations is another excellent way of adding quality backlinks without having to do any extra work — make sure that each time you participate in one of these conversations you include a link pointing directly back to your Shopify store!
Find Unlinked Mentions and Request for a Backlink
Sometimes, people will mention your store or products without providing a link. This is an excellent opportunity to request that they add a link pointing to your website.
You can use tools like Google Alerts or Mention to monitor the web for any new content related to your shop.
Whenever you find an unlinked mention, reach out to the author and request that they add a link directly to your Shopify store.
This tactic works because it's easy for people who already mentioned your shop in their content but didn't include a link for some reason — so if you offer them a free backlink, they will likely accept it!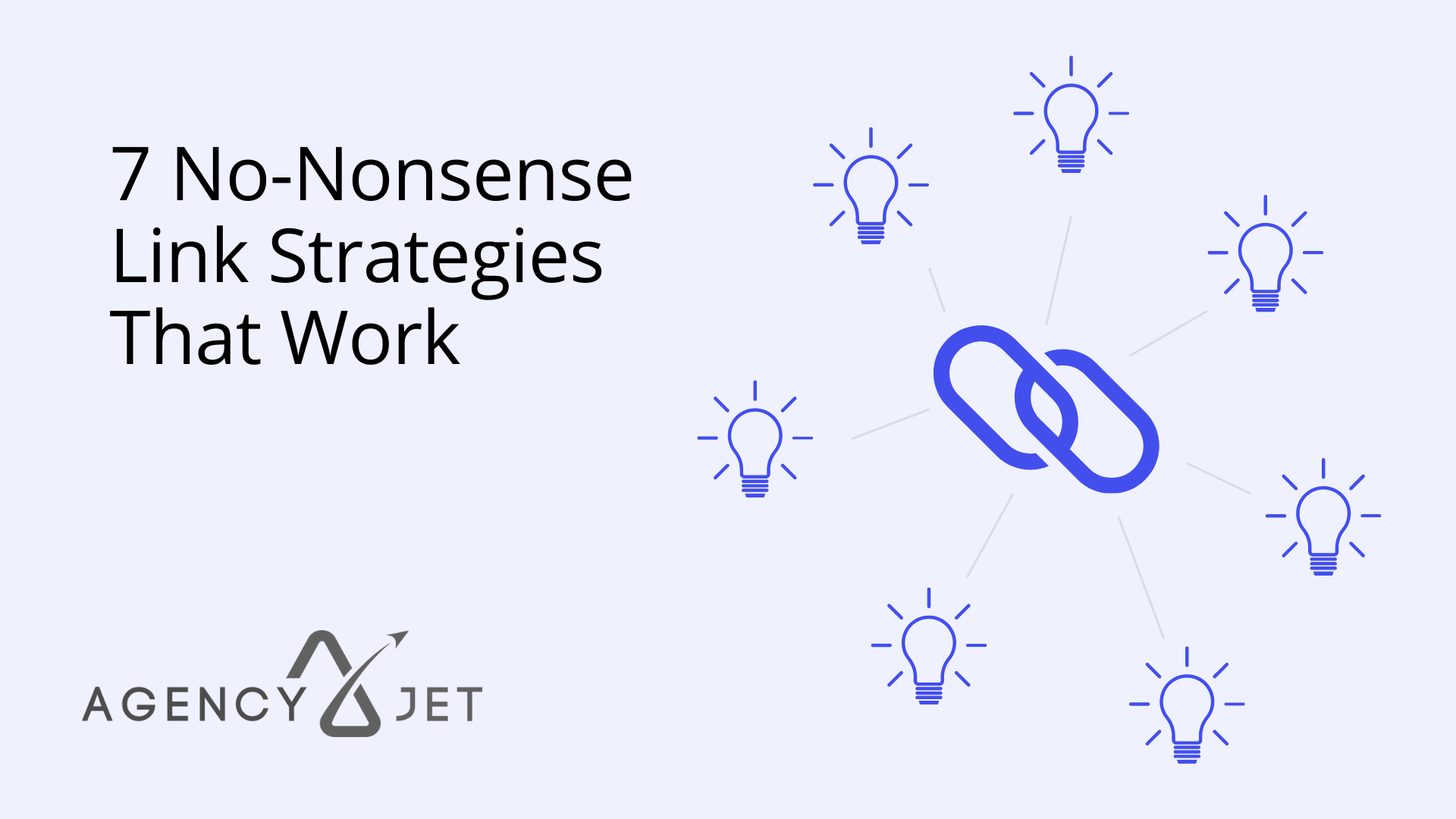 Looking for even more opportunities? Check out our 7 No Nonsense Link Strategies that work.
Share Free Tools
Free tools are a great way to get backlinks, as people love using them and are more than willing to share them.
For example, if you sell pet products, you could create a tool that evaluates which pet food would best suit each pet based on its breed and age. Not only are these types of tools beneficial for customers, but they're also great at generating more organic traffic from search engines.
People will naturally link to websites with helpful resources or calculators!
Leverage Internal Links
One final strategy for adding backlinks is through internal links within your website. This means creating content linking one page on your website to another.
For example, suppose you have an article about best practices for running a successful online shop. In that case, you can include links within the article that point readers toward other pages on your website, such as product pages or blog posts.
This not only makes it easier for visitors to navigate your website but also helps search engines index all of the pages on your website more quickly and accurately, which can help improve rankings in SERPs.
Build a Solid Backlink Strategy With Agency Jet
Creating quality backlinks is an essential part of any SEO strategy, and by following the tips above, you can start generating more organic traffic for your Shopify store.
However, keeping track of all the backlinks pointing to your website is essential so you can monitor their performance and adjust your strategy accordingly.
Agency Jet offers a free website assessment that includes a Backlink Audit — this way, you can ensure that all of your efforts to build backlinks are as effective as possible!
Get your free website assessment today.

Join the thousands of SEO-obsessed readers on our mailing list