Times are crazy and the Coronavirus has people on edge.
It's understandable. This sort of thing feels unprecedented and now that it's happening, the world will look different in the future.
And it's already changing now.
A lot of business owners are feeling a serious strain in these troubled times and many businesses who didn't have remote capabilities worked out before are not only struggling with the downturn in conversions but simply how to keep their infrastructure afloat.
I want to be clear, if this crisis has put such a strain on your business that you have to cut other things just to make payroll, this blog is not for you.
A few years back I read a book called "So You Want To Start A Brewery?: The Lagunitas Story" by Tony Magee. In the book Tony Magee said something extremely important: "If you are an employee, the good boss will make sure that the one bill that always clears the bank is payroll, so you keep coming into work to keep the thing going so that the business has at least some chance of catching up someday."
In other words, always take care of your employees first.
However, if you are feeling secure in that and know you'll be able to make payroll for the foreseeable future, this blog is for you.
It's easy to think about survival in these times and a lot of times that looks like conservation; "What can we cut back on to save our necks?" sort of thing.
Many times, marketing will be spoken of as something that's expendable.
It's not.
If you're wondering if you should pause your marketing efforts during the Coronavirus, you absolutely shouldn't if you can afford it.
One Crisis At A Time
COVID-19 is a crisis. It's a pandemic. It's horrible. And it's affecting business.
But it's a crisis the whole world is going through collectively.
It's not choosy with certain industries or nationalities, it's global and it's difficult to deal with.
That said, it's one crisis and if you can run your business as close to normal as possible, you'll only have the one crisis on your hands.
Stop your marketing and now you've got two crises.
Here's the deal, traffic is going down and conversions are going down unless you're in the following industries:
Food
Finance
Healthcare
Media
If you're in any other industry, your traffic, your competitors' traffic, it's going to be heading south for a little while.
That's the reality.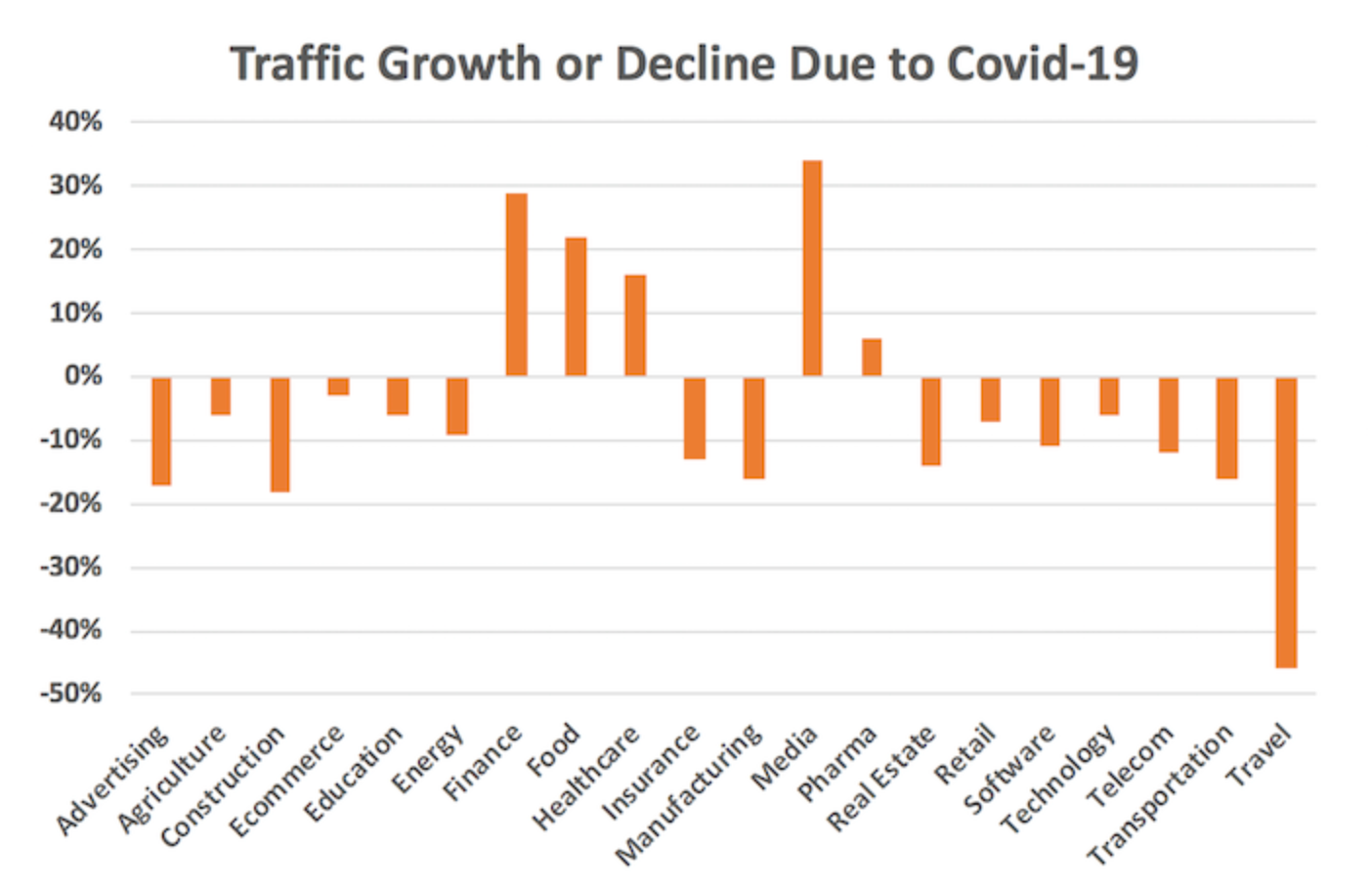 The goal here is to stop the bottom.
By not marketing or selling during this crisis (which has no end date by the way) you could be tabling your businesses success for months and by doing so, you've created a taller mountain to climb when Coronavirus is under control.
Also by not marketing, you've allowed your business to suffer a free fall because of this one crisis.
Ipso Facto: you just created a second crisis to follow the first one.
Stopping selling, stopping marketing, these are potential death sentences for businesses who don't have a ton of capital saved up and you could end up positioning your business in a place where payroll is no longer easy to make every month and your employees may suffer for it.
If you want the Cliffs Notes on this section it's very simple:
Marketing is not a superfluous expense, it is the very vehicle that can help you survive.
This is with the knowledge that even if COVID-19 is stunted in the next couple of weeks and the United States can see drastic droppages like they've seen in China recently, this time period will affect businesses for over a year--they have to recuperate their losses.
It also means that there is likely to be a big spike when the worst of the crisis has passed.
This means that maintaining your marketing efforts, especially your online marketing efforts, will be paramount to make sure that you can take advantage of that spike when normal business resumes.
Otherwise, you'll be left playing tremendous catch up.
Remember, it's not a given that your competitors are going to cancel their digital marketing efforts during this time and while many to all websites are losing traffic, if you're able to keep the bottom from falling out on your website traffic, you could be at the top of the heap at the end.
Fuel Your Business By Fueling the Economy
Here's a scary prospect. It'll cost the global economy $2.7 trillion to get through this crisis, according to Bloomberg, and that's just their initial projections.
To put in a little perspective, $2.7 trillion is the entire GDP of the United Kingdom.
Remember, this thing has no end date and it's likely it'll cost us a lot more.
That's the worldwide perspective. Now let's think of it from your business perspective.
If you stop working with partners, vendors and customers, your contribution to the economy is nil. A lot of other businesses start doing that and we'll see a catastrophe level of problems for the United States economy.
In fact, every time the S&P 500 has fallen by over 20%, it takes an average of over 536 days for the economy to recover.
This crisis has resulted in the market seeing a downturn of 20% in the shortest amount of time in US history!
As a business owner, you can interpret this information one of two ways.
OPTION 1: We're screwed! Shut it down.
OPTION 2: This sucks but there's an opportunity here.
As one of the best reviewed digital marketing agencies in the United States, Agency Jet likes talking with owners who choose OPTION 2 because we know how to help.
You fuel the economy by contributing to it. Having experts market your business during this difficult time accomplishes just that.
And if you market your business, sales will come. So if this is the route you want to go, pat yourself on the back, you're helping the economy through a difficult time.
What's the Opportunity Look Like?
There's less competition plain and simple. Famous marketer, Neil Patel, put it perfectly with how you need to go about supporting your business during the COVID-19 fallout.

Keyword opportunities for Search Engine Optimization are expected to be easier to come by, as many businesses pull their SEO budgets.
The same is expected with Digital Advertising. Pay-Per-Click (PPC) campaigns are being pulled as well and cost per click prices are starting to get lower and lower.
Also, many digital marketing agencies are now starting to supply discounts, special offers and extra services to help through this crisis.
Not only is Agency Jet offering a four month guarantee on our work (ask us what it is) but we are also providing expert support on how to work remotely, how to maximize your budget through business consulting and we're providing extra reporting in the future to help our customers find continued value in our services.
Summary
You hear the stories about people exploiting the crisis to make a quick buck.
That's not what we're about.
But we are about helping companies potentially double down on their ability to give themselves a firm foothold in the market for years to come.
If you stop marketing and selling right now, that foothold isn't an option for you. But if you trust in a world class digital marketing agency and invest in the future of your company, you've got a partner who can identify the newfound opportunities to help your business survive the crisis and thrive for years to come.
If you're interested in learning more about Agency Jet services, want to learn how to work remotely in a few easy steps or simply want to inquire about the #1 thing you can do for your business right now, give us a shout!
We're here for you and we'll all get through this: together.
More Resources
Author: Colby Wegter, Director of Client Strategy