What is an SEO Company?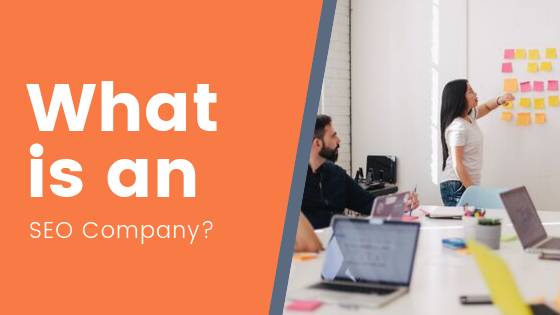 Any time I get asked what I do and I tell that person I work at an SEO company, I get varied but similar responses. They look a lot like this:
"What's SEO?"
"I've heard of that. What is it again?"
"That means you work for Google right?"
Most of the time I deliver a simplified answer that sounds like the following:
"SEO is what we use to help your website get to the top pages of Google, Yahoo and Bing."
Most people who hear that response will still think you work for Google in some capacity and few ask more questions. But the real inquisitive ones, particularly business owners I come in contact with on a weekly basis will say, "How do you do that?"
That's the inspiration for this post. In this post we're going to answer the following.
What is SEO?
SEO stands for Search Engine Optimization. In short, search engine optimization is the act of building your website in a variety of ways to speak to the search engines so that they improve your rankings and increase the visibility of your website online.
So how does one go about building a website so the search engines like it?
In order to rank properly online, your website needs a variety of things. Here's what we consider to be important ranking factors in 2019 and 2020.
Technical SEO
This is the real baseline stuff that Google needs to rank your website highly. A lot of what goes into technical SEO involves ensuring your website is healthy and that there aren't any errors in its communication with search engines. At Agency Jet, checking the health of the website is the first step in establishing how much work is to be done. Some common things we check for are:
Page Titles: Are these specific to their products and services and are they adequately built out? If the page title on your website says "Home" you're not telling the search engines anything about you.
Meta Descriptions: Irrelevant, bare or absent meta descriptions is poor SEO. These are prime opportunities to not only tell search engines about your pages but potential customers too.
H1 Tags: Search engines expect a structure to your content. Not only is high quality content relevant to your business of paramount importance, it needs to be arranged properly so that it doesn't get labeled as useless by Google.
Word Count: It's a general rule that less than 250 words of content on any webpage isn't considered as a serious entity on Google in the business world. If you're trying to sell products and services, there needs to be meat on the bone for the search engines on every single page. A couple sentences will leave search engines hungry for more and they'll rank someone else.
XML Sitemap: This is the backbone of your website. It should include all pages of the website to help search engines navigate your website more easily and index your content better.
Robots.txt: A Robots.txt file can be used to instruct search engines to index or avoid specific areas of the website. For e.g. credit card details stored on the server, critical access details, duplicate pages, etc. If your sitemap is the roadmap, your robots.txt are the road signs ensuring search engines avoid any wrong turns.
Google Analytics: Having Google Analytics included on your site will be vital to building your business around your #1 employee, your website. It reports all the data of people who visit your site, ie: what pages they go to, how long they stay on those pages, what part of the world they're from and so much more.
On-site quality content
We have a saying here at Agency Jet: "Content is king and context is queen."
Without high-quality and relevant content that highlights your products and services on your website, you're not telling the search engines and more importantly, prospective customers who it is that you really are and what you do well.
As an SEO company, here are a few things we look at when evaluating a new customer's website:
Is content unique?: Just like what we all learned in school, plagiarism is a definite no-no in the online world. Copying and pasting from other websites results in duplicate content, which is a major problem if you want to stand out to the search engines. By having content duplicated from another site, Google will see the same message in multiple places, not knowing who to give credit to as the source. So what does Google do? They don't give credit to either site. Duplicate content is considered blackhat SEO and is a really easy way to get your website flagged and de-indexed in Google search.
Is there enough of it?: Much like what we search for in the technical SEO section, when it comes to word count, web pages with less than 250 words may be deemed a social media page and not a business offering. 250 words is also the bare minimum recommendation to tell the search engines about your product or service. More is always encouraged.
Is the content relevant?: However, you don't simply want to throw 250+ words up on the page if they aren't going to be highly focused. Pages with poorly targeted keywords to their business or thin content also don't do you any good. If you sell nuts and bolts, it doesn't make sense to talk about ratchets. Sure they could be mentioned in the same conversation but you don't sell ratchets. By including irrelevant content, it makes it that much harder for Google or visitors to your site to truly find value in your webpages.
Is the content voice search compatible?: You've said "Hey Alexa", "Hey Siri" or "Hey Google" in your lifetime and it's probably part of your daily rotation. A relatively new importance to ranking online, web pages with conversational content are starting to have more importance in Google. To cater to the market of voice searchers, it's important that your content has possible responses to common questions.
Off-page quality content + strong backlinking
Strong content that has a focus on keywords for your industry shouldn't be resigned to simply live on your website. It needs to live on other properties online as well.
Most companies that come to Agency Jet for SEO services have never built out their online presence away from their website. In fact, a lot of SEO companies don't even include off-page work in their contracts. Off-page content creation and strong backlinking should a foundational part of any SEO campaign. If you hire an SEO agency, make sure you ask what they do off-page to make sure it's included.
You may be asking yourself, "Isn't a great website enough?"
Unfortunately the answer is no but it's also why SEO companies exist. It takes hours, days, weeks, months and sometimes years of labor to get superb results in search engines.
Here are a few things we focus on away from the website to get results for our clients:
Article syndication: We employ the same method of building high quality content on the site to other websites as well. No matter how stellar your website is, if you don't tell people, and more importantly search engines, about it, your website is functioning as a billboard in the desert. By writing long form content off of the website that is relevant to your business, you can tell the search engines about your products and services.
Linkbuilding: So how does this content get people back to your website. Building links is the way to do it. But you can't just link to your website from anywhere. There are millions of low quality sites out there that you want to avoid. At Agency Jet we use websites confirmed high-quality by Moz and link back to your site.
Social profile creation: Social signals are a tool worth using and one of the quickest ways to build your digital footprint is by creating social profiles that link back to your website and display your business information accurately. Facebook, Twitter and LinkedIn are all high-quality websites online. Use their authority to your advantage.
Mobile friendliness
If your website can't be viewed on all screens, you're living in the past. Once more, in 2015 Google started giving better mobile rankings to websites that are mobile friendly. The update was aptly named Mobilegeddon and websites who didn't adapt started to see their mobile rankings slip dramatically.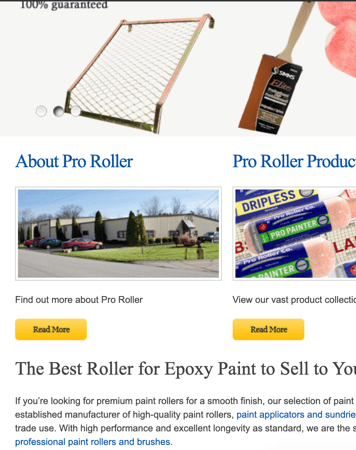 Here's an example of a site that isn't responsive as it cuts off text and imagery when made smaller.
In short, your website needs to adapt to all screens. Desktops, laptops, tablets and cell phones. Without a proper user experience on every single device, not only will site visitors struggle to navigate it, Google won't rank you for important keywords to your business on any device your website doesn't adapt to. Example of pro roller or non client.
A secure website
The "s" at the end of "https" is more important now than it's ever been and it means your website is secure. You may also see a little lock icon on your browser to show the website you're on is secure.

In July of 2018 Google started marking websites that were only "http" as non-secure in their Chrome browser. It's no longer an option to not have a secure website. Buying an SSL Certificate with your website's host provider is relatively easy and inexpensive and vital to make sure your website can perform well in Google SERPs.
Fast page speed
Ask yourself, "How long are you willing to wait for a website to load?"
Page speed is a big factor for search engines, as websites that take longer than 10 seconds to load are often penalized for poor user experience. Which makes sense. In fact, on mobile devices, 49% of people will leave a website if it takes longer than 10 seconds to load.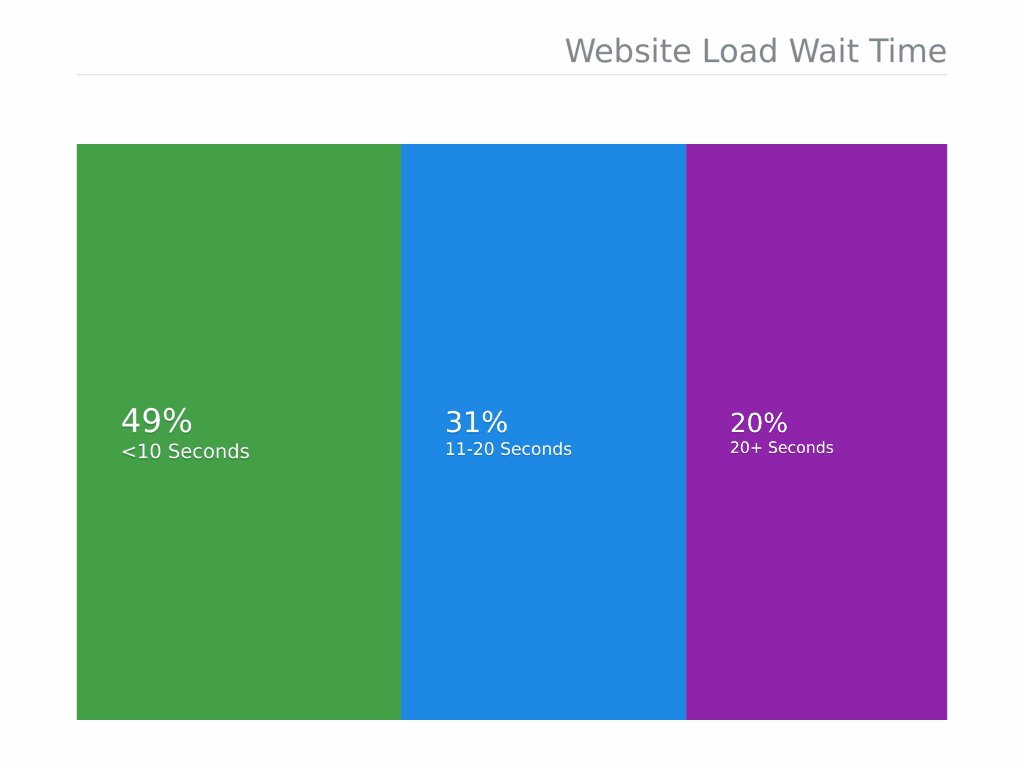 At Agency Jet, when we see slow loading websites for our clients, we help the client go through the process with their hosting provider to improve the site speed on desktop and mobile. It's a common problem that can often be cleaned up with a phone call or a few emails.
Solid user experience
Site speed, mobile friendliness and high quality content are contributors to a rock solid user experience.
We talk to our clients about their website's user experience on almost every single call. Why? As an SEO company our main job is to increase your keyword rankings and traffic to your website with people who are interested in your products or services. To date, we can say we've done this for every single client.
We talk about user experience because if we know traffic to the website is increasing, we want to make sure those people end up converting for our clients.
Making sure menus are easy to navigate, links and buttons are easy to find, quote and contact forms are simple to fill out and much more are all parts of the conversation we have with clients to ensure their website is the #1 employee for their company.
Accurate business information
While this important for all businesses, it's a top priority for those who do business locally. If you want to show up in Google Maps, one of the best ways is placing your business in the wealth of local directories online.
Having the accurate business name, phone number, address, a common email address and of course a link to your website on these highly authoritative directory sites allows Google to cross reference them all and place you appropriately in maps and for relevant keywords to your products and services.
If your SEO company isn't submitting your business to local directory sites, fire them. It's a core tenant of getting found online.
What is an SEO company?
Here's a stat: 93% of all online interactions start with a search engine. -Source: Blue Corona
Another stat: 91% of all online searches are done through Google. -Source: Statista
So the question isn't "Do you need SEO?" the question is "What SEO company can help me improve my business online?"
In short, an SEO company's number one mission should be to help their clients improve their online presence through quality work. Here's a simple breakdown of how quality work from an SEO agency builds revenue for your business.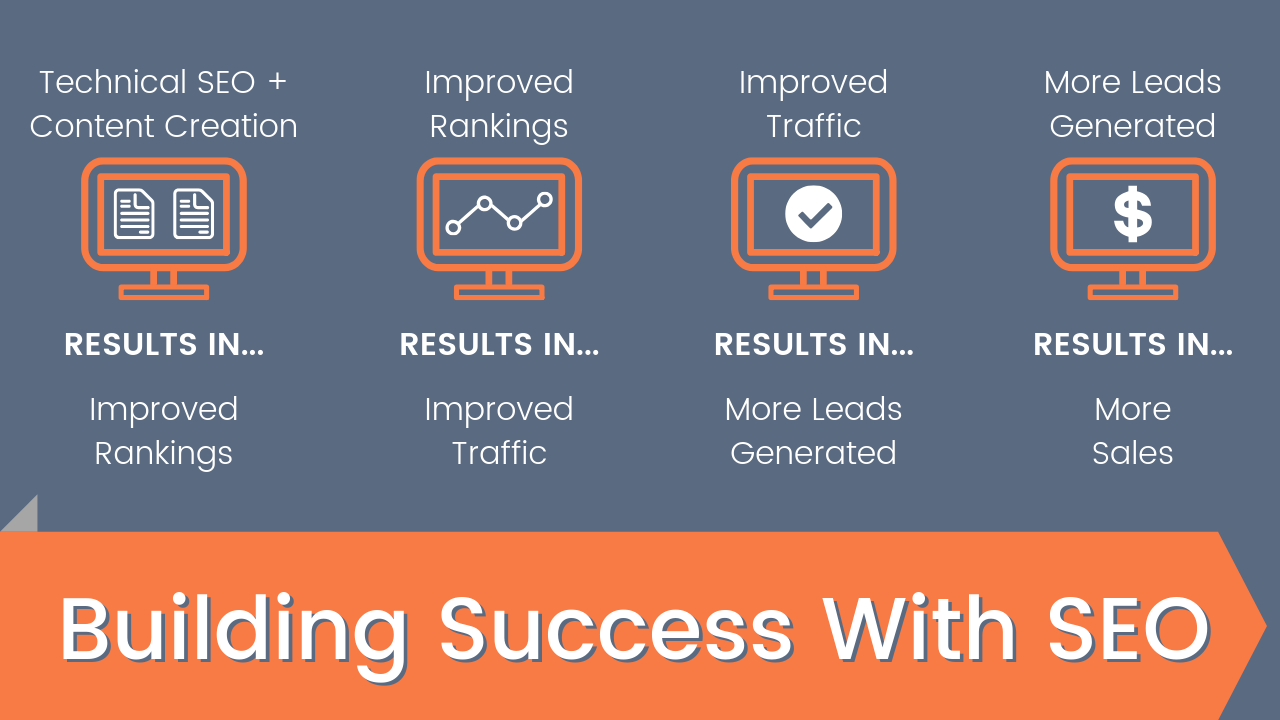 There's no one-size-fits-all SEO company out there. Each one has its strengths and weaknesses. There's a lot of good and a lot of bad.
Here are a few items, that if you hear them, will help you avoid working with a poor SEO company:
Promise of instant results: You can't trick Google and there is no quick way to the top. If an agency promises you'll be on page one of Google in a matter or days or even months, they'll likely be using blackhat tactics to get you there.
Double or triple the amount of traffic: If you've never ranked online before, it's entirely possible to double your traffic but should you hear that promise on day one from the company, it's doomed for failure. It takes months of concerted effort to improve traffic growth and doubling the traffic is never a guarantee. Again, for some website's it is possible but no legitimate agency in their right mind would ever guarantee doubling your traffic before they actually start working for you.
An egregious amount of backlinks: It's really poor form to submit a lot of backlinks all at once. Most companies who promise hundreds or thousands of backlinks will submit your website to low quality sites and front load the links so that it looks spammy to search engines. If you hear this, steer clear.
Sales: Every agency expects your sales to grow if your website traffic and keyword rankings increase. Otherwise, why would you be buying SEO services, right? However, agencies who promise sales growth are promising something they can't guarantee. SEO agencies aren't your sales staff so they should never pretend to be like one. Again, this isn't an overnight thing and takes months of work. If they are promising sales growth in a matter of weeks or months, they're snake oil salesmen.
What does an SEO company do?
If you're looking for an SEO company that truly has your back, you'll need to do a little research but a little effort in the front end can pay off in the long run as selecting an SEO company to market your business can pay huge dividends. In fact, 74% of small businesses either are using SEO or plan on doing SEO by 2020 to help promote their businesses.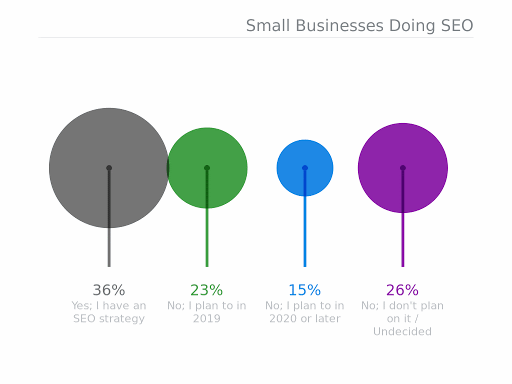 SEO is a never ending process and Google changes their algorithms thousands of times a year. If you're not an industry professional and don't have a ton of time to dedicate to building your company's online presence, you'll need an SEO company to handle the workload. If SEO could be a permanent part of promoting your business, here are some of the factors we consider important to ensuring you find an agency you can work with for life:
Quality references + tools
Provided services
Communication
Data reporting
Signs of constant improvement
A strong company mission
Let's break these down in more detail shall we?
Quality references + tools: Before you ever work with a company you should get two things. 1. An assessment of your website completely free. 2. References who can confirm the quality of the company's work. Make sure that the company your considering hiring can educate you on where your website currently stands and how they plan to improve it. Once you've gotten your assessment, contact some references provided by the company to get their honest opinion on how that agency has performed for them.
We at Agency Jet actually provide a 100% free and 100% educational website assessment. It gives you a 30,000 foot view of your company's online presence with none of the sales pitch.
Provided services: There are big agencies and small agencies and it doesn't really matter in the end how big the company is. What does matter is their capabilities. Finding the proper agency should depend on how well they fit your business model, not the other way around. If they only serve local clients but you're trying to do business on a national scale, they won't be equipped to manage your campaign. If their project managers are overloaded with clients, they won't be able to give you the attention you need when you need it. In fact, it's recommended to ask your point of contact who you'll be working with on a regular basis before you start. If it's difficult for them to answer that question, it could be a sign of disorganization in the business and ultimately less results for you.
Communication: I like to say this is the number 1 moniker of success for any campaign at Agency Jet. Why? We are huge communicators here. In fact we like clients to think of our project managers as sitting right beside them in their own office. We constantly educate clients to our activities and include them on every important decision of a campaign. Unfortunately, good communication is not the norm in the SEO industry. A lot of it falls on you to ask your point of contact how often you'll be communicated with, who will be communicating with you primarily and what form you'll receive these communications. Agencies who communicate well with their clients are always the most successful. Hands down.
Data reporting: Data should be the main factor in any strategy that takes place on an SEO campaign. It's important for you to be able to see that data live. Agency Jet provides a custom dashboard to our clients that shows all of the Google Analytic data, lead generation, activity log, heatmapping, scrollmapping, confetti reporting and more. An informed business owner is a dangerous one. By having 24/7 access to your data, you can gain an edge over your competitors on a daily basis.
Signs of constant improvement: SEO is no "set it and forget it" thing. It takes vigilance and knowhow to be successful online. Many agencies, assuming their clients don't understand their work, won't tell them what they're up to. Once more, they take advantage of clients and fail to change when the digital marketing industry demands it. Years ago all it took to rank for a keyword you wanted was to place that keyword on a web page thousands of times. If you do that now, Google will blacklist and de-index your website from their results. With the wave of voice search and artificial intelligence becoming more important to ranking online, you need an SEO company who sees the future and plans for it.
A strong company mission: This is one I wanted to add because it's so important to me and every employee at Agency Jet. It is branded into every Agency Jet employee's brain that the client is first, the employee is second and the investor is third. This mantra forces us to get the best possible results for our clients first and foremost because if they see success, our employees see success. And who wouldn't want that? A question most agencies don't get from their clients is what is your #1 goal for (insert SEO company name)? If their response has nothing to do with you, are they really going to deliver?
Why do you need SEO for your business?
Search engine optimization is the fastest growing form of marketing in 2019 because it gets long term results. Once you've been able to build your website and rank highly in search results, the business generated from that work will continue to pay dividends.
Ranking in Google doesn't happen overnight. It takes months, even years, of effort to get your website where you want it to be but it's an extremely worthwhile endeavor.
The stats don't lie:
Over 95% of consumers looking to buy go online
93% of all online interactions start with a search engine
91% of all worldwide searches for products and services are done on Google
Traditional marketing as we know it, billboards, print ads, TV commercials and the like...are dead.
Say it with me, "The NEW traditional marketing is online." More specifically, it's SEO.
You need an SEO company to manage your online presence for the simple fact that if you don't have it now and aren't doing the work yourself, you're getting left behind. Rest assured your competition is using it and winning. It's time you evened the odds.
Summary
When you ask, "What is an SEO company?" To us, an SEO company is a knowledgeable group of people that work their tails off to build your company's online presence. They communicate well, have a track record of success and their main mission is to see your company thrive. They only use whitehat tactics and don't make empty promises but deliver results.
At Agency Jet, we're not a one-size-fits-all. We're a group of dedicated project managers and business developers with decades of experience in the digital marketing space. We put the client first, the employee second and the investor third every single time and we have a 96% retention rate of clients because we deliver. Whether local or national, we have premier SEO services that can help your business.
If you've made it this far, you absolutely deserve a walkthrough from one of our strategists via our 100% free and educational web assessment. Grab that here:
Or check out these great resources:
Written by: Colby Wegter, Director of Client Strategy
Join the thousands of SEO-obsessed readers on our mailing list