Defining Search Engine Optimization Services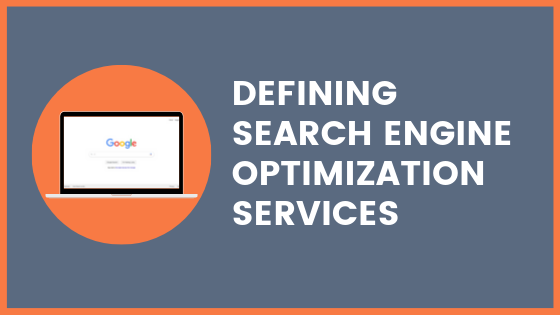 2020 is coming up fast. Is your business equipped to keep up with modern times and marketing strategies? No matter what industry you're in, it's not even a question if you need to be found online for your products and services. How you get found online is through SEO or Search Engine Optimization. In fact, all the way back in 2016, 82% of marketers reported the importance of SEO was on the rise for their businesses and in 2018 74% of marketers said they had an SEO plan in place or planned on having one by 2020. If you're not in either of these categories, time to learn what SEO is and how search engine optimization services can help your business.
Let's start at the beginning.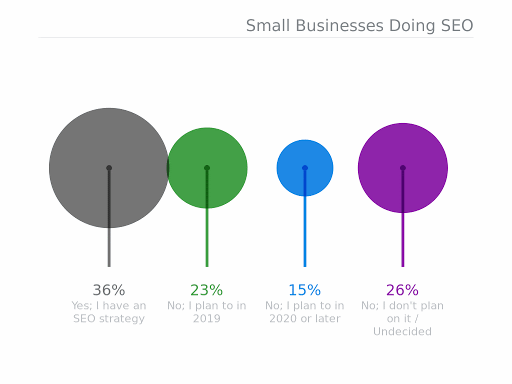 SEO defined
Search engine optimization is the act of getting your website found online through various technical actions and through content creation. In short, SEO is all about building a high-quality website that search engines like Google, Yahoo and Bing want to rank for relevant terms in your industry. The better your technical SEO and the higher the quality of your content, the higher your website will rise in SERPs (Search Engine Results Pages), particularly Google, which has a 92% worldwide market share of all searches online.
In fact, 60,000+ searches are happening on Google every single second. The point of SEO isn't to be found for every variety of search under the sun, but when it comes to seeing a serious return on investment, SEO is now considered one of the most effective ways to get in front of potential customers, get leads and improve sales.
Source: StatCounter Global Stats - Search Engine Market Share
Why SEO is so important
If you haven't been using SEO for your business and you're still seeing a steady stream of leads and sales, congratulations! You would be one of the dwindling few that is able to survive without a strong online presence.
For the rest of us, search engine optimization isn't an option anymore, it's a necessity for survival. Ask yourself, what do you do when you need to find a product or service? Do you grab your Yellow Pages? No! You go to Google.
So what makes you any different from your potential customers? Without SEO there is serious business that you're missing out on but don't take our word for it. Here are a few stats to show the importance of search engine optimization in 2019, 2020 and beyond.
95% of consumers looking to buy a product or service go online
93% of online experiences start with a search engine (and 92% of those are on Google)
75% of people never go past the first page of results
4 in 5 users will us a search engine to find and purchase products or services
And that's just what potential customers are doing. How about some stats on what marketers are doing?
In 2019, companies will allocate an average of $5000 per month to their digital marketing budget. The number is expected to rise. By 2020 over $79 billion will be spent on SEO services nationwide by companies looking to improve their business's online presence. Why? Thousands of businesses reported that over 40% of their revenue came from organic traffic (what SEO is responsible for building) in 2018. That number is only going up. (Source)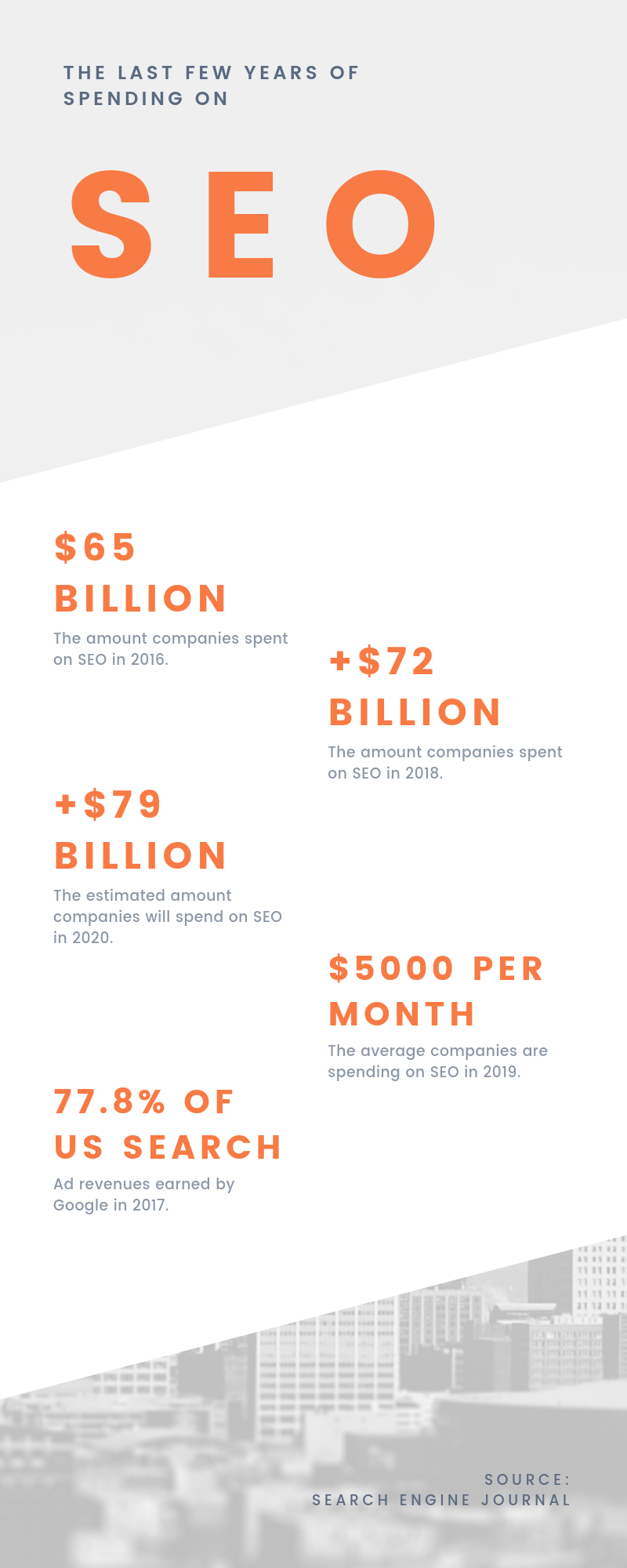 Again, it's not a matter of if your business needs SEO but how soon can you get started. To compete online, there are a lot of different ways to go about it but pretty much every campaign needs the following:
Technical SEO
Local SEO
Analytical SEO
Let's break these down, as understanding these will go a long way in equipping you to purchase search engine optimization services from a trusted digital marketing agency.
Technical SEO
Technical search engine optimization is one of the biggest reasons companies need digital marketing firms to help them with their online presence as opposed to doing it themselves. Anybody can learn SEO but that learning curve is steep and, more importantly, time intensive. Business owners, marketing managers and the like simply don't have the time required to be effective at technical SEO.
So what is technical SEO comprised of?
Think of it this way, no matter how long you've had a website unless you've done technical SEO to it, you're likely not speaking to search engine algorithms the way they want to be spoken to. We see technical SEO as a health check of the site. It's like a house. Your website, the colors, the text, the images; that's all structural. Technical SEO is the electricity and the plumbing to make sure your house is healthy and working.
While there are dozens, sometimes hundreds of touch points required (depending on the size of your website), here are the heavy hitters included in technical SEO.
Backlink analysis: It's all about who you know in the online world. If there are links pointing to your site that are from questionable domains, that can harm your website's performance in the search engines. Adversely, if you have high-quality websites pointing to you, your website can soar in the results.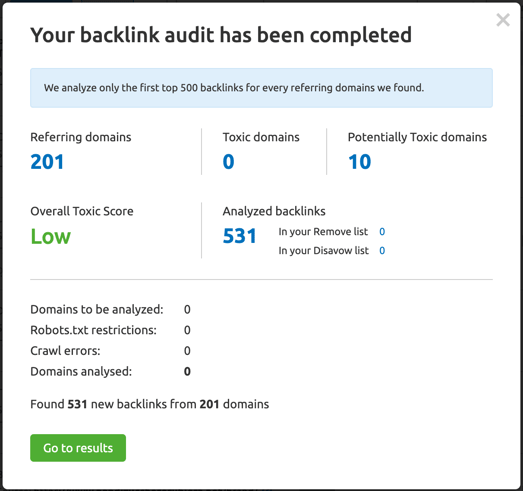 An example of a backlink analysis.
Page titles: If your homepage title says "Home" you're not telling the search engines anything about you. To build a strong foundation with the search engines, you need each and every page title to be specific about what you'll find on that page.
Meta descriptions: Support for page titles, meta descriptions are key to help tell search engines but more importantly users, what is they'll find on that page.
H1 tags and content: If your website isn't populated with enough high-quality content, Google's going to be confused about what it really is you're bringing to the table. Not only does the content need to be relevant, it needs to be structured in a way where the search engines can crawl it quickly and effectively. If they have to stumble over your words and their meaning, you'll stumble when it comes to ranking highly as well.
XML sitemap: This one's also about structure. You wouldn't build a house without a blueprint first would you? Same with your website. The absence of an accurate sitemap forces Google to try and figure out what's relevant on your site. A good sitemap will tell them right away and get you on your way to higher rankings.
Robots.txt: These are like the notes on the side of the blueprint. Most often robots.txt helps search engines avoid specific areas of the site like credit card details on the server or critical access details.
Site speed: If your website doesn't load quickly, it may be time to perform a migration to a new host. Google actually penalizes slow loading sites but the scarier prospect is losing customers. In fact, for every second it takes your website to load, you lose 10% of people. (Source)
In summary, it's all about structure and speed if you want to do well in search engines. The quicker your website loads and the more organized your content, the quicker Google, Yahoo and Bing can get through the site and the higher the likelihood your website makes sense to visitors and converts for you.
Local SEO
No matter if you are strictly a local business or you sell nationally or even globally, local SEO is a huge determinant of success for any online presence.
Google's algorithm is actually suited to deliver local results to anyone searching for products and services. Say you live in Minneapolis but you you're working remotely in Duluth when you see your oil needs to be changed soon. Once you've pulled to the side of the road and search "auto shop" you're likely to see results near you in Duluth. If you're planning on getting your oil changed once you get back home in Minneapolis, you'd have to search "auto shop minneapolis" to change your results.
The point? People do a lot of business locally because of ease and trust and even companies who do sales nationally, often see a spike in local business as a result of search engine optimization services.
Here are a few stats on why local SEO is so impactful:
72% of consumers who did a local search visited a store within five miles of the search area.
28% of searches for something nearby result in a purchase.
Local searches lead 50% of mobile users to visit stores within one day.
So how do you optimize your website on a local level? It's all about NAP.
Name, address and phone syndication to high authority directory sites is one of the most important practices to help your business rank locally and show up in the map in Google.
Remember in technical SEO when we talked about backlink analysis? Ranking online is affected greatly by the association you have with other properties you have online. Having a lot of spammy and offshore websites linking to your website is extremely detrimental to your website's success and can even get it blacklisted from search engines. Consistently placing your name on high quality local directory sites likes manta.com, hotfrog.com and yellowpages.com has the opposite effect. Google loves these sites and by linking back to your website from these local directories, you're amplifying your website's authority and building up your local presence.
The key? Your website needs to use one of Google's most popular products: Google My Business. The mother of all local pages, your Google My Business page should have accurate information ranging from your business name, to your hours of operation, to reviews from customers and so much more.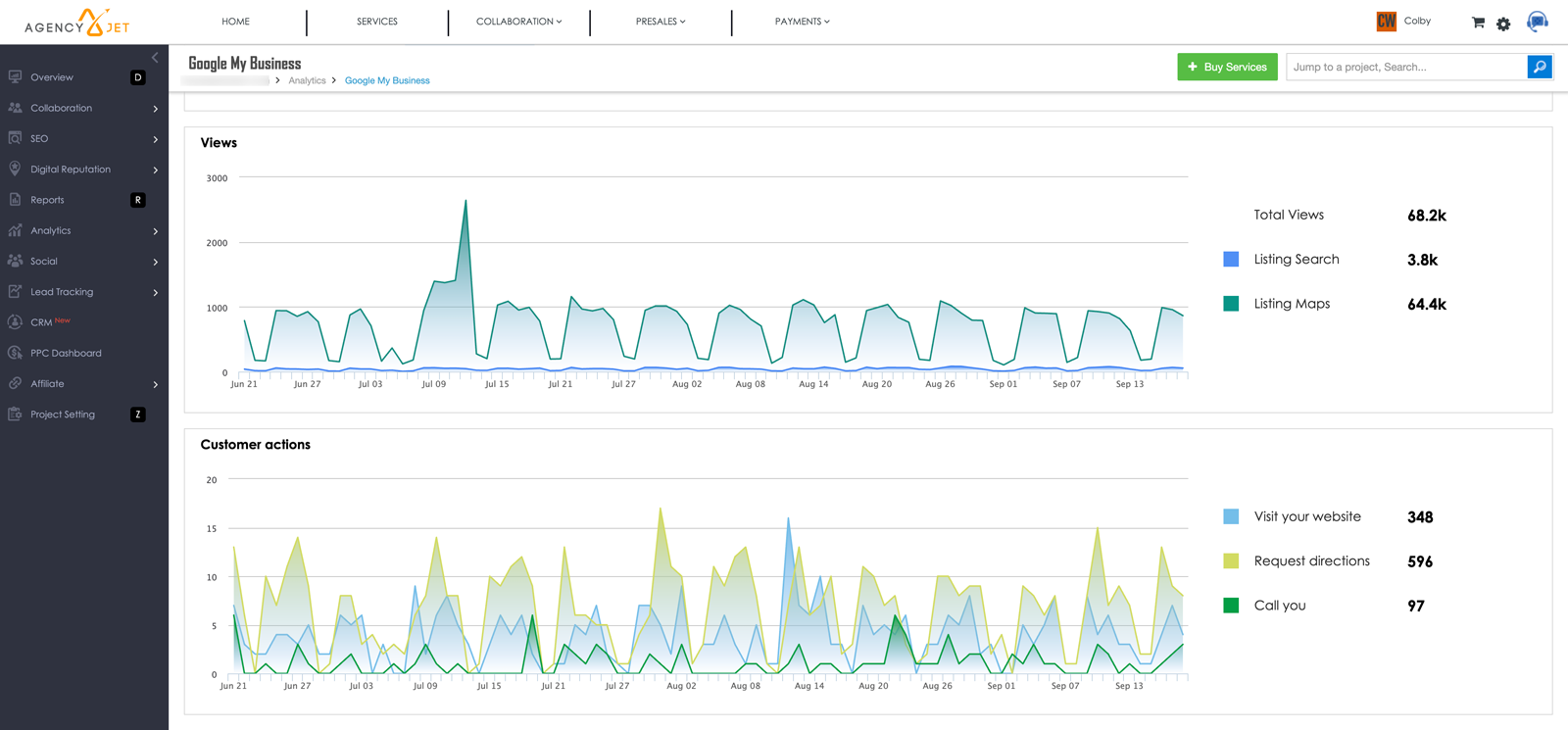 Google My Business stats
It's also important to include localized content creation into any search engine optimization service plan to ensure your website is speaking to the algorithms about your business in your local area. Using your location (geo-modifiers we call them) and words like "near me" also help place you highly for those searching via Siri, Alexa and Google Home.
Analytical SEO
We have a saying at Agency Jet. "The data fuels the decisions."
Having a stunning looking website is great but to make that website sing, you need to look at data provided by Google Analytics to make sure you're improving content, page structure and call to actions, constantly. Otherwise, your stunning website is a Ferrari without an engine. Sure it's nice to look at but if it can't move, it'll be stuck in the garage where no one but you can see it.
What is Google Analytics, you ask? It is Google's free web analytics service that allows you to analyze in-depth detail about the visitors on your website. It provides valuable insights that can help you to shape the success strategy of your business.
These valuable insights show you every interaction of the people visiting your site. In an instant, you can see how pages are performing and compare that performance to previous days, weeks, months and years.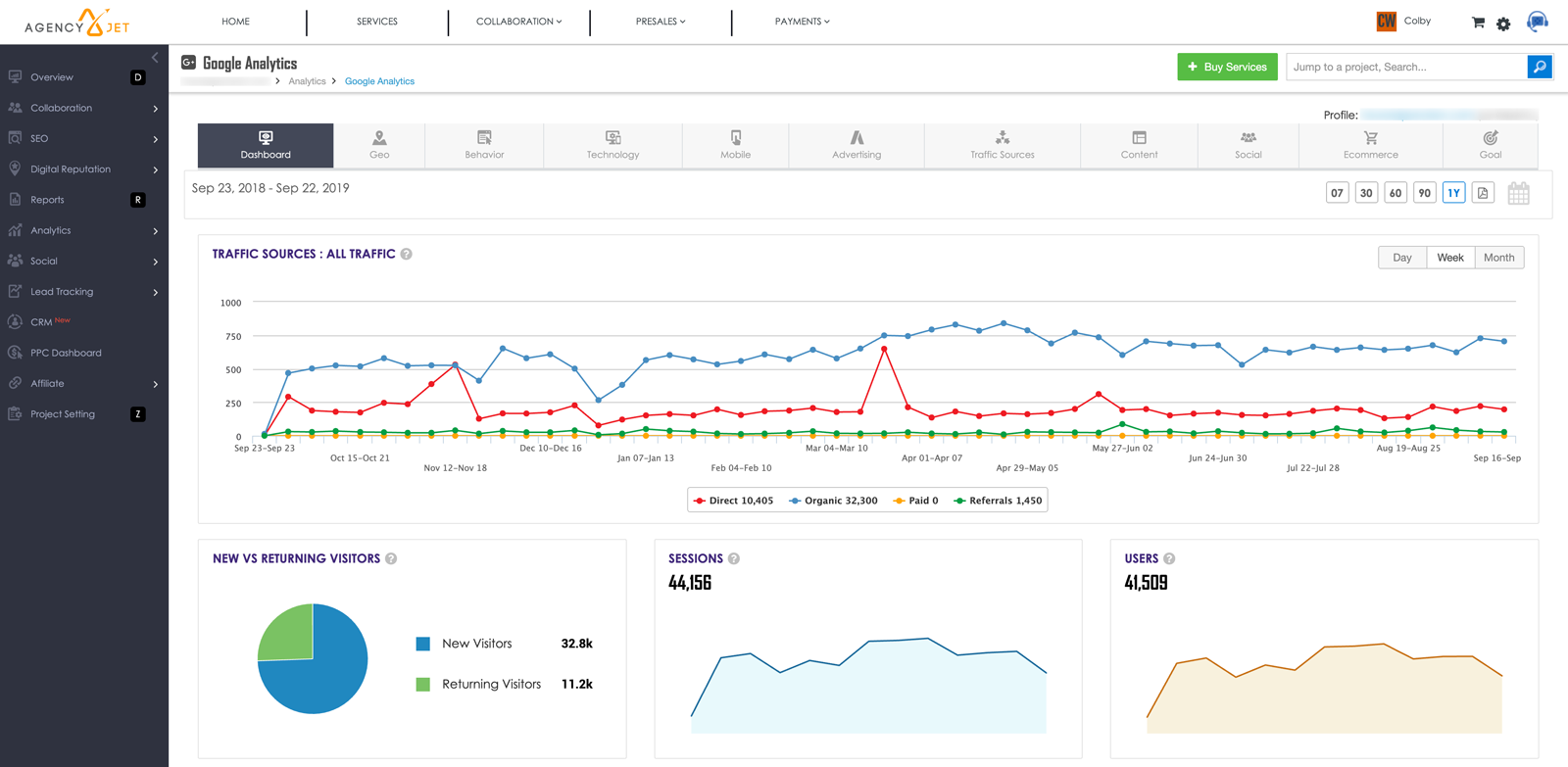 Google Analytics stats
Google Analytics is set up by adding a little snip of code to the site and placing it in the header on every page. By doing so, Google Analytics will start recording these interactions.
If you're not sure your website has Google Analytics, right click on a blank space on your site and select "View Page Source". Once you see all the code of the site, hit "Ctrl + F" ("Command + F" if you're a Mac user) and type in "UA-" into the search bar. You should see a nine-digit code after the "UA-" somewhere in this search. If you don't see it, Google Analytics is not present on your site, meaning you're not recording any data from the people who are interacting with your site.
To sign up for a free Google Analytics account: head here.
If you're aware of Google Analytics but aren't really sure what you're looking at, here are a few key metrics to pay attention to:
New Users: Show you how many people are brand new to the site, ie: people who have never navigated to your website before.
Bounce Rate: Simply put somebody bounces away anytime they land on your site but don't click on anything or linger for very long. If your bounce rate is 44%, that means 56% of people who visit your site are doing something. The lower the bounce rate, the better your website is performing.
Pages / Session: The average number of pages the total visitors from that category visited in one session. A visitor can have multiple sessions.
Avg. Session Duration: How long the session duration lasted on average. A minimum goal is 3 pages per session and 3 minutes average session duration.
Getting started with search engine optimization services
All of the above should be included in any SEO services package by any digital marketing firm. While all agencies will have varying sizes of plans and pricing, most SEO agencies will follow a similar structure to what you see below to get you on the path to a healthier website and better rankings.
Website audit / assessment
A baseline to give your website a score, show the site speed, site security, technical SEO, backlink analysis and competitor analysis.
Outlining your goals
You know your industry better than your agency. Your agency should be asking poignant and specific questions so they can better learn your industry and produce quality content. This work should be based on your goals and what you hope to get out of your services.
Strategy
A proper digital marketing firm will create a customized strategy for your campaign and share its details with you. Knowing what your agency plans to create for you helps you keep them accountable and justify your return on investment.
Implementation
Letting your SEO team get the technical SEO, local SEO and content creation completed. It's important to help your agency along the way when it comes to embodying your company's mission into their work.
Reporting
Your agency should check in with you weekly or at least monthly to show you how the campaign is running. Some companies provide a custom dashboard for their clients to view the campaigns progress.
Education
Unfortunately not the norm in the SEO industry but there are a select few agencies out there that like to think of themselves as employee for you. Their main job? To get results, obviously but also to explain the specifics on how that happens. An educated client is a dangerous (in a good way) client.
Summary
So do you need search engine optimization services?
Yes.
There's no way around it. SEO is the fastest growing marketing tool in the world and is largely becoming the most important to companies' bottom line.
Your website has potential to be the #1 employee at your company. It doesn't require a salary, insurance or 401K and its only job is to turn one-way communication into two-way communication. SEO helps you do that.
About Agency Jet
Agency Jet provides world class search engine optimization services, digital advertising (PPC) services and website design.
If you're interested in learning more about our offerings, want to grab coffee with one of our team members or want a free 100% educational web assessment, contact us today!
More Resources
Join the thousands of SEO-obsessed readers on our mailing list