The online marketplace can feel like both a gift and a curse for small businesses.
On the one hand, you have access to a much larger potential customer scope than if you relied only on customers that found your place by walking by it.
On the other hand, your business is also competing with so much more, as everyone is fighting for their spot online.
It's crucial to get a section of this market as local searches result in a purchase 28% of the time! Not showing up on local searches is missing out on sales.
Why Having an Online Presence Matters
There's no denying that having an online presence for the small or medium-sized business is a necessity. An online presence helps to:
Enhance accessibility: Showcasing your hours of operation, your locations, appointment booking (if applicable).
Broaden your audience: Exposing your business to people outside of your immediate area, tourists, and more.
Build brand awareness and consumer trust: Reviews show potential customers the value of your product or service.
Launch effortless online marketing tactics: Online marketing efforts are much more effective and often cheaper than traditional advertising tactics, such as radio ads.
Analyze the effectiveness of marketing efforts and make real-time changes based on results
Why Local SEO Marketing Services is the Answer
So, now you understand the complexities of the situation: you need to be online, but there's a lot of competition when it comes to standing out online.
Simply put, major corporations have considerable budgets to beat you out for tactics like Pay-Per-Click (PPC) advertising and social ads. Instead, you should focus on local SEO marketing.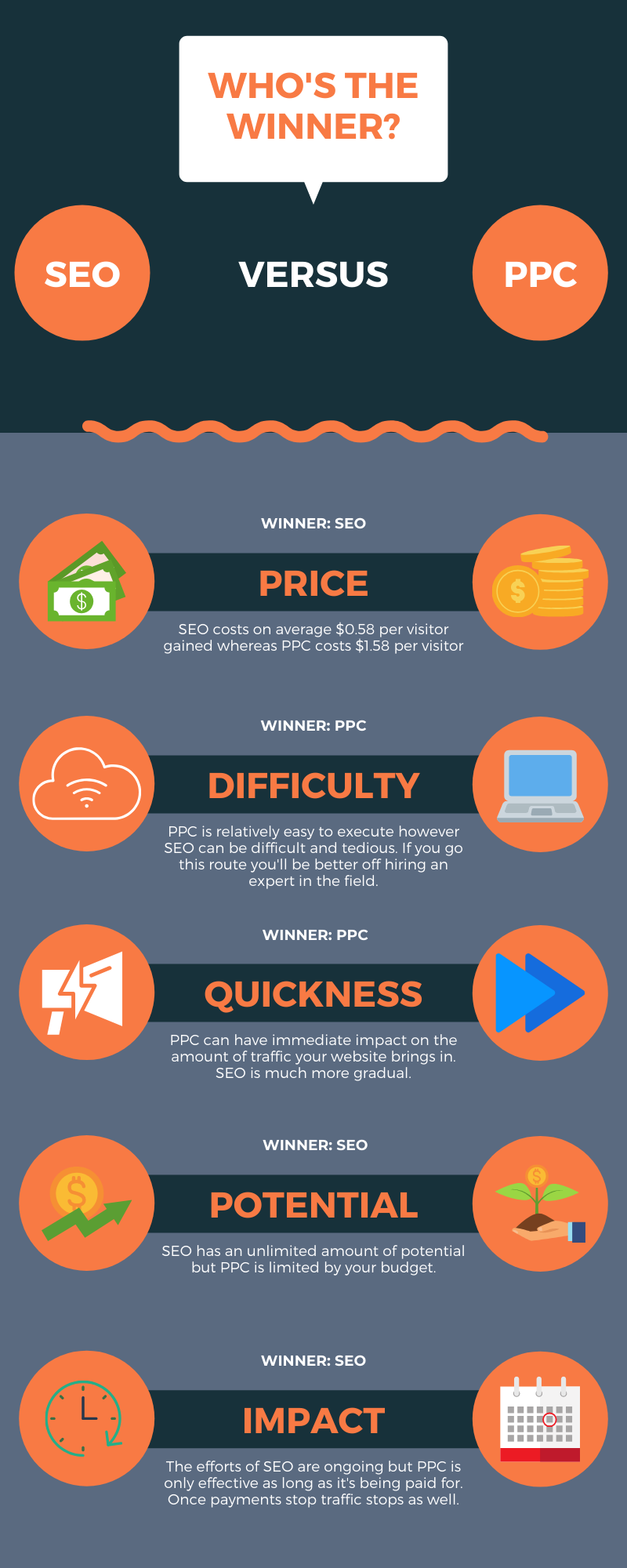 SEO takes time and effort. You can't buy your way to the top organic spot on Google.
Instead, you need to do the work. And, with local SEO, you're competing with the other small businesses in your area rather than the large corporations.
Now, you're competing on a much more level playing field.
If you hire a marketing agency to implement a local SEO strategy, you will see a consistent improvement in your online presence and revenues.
SEO is tricky, and your best option is to find affordable SEO services rather than attempting to tackle all these essential tasks on your own.
To help, we've outlined our top three tips to gain a competitive edge with local SEO marketing services.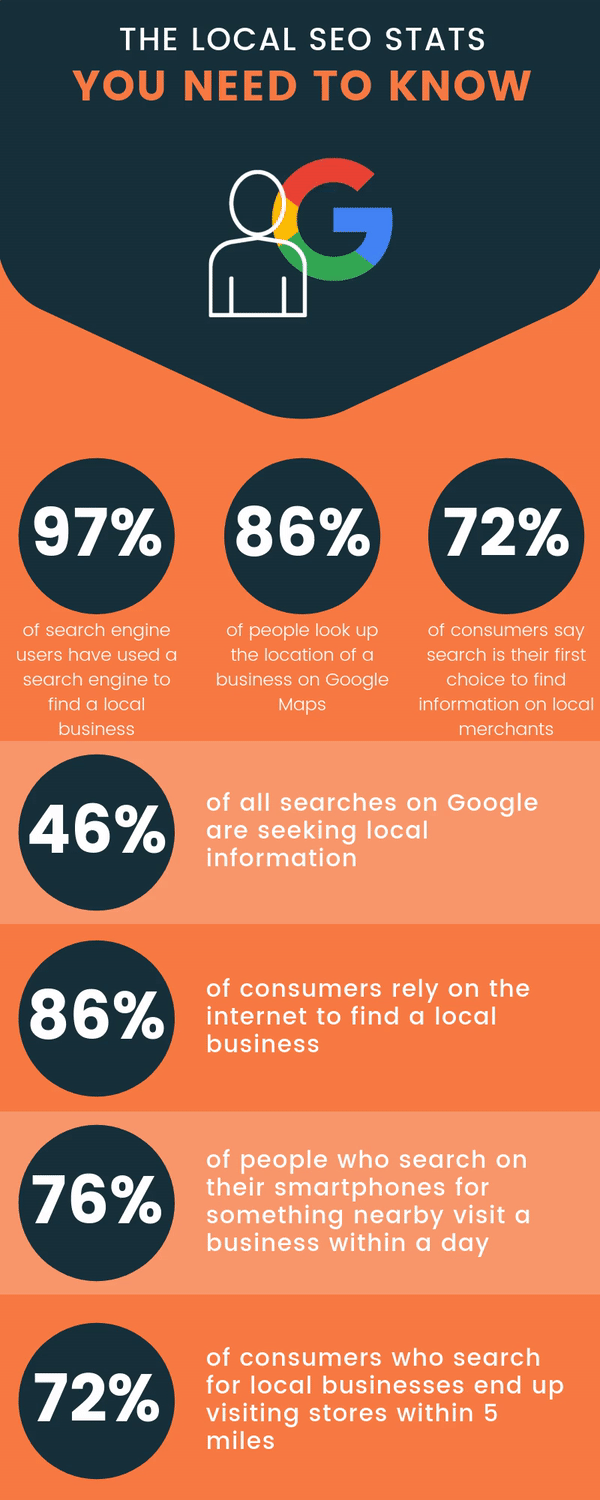 Tip One: Increase Your Local Digital Footprint
One of the first tasks your SEO agency will tackle is increasing your local digital footprint.
Let's say you're a plumber in Seattle. You may not be able to compete for the keyword "plumber," but you can rank for "plumber near me" or "plumber + your city."
"Near Me" searches have seen tremendous growth:
From 2015 - 2017, "near me" searches increased by 900%
In the past two years, "near me now" searches have increased by 150%
One of the best ways to rank in the top spots for these spots is to increase your content with these ranking keywords. You can:
Create landing pages for each city, area, or region you serve
Create landing pages for each product or service you provide with your city name
Create blog posts, video content, and events with local keywords
Create a Google My Business page
Adding your company name, telephone number, and address to every page on your website
Optimize your website for mobile, so you don't miss out on mobile traffic
Curate genuine, real backlinks from authoritative local sources (like local blogs or newspapers)
This is a relatively straightforward mission but will take a lot of consistent hard work.
You will need to create content that is useful and relevant to your local audience. And, you'll continuously want to release new content to stay ahead of the competition.
Your agency will be able to research what your competition is doing and create innovative content for your business.
A constant outpour of the latest blog posts and content will help you be the first to show up in local results. This will allow you to quickly become the leader in your local competitive landscape.
Tip Two: Focus On Making Your Business Accessible
The next important, valuable tip for beating your competitors online is keeping your customer in mind.
In today's fast-paced world, customers are accustomed to getting the information they need quickly. When your business doesn't provide this information upfront, you seem inaccessible to a potential customer.
Let's dive into this a bit further.
Here are some interesting statistics to prove our point:
Approximately 72% of consumers that did a local search then visited a store within five miles.
88% of searches for local business on a mobile device result in a call or visit to the business within 24 hours.
61% of mobile searchers are more likely to contact a business if they find the website to be mobile-friendly
When a consumer looks up your business, they expect to find certain information quickly and easily.
They want to know your address, your business hours, and your phone number right away. All of this should be shown on your website and your Google My Business listing.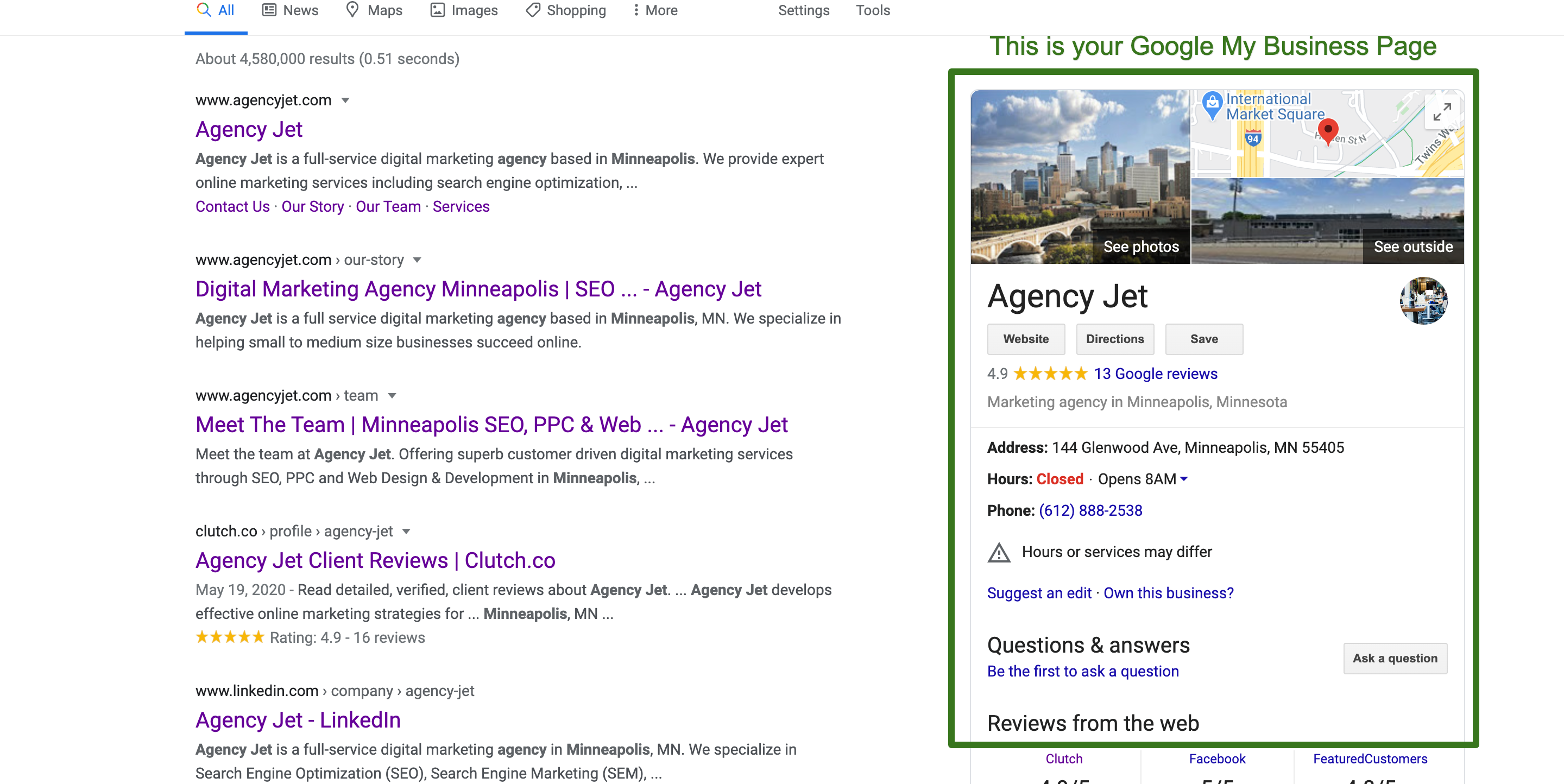 An example of a Google My Business page.
Next, customers want to know what services or products you sell and at what price.
People don't like to go searching for details; they want to know quickly if you match their needs.
You should include product or service pages that describe in detail what you offer, at what price point, and any other relevant information.
An SEO agency will help you update your website to be more accessible for the average customer. They will also provide valuable insights into ways you're "failing" your customer, such as having a non-mobile-friendly website.
Tip Three: Put Effort Into Marketing Tactics That Last
Your marketing efforts have a limit to them. You only have so much time, resources, and budget, so you need to make smart decisions on where your efforts should be focused.
SEO should be a priority over other digital marketing efforts. If you have to plan your budget, plan to pay for affordable local SEO services from an agency first, and then plan for other initiatives.
Why?
Using SEO means you're building lasting results as opposed to PPC and social advertising.
For social advertising and PPC the minute you run out of budget, these efforts stop.
Conversely, SEO efforts are there to stay. Your blog post stays on your website. Your website upgrades and new landing pages help your customer. Your Google My Business page shows up every time someone searches your business.
These are all valuable actions that have long-lasting results.
---
Want a 100% free and educational web audit? We got one!
---
Agency Jet Provides Affordable Local SEO Services
At Agency Jet, we partner with our clients for their online success. We take the time to understand your business and help you stand out from the competition.
We offer services that will have a lasting impact and our specialty is local SEO services.
Our results speak for themselves. That's why we have a 4.9 out of five-star rating on Clutch. And, why we maintain a 96.2% client retention rate - nine out of ten clients continue working with us after their initial contract is completed.
Contact us today for a free assessment and to better understand how we can help you achieve your goals.
More Resources