As a small business owner, you might not know where to put your marketing budget.
For starters, we recommend focusing on digital marketing efforts. Digital marketing tactics are undeniably more cost-effective than traditional marketing (radio, billboards, pamphlets) and allow you to reach a wider audience more frequently.
Now you know digital wins over traditional, but which digital strategies should you focus on? There's a clear winner for this question too.
Small businesses don't have massive budgets, so implementing paid tactics often are limiting. If you're running social media ads or pay-per-click (PPC) ads, they go away the minute your budget runs out.
On the other hand, search engine optimization (SEO) is a way to get your business on the top of Google without paying for it.
That's why it's essential you invest with a small business SEO company that can provide you with an SEO strategy.
You can hire small business SEO experts, through a digital marketing agency that will help you implement an SEO plan that makes sense for your company.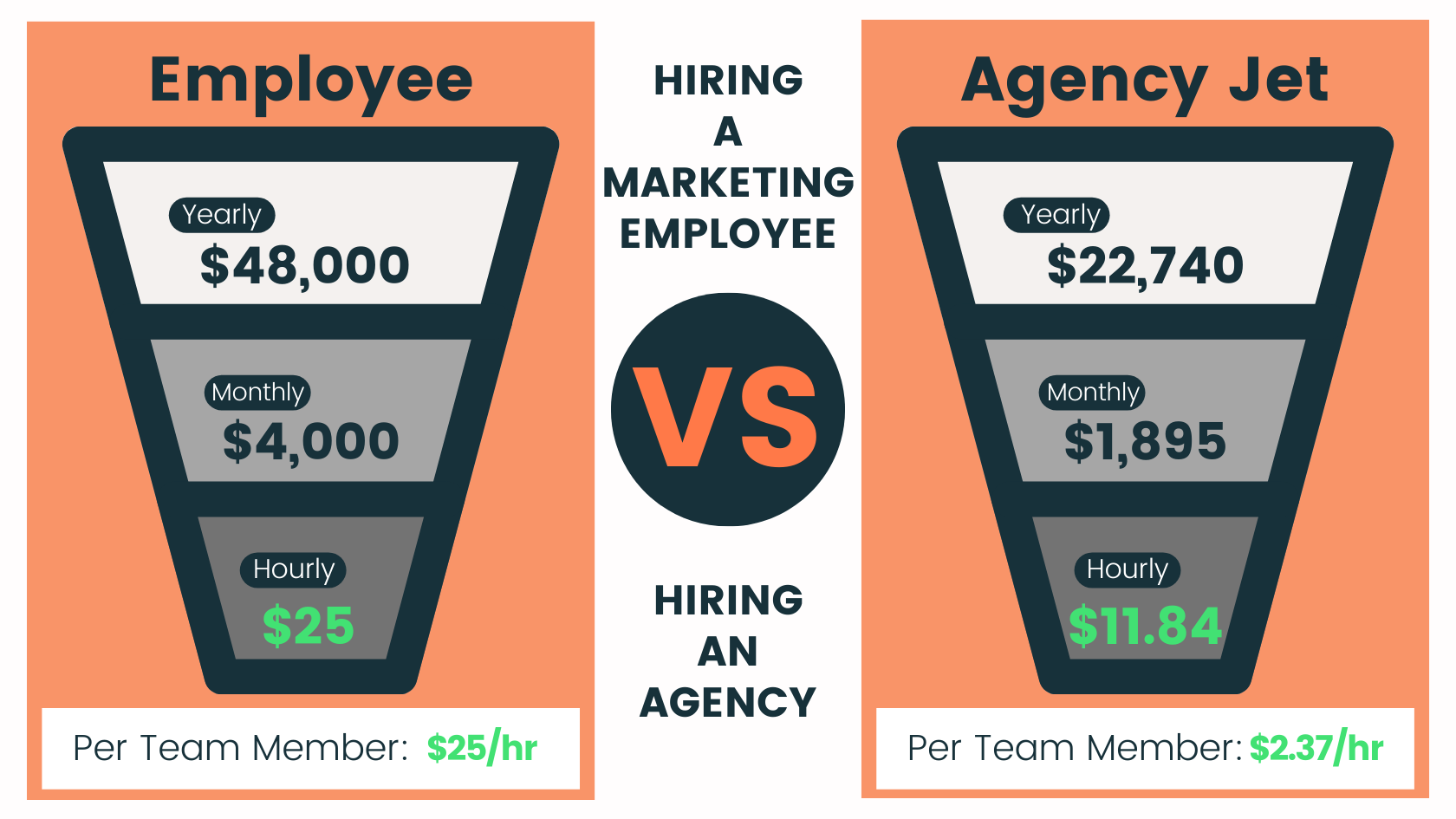 You may have contemplated hiring a marketing employee internally to manage your SEO instead of hiring an agency but an agency actually costs half as much.
SEO plans for small businesses can vary greatly depending on the company's goals and objectives. The small business SEO company will sit down with you to better understand your goals and create a plan to achieve them.
SEO Results are Worth the Investment
We can say with confidence, small and medium-sized businesses can thrive based on their local SEO results. The numbers speak for themselves:
97% of users have searched online for a local business
After a local search, 28% of people end up making a purchase
70% of customers will visit a store because of information they found online
Almost 25% of all clicks go to the first result of local business searches
62% of searchers will ignore a business if they can't find it online
If you're not showing up online and ranking on page one, you're leaving sales to your competition. In reality, it might just cost your business more to not work with a small business SEO expert.
Even with an affordable budget, you can get impressive SEO results. Then, being the smart business owner that you are, you may want to invest the increase in profits back into the business and upgrade your SEO package.
Avoid the DIY Route
Many small business owners have attempted SEO tactics on their own, but this isn't advisable.
They've tried to optimize their website and rank for keywords, but with little success. Why? SEO is complicated, takes time, and is ever-changing.
Google considers over 250 factors when ranking a website and makes changes to its algorithm daily.
If you're not an expert keeping up with the latest changes to the Google ranking machine or don't have the hours to sit down and perform extensive keyword research, you're simply not going to achieve real results.
That is where an agency comes in. Agencies hire small business SEO experts who understand the intricacies of SEO, keep up in their industry, and know how to get results.
They will do the right work, the right way, so your business benefits.
What Exactly are SEO Plans for Small Businesses?
Many agencies offer SEO packages at different price points. This allows businesses to buy a team of experts for a certain amount of hours per month or run a specific goal all month (i.e., producing content weekly).
The prices for these SEO plans for small businesses can range significantly from agency to agency, so you'll likely have to set up consultations with desired firms to find out more.
Even if an agency doesn't advertise this option on their website, it's very likely they'll still be able to work with you and your budget.
Don't assume that your small budget means you have to work with a low-quality agency, such as an off-shore agency.
Working with the wrong agency can do more harm than good, as they have direct access to how your brand is presented online. They can take part in blackhat SEO tactics that Google heavily penalizes. Or, they can create a poor image of your brand online.
Most top SEO firms will take on clients across all price ranges. You might not be getting as much work out of the agency as a client paying triple your budget, but you will still get high-caliber work from a team of experts.
Note that the more you spend on SEO, the better your results will be. Once you start seeing an increase in sales, you may want to reinvest some of those profits into a larger SEO package.
What Results Can You Expect From a Small Business SEO Package?
SEO takes time to see results. But the great thing about SEO is that once the work is done, the results are usually long-lasting. This is much better than paid advertising, like PPC, that goes away once the budget runs out.
If you're working with a good agency, you will likely see some results within three to four months. And, you will notice the impressive results within one year. These results can differ based on your specific goals, but will usually include:
Moving up in organic search results rankings for specific keywords
Increase in authoritative backlinks
Google My Business optimization
When you sit down with your small business SEO company, they will help you determine what results should be prioritized.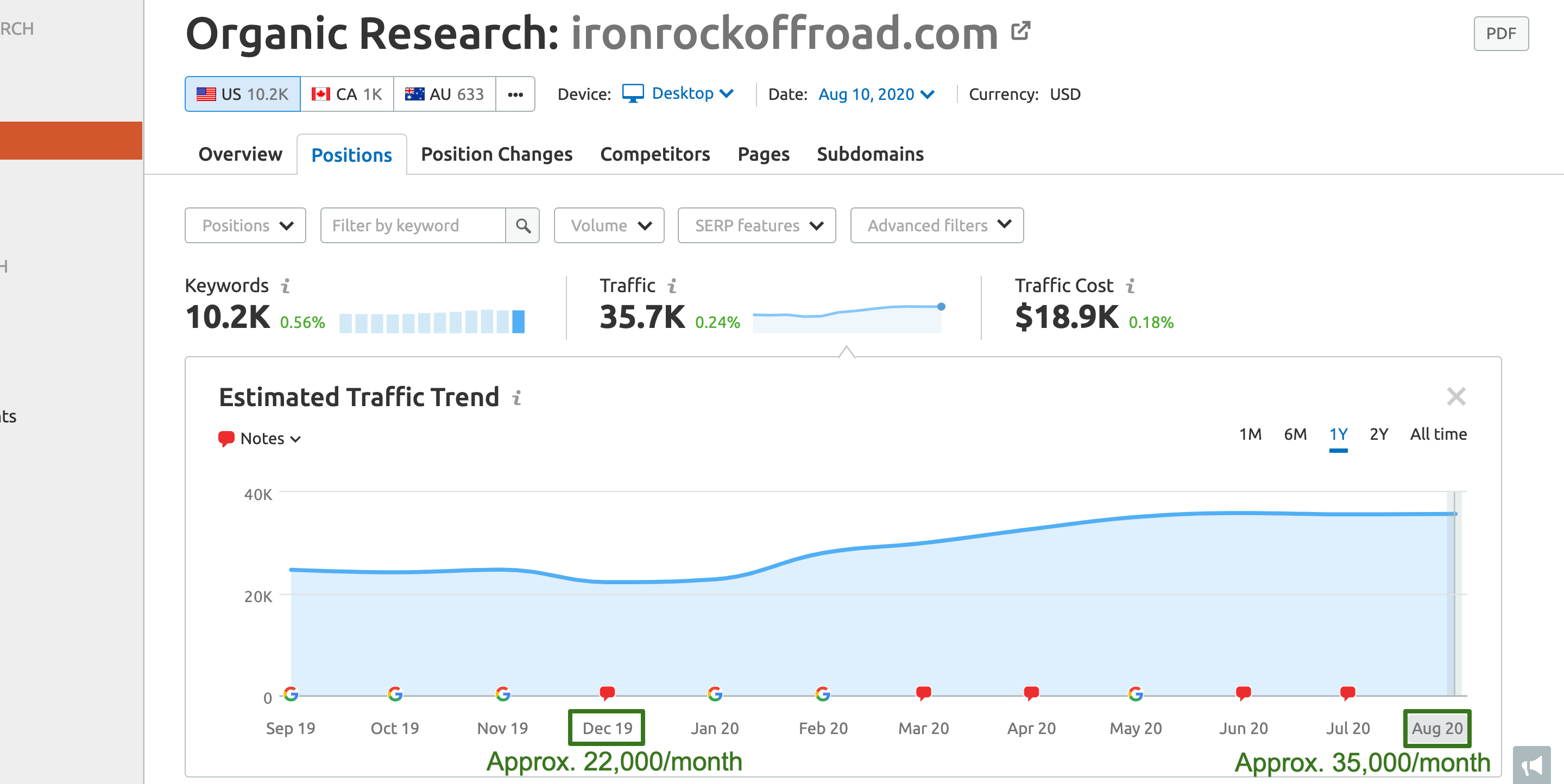 This Agency Jet client saw a 59% increase in organic traffic to their site in 8 months and all for half the price of what a marketing employee costs. Because of their success, they upgraded their plan to move even faster online.
What is Included in a Small Business SEO Package
At the minimum, SEO plans for small businesses should always include:
A thorough website assessment
Competitor analysis
Keyword research and keyword planning
Implementation of best SEO practices
A custom SEO strategy
Website optimization
Authoritative backlinks to your website
Weekly and monthly reporting on progress towards goals
Client education so you can continue SEO tactics on your own after you part ways with the SEO firm
It's Cheaper and Less Risky Than You Think
In case we haven't made it clear yet that SEO plans for small businesses are always worth the investment, we need to point out a few last considerations.
When you hire a small business SEO company, you get access to a team of SEO experts without having to pay dental, health, or a 401k. These are serious cost savings if you compare hiring a marketing expert in-house.
Additionally, don't forget that hiring an SEO agency can be quite risk-averse. You can always fire an agency if they aren't delivering on the results they promised.
Some particularly amazing firms, such as Agency Jet, even offer a money-back guarantee. Firms that provide guarantees are so confident in their work, they don't mind giving the client peace of mind with a guarantee policy.
So, it's not a matter of can you afford to hire an SEO agency, it's a matter of can you afford not to.
Agency Jet: The Small Business SEO Experts
At Agency Jet, we specialize in SEO plans for small businesses. We understand that you have a limited budget, and we're more than willing to work within it.
We offer a money-back guarantee for the first four months, so signing with us is risk-free. And we know you'll love what we do because we boast a 96% customer retention rate.
Agency Jet is the affordable SEO solution you've been looking for.
More Resources