Undoubtedly you've written content for your website but how do you know if this content is going to be interesting to not only humans but search engines like Google as well?
Here you'll find a handy guide on writing content that helps your SEO strategy and makes your website look good to the search engines.
DISCLAIMER: These are the absolute basics and minimums to help your web page. They are by no means exhaustive as there is much more you can do to really appeal to Google. For a more in-depth content marketing strategy, check out our blog titled: How Content is Transforming Search Engine Optimization Strategies.
Here are the basics.
If you want to help a page rank in the search engines you need the following:
A proper page title
A meta description
Just one H1 header tag
H2 header tags
Keywords within the content
Proper length of content
Alt text for images
Let's break these down.
1. A proper page title
Have you seen a page title before? If you answered no, the answer is you definitely have, you just didn't realize it.
The page title is what populates when you hover over the tab of the page.

This text also shows up when searching in Google as you can see below.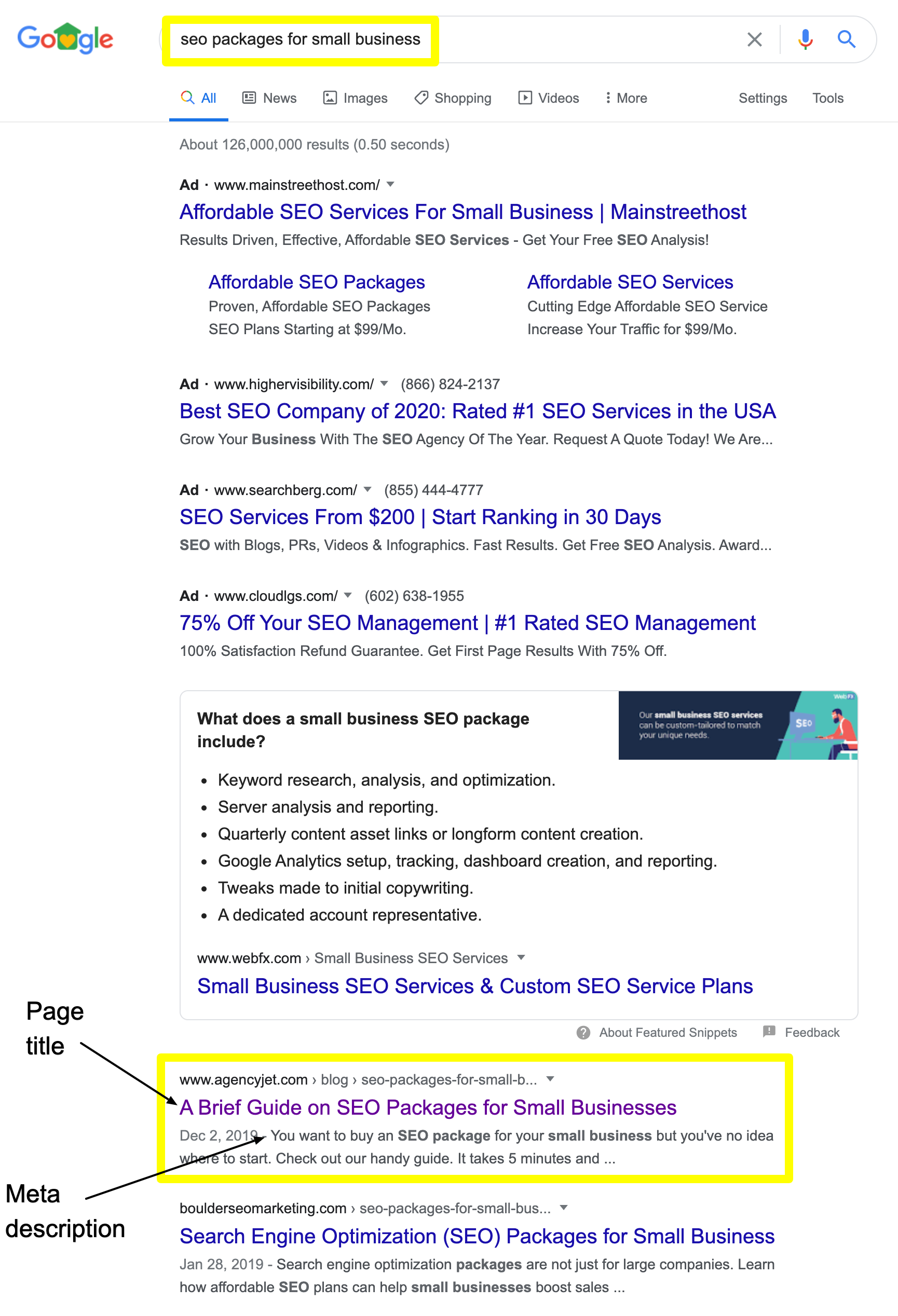 Therefore, it's extremely important that your page title reflect what the page is about and speaks to your products and services.
If your homepage says "Home" on it, you're not telling Google anything about the page. So why would they rank you for your products and services if the very title doesn't explain it?
It's also extremely important to have the proper title length. Most titles shouldn't be longer than 70 characters if you want it all to be displayed in Google results. If you have more than 70 characters, it's not the end of the world. It just means that some words will get cut off when appearing in Google results.
However, DO NOT throw in dozens of keywords onto a single page title. You're diluting your website and this is known as a black hat tactic.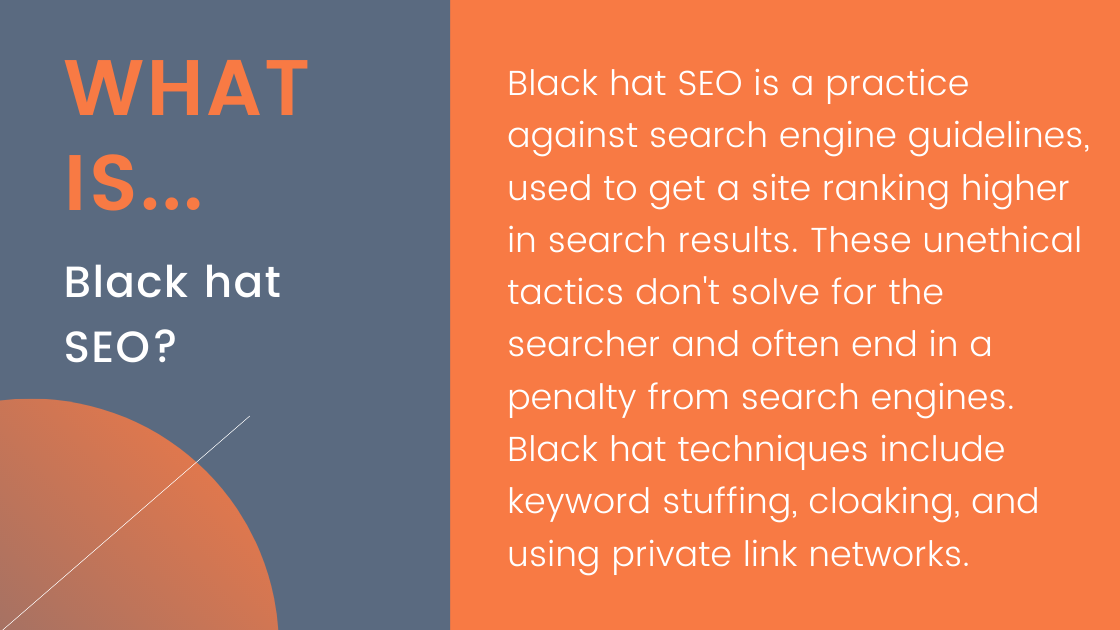 Page titles are the on page element that carry the most weight for SEO. Your page title should be focused on what this individual page is about.
If you are a business, it's a great idea to put your business name at the end of your page title if there is room.
A general best practice is to separate each keyword with a pipe ( | ).
Here's an example of a page title that does this:

2. A meta description
Meta descriptions, also found in Google results, are what gives your page title a bit of context. This is your opportunity to sell your page a little bit.
With 160 characters being the recommended limit, you have a little bit of room to put a 100% unique description about what this page is focusing on.
Meta descriptions are not really the most important part when it comes to ranking a page but it is important to appear correctly in the search engines when found.
It's an opportunity to throw in important keywords (but not too many) in a brief summary.
3. Just one H1 header tag
Search engines follow a structure when they are reading the page. At each step they are trying to identify what the page is about.
First Google asks, "What is this page about?" as it examines the URL. Then it asks again when examining the page title.
Once it gets to the content itself, it'll ask again, "What is this page about?". That's where an H1 header tag comes in.
There should only be one H1 header tag on each web page on the site.
Your H1 tag should be similar but not identical to your page title. The benefit is that your H1 tag can describe your page without a limit on length.
As with all things in digital marketing, you have to have some restraint though. Don't make your H1 a paragraph long. It should be simple and concise and explain what the rest of the content is going to be about.
The one exception when it comes to page titles and H1 headers being identical is blog posts. That's a pretty common practice. In fact the H1 and title of this post is "The Basics for Your Content Marketing Strategy".
However, if this was a web page and not a blog, the page title could be "The Basics for Your Content Marketing Strategy | Agency Jet" and the H1 header could read "Setting up your webpage properly for search engines".
Here's an example of a H1 header on a page: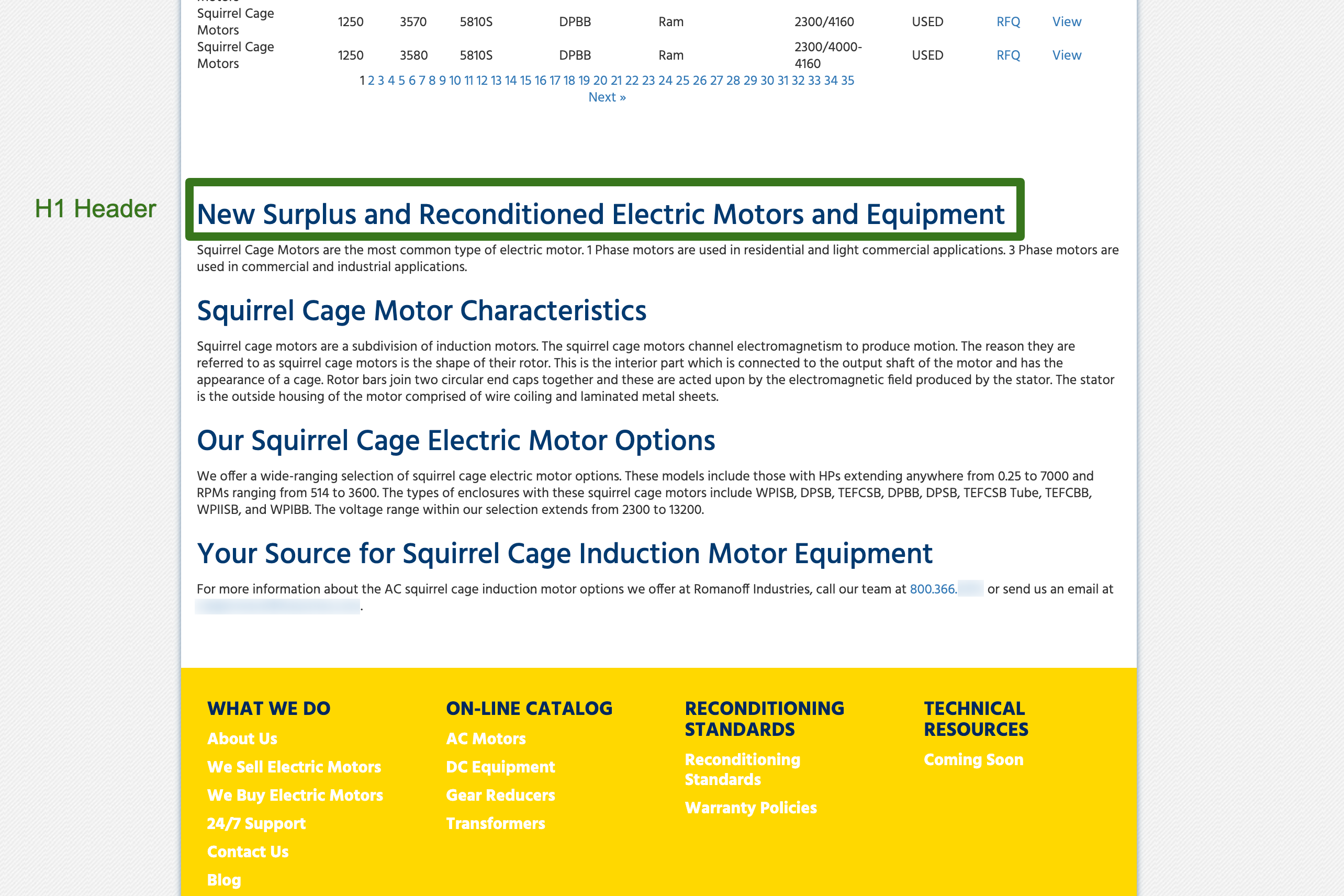 4. H2 header tags
Not all pages require H2 headers but the general guideline is if you have over 3 paragraphs of information, you should have a H2 header to make sure the content flows appropriately.
Remember, search engines like structure. Generally, as you go further down the content you'll have more headers as well.
You start with H1, then H2, then H3 and so on.
Primary headings (underneath the H1) should always be an H2 header tag. This shows Google what's most important on the page.
Without this structure, it makes it much harder for search engines to read your page and identify what it is you want to rank for.
5. Keywords within the content
Every single page should have a target keyword, also known as a primary keyword.
This keyword phrase should be something you want your business to be found for.
So what's a keyword? Something important to your business basically.
But it needs to be relevant.
If you're a used book store in Denver. It wouldn't make sense for your keywords to simply be "bookstore" or "books".
It needs to be more specific than that if you want Google to rank you for it and for future customers to find you.
Your target keyword for a page of content may be "novelty used books in Denver". Now you have a strategy for how to write your page.
Generally, it's OK to pepper in the keyword a handful of times but don't overdo it. Putting your keyword in too many times is known as "keyword stuffing" and it's a black hat tactic also.
Your keyword should arrive in the text organically, not forced in or awkwardly placed.
This example shows the keyword "Minnesota Workers' Compensation" only three times in the entire page. But that's plenty to tell Google that this law firm should be found for that phrase.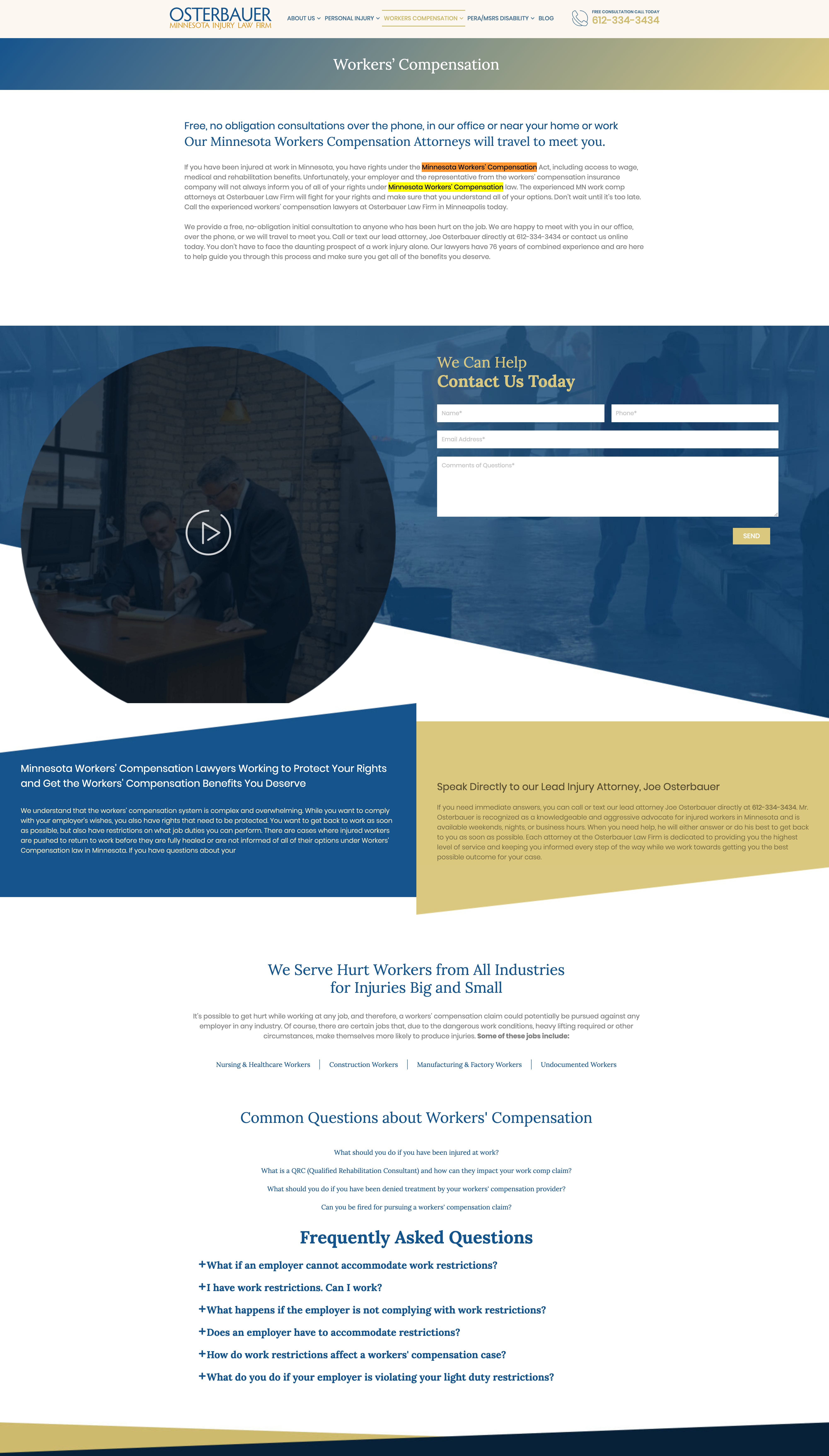 6. Proper length of content
Did you know that a page with less than 250 words is generally viewed as a social media style page rather than a business page?
If your company website has multiple pages with less than 250 words, you aren't giving the algorithms enough food to chew on.
In other words, you're not telling them enough about who you are and what you do.
Therefore, it's recommended to have a minimum of 250 words of relevant and unique content on the page.
Copying and pasting from another site is a big NO-NO. It's also considered a black hat tactic.
You need unique information so Google can rank you accordingly.
Also, more content is better. The average page one ranking on Google is over 1800 words.
Now the goal shouldn't be to get to 1800 at all costs. All of the content needs to be valuable. Quality trumps quantity every time.
7. Alt text for your images
Alt text is very much like an H1 header tag but for an image instead. When adding images, you'll see "alt text" in the information section. Here you need to add what the image contains.
Many people are tempted to use alt text to stuff keywords from their content into the image as well but that's a poor practice.
Alt text is for visually impaired users and browsers that can't render the image. Therefore it needs to explain what that image is about in basic terms NOT what the content is about where the image is featured.
Here's an example. This image is pulled from a page called "The 40-point SEO checklist for startups" but the alt text for this image should be something like "Hands pointing at Earth with links" or something similar.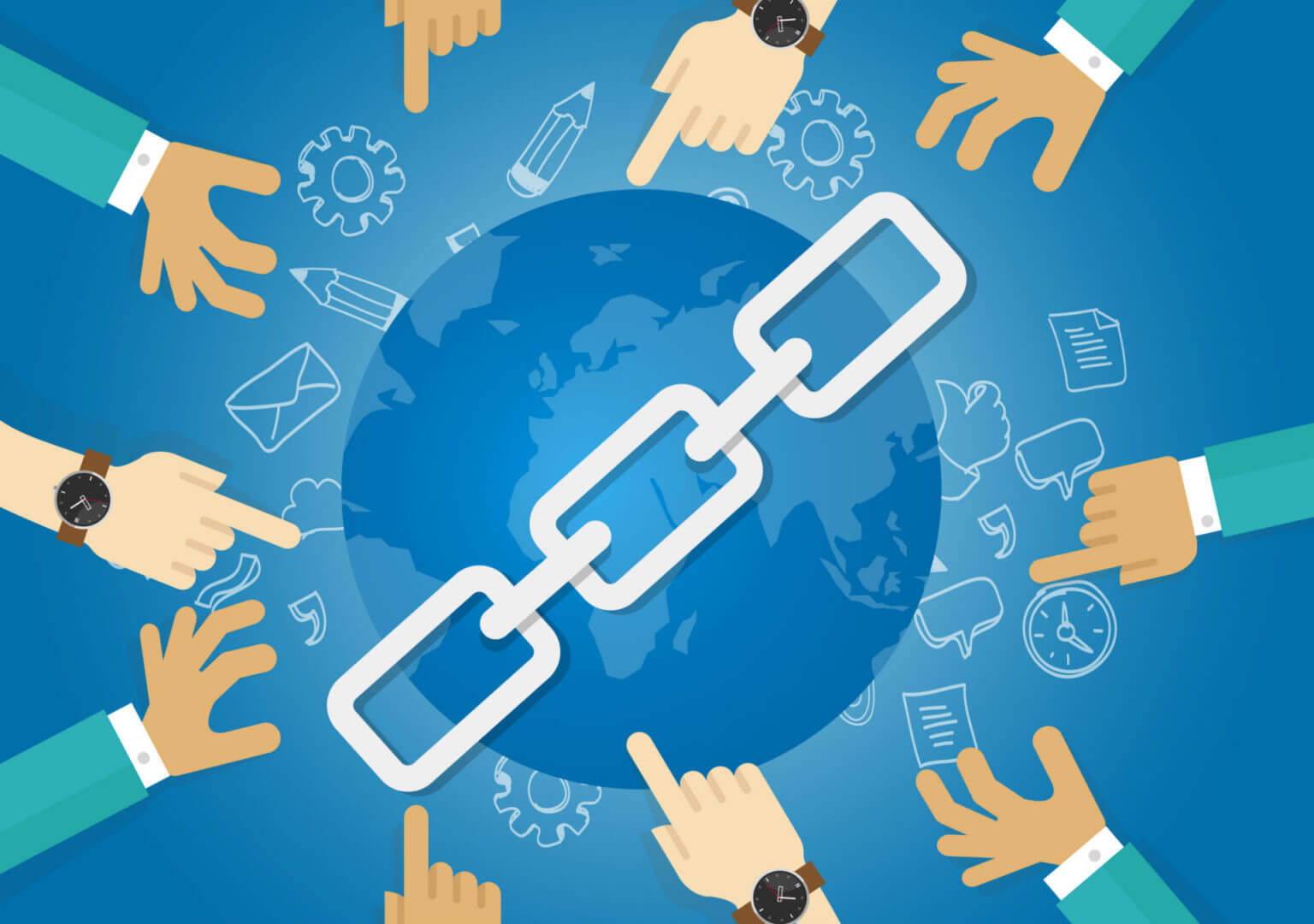 It describes the image, not the content that surrounds the image.
Summary
So there you have it, the basics for your content marketing strategy. These basics will help you make every web page on your site look good to the search engines.
And after a little bit of time, the search engines will very likely start ranking you for important keyword phrases.
This gets you in front of more people and helps increase your company's bottom line.
Evaluate your website to see how healthy it is
If you're not even sure where to begin, you can get a 100% free website assessment from Agency Jet. Are you missing titles, meta descriptions, headers, alt text? All of this can be identified in our educational assessment.
It's no sales pitch. Just important information on your website and like we said, it's free.
More Resources