Remember 2008?
The housing market. The tanking stock market. The general fire and brimstone.
And the survival.
It wasn't a pretty time and to many, it feels like we're experiencing the same thing all over again.
But it doesn't have to be like that.
If you were a B2B in 2008, chances are you played it safe and cut your marketing budget.
But the world is different now and that same tactic might see you say goodbye to your business altogether, and nobody wants that.
This pandemic is causing an economic crisis that all of us hoped we'd never see again but that doesn't mean that all hope is lost.
To us, there are 2 very important departments you need to allocate your funds to during this time.
Payroll

Marketing
Payroll is obvious. You have great employees, you want to keep your great employees. Studies have shown in times of crisis, that employees are willing to take as much as a 50% pay cut in order to keep their position.
In short, pay cuts are much more preferable to employees than being furloughed or laid off. This of course doesn't apply to every industry. Some industries have no choice but to lay off workers because of the way they do business.
If this is you, the rest of this post might not be relevant.
However, if you're a B2B who can afford to do business in this new environment, albeit a stiff learning curve to adapt to the remote work life if you've never done it before, then this post is very much for you because you really need to put a considerable amount of your budget into marketing.
If you can pay your employees, then the next step is to promote your business. You can't go dark in a time like this.
In fact, your marketing team is craving to get more done during these times and these marketers are essential cogs in the machine when it comes to helping your business survive.
In a recent panel, marketers from dozens of B2Bs got together and said some pretty important things. In fact, all panelists agreed that "brands that don't learn from and run with an agile, digital-first mentality will not be the ones that last, much less grow in the long run."
Here's the video from that panel.
Marketing needs to look different
B2B = trade shows & exhibitions.
You probably put a lot of your budget towards traveling the country, trade showing your brand along to other businesses.
In fact, in 2018, the Center for Exhibition Industry Research showed that B2Bs that went to trade shows regularly allocated 40% or more of their budget for these exhibitions.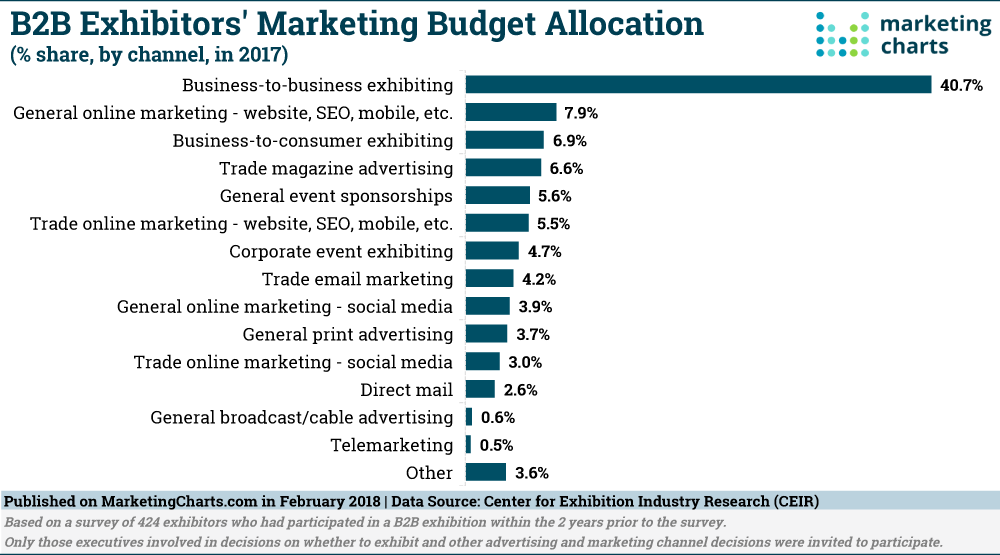 Enter 2020. Trade shows aren't happening. Face-to-Face of any kind isn't happening. And you might be reading this thinking, "That's what we do every year but now we have that money as a safety net." and that's certainly an option.
But is it the right option?
Before pandemic years, that same study showed that online marketing only received 8% of B2B's yearly marketing budget on average.
Now these figures need to flip.
If you can't use the trade show budget this year, all of that should go into either paying your employees or investing in your online reputation.
Remember, businesses who go dark instead of learning what digital-first marketing looks like will die off or, at the very least, stagnate.
What digital marketing brings to the table
Trade shows offer contacts, references, and hopefully some new ideas to infuse into your business, and that's valuable.
Digital marketing offers a completely different landscape but one that is equally if not more beneficial to your business in the long run.
The biggest reason? Human behavior.
Ask yourself, "What do I do when I am looking for something?"
Do you:
Grab your Yellow Pages?

Grab your Rolodex?

Look in the newspaper?
Of course you don't. You go to Google and so do your customers. Other B2Bs are doing business online as their primary source of revenue and if you've been able to survive with this not being the case, congratulations, but you aren't likely to survive much longer. Especially now.
The second reason digital marketing should be so important to you is because it's incredibly measurable.
Instead of getting a business card from someone at a trade show and not knowing exactly why they may turn into a sale, your website (through Google Analytics) can track if someone found through Google, social media or typed your domain in directly. It can tell you what pages this person went to. It can tell you how long they spent on those pages. It can tell you generally how old they are, generally what interests they have and it can tell you if they filled out a form on your site or gave you a call.
All of that's measurable using a free product. No marketing budget required.
But there is a marketing budget required if you want your website to be found by MORE people.
Having your website isn't enough.
Here's a quick test. Ask yourself why you even have a website.
Here are a couple of common reasons:
You're supposed to.

Everyone else has one.

So you can put it on business cards and email signatures.
All of these are reasons we've heard before and all of them imply that your website is just there. It's like Ziplocking a bag of moldy bread.
Don't like that image? Unless you're using your website to actively market your company, that's basically what it is.
Thirdly, there is so much opportunity out there for you to improve your company's digital footprint.
Your competition may be treating this like 2008 and dialing back their marketing.
But not all your competitors will be doing that. Many will be agile and learning and taking advantage of what digital marketing can bring to their business now more than ever.
Economic crises like this create downtime and it's downtime that separates the weak from the strong.
Strong B2B companies will know that digital marketing offers 23 times the return on investment versus traditional marketing.
No that's not a typo.
23 times the return on investment.
Digital marketing, in general, is about turning your website into your number one employee. It's only job should be to turn one-way communication into two-way communication and with the proper marketing, it can turn into your number one employee relatively quickly.
How to turn your website into your #1 revenue generator
Having a website is not enough to get in front of potential partners and customers.
Google doesn't get a notification that you've got a site and this is what you sell and now all the sudden you'll be on page one of their results for everything.
You have to work for it.
Enter search engine optimization services (SEO).
Any website can benefit from SEO but SEO services for B2B is especially important because the world is changing from the Face-to-Face you got at trade shows to being almost exclusively virtual.
You've probably heard of SEO but you might not know what it does.
SEO is taking various actions, approved by search engines, to help get your website found in online search for the products and services you sell.
Sounds easy right?
Well it's certainly not a "couple of months" kind of thing. It's not even a "couple of years" kind of thing. SEO should have been a part of your marketing strategy for years already and if it hasn't been there's no better time to start.
About Agency Jet
You may think doing your own SEO is the most cost effective thing to do in times like this but you'd be wrong. Buying SEO services from a talented and proven agency like us, is actually one of the most cost effective marketing strategies period, let alone the most cost effective thing you can do to promote your business.
Here's a comparison of hiring a marketing employee (or paying your current marketing employee) versus hiring an agency.
See what we mean by cost effective?
What you get with one of the best digital marketing agencies in the USA like us is simple.
Guaranteed results: Fire us if you don't see more Google traffic to your site by the 4th month of working with us.
A dedicated project manager and team of people: You never get passed around. You work with the same people whose only job is to make your company website successful.
A world class education: We say SEO is like buying air. You don't know what it looks like but you know you need it. Agency Jet customers learn month over month what it looks like and how it helps.
Absolute transparency: We give you a customized dashboard that not only shows you the results but the actual work we're doing also. It's available to you 24/7/365.
Less push/more results: We aren't constantly selling you on new stuff. If you could benefit from additional services, we'll let you know the how and the why. If you don't need more than what you're paying for, we're 100% open about that and thank you for your business regularly.
Summary
It may feel cataclysmic right now and it's hard not to feel down and out. But the reality is that with the modern landscape, business is adaptable, agile and there's more opportunity than ever before.
If there's one thing you shouldn't do it's going dark and holding onto your chips.
Now is the time for learning, diversifying and if you do it right, winning.
Here's some things you can do to start winning online:
More Resources