When developing a website that best represents your business, there are many things to consider. Undoubtedly, one of the most important is visibility. If you ask anyone where they turn when they're looking for information, their answer is likely to be Google. Visibility on Google rarely goes past the first page—in fact, 75% of people never look past Google's first page for what they're researching.
That's why Search Engine Optimization (SEO) is so important in the digital age. The Internet is a vast domain, and you need your potential clients to see you first. Following SEO best practices during your website development process can secure the place your business deserves in the spotlight: the first page of Google. Here are some SEO best practices that will drive your website straight to the top.
Consider and Target Relevant Keywords and Phrases
Think about what people are most likely to type into Google when they seek the help of a business like yours. Start by asking yourself the following questions:
What are people searching for?

Where are they located?

How often are they searching for it?

What questions are they asking to find it?
The answer to the first question is often very simple. If someone needs to hire a landscaper in Minneapolis, their first Google search will probably be something like "landscaping company in Minneapolis" or "What is the best landscaping company in Minneapolis?"
If you need help figuring out the ideal keywords to incorporate into your website, Google Keyword Planner is a great tool, but it is one of many. There are tons of efficient SEO keyword tools available online, such as KWFinder, that can help you identify your perfect combination of high-traffic keywords to utilize during your web development process.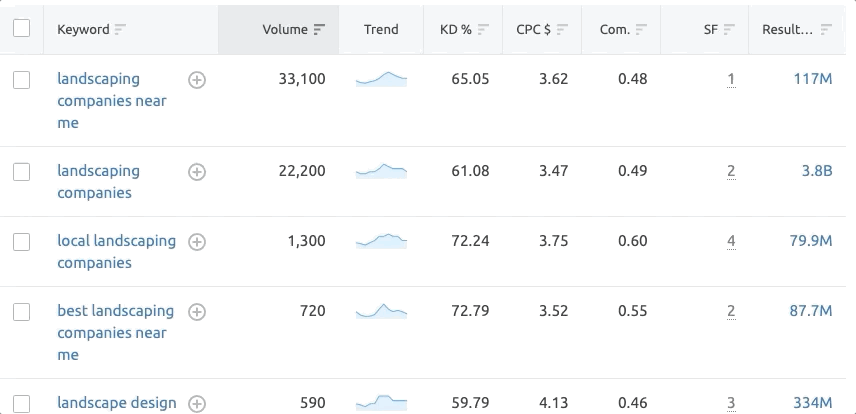 Here's an example of a keyword research tool called SEMrush
Create Quality Content
For any website, quality content that showcases your product or service is key to client conversion. But, did you know that content matters for SEO as well? Writing and publishing compelling, keyword-driven (but not overstuffed) content can send crucial signals to the search engines that you are who people are searching for.
Search engine algorithms are essentially looking for answers. They are searching for information that is accurate, presented well, and is helpful for the person who enters a query. This means that if you can present this information on your website effectively, the search engine should recognize it and feature your site.
Interlinks and External Links
While this has been the subject of debate for a long time among SEO "experts" it seems fairly certain that links matter. Linking within your site to other, relevant pages that could help the searcher find what they're looking for is an excellent practice. This isn't just for SEO…it's helpful for your potential client as well.
External links from other sources on the web, like industry publications, local news sources, blogs, colleagues, clients, and others can be vital in sending signals to the search engine that your site is important and should be shown. While valuable links, like those that are from quality sources can help your site, keep in mind that low-quality links can have the opposite effect and could hurt your SEO efforts.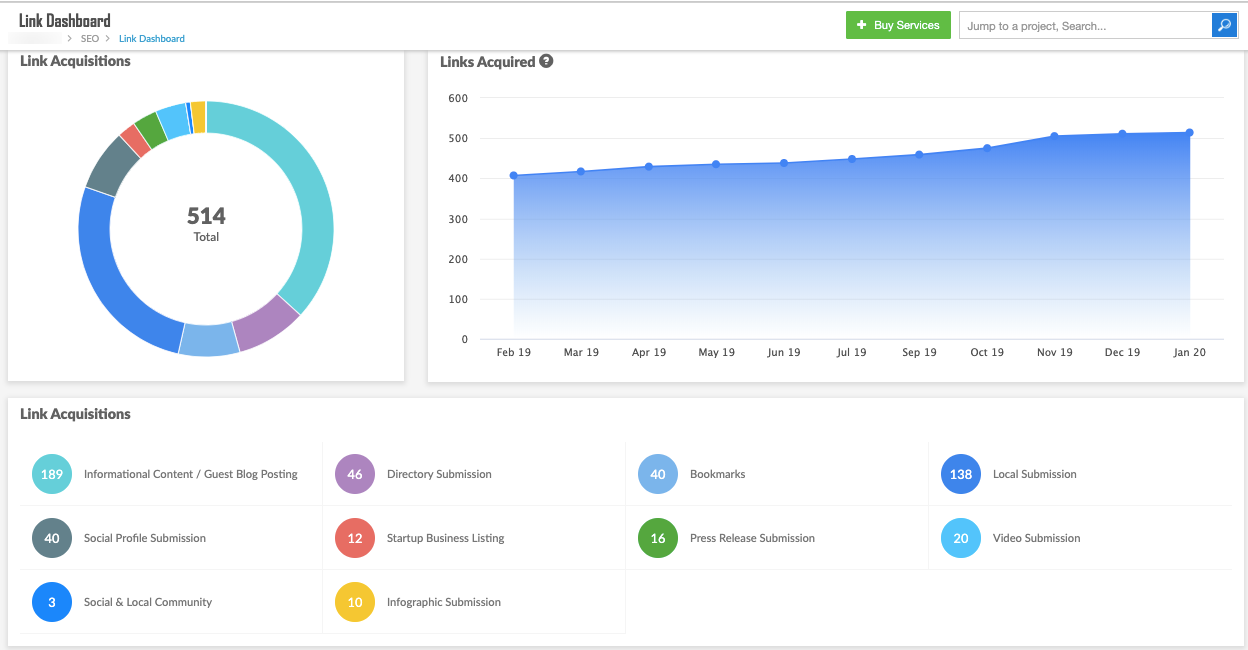 An example of links built by Agency Jet for one of our clients.
Implement Effective Title Tags
After you've gathered your ideal set of keywords, you can work on title tag development. Every page on your website should have its own unique title tag. A title tag should utilize your keywords to tell search engines that your webpages are relevant to what people are searching for.
Title tags should be concise, at roughly 55 characters or less, and include your primary keywords, secondary keywords, and brand name. A great title tag format is Primary Keyword - Secondary Keyword | Brand Name. So, if you have a photography business in Minneapolis called Jane Doe Images, your homepage title tag could be Minneapolis - Photography | Jane Doe Images.
No two pages on your website should have the same title tag. The more title tag variations you utilize, the more reach your website will have. More reach means more clicks, and more clicks means a higher spot on Google. Keep your keywords in mind when developing title tags, and your search engine presence is sure to be elevated.
Showcase Your Reviews
Reviews are like gold when it comes to building a reputation as a brand people can trust. You know you're good at what you do, but your potential customers want people who are just like them to confirm that you'll provide the best service for their needs. Research shows that nearly 95% of consumers consult reviews before making purchases online, and when you've got glowing ones, potential customers notice.
If your customers are happy with your service, there is nothing wrong with asking them to tell you so. Responding to reviews drives engagement and shows customers that you're available and interested in what they have to say. In addition, customers will often use relevant keywords in their reviews, and when your responses include your keywords as well, you will generate even more visibility.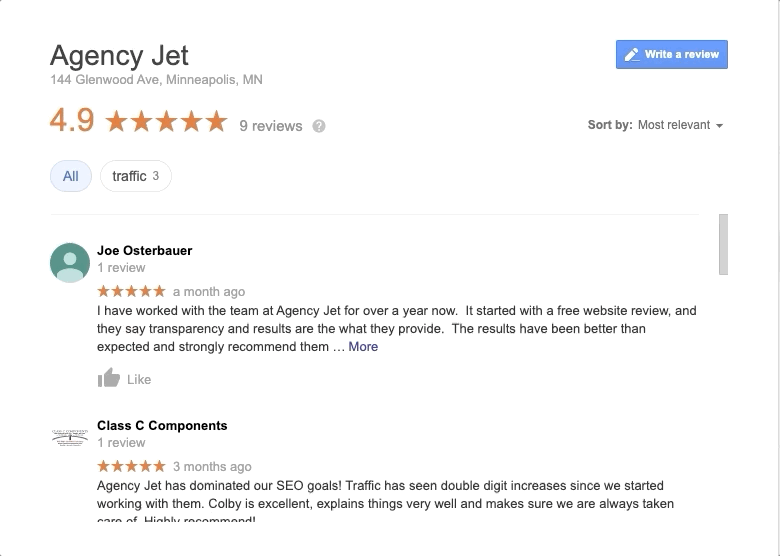 By featuring positive reviews on your website, you can extend your reach to potential clients that add "reviews" at the end of their Google searches, making this an excellent SEO practice for securing that front-page Google spot.
Contact Agency Jet Today
Search Engine Optimization is crucial to master in this age of the Internet, but it is only one component of effective and successful web design. There are so many more components to consider for web development and SEO, such as seamless user experience, attractive visual design, and more. It's a lot, and if this all sounds like too much to handle on your own, we want to help you.
The professionals at Agency Jet have the knowledge and experience necessary to help you take your website to the next level. We provide services in SEO, web development, digital advertising, social media marketing, and analytics for all types of clients in the Minneapolis area. We have what it takes to help you elevate your brand and get noticed, and we want to assist you with all your Minneapolis website development needs.
For a free website assessment, visit us online, or give us a call at 612-888-2538. We look forward to working with you.
More Resources