How To Choose a Host for Your Small Business Website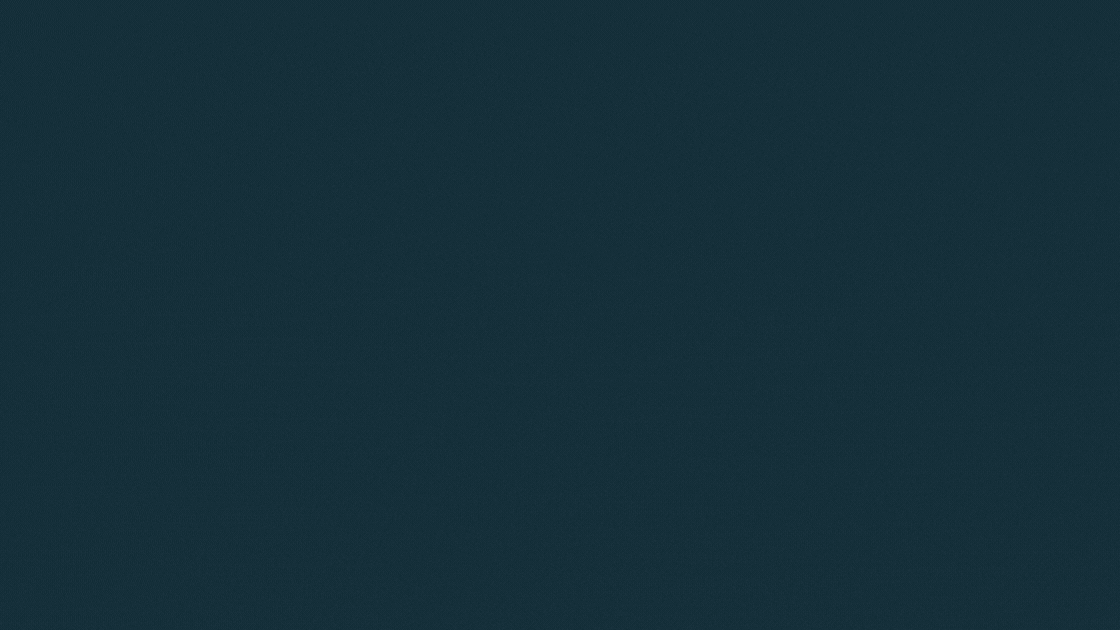 If you're looking into starting a website, it's likely that website hosts and domain names seem endlessly confusing to you.
However, you shouldn't rush into working with the first web host that you see.
Building your website with one host or another can be a significant investment of time and money, and you need to be certain you make the right choice.
Why Web Hosts Matter
The existence of your website hinges on the web host being reliable and effective. With that in mind, it goes without saying that your website cannot perform well without a good web host.
If you choose a poor-quality provider, then your website could be slow, insecure, and compromise the data of your guests. Slow websites fail to draw traffic due to SEO penalties and drive away visitors, as a three-second loading period is enough to make many mobile users leave.
If you want your website to succeed, you need to know what to look for in a web host.
What to Look For in a Web Host
1. Server Quality
Server quality is the most important quality that a web host can offer you. Generally speaking, a provider will guarantee a minimum amount of time that their websites will work.
If a web host doesn't post numbers on guaranteed uptime, then you should steer clear. Additionally, any host with uptime below 99% is a liability. While 99.9% is standard among the industry best, a few go even further and guarantee 100% uptime.
2. Accommodate Growth
When a website is first starting out, it will typically use shared servers. Web hosts offer low prices to smaller businesses by putting multiple websites from different users on individual servers.
However, your business may eventually grow beyond shared servers or a single domain. If you intend to grow your digital presence, you'll benefit greatly from choosing a host that can support your growth.
This means offering VPS, cloud hosting, and dedicated servers to start with. A host allowing you to start multiple domains on your plan is also valuable.
3. Honest (Or Reasonable) Pricing Policy
It's normal for hosting services to offer lower prices in the first year and higher prices in the second. While most providers are fairly up-front with this fact, others relegate it to the fine print. Then, others wrap up more actively deceptive prices, such as offering an extremely low first-year price while quietly bundling it with a marked-up second year.
The strange thing is that these things don't necessarily indicate a poor-quality provider. For instance, GoDaddy.com utilizes the aforementioned strategy but is still a first-rate web host. With that in mind, it's just a matter of understanding the pricing policy that your host offers and making sure that you know what you pay for.
4. Trial Period and Refunds
A good way to make sure that your web host is reliable regardless of pricing tricks is by examining their trial and refund policy.
Most of the reputable, worthwhile web hosting providers offer a partial or full refund within a certain period that you can turn to if you aren't satisfied. Others go so far as to offer a free trial period that might last one month or as many as three.
5. Key Add-ons
Some add-ons for websites are situational or not necessarily essential, while others are outright mandatory.
For instance, SSL certificates protect user data and give your website an https address. Google rewards websites with SSL certificates, and many internet safety courses emphasize the importance of the https address.
While eCommerce websites and others that sell goods and services online must have SSL certificates, every website should invest in them.
6. Quality of Life Features
As a domain owner, your relevant information is on a public directory by default. However, some allow you to purchase private domain ownership that hides this data.
By utilizing this sort of add-on, you avoid receiving calls and emails that use your personal contact information.
On a related note, some hosts also include business-specific emails such as "yourname@yourwebsite.com." A business email helps your website look more professional and reputable, which may make it a worthwhile add-on. But if you want this feature, you'll have to make sure that a web host offers it.
All web hosts offer a range of extras like this, and you'll want to explore their offers and see which hold value for you.
7. Security Features and Back-Ups
Many premium web hosts utilize the latest security technology and automatically make backups of your website.
This may occur once a month, once a week, or once a day. The more frequently it occurs, the more thoroughly the host protects your work against a server crash or other issue.
While top-notch security features and daily backups aren't necessarily important to many small business web design projects, they're increasingly valuable as a website grows.
Best Web Hosts for Small Businesses
GoDaddy: An Unexpected Household Name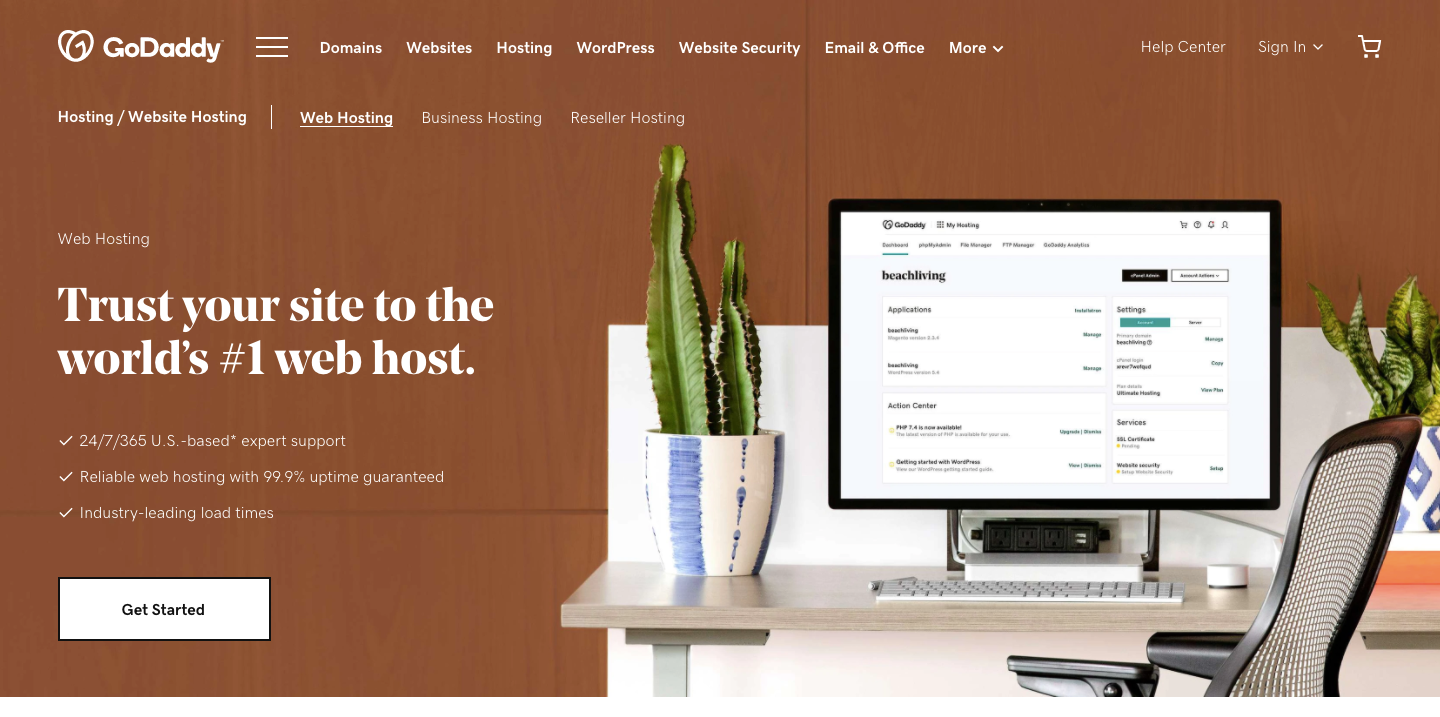 GoDaddy's unorthodox branding has worked wonders for it, as they've grown large enough to place ads during Super Bowl halftime.
While many people aren't aware of what GoDaddy does, it's still the biggest web host in the world.
GoDaddy servers are quite reliable, with about 99.9% guaranteed uptime for their users. This isn't evenly distributed throughout the year, and it may dip lower during some months and stay at 100% during others.
It offers some of the cheapest web hosting services, but it does this in part by offering barebones plans.
While many of the biggest web hosts automatically offer SSL certificates, for one thing, GoDaddy still requires users to pay for it separately.
The biggest issue that drives users to criticize GoDaddy's services are the pricing practices, which are arguably deceptive. For instance, a user may sign up for a plan that offers an extraordinarily low price for a year. However, these plans require the user to sign up for two years, and the second year comes at a far higher price.
Despite all of this, GoDaddy is still an excellent hosting service that provides users with a suite of powerful tools. You can use a drag-and-drop website builder to design your web page, but tech experts can also apply advanced tools such as Python. GoDaddy accommodates virtually every skill level.
Pros:
Good quality servers
Robust app integrations
Cons:
Reading the fine print is necessary
Bluehost: A High Standard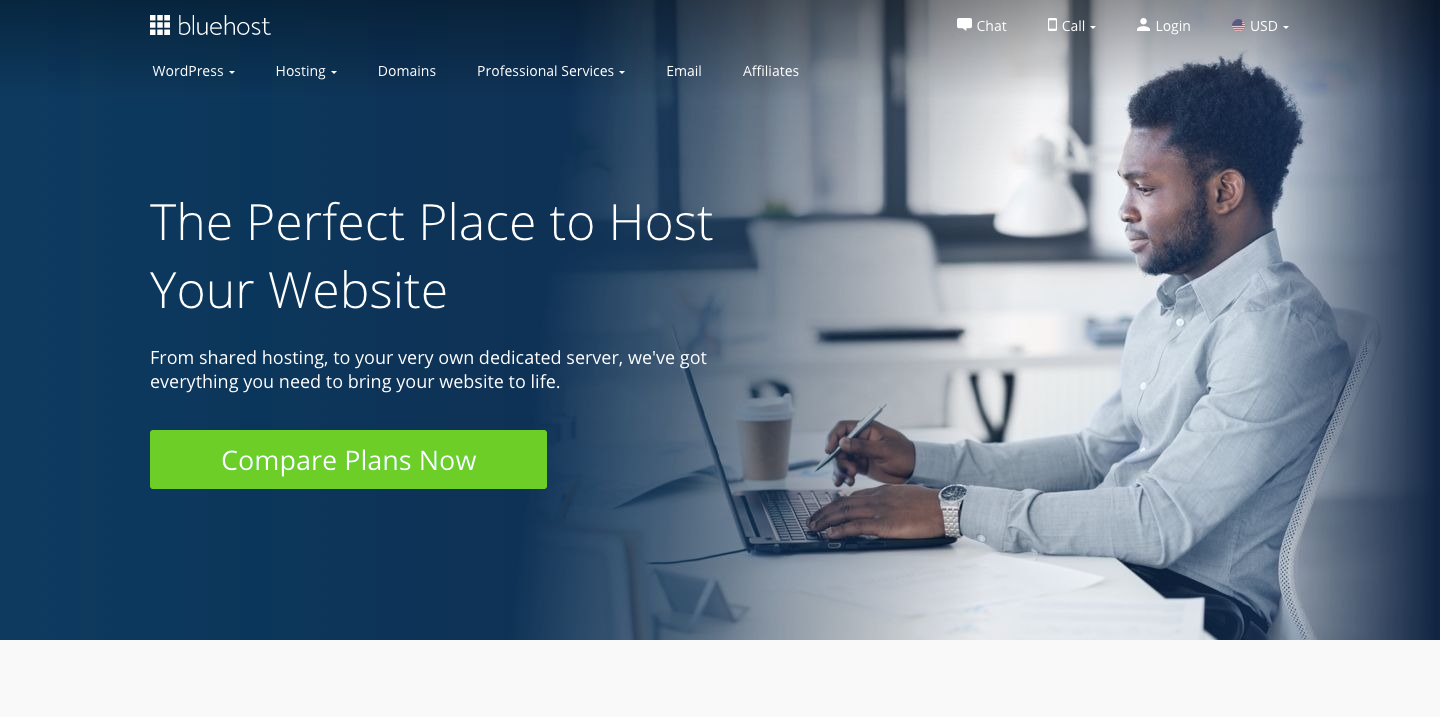 Bluehost normally charges $7.99 a month for its default web hosting services, and it checks most of the essential boxes.
If you sign up for Bluehost, you have good Wordpress compatibility, free SSL certificates, and a generous money-back guarantee. Within 30 days of purchase, you can apply for and receive a refund.
Customer support is easy to access and well-rounded. Whether you prefer phone or live chat, Bluehost has you covered with 24/7 support services.
Beyond the basics, Bluehost has a versatile and powerful set of add-ons and tools.
In addition to those all-important SSL certificates, you have SEO tools that track ranking as well as privacy tools.
A growing website will also be well-suited to working with Bluehost, as their web hosting services are highly scalable.
If you have ambitious plans for your website, then you'll appreciate that Bluehost even offers dedicated hosting services.
Overall, Bluehost does everything that a web host needs and it's more than earned the sterling reputation it holds.
Pros:
Balanced prices
Robust servers
High scalability
Complete suite of features
Cons:
No efficient site migration tools if you want to leave
Lacks unique features
Dreamhost: Affordable and Accessible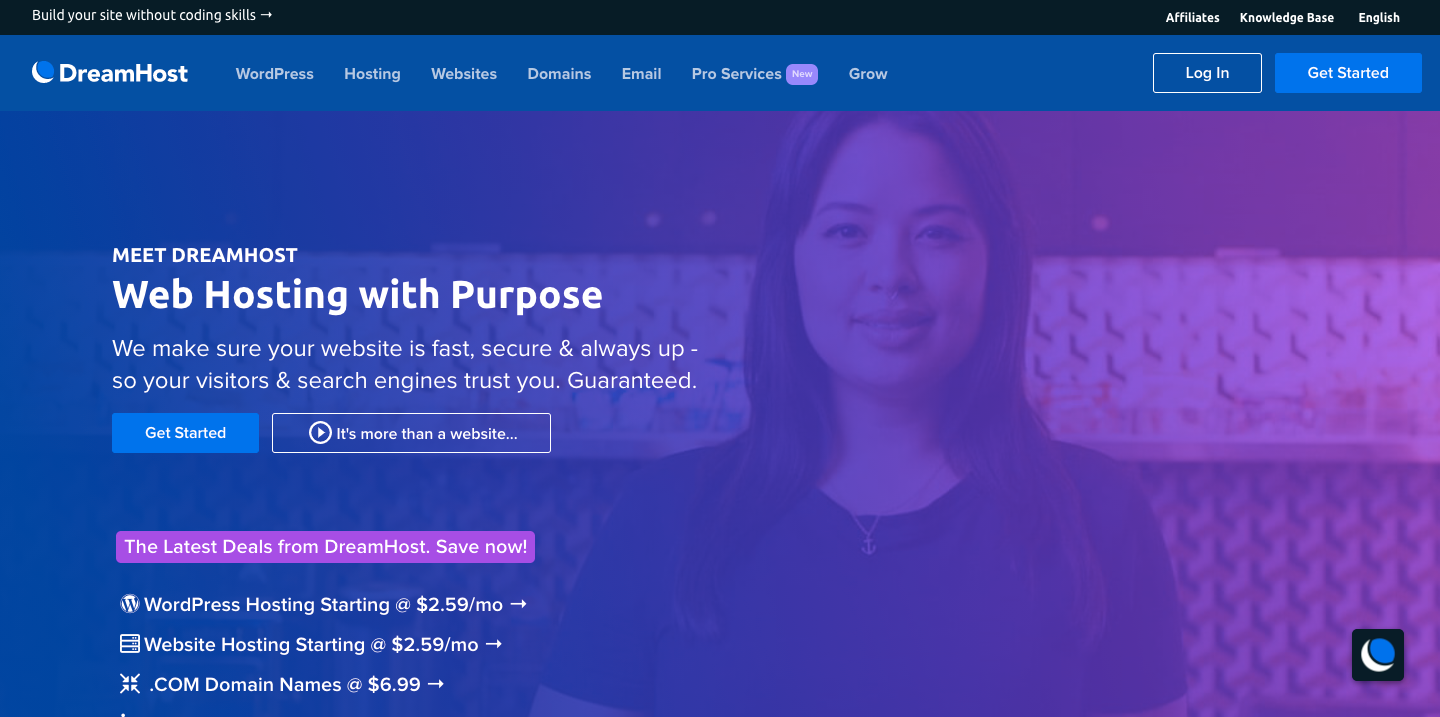 Dreamhost offers astonishingly cheap baseline pricing, starting at less than $3 a month for annual plans.
They're a no budget-rate host, though, as Dreamhost works to stand apart from the crowd. Instead of using an industry-standard cPanel, you'll customize your own control panel.
While customization often comes at the cost of intuitive usability, the features on display here strike a good balance. In fact, users often say that the customizable Dream Host control panel is much more intuitive than standard offerings.
The main drawback to Dreamhost is that being unique makes it difficult to migrate away to a different host if you ever decide to leave. However, hardly anyone ends up being trapped with this hosting service. With a trial period that lasts for 97 days, Dreamhost users have more time to change their minds and start over elsewhere than anyone else.
When it comes to add-ons and scalability, Dreamhost has everything you'll need. VPS, cloud server storage and dedicated servers are all options. Overall, it's one of the best and most unique web hosts.
Pros:
Unique elements that add real value
Contains all key add-ons
Easy to migrate to
Generous trial period
Cons:
Difficult to migrate away from
Unique features may be jarring to new adopters
GreenGeeks: Save the World, Start a Website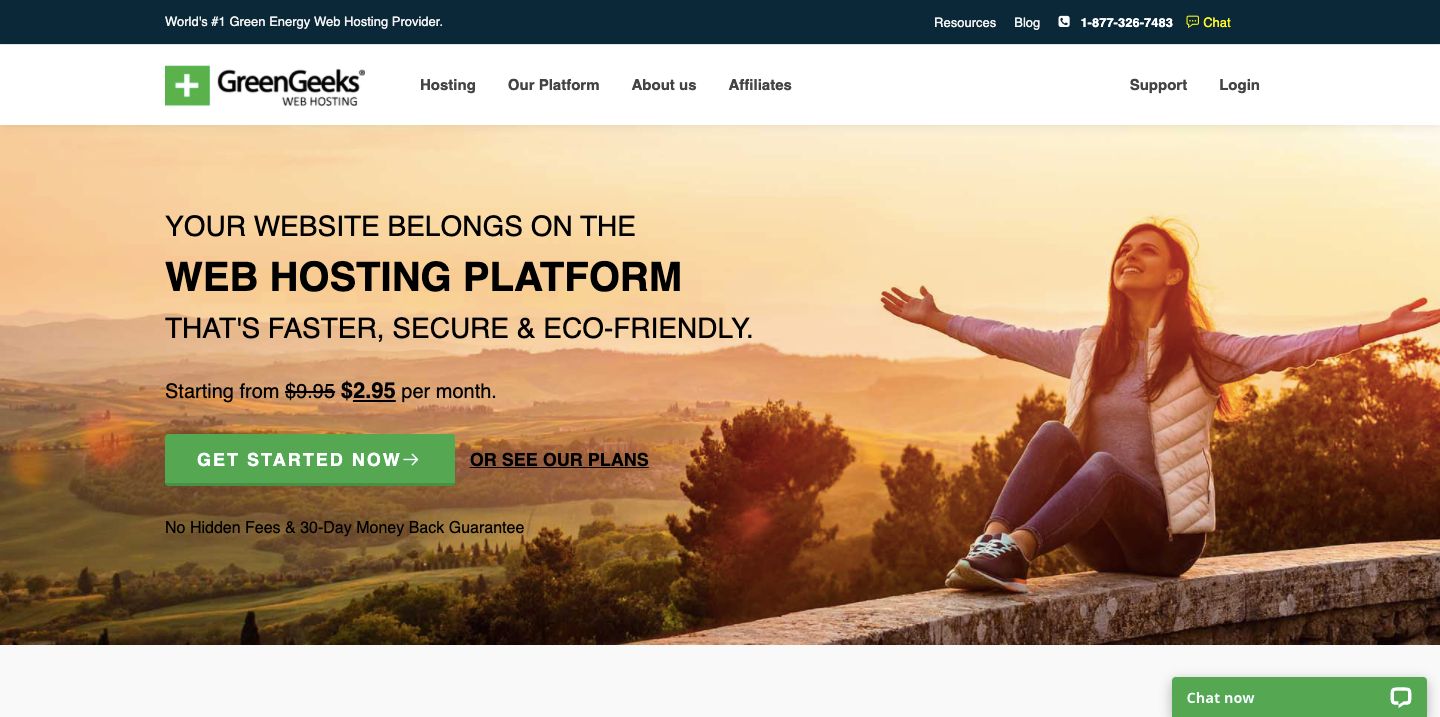 GreenGeeks is the world's only green web hosting provider to date. It's not just a gimmick, either, as they rely exclusively on renewables to fuel their business.
This doesn't drive up prices, either, as the promotional price is under $3 per month. After your first term with them ends, the prices rise to the normal price of $10 a month. This is more expensive than average, but not extraordinarily so.
Those prices aren't just going to green energy, either. Geek is the second half of their name, after all, and GreenGeeks keeps up with the latest in web hosting tech.
In addition to the standard suite of SSL certificates, they incorporate the latest security solutions to protect web hosts and their clientele. Daily backups protect your work from any possibility of disaster, and customer service is quick and effective.
Depending on your preference, you're free to request support over the phone, through live chat, or via email and typically receive a quick response.
Anyone can enjoy the high-quality hosting services that GreenGeeks offers. However, their status as a carbon-neutral web host makes them the host of choice for a wide range of businesses. Organics brands, new-age spiritualism, and environmentally conscious websites can go the extra mile by working with them.
Pros:
The only eco-friendly web host
Generous refund policy
Excellent customer service
Cons:
More expensive than average
Hostinger: Bargain Bin Prices and Silver Grade Service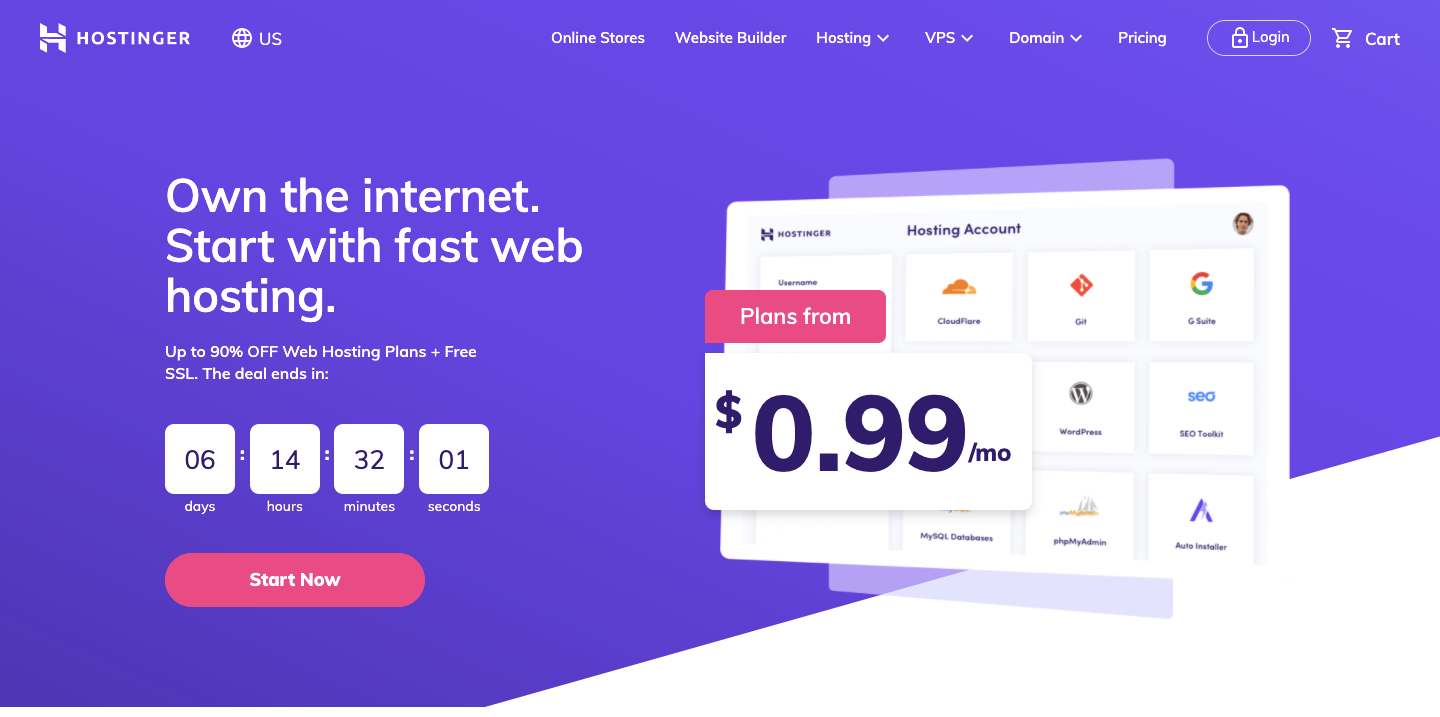 Hostinger distinguishes itself with extremely low promo prices. Where some hosts will list promo prices deceptively by various means, they're legitimate here.
You can even secure fairly long-term deals on the ultra-cheap plans that Hostinger is offering. The cheapest Hostinger plans start at under a dollar per month, so long as you pay the entire subscription term as a lump sum. The prices go up after the term ends, but they'll remain well below industry standard prices.
Despite the incredible deals that Hostinger offers, the service doesn't suffer much. While 99.9% guaranteed uptime isn't as good as the 100% that some gold standard hosts offer, it's more than adequate.
You'll also have indispensable features such as SSL certificates and 24/7 customer service. While the higher-priced, premium web hosts do offer more features and higher quality hosting services, Hostinger is peerless as a value provider.
Pros:
First-class bargains
Hosting quality is worth more than the cost
Cons:
No stand-out, impressive features: Value per dollar is the only selling point
Find Your Ideal Host with Agency Jet
If you're still not certain which host is right for you, Agency Jet can help. Schedule a consultation with us and learn what our affordable web design for small business packages look like.
If you'd like to learn more about your current website, take advantage of our 100% free and 100% educational website assessment. We've given thousands of them all for the sake of educating people on how to put their best foot forward online.
More Resources
Join the thousands of SEO-obsessed readers on our mailing list