If you're a small or medium size business in Milwaukee, WI, you need to be found by customers searching your products and services.
How does one accomplish this? Milwaukee SEO (Search Engine Optimization).
Defining Milwaukee SEO
Search engine optimization is defined as producing quality actions consistently to show the search engine algorithms of Google, Yahoo and Bing that your business should be listed for quality goods and services.
More specifically, SEO in Milwaukee means taking a hyper-local approach when speaking to the search engine algorithms.
Your customers are looking for you daily via their computers, tablets and phones and if your business isn't showing up on the top pages of Google in the Milwaukee area, that's business you're losing out on and your competitors are grabbing.
Importance of SEO for your Milwaukee small business
It's important to remember that there is no immediate way to get to the top of Google's organic results. There are over 200 actions Google's Guidelines require to help your website rank on page one for their products and services.
Many of these actions need to be performed multiple times to ensure it's your business showing up above your competitors.
The true wonder of Milwaukee search engine optimization though is that you can compete with much larger businesses in your local area.
If you're a local hardware store in Bayview, with the proper local SEO efforts, you can be competing with the Lowe's in Wauwatosa and Franklin or The Home Depots in Milwaukee, Franklin and West Allis or Menards in West Milwaukee, Oak Creek and West Allis.
As a local mom and pop type hardware store, you can compete with these big names so long as you have the proper local SEO strategy in place and once you've mastered the top pages of organic results, with proper maintenance, you can stay there for years.
This makes local SEO services vital to any small business. Why? Because improving your website in Google's rankings brings more business into your company for affordable prices.
Your website should be your number one employee. Its only goal is to turn one-way communication into two-way communication.

But this communication can't start unless you're on the top page of Google for your products and services.
So how do you get there?
Creating an SEO strategy for your Milwaukee small business
If you've read up on search engine optimization it might seem simple enough for you to do but the reality is it's an extremely complex process and requires undivided attention to truly succeed.
Many business owners don't have time to learn the intricate ins and outs of ranking in organic results and even if they do have time to learn it, they rarely have time to keep up with it.
That's where a Milwaukee SEO company enters the fold.
Milwaukee search engine optimization should be executed by a professional agency with a proven track record to help your business succeed and rank for what your potential customers are searching.
If you're truly committed to succeeding online, you need to ask yourself do you want to hire a marketing employee to handle it or a group of experts?
SEO agencies will create a custom strategy based on what you want your business to be found for. Once decided on, their only job is to show results.
Agencies should be able to guarantee an upwards trend in your organic traffic and keyword rankings and if they don't deliver, fire them.
Now how easy is it to fire a marketing employee if they don't deliver? They require medical, dental, a 401k and they take vacation and get sick.
SEO agencies like ours, guarantee results and we don't require and medical or 401k. We're also a team of experts as opposed to one person. Let's do the math shall we?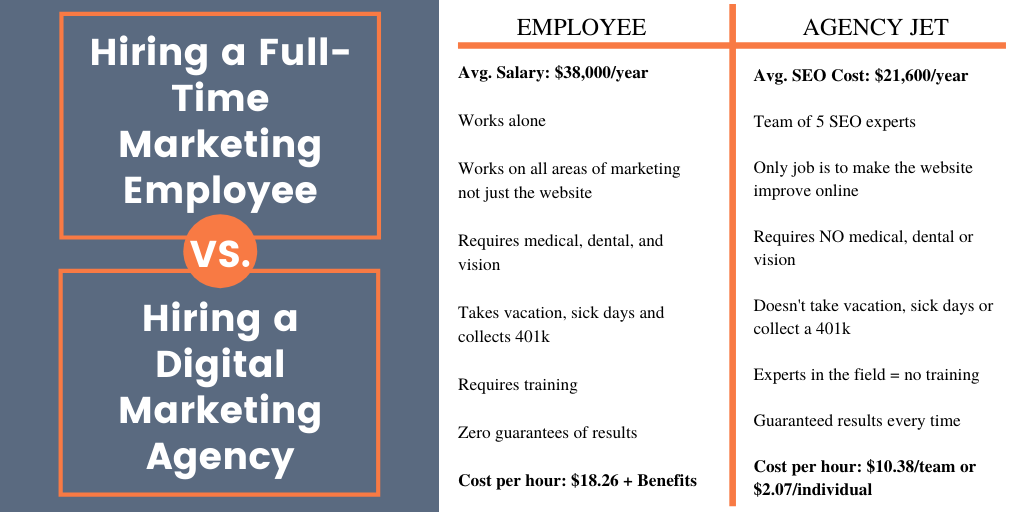 High-quality SEO can be extremely affordable and completely risk free.
How risk free? Ask about our 4-month guarantee.
But whether you choose an agency like ours that does business right here in Milwaukee, or an even more cost-effective option, remember you get what you pay for and some of the cheaper options might not include everything you need.
Every successful local SEO plan should include the following at a minimum:
A custom SEO strategy with a walkthrough of said strategy included.

Highly researched and developed keywords to be the pillar of your campaign.

Technical SEO to ensure the website is healthy and speaking to the search engine algorithms appropriately.

High-quality content that is thoroughly researched and completely unique to your website.

Authoritative backlinking to increase your MozRank.

Local citation building to ensure your company can be found in Google Knowledge Panels like the Map and Snack Pack.

Website user-experience optimization aimed at making sure your website can convert the new incoming traffic.

Weekly and monthly reporting straight to your email inbox. Every person who purchases SEO services should be able to see live data and the ins and outs of the campaign to calculate their return on investment.

Monthly check-ins via phone calls, in-person or virtual meetings. Each of these meetings should be aimed at educating you (the client) about the activities that have been executed and the results of those activities.
It just so happens, Agency Jet provides all of this and more. We've had hundreds of local SEO clients come through our doors and every single one of them has gone past the initial contract of 6 months.
Working with Agency Jet for your Milwaukee SEO
These days, because we are so confident in our work, we allow all clients to choose their payment plans with the following options:
Month-to-Month Investment

4 Months Plan Investment (8% off month to month cost)

12 Months Plan Investment (15% off month to month cost)
Our average contract length with clients is 23 months and we have dozens of clients who have been with us for longer.
That's an eternity in the SEO world but if you ask our clients, they'll say we keep adding value and getting results.
Ask any other Milwaukee SEO company what their average contract length with their clients is and it's likely to be drastically lower.
In short, we're in this for the long haul with our clients and we're tireless in getting results for each and every one of them.
Aside from our ability to get results for our clients, what truly sets us apart is our dedication to educating our clients.
We like to say search engine optimization is like buying air. You don't know what it looks like but you know you need it.
Agency Jet excels at helping you understand what SEO looks like by explaining our processes, including you every step of the way and reporting everything in your 24/7/365 custom dashboard.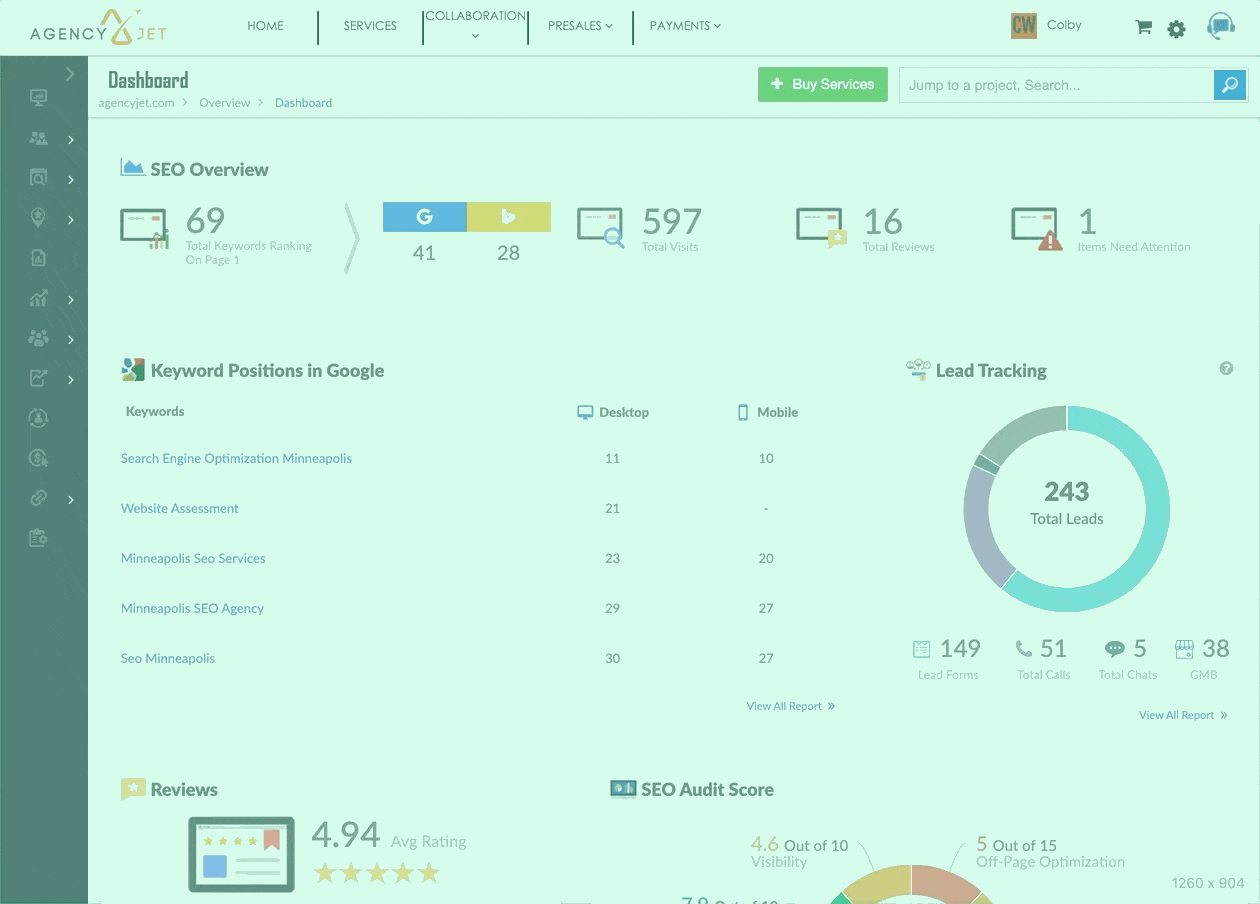 Our project managers are all dually trained in search engine optimization and customer service and we get rave reviews for our care and attention on each campaign.
Finally, you have the safety in knowing that if we don't perform, you can get rid of our agency no questions asked. We even help you transition to a new agency, providing all the logins and a dossier on what work we completed for you.
No long term contract is required and we don't hold you hostage in any facet. The work we complete for you is owned by you.
Why are we so generous? Because our mantra below forces us to put you first.

This is our mission statement and always will be. We are dedicated to your success because if you're successful, Agency Jet will be.
We put our needs behind yours because it actually benefits us to do so. Because of this there are never any hidden fees, poor ethics or ill-advised strategy.
Signing on for local SEO services with Agency Jet means a team of dedicated experts who only care about seeing you and your company website succeed.
With our two convenient locations in Milwaukee, WI and Minneapolis, MN we'd love to tell you more.
Give us a call or leave a message on our contact form to grab a coffee, a beer or other beverage of your choice on us!
Or, if you want to take advantage of a 100% free and 100% educational assessment of your website (we've done over 2500 of these completely free) then click on the button below.
More Resources