6 Ways a Local SEO Marketing Agency Saves You Money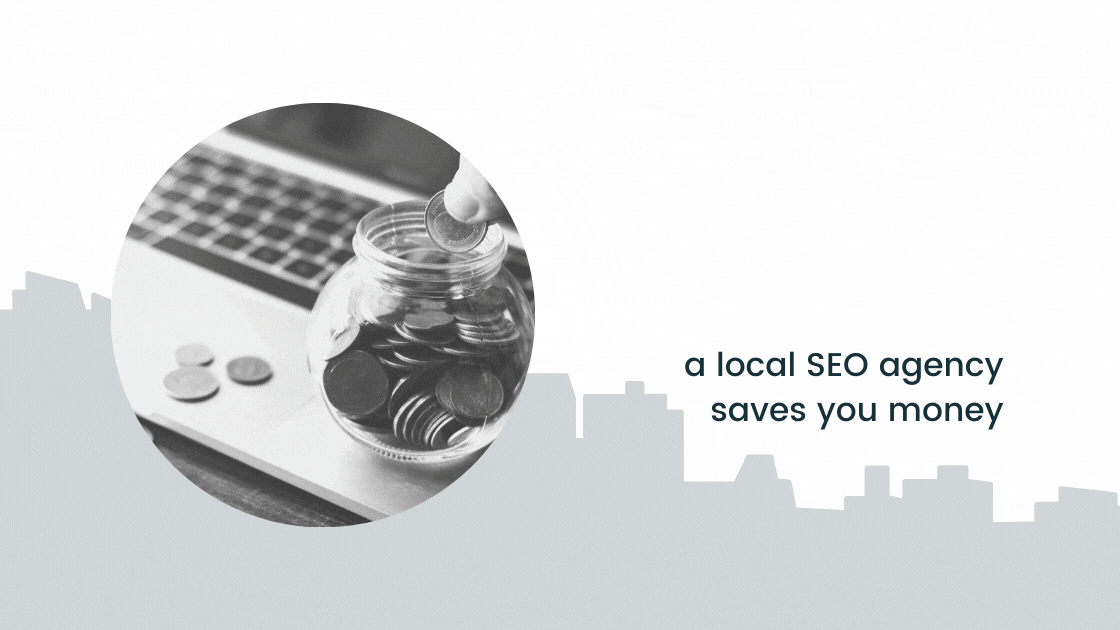 If you want to grow your business and out beat your competition, it's time to start taking SEO seriously. Organic search is usually the primary source of website traffic, and SEO initiatives help make sure you get as much of that organic search pie as possible.
However, if you want to see real SEO results, you need to turn to the professionals. SEO is incredibly complicated, requires a lot of time, and the best practices in this field are constantly changing. For these reasons alone, hiring a local SEO marketing agency makes sense.
And if that doesn't convince you, it's always important to know that local SEO services can actually save your business money in more ways than one.
1. Faster Than Doing It Yourself
In today's world where an unlimited amount of information is always at our fingertips, it can give us the false sense that we should be able to DIY anything. In actuality, there are many things that should be left to the professionals. This includes search engine optimization.
Simply put, your time is money. And it's very unlikely that you have the time to sit down and learn everything you need to know about SEO.
SEO includes many different aspects, such as:
Keyword research
Sitemaps
Content marketing including frequent posting, content based on keywords, and content optimized for SEO length
Mobile optimization
Website indexing
Backlinks
Site speed
Site security
SEO analytics
SEO reporting
Local SEO pages
Google My Business (GMB) listing
Reputation Management (review sites)
User-experience
Additionally, a large part of performing SEO is keeping up to date with the 200+ factors Google uses to rank pages. These factors are continually being updated and changed without notice.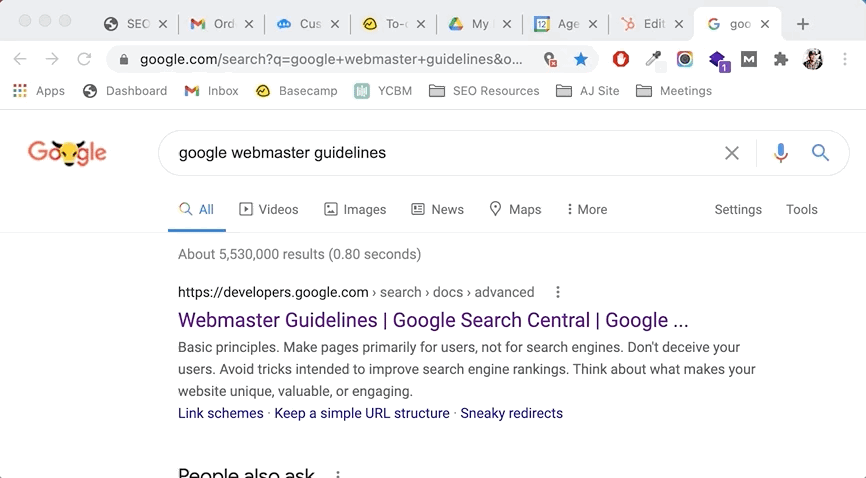 There's a lot of stuff here but Google shows you all of it.
It can take from six to 18 months to learn all the aspects of SEO. And, that assumes you "consume SEO knowledge" daily.
So, let's do the math on that time commitment.
Let's assume you're a fast learner and only need 12 months to learn SEO. Next, we can imagine that you're putting in an average of four hours per day learning the craft. Lastly, let's say your time is worth $15.50 an hour. (We are sure your time is worth a lot more, but it's generally good to be conservative with these types of estimations.)
That means you'll spend 1,460 hours learning SEO over the course of a year. At the end of the year, these efforts "cost" you $22,630 to become decently knowledgeable in SEO practices. And, this number doesn't include the hours you'll have to spend keeping up with changing SEO rules and procedures.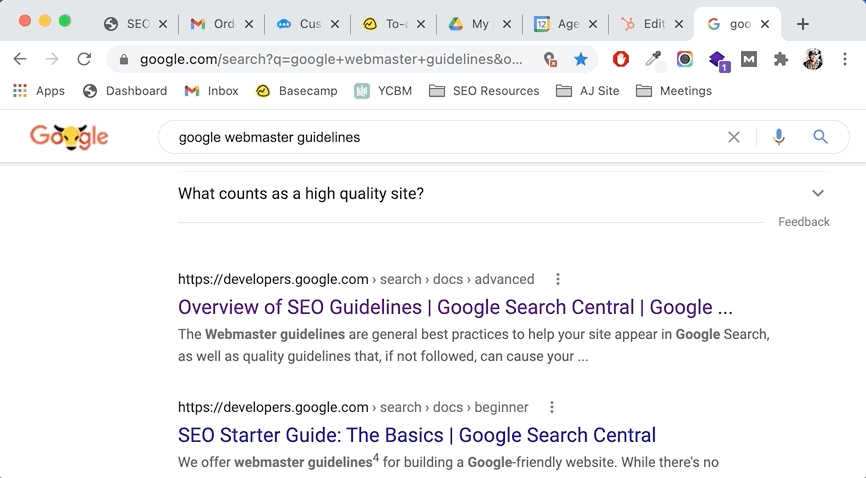 You could easily spend 100s of hours just reading directly from Google's training and informational posts. But there is so much other literature you need to be truly good at SEO.
It's more than likely your time and skills are better used to run other aspects of your business. It is not worth your time to learn SEO, keep up to date with all the changing rules, and perform SEO tasks. When you outsource local SEO services, you're freeing up your time to do what you do best - while allowing the SEO experts to do what they do best.
To be a great leader, you have to know how to delegate well. You are only one person, and you can't do everything for your business. So, you may as well focus your time on doing the tasks that you're highly skilled and passionate about. And delegate the rest.
2. Cheaper Than a Marketing Employee
Okay, now that we've established it's not worth your time to learn SEO, you might be wondering if hiring a marketing employee might be the answer.
You may be surprised to find out that outsourcing your local SEO solutions to an agency is cheaper than having a full-time marketing employee. Let's look at the numbers.
According to Glassdoor, the average salary of a marketing employee in the United States is $65,834 annually. Of course, you can't just get any marketing employee. A marketing coordinator who is freshly out of school won't have the expertise you need to produce great SEO results. So, you'll likely need to hire a Marketing Manager or an SEO Manager.
The average salary for a Marketing Manager in the United States is $105,739. You may be able to get an SEO Marketing Manager for slightly cheaper, with their average salary coming in at $81,509 annually.
However, salary alone doesn't account for everything. According to Benefits Pro, the average cost for insurance policies (including health, disability, and life insurance) is $5,698 per worker. Additionally, paid leave benefits cost an average of $5,000 per employee.
This means your qualified marketing employee can cost you anywhere between $92,207 to $116,437.
And this doesn't even include the one to two weeks of training your employee will need to get caught up on the business. During this training, you are paying for that expensive salary, but the employee can't produce any real results for your company just yet.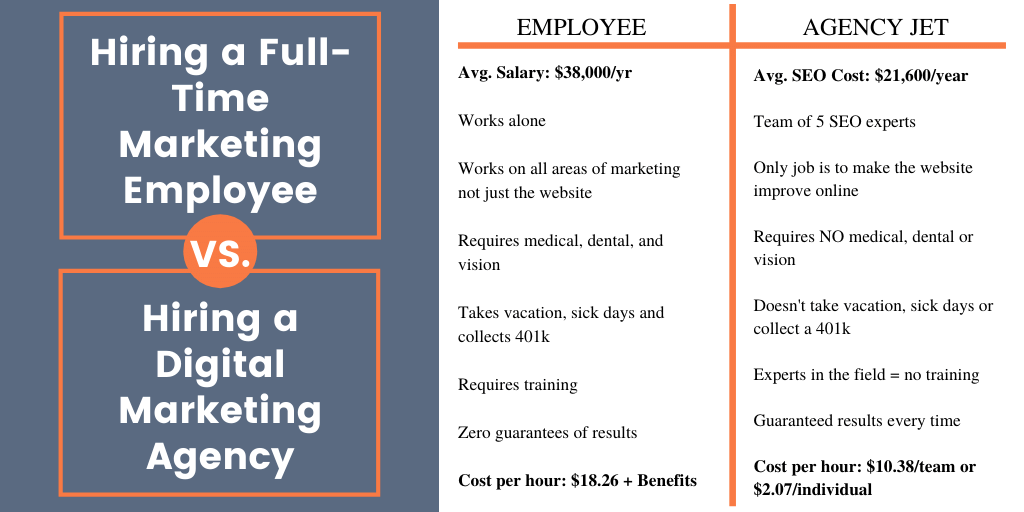 FYI, $38,000/yr is a very inexpensive marketing employee.
In comparison, hiring a local SEO marketing agency is significantly cheaper. First, after one or two initial conversations, the agency will be able to start working on your business and producing results immediately. Secondly, SEO agencies like Agency Jet pride themselves in offering SEO packages for small companies at varying rates. Sure, you could spend $92,000-$116,000 per year with an SEO agency, but unless you're a massive corporation, that is probably not likely. Instead, you'll pay a fraction of the cost for the same (if not better) results.
(Not to mention that it's much more straightforward to let a marketing agency go if you're unhappy with their results versus firing an employee.)
Overall, it's clear that an in-house, full-time marketing employee that is experienced in SEO is much more expensive than going with an agency.
3. A Team of Experts
An SEO agency hires a team of experts for its SEO work. As we've mentioned before, SEO is quite broad and complicated. Marketers tend to specialize in niches because each aspect of marketing is its own beast. For example, advertising on Amazon has Amazon advertising agencies focusing on this niche market. When it comes to SEO, understanding content and all that comes with it is its own job. As it other areas of SEO, such as technical SEO, reputation management, UX, and more.
You will see often see this level of specialization in the organizational structure of massive corporations. They will hire individuals to do one focused marketing aspect because they know each niche takes dedication, expertise, and time.
The same thing is reflected in a marketing agency. The agency will hire a range of specialized experts who will own being the go-to person for their niche.
Unfortunately, you're probably not a massive corporation with the budget to add 10 people to your marketing team. This is where hiring an agency becomes an affordable and effective solution.
Your SEO agency will give you access to a team of experts who are great at what they do. You will get the benefit of having all of these people work on your account.
Not only that, but a great agency will help a client learn along the way. Agency Jet is thrilled to be transparent in how we achieve your SEO goals and love to help clients learn the process along the way. Many agencies don't do this because they want the client to become reliant on the agency. However, we believe in letting you make that decision. We teach you so that, if you ever do leave, you have the knowledge and skills to upkeep the results of all our hard work. And, we're proud to say that this tactic actually helps our clients feel more confident in staying with us long-term. That is why 9 out of 10 clients choose to keep working with Agency Jet after their initial contract is completed.
Getting access to a team of experts who are willing to teach you along the way is invaluable and something that will save you money if you compare trying to find this type of team on your own.
4. All-in-One Service Package
When you think about hiring a contractor or an employee, you typically only get them for a precise role. When you hire a local SEO marketing agency, you get a lot of various services included. Along with your SEO services, you get a lot of tracking, reporting, and analytical services such as call tracking, lead tracking, data reporting, and more. This is invaluable information that will give you insights into which marketing efforts are working best so you can continue to invest in those and grow your business.
In a survey of 1,000 marketers, respondents estimated that 26% of their marketing budgets on "ineffective channels and strategies." Small businesses in the United States typically spend between $10,000-$50,000 on their marketing budgets. If you have a marketing budget of $30,000 and 26% of it is being wasted, that is a loss of $7,800. Instead, that money could have been reinvested into your business or redirected to better marketing initiatives.
If you're spending thousands of dollars on marketing efforts and not seeing an impressive ROI, it's a waste of your time and money. That is why it's so important to track and analyze what is working for your business. When you hire an SEO agency, they are constantly reviewing the efficiency of their efforts. If something isn't producing results, it's removed or optimized quickly.
Unfortunately, internal teams and business owners simply don't get in the habit of analyzing their efforts. It can just take a lot of time and dedication.
So, what makes a marketing agency different? And how can you be sure that they are actually tracking and optimizing their efforts?
Well, the answer is in the agency and client relationship model. Agencies are typically hired and asked to provide very clear business goals or outcomes. Even if a client doesn't specifically ask for specific outcomes, a good agency will take the time to establish some with the client. That is because the agency needs (and wants) to showcase to their clients that they are worth the investment.
Agencies also understand that their contracts won't be renewed if they don't deliver on results. This is the ultimate motivator to track results and fix underperforming efforts. When you hire SEO services, you get a full package.
It's worth noting that Agency Jet is so confident we can deliver on results that we offer our clients a four-month research and development money-back guarantee when they sign an initial contract with us. We know we can prove our efforts result in real improvements for your business.
5. Flexibility to Scale
You put a lot of effort into growing your business. And, sometimes, it can feel like your business triples overnight. If you're lucky enough to have this sort of massive, quick growth, you want to make sure that you have the resources to take advantage of this new upward momentum.
When you work with a marketing agency, you can quickly expand into their additional resources. You can expand your contract to include more services or a larger team. Additionally, if you've seen a sudden boom in business, you can leverage your marketing agency for non-SEO services too. They are already working on your business and understand the complexities of your industry. If you decide that you now want additional help with paid marketing, website design, or other marketing efforts, it's easy to scale up with your marketing agency.
When you can't scale quickly to meet demand, it leaves sales on the table. There's no telling how much money you could lose when you can't promptly launch additional marketing efforts to meet new popularity, but we can safely assume it's a lot!
6. SEO Efforts Will Increase Sales
Ultimately, when done correctly, SEO helps to grow your business. Firstly, SEO drives relevant organic traffic to your website. Over time, SEO efforts will produce long-lasting results, such as getting you on the top page of search results (and you staying there!). Compared to efforts like paid advertising, which simply go away when your budget runs out, SEO results are here to stay.
SEO also works to put you ahead of the competition. Over time, you should rank higher than your competition, which will ultimately give you a more significant market share.
Local SEO efforts will help you dominate for searches like "your industry + near me" or "your product + city name." Considering that 46% of Google searches are local-based and 50% of "near me" searches result in a visit to a physical store, local SEO can drive real profits for your business.
Even the more technical parts of SEO, such as website speeds, mobile optimization, and user experience design, help your increase sales. When you're failing to deliver an exceptional, fast, and easy online experience, visitors will leave your site. According to Google research, visitors will leave a website if the page doesn't load within three seconds. And 67% of website visitors were more likely to make a purchase if a website was mobile-friendly.
Clearly, SEO work directly impacts your conversion rates and sales.
If you're still not totally confident that SEO can save you money, try tracking the ROI. After signing a contract with an SEO agency, track how your conversion rates improve over time. You can do a simple ROI calculation to determine if the contract is worth the money.
Our only caveat to this approach is to make sure you give your SEO agency enough time to produce actual results. SEO is a long game, but it's worth it because once you see results, they are usually there to stay. Agencies that promise 500 backlinks or guarantee a page-one ranking within one month are probably using black-hat SEO tactics that will only hurt your business.
Give your SEO agency six months to a year and ask them what they think they can accomplish in that time. Put a value on those goals, track the ROI, and re-evaluate at the end of the contract if the whole experience benefited your company.
Agency Jet Provides Local SEO Solutions
Agency Jet is a full-service digital marketing agency that specializes in local SEO services. Our agency has over ten years of experience in delivering amazing results for our clients. We have offices in Minneapolis, Milwaukee, Columbus, Kansas City (MO), and Las Vegas. This allows us to have teams of local experts across five states and with plans to continue growing.
At Agency Jet, we pride ourselves on offering reasonably priced SEO packages for small businesses. No matter your marketing budget, we know we have something to offer you. You'll see that choosing to partner with us will have real results for your business that will increase sales and save you money.
Agency Jet has:
A 4.9 out of 5-star average review rating from our clients
Four-month research and development money-back guarantee for new clients
A 96.2% client retention rate
Not sure where to start or how we can help you? We offer everyone a free website assessment, no commitments or obligations required. Over the years, we've completed over 2,500 of these free assessments to showcase our value and help local businesses.
Contact Agency Jet today to schedule a consultation and discuss how we can help you grow your business.
Join the thousands of SEO-obsessed readers on our mailing list