What is an SEO company or agency? What does SEO stand for? How can a small business benefit for SEO? Are your SEO services affordable? What are SEO packages for small businesses? …. These are all great questions, but let's assume SEO works and for every dollar you spend you get $5 back.
How does this happen?
We tell clients to look at the results and trust the process with the right company or agency.
What is an SEO company or agency?


They get you found online for Google organic search.

What does SEO stand for?


Search Engine Optimization

How can a small business benefit from SEO?


Get mapped and found by people who have no idea you are around, but now you are found.

Are your SEO services affordable?


Yes, as it's an investment in your daily advertising if done right.

What are SEO packages for small businesses?


They are based on the location and competition in your area for your products and services.
Search Engine Optimization (SEO) has to be done constantly. This is work day after day that makes your company's website more search engine friendly. SEO has clear goals, objectives, and the intent of increasing rankings across search engine results (SERPs).
It's just this simple, the higher you rank in Google's Results for your products or services the more traffic will come to your website. That traffic that leads to emails, inquires, calls, and, if you're e-commerce, orders. Those leads and sales increase your company's bottom line year over year.
Affordable local SEO services in Minneapolis
Every business is different. Perhaps you don't have a website, perhaps you do and you don't promote it. Maybe you've dabbled in some form of online marketing but have never paid professionals. Here are a few examples when SEO services will be beneficial:
If you have no website, you will never get business online.
If you have a website with no digital marketing, such as SEO or SEM marketing. In this case you will need to tell people to go to your website. It's simply a brochure online, but it's better than no website at all.
If you market your website with Pay-Per-Click (PPC), you're found based on your budget for Google Ads. However, when you don't market (spend money on ads) those ads go away and you become an online brochure once again. Because of how Google Ads work you push business to your company for that moment in time. You own nothing and simply rent the space online.
SEO services for a small or large business is a must. You now own the space online (Google organic results) and you can be found 24 hours a day if you rank for your product or services on page 1 or 2 of Google. The higher your ranking, the better the results. If you're a local Minneapolis business and you want to be found online you must have an active SEO strategy.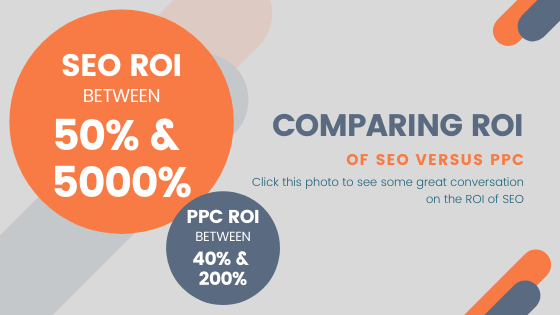 This is a good example that Agency Jet employed for Local SEO in Minneapolis as we want to be found for the SEO term (LOCAL SEO MINNEAPOLIS)
Started the work 3//5/2018 Agency Jet is Mapped #1 as of 8/1/2018.
Google has stated there are 140 searches per month for the term "Local SEO Minneapolis" which is 1,680 searches per year.
We receive 16 leads per month for "Local SEO Minneapolis" searches or "Local SEO Minnesota" searches.
That is only 1% of the total searches per year, but that 1 keyword search generates $40,000 in Gross Revenue Per month or over $480,000 annually.
Note that is 1 keyword or phrase locally that gets Agency Jet found for one of our digital services.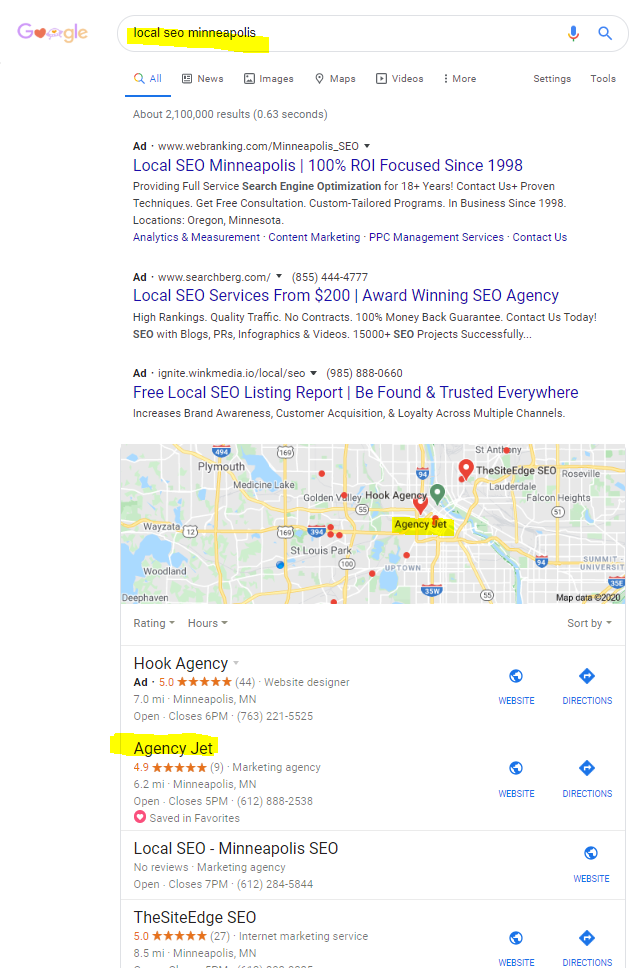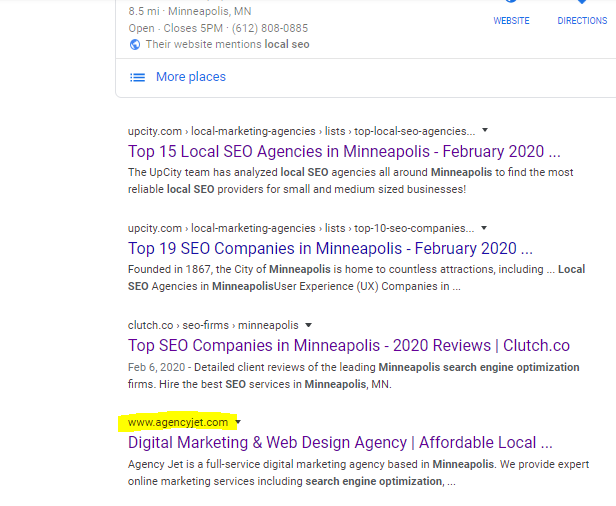 What Term or Service do you want to be found for Online?
Local SEO is focused on increasing search engine visibility within a defined geographic area such as Minneapolis, St. Paul, Milwaukee, New York, or smaller cities or suburbs.
SEO can be geo-focused to make your business elements relevant in your area. It will make you more relevant for Google's local searches. The goal would be to be found on desktop computers, but mobile traffic is extremely important, especially for local search.
You will want to make sure the traffic comes to your website using the proper geo-elements and best practices by Google. It must include your company name, phone number, address and (NAP). A common question asked is what is NAP? It is the special coding on your website that identifies what your company is and allows Google to understand what type of local business you are.
Local SEO must focus on your local business schema, keywords that are localized, content that includes localized cities and suburbs.
Why Do Businesses Need Local SEO in Minneapolis?
Simply put – Local SEO builds brand awareness for your business within your community. As you can see, we have emphasized LOCAL SEO MINNEAPOLIS throughout this entire blog, and it will help make our website easy for customers to find, learn more about, and contact us. Now you must understand content is king and words are the food for the algorithms of Google. Here we are giving the Google algorithms a Local SEO Minneapolis sandwich to chew on.
Without optimizing your website or performing off page link building optimization best practices to direct Google to find you for your keywords, you will be losing out on potential customers searching for those products or services.
Agency Jet's mission is to help local businesses be found in their city or region and help build our clients' long term success. All of our efforts are based on data and focused on measurable growth and ROI.
Local Mobile SEO Optimization & GEO Marketing Specialists In Minneapolis
With Mobile phones being used by everyone, or at least 90% of people over the age of 18, if you aren't optimized for mobile searches you are not falling behind, but rather have fallen behind all of your competition trying to get your market share online.
Agency Jet will optimize your website for searches from mobile phones, target your geographic area, and focus on voice search for key phrases and questions surrounding your product or service line. Our expertise has seen us provide over 10,000 page one rankings for our various clients throughout our history.
In addition to the onsite elements mentioned above mobile local SEO also harnesses the power of business directories and review engines that are meant to serve a local community. By combining the technical elements mentioned above with powerful business directories and services like Google My Business, Bing Local, Yahoo Local, Yelp & Trip Advisor, Maps Optimization and specialized data markup we can market around the address of your business to build geo-relevancy and acquire reviews from local customers.
How Do Local SEO Services Help?
Grow Leads & Sales – Digital marketing in your local area with proper SEO will make your website visible, and get placed in front of qualified searchers which will in turn increase conversions
Explode Local Traffic – Agency Jet is your local SEO digital marketing team that can remove technical roadblocks and position your website with all the strategic keywords to help increase your website's ranking and visibility in your geographical area to help your visibility locally.
High Quality Content – Digital marketing and local SEO strategies will craft high quality content strategies and position your website with strategic keywords to increase website ranking and visibility.
Increase Reviews – Agency Jet provides more eyes to your company website. This means you'll receive more visits to your site and more foot traffic to your store. Once visitors experience your quality of service, valuable reviews on Google, Facebook and Yelp will follow.
Generate High ROI – There are dozens of SEO companies in the Twin Cities area. Many are capable of improving your website but not all are capable of truly offering a full-service to help increase your bottom line. Our business developers are seasoned consultants and our project managers have worked with all sorts of business sizes and industries and have increased ROI every time.
Build Brand Equity - Have you ever looked at the raw online data for your website? Chances are the majority of your traffic is coming from your brand name. Agency Jet's job is to build your brand by helping you get found for what you do not just who you are. What's that mean? We build your brand by bringing your business name to new people.
Local SEO Tactics in Minneapolis
If you want to invest or buy the proper local SEO service in Minneapolis, Agency Jet will harness the latest SEO methodology & tech stacks for Data Driven, ROI Focused Decisions, proper search, and the geographical areas you are looking to penetrate. It will start with a free marketing and website assessment to identify the strengths and weaknesses of your website and how it is found on Google.
More Resources