Local SEO is optimizing a website to appear in search results when customers look up certain local search terms. Small and medium businesses can rise and fall based on their local SEO. When customers type in "industry + city name" or "business + near me," if a company isn't ranking, they're losing customers every day.
First, the Facts
As a refresher on why SEO should be at the top of any organization's marketing strategy, here are some significant facts:
This is a reminder that SEO is paramount to business operations, but it's also complicated. When it comes to local Milwaukee SEO, companies need to find the right Milwaukee SEO company that will provide them with quality work and trackable results.
Why Local SEO Matters
Every company should have an SEO strategy. But, small and medium companies should particularly focus on local SEO, for several reasons:
Rank High When It Matters Most
When it comes to local business, often, Google is where people turn to first. Research indicates that 64% of people who need to find a local business do it online, and 50% of local customers visit the store the same day as their search. If a business isn't prioritizing local SEO, there is no question its competitors will.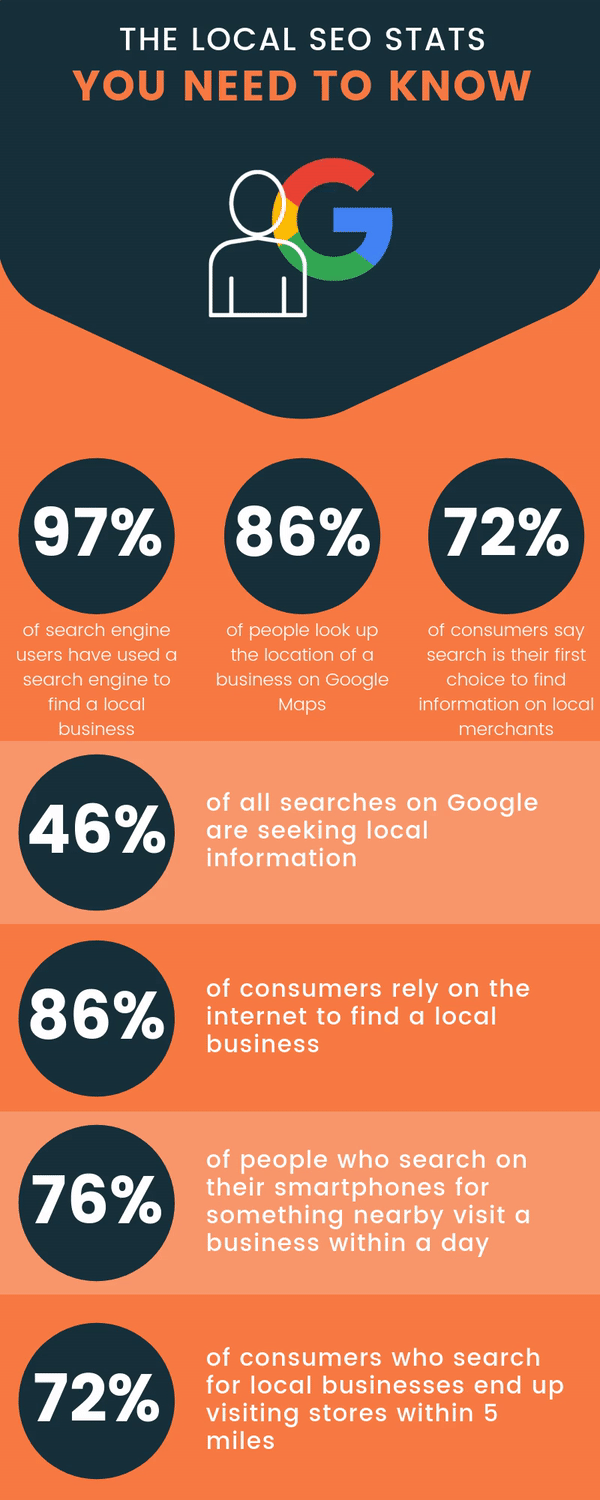 The User-Experience
An entire segment of marketing focused on the online customer experience has emerged, called user-experience (UX) design. This segment concentrates on how a user experiences a business online and how that process can be improved.
And, this thought process of looking through the customer's eyes translates to SEO too. Approximately 71% of people report they look up a business before visiting it, often to confirm the address. And 33% of people report searching for an address right before their visit to the store. If a company's website is difficult to find, the user is starting their interaction with the business on a negative note. In today's world of fast-speed everything and instant gratification, people aren't impressed if they have to go digging for information that should be easy to find.
Customers use local searches to find businesses nearby and the relevant information for these businesses (store hours, address, phone number, directions, etc.). If a customer can't easily find this information, they may move onto their next choice.
Local SEO efforts help to focus on:
Improving the customer's experience online

Providing customers with the information they need

Capturing more of the local market share
Local SEO Increases Conversions
Let's face it, for the small or medium-sized business, most (if not all) sales are likely local. So, why not focus on local SEO? People are searching for businesses close to them for the products or services they need. And, it's essential to be there (online) when they go looking. An outstanding 78% of mobile searches result in a purchase, whether it's online or in person. It's only natural that great local SEO will result in an increase in conversions.
SEO is Worth the Investment
As we've clearly illustrated, SEO is a vital piece of marketing, but it's also complicated. It's unlikely that someone on your team knows the intricate ins-and-outs of SEO, such as the many factors Google takes into consideration when ranking websites. Or, has the time to commit to staying up to date with the constantly changing rules in the field of SEO.
So, it's probably better to outsource your SEO.
Local SEO Deserves a Local Agency
And, for the small and medium businesses looking at local SEO, we suggest focusing on local SEO companies. Local agencies know how to take a hyper-local approach to speaking to the search engine algorithms for your business. A local Milwaukee-based SEO firm will also understand local details, such as street abbreviations or slang for neighborhoods.
The Current Marketplace: Milwaukee SEO
For businesses in Milwaukee, a quick search on google for "Milwaukee SEO company" will result in thousands of results. However, a quick review of these results reveals a poor state of affairs. The websites showing up on the first page of results are generic sites, outdated sites, or websites clearly using black hat tactics.
A business that doesn't know any better may look to hire one of these companies. After all, they're ranking high for the search "Milwaukee SEO company," so without further analysis, why not go with one of these options?
But it's not that simple. Even Entrepreneur.com tells readers who are looking for an SEO firm "not to simply search for 'best SEO in X area.'
Don't take an agency's high ranking to automatically mean they're excellent in what they do. Companies can temporarily rank high if they use improper black hat SEO tactics. Or, companies can place high simply because they've been around for years, and not because of their quality work.
Ultimately, when hiring an SEO company, it's essential to choose a Milwaukee SEO company focused on branding and professionalism. In looking through the sites appearing on the first page, the results are websites that appear outdated, with poor user experiences for their customers. If an SEO company can't handle their own online appearance, how can they be trusted with improving their clients?
On the other hand, an SEO company that takes pride in its website and branding shows a good aptitude for thoroughness.
So, the question becomes, how to find the right SEO firm?
How to Select the Right Milwaukee SEO Company
Finding the right SEO company is more about weeding out the bad options out there. Some tips to keep in mind during a search for an SEO firm are:
Avoid companies that promise certain results (such as a certain amount of backlinks or first page rankings) in a short turnaround time. Real, non-black hat SEO tactics take a long time but will also achieve long-lasting results.

Ask for customer referrals from the agency.

Look up the agency's reviews.

Be clear about goals and find an SEO agency that believes they can deliver on those goals.
Agency Jet is the Top Milwaukee SEO Company
Agency Jet aims to be the best in Milwaukee. But don't just take our word for it. Check out our numerous positive reviews on Google, Clutch, UpCity, and Glassdoor. Or, one of our many case studies available on our website.
With over ten years of experience, we have a formula for proven success that helps clients increase their digital footprint.
Agency Jet has the highest client retention rate in the Midwest, sitting at an impressive 96.2%. We offer free educational web assessments for any interested business. Anyone can benefit from these no-obligation assessments.
Our agency may be new to the Milwaukee area, but we're already making a big splash. We understand the area and can help Milwaukee businesses with their local SEO needs. At Agency Jet, we take the time to understand our client's needs and objectives, so we can make a plan that will help them meet their goals. Our clients are our partners, and we are as committed to their business' success as they are.
Schedule your free assessment or contact us today to find out more about how Agency Jet can help you.
More Resources