Which Website Builder is Best for Small Business Website Development?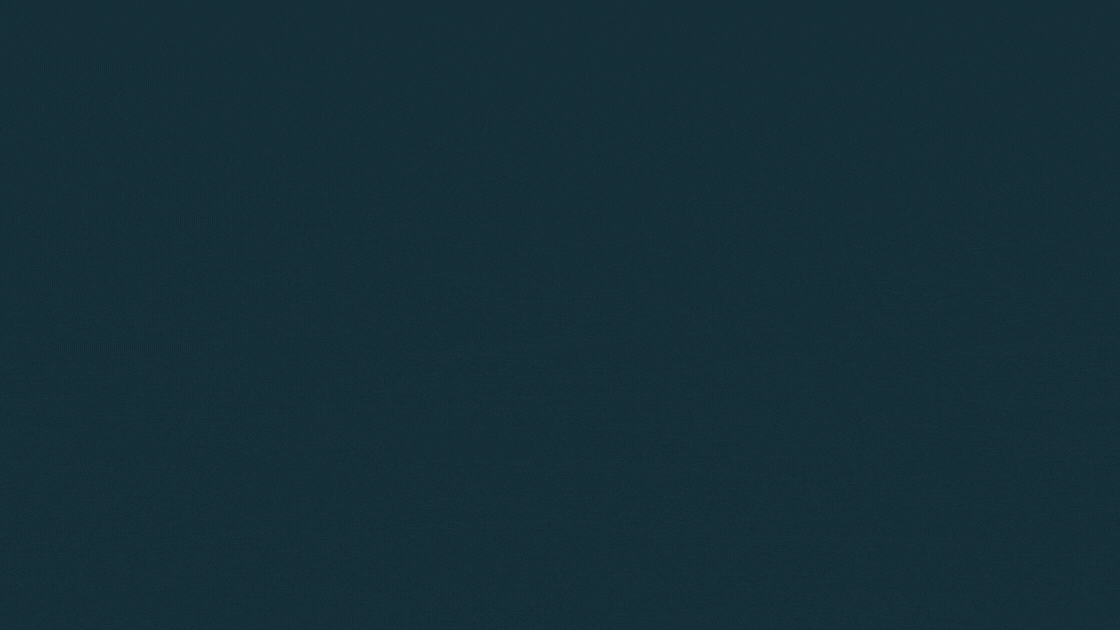 Business website developers help you build a professional site on the go, with an easy-to-add blog, service page, and other drag & drop design tools.
That said, venturing into your first website project can be daunting, given that your website's design is an integral part of your online marketing presence.
Here are the top 5 website development platforms you can use for your small business website development rated on their ease of use, pricing, support, and performance to help you build a better website for your business.
Key Takeaways
Wix: The most versatile
Squarespace: Best value for small e-commerce businesses
Weebly: Great for brick and mortar businesses.
GoDaddy: Best for fast setup
WordPress: This platform is the best for total control of your site and SEO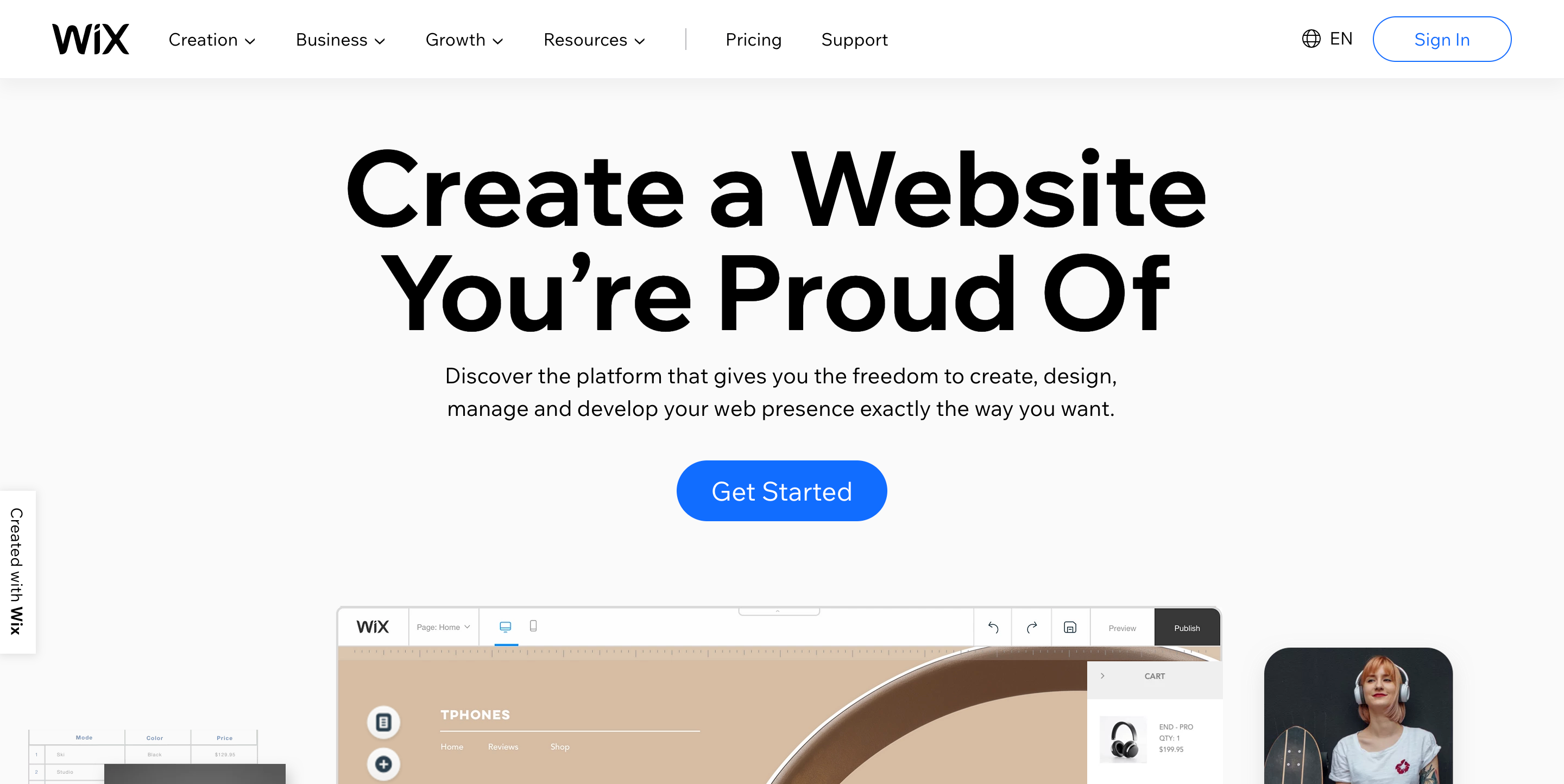 1. Wix Website Builder
Wix offers simple drag-and-drop tools to help you build your site. You can easily customize with hundreds of apps and design themes. And with more than a thousand ways to achieve the website you want in the end, it's easy to see why it's top on our website test. It rates high for design, usability, and customizability.
What's more? You don't need coding skills to create a beautiful site for your business; within a few minutes, your site will start coming together, with simple layouts and nice backgrounds and fonts.
Creating your website with Wix gives you access to over 500 designer templates to suit any business model.
While it's a great site builder, it's not the lowest-priced, nor does it have the best plugins. There are also better eCommerce tools besides what Wix offers.
That said, Wix is mobile-friendly and offers seamless performance, making it a viable choice for small businesses.
Wix usability score: 5/5
Navigating the Wix menu is as easy as choosing a theme and moving elements to your taste. You can change the type/font, size, and alignment. You will also enjoy building your site with intriguing visuals, backgrounds rich in vivid colors, beautiful fonts, and more.
And you don't need prior experience working with Wix; the clearly labeled menus will help you build the site in just under an hour.
Wix design score: 5/5
Wix websites are beautiful and highly-functional, which is why it scores high on design. With over 500 quality design templates to choose from, you will have a hard time choosing the one you like the most.
Wix developers pay close attention to every last design detail. The design blocks feature vivid colors, shapes, and textures, helping you create a professional site in just a few hours. Plus, you can align every element exactly how you want it using the guidelines.
The final product looks neat, professional, and easy for your clients to browse.
Pricing for business plans
Business VIP, $49 per month
You get unlimited bandwidth and high-def video storage, 50GB storage, a free professional logo, and VIP customer support.
Business unlimited, $27 per month
This package has unlimited bandwidth, 35GB storage, 10 hours of high-def video storage, and a free professional logo.
The business-basic plan, $23 per month
With unlimited bandwidth, 20GB storage, and 5 hours of video storage, this package does not come with VIP customer support or a professional logo.
Wix Customization Score: 5/5
Wix tools give you virtually limitless opportunities to customize your site so that it's unique from your competitor's site. Just add, drag, and drop features you want in your website for functionality and aesthetics.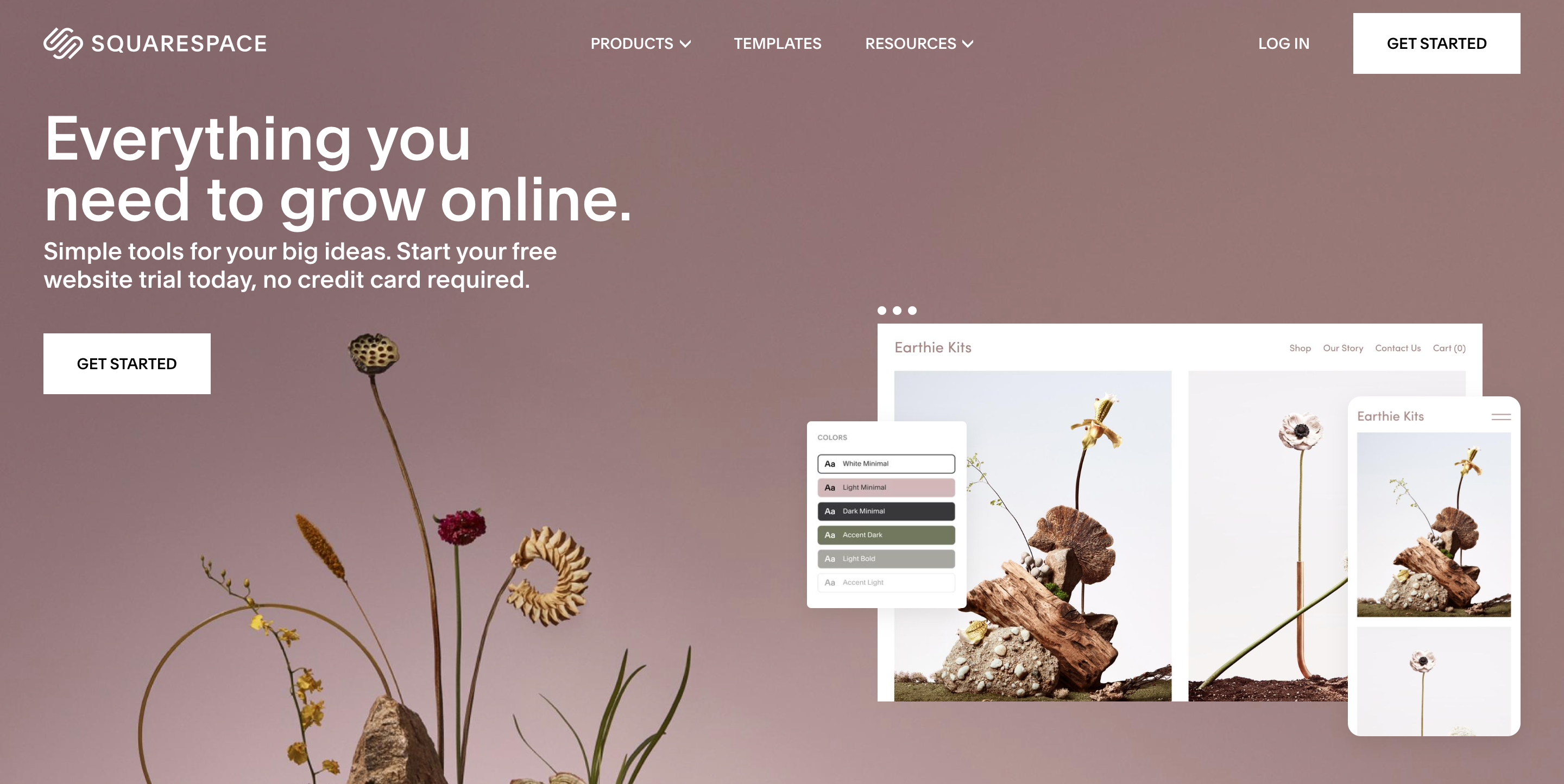 2. Squarespace Website Builder
This platform has the best value for small e-commerce businesses.
Squarespace offers nothing short of all the features of a small online store—with the built-in functionality of accepting credit card payments, tracking orders and inventory, creating gift cards, and so much more.
Squarespace is the ideal builder for small businesses seeking to create the perfect storefront. However, it's important to consider that even though it has the necessary tools to support your site's performance; it takes some learning to build your site. The tabs and sidebar menu may also hide the functionality.
Squarespace usability score: 4/5
You can edit on the go with this builder from your mobile phone or tab. That said, it's drag and drop menus are relatively not easy to use.
Unlike Wix, Squarespace's menus are somewhat unintuitive. You have to click around to find basic features tucked away in submenus, slowing the process.
Once you get used to navigating the menu, it gets easier to create the site you need for your business.
Squarespace Design Score: 5/5
Choose any of the 28 themes in SquareSpace to build a beautiful online store. By default, these themes look clean and modern, making it easy to visualize how your site will look once complete. Each of the 28 SquareSpace themes will appear clean and stylish, even before you start editing.
And just like Wix, you can change and align text, graphics, and pictures. Squarespace features mobile responsive designs, which is why you should use their pre-built content. Building your blocks from scratch may throw off some elements in the mobile view.
Squarespace Customization Score: 5/5
While the design templates are limited, they all feature simple drag-and-drop tools and dozens of apps you can add for more site functionality. There's no need for coding knowledge to customize your site with colors, backgrounds, and layout.
Squarespace Plans
The advanced commerce package is the best offer for relatively big eCommerce businesses at $40 a month. You get to enjoy various features, including inventory tracking, coupons, gift cards, unlimited storage, and much more.
The least expensive package is a personal plan at $12 a month for unlimited bandwidth and storage.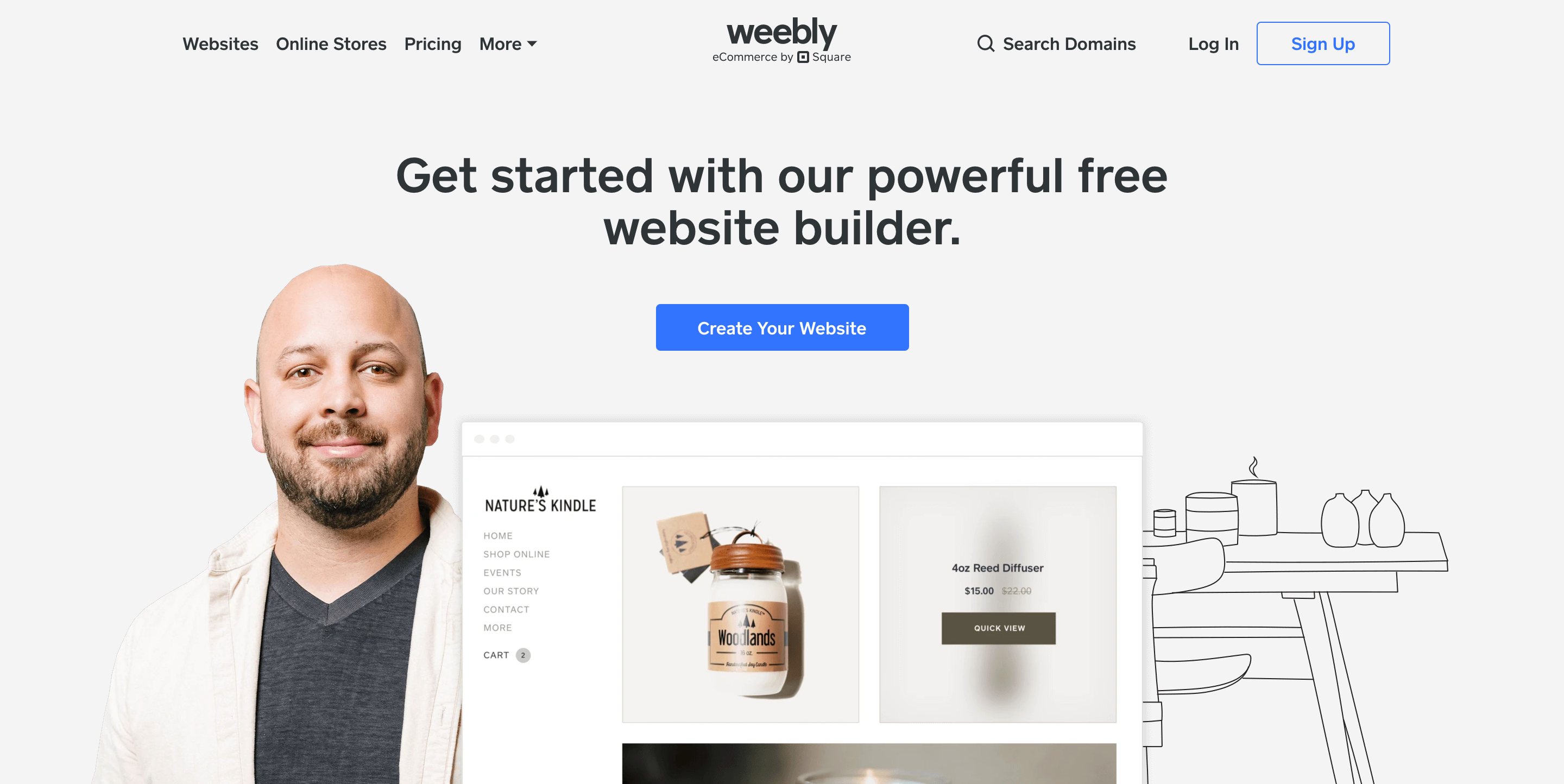 3. Weebly website builder
Best for Brick and Mortar Businesses.
This platform is for small business owners who need a simple and beautiful website to direct people to their online store. Most of the eCommerce tools are premium, with complete functionality of an online store.
Weebly Usability Score: 4/5
This site builder keeps it simple with a clean, well-labeled menu to make it easy for the amateur site builder. You can drag and drop elements for a professional finish. That said, you are likely to come across occasional glitches that may cause the site elements to move across the page.
Weebly Design Score: 3/5
Weebly is just for making pretty pages for a simple website. But if you are looking for elaborate designs with great functionality; our top two builders will do a much better job delivering a responsive website.
Weebly Customization Score: 4/5
Weebly functionality glitches make editing appear more tedious than is necessary. Also, fixing the layouts after completing your editing seems like an uphill task.
Weebly Business Packages
Considering all the cons of using Weebly, perhaps the best cause of action is to use the performance package with unlimited storage, inventory tracking, digital goods, and more, at just $26 a month.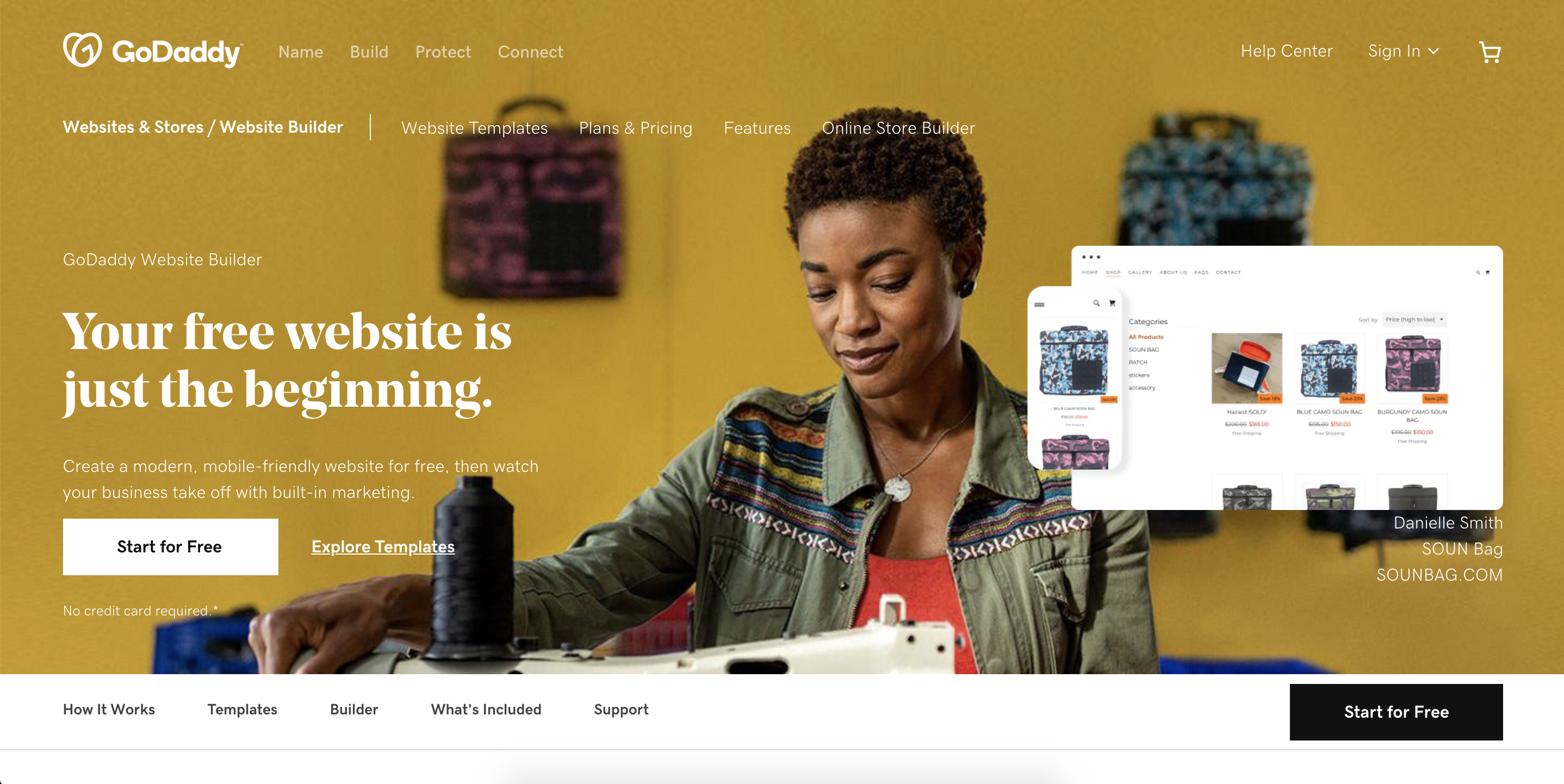 4. GoDaddy Website Builder
Best for fast setup.
Go-Daddy is a menu-based site builder that helps you set up a site that easily stands out quickly. The menu is easy to learn and is favorable for businesses seeking a quick and painless customization process.
If your business offers simple lawn services or simple jewelry, and you're looking for a simple and affordable website, then GoDaddy will do just fine. However, if your store receives high traffic or uses high-quality graphics, you will experience some challenges customizing your store.
GoDaddy usability score: 5/5
Thanks to limited customization features, you can quickly build your store, choose your page's elements, add color, and change fonts. The simple to use tools makes GoDaddy one of the fastest builders businesses can use.
GoDaddy Design Score: 3/5
As simple as the editing panel is, it limits the design possibilities. With just 19 templates to choose from, you can't change much while editing, other than moving pictures and texts. However, the upside is that you can still achieve some pleasing outcomes as long as you stick to an attractive template.
GoDaddy Customization Score: 2/5
While you can add customization blocks to any of the templates, that's pretty much the farthest you can go. The basic built-in features like online selling and blogging are great for your site, but you can't add most of the plugin tools that come with other site builders.
GoDaddy premium package
The premium version offers the most features at $25 per month. Premium features on your website will include appointment scheduling, an online store, email marketing, credit card transactions, and VIP customer support.
5. WordPress Website Builder
This builder offers the best total control of your site and provides the best SEO results.
WordPress offers tons of themes, built-in support, and an easy editing panel to aid small business website developers with powerful and efficient eCommerce solutions. And on your part, these easy tools will require basic knowledge of WordPress techniques for the best results.
If you wish to benefit from all the WordPress capabilities, you will have to spend a little more time customizing and learning more about it. Daily bloggers and users stand a lot to gain from enhanced SEO tools to quality eCommerce plugins and visually attractive professional templates.
The entire SEO tools and plugins are, however, limited to top-tier plans.
WordPress Usability Score: 2/5
The steep learning curve required to customize your site entirely makes WordPress somewhat hard on the first go. The tons of choices for customizing your site may feel overwhelming to keep track of, but it will only get easier with a little hands-on experience.
WordPress Design Score: 3/5
If you have some CSS knowledge, WordPress lets you tweak your site exactly how you want it; with the business plan allowing you to upload your theme template. Unfortunately, creating a stunning website might take you a lot of effort in learning these skills and will only look as great as your customization capabilities.
WordPress Customization Score: 5/5
Whether your site is an online portfolio for showcasing your design collection, or a fashion store selling some fine linen clothes, WordPress can make it all happen. What's more, some extra CSS skills help you create the sight you need; however, you want it.
WordPress Premium Packages
The most premium package costs $45 a month and includes all features to support a busy eCommerce store. With memory storage of 200GB, you can upload and store a lot of high-quality content.
You can access premium themes, CSS customization, plugins, and a PayPal button. Other packages for small stores include a monthly business plan ($25), a premium plan ($8), and a personal plan ($4) with some of these features. Overall, the online support is reliable, and the site is stable.
Choose the Right Builder for Your Online Business
Creating an eCommerce site that is simple to use, visually pleasing, and drives results to your small business are recipes for all business owners' success.
Our Agency Jet professionals help you leverage your online audience and excel within your competitive landscape.
We advise you on the best site-building platforms, plugins, effective marketing strategies, and more to take your online brand to the next level. We also carry out a free web assessment to see how your site is currently performing and help you identify more opportunities.
Our services in detail
The process of building your dream site starts with a series of consultations, where we assess your business needs. We create a custom website strategy through architecture and planning, including crucial wireframes, user flows, sitemap, and messaging.
Below are the services that best suit all types of small online businesses.
· SEO Content Creation
Our online professionals create the best content to guarantee that your site is visually attractive, from intriguing service pages to product descriptions. Our range includes relevant keywords, links, supporting images, and more to make sure that your site is more visible to visitors searching online for your services.
· Code and Front-end Design
We configure all the elements that make your website more user-friendly. Our efforts are geared towards creating a responsive design that the end-user will find interactive, helping convert visitors into buyers.
We also adopt an efficient Content Management System (CMS) in building and perform extensive QA testing to ensure your site works on all major browsers and OS.
· Load New Content
We help create and load new content to your site and migrate any content from your existing website.
· Launch and Training
Now that your new site is complete, we'll show you how it works, the action buttons, where to check your analytics, and much more.
· Digital Advertising
The brand is never complete without advertisement. Using our platform ensures you get high-quality leads and conversions, all within your budget! Our industrial experience in advertising is vast, from small startups to Fortune 500 companies. We handle any workload.
The Takeaway
Your website is your best tool for first impressions. As such, you must invest in an impressive website design to achieve a positive first impression that is also likely to convert visitors into buyers. Lucky for you, you can never go wrong with these top website builders recommended above.
At Agency Jet, we can advise you more about the steps you should take for your business to thrive online. If you are looking for a full-service custom website design, Contact us today to find out more about our services and schedule an appointment with one of our professionals.
More Resources
Join the thousands of SEO-obsessed readers on our mailing list