What is a Marketing Agency and How Do They Work?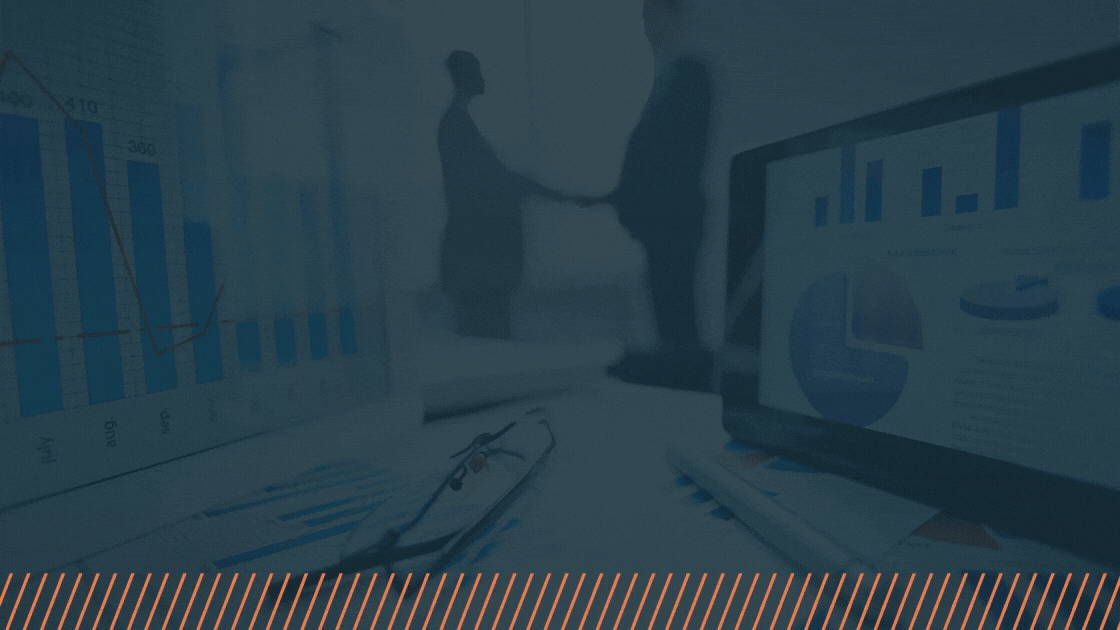 Most business owners understand that marketing drives sales and a company's success. You need to spend on marketing efforts to find new customers and drive more sales from your current clientele base.
However, for a small or medium-sized business that doesn't have a six-figure marketing budget, it can be overwhelming to decide how to split your budget up. That is why more and more business owners are turning to the expertise of a marketing agency.
Before you make this decision, you'll need to know the basics. Like, what is a marketing agency? And how can they help your business? Are they expensive? Are there different kinds of marketing agencies?
This blog post answers all those questions so you can make an informed decision about if a marketing agency is the right solution for you.
What is a Marketing Agency?
A marketing agency is an external company that partners with a client to identify and implement strategic marketing initiatives to help the business achieve its goals.
Let's break down that definition a bit more.
First, it's important to note that the marketing agency will partner with you.
Your company's success is the agency's success, as it proves that they're doing valuable work for you. They work hard for you because they know if they don't provide real, tangible results, you'll end the contract with them.
Second, the marketing agency looks to identify potential marketing initiatives.
An outside perspective often brings a pair of fresh eyes that can see new ideas or missed opportunities. Typically, one of the first steps a marketing agency will take is to take the time to understand your business, your goals, your budget, and your current marketing efforts. This allows the agency to identify what marketing initiatives are working and can be ramped up, what is being missed, and what new ideas might work within your business model and budget.
Lastly, the marketing agency will implement marketing initiatives for you.
This is great because a marketing agency is typically made up of a team of experts within their respective field of marketing. Whatever type of marketing effort or campaign you're launching, the agency can put an expert on the task for you. And, they'll report back to you on how the initiatives are going. That way, you can see for yourself if your money is being put to good use!
Is there a Difference Between a Marketing Agency and a Marketing Firm?
The terms marketing agency and marketing firm are often used interchangeably. But are they the same thing?
Some may argue that a firm specializes in one or two aspects of marketing, while an agency offers a broad range of services. For example, a Public Relations marketing firm will focus on PR services, while a digital marketing agency will provide several types of digital marketing services.
Ultimately, you shouldn't get too hung up on the names. Rather than focusing on whether you should find a company that calls themselves a 'marketing agency' versus a 'marketing firm,' focus on the services offered.
In the next section, we break down the different types of marketing agencies out there, so you can identify the kind that will meet your needs.
Types of Marketing Agencies
There are three broad types of marketing agencies: full-service, specialized, and traditional.
Full-Service Marketing Agencies
A full-service marketing agency gives clients, as the name implies, a wide range of marketing services.
This type of agency is best if you have several different aspects of marketing you want to try for your business or if you're not sure what kind of marketing to prioritize.
As this type of agency has a full team of specialists on staff, they can typically complete any marketing initiatives you desire.
A full-serve marketing agency may be a great choice even when you think you need a specialized marketing service.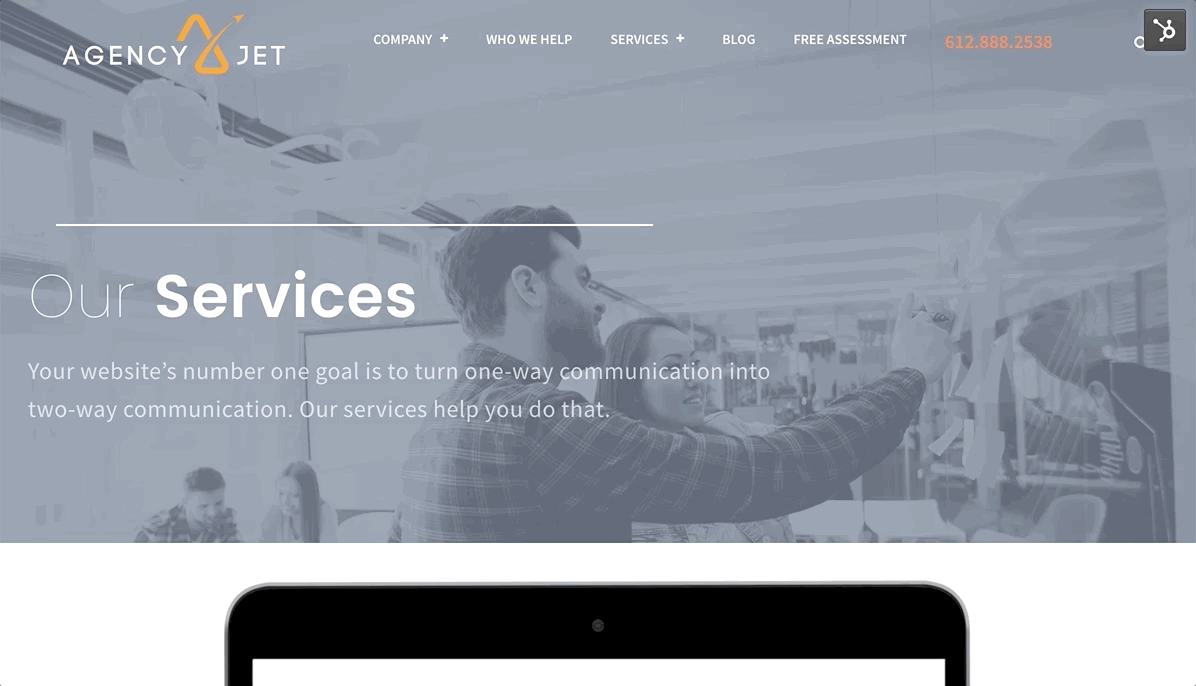 Want to see our full list of services? Click here.
For example, let's say you need help with SEO. Let's say you go to a full-service marketing agency, and during an SEO audit, they find that you could also benefit from increasing your PPC spend and your social spend. Now, you can follow through on these recommendations all at one agency.
Additionally, a full-service marketing agency will offer you a deal if you use them for more work. This is more cost-efficient than outsourcing different types of marketing work to various specialized marketing agencies.
A full-service marketing agency is likely to provide services in:
Search engine optimization (SEO)
Paid advertising (PPC, social paid)
Graphic design
Social media management
Website development
Website management
UX and UI
Content creation
Brand and storytelling
Email marketing
Online reputation management
And more!
You'll often hear the term 'digital marketing agency.' This is a type of full-service marketing agency that specializes in digital services.
Agency Jet is a top-rated full-service marketing agency that can provide you with all the marketing services you need.
Specialized Marketing Agency
A specialized marketing agency, as the name suggests, will focus on one aspect of marketing.
You'll often find agencies for website development, SEO, or branding. These types of agencies are wizards in their segment of marketing.
If you're a business with all other areas of their marketing figured out but needs help with one specific type of marketing, a specialized marketing agency might be the right fit for you.
Traditional Marketing Agency
Now that you know what a digital marketing agency is, you might be wondering about the third type of marketing agency.
A traditional marketing agency focuses on more "classic" marketing services such as mass media (television and radio), print advertising, public relations, and brand management.
Usually, these agencies don't offer digital marketing services.
Benefits of a Marketing Agency
There are several benefits as to why companies choose to outsource their marketing efforts to an agency.
A Marketing Agency Delivers on Results
When you hire a marketing agency, you work together to develop goals and objectives for the partnership.
A reputable marketing agency will then provide weekly updates on their progress towards your set goals. They'll explain how your budget is being used, how they're spending their time working for you, what initiatives are working, if you're on track for your goals, and the ROI overall.
This level of detail would take hours to figure out on your own if you were attempting a DIY marketing initiative.
And the best part? If your marketing agency doesn't deliver on promised results, you can always let them go!
This dynamic keeps your marketing agency working hard and focused on the results.
You Get Access to Marketing Experts
If you're a small or medium-sized business, you likely don't have the budget to hire a full-time marketing employee(s) with the level of expertise you need.
However, when you hire an agency, you get access to a team of marketing experts for a fraction of the cost.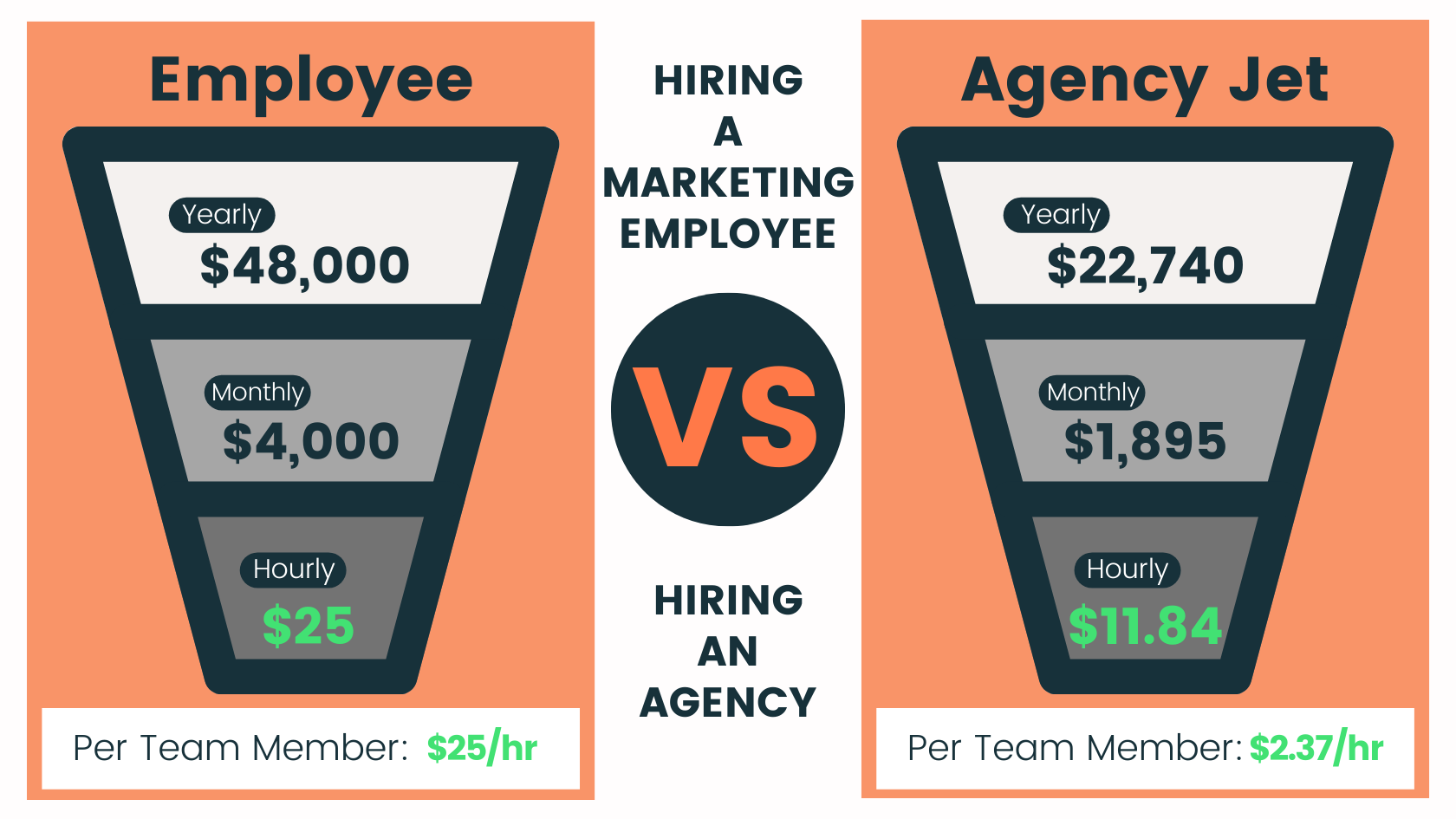 An Unbiased Perspective
We touched on this earlier, but it can be incredibly beneficial to bring an outside perspective to your business. An outsider can call out things that need improvement without worrying about internal politics or hurting feelings.
Ultimately, this will only benefit your business and help you make necessary changes and improvements.
Innovative Ideas
Marketing agencies are often very aware of the latest marketing trends and ideas. When you hire an agency, you get the benefit of this innovation.
The agency will use their latest technology and ideas on your account to garner results in ways you may have never thought of.
Educational Experience
This doesn't apply to all marketing agencies, but some agencies will teach you marketing skills while working with them. This way, when it comes time to part ways with the agency, you're set up to continue all the great initiatives the agency started for your business.
Agency Jet prides itself on sharing industry secrets with its clients so they can learn new marketing skills.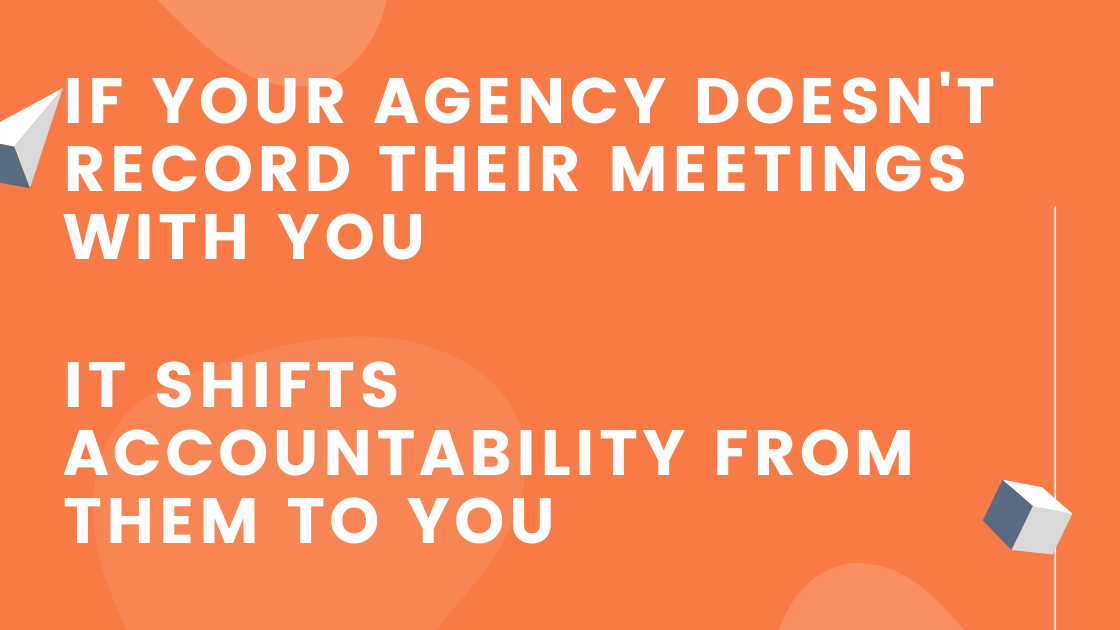 Is a Marketing Agency Expensive?
Will a marketing agency cost you money? The short answer is yes.
Hiring a professional, quality marketing agency that will garner real results for you will cost you money.
However, you should see this cost as an investment in your business. This is an improvement to your business that you couldn't do yourself and that will increase sales.
Additionally, if you compare your marketing agency costs to the cost of an employee, you'll see it's actually a much more affordable alternative.
The average cost of a Marketing Manager's salary in Minneapolis is almost $68,000. And that cost doesn't even include benefits, vacation days, and time lost onboarding a new employee.
In comparison, a marketing agency will cost you much less, can have an immediate start date, and won't take time off for vacation.
If you're a small or medium-sized business and you think there's absolutely no way you can afford a marketing agency's fees, think again.
Many marketing agencies understand the budget constraints of small and medium-sized businesses and offer reasonable packages. You can ask if a marketing agency is willing to work around your budget and you may be surprised that the answer will be yes!
Tips for Choosing a Marketing Agency
If you've read this far and you're convinced it's time to hire a marketing agency, the next step is selection.
There are thousands of marketing agencies out there. The number of marketing agencies in Minneapolis alone is in the hundreds.
So, how do you find the right fit? We recommend following the below tips:
First, identify what kind of services you need and if you want to go with a full-service or a specialized agency. Remember that even a full-service marketing agency can offer you specialized services, so you can consider both.

Do some research and set a budget. Make sure this budget is realistic for your business, but leave room for suggestions from your agency.

Check out agency reviews online. You can find reviews on Google and Clutch. Ideally, you're looking to work with someone with lots of reviews and at least a rating of 4.5 out of 5 stars.

See if the agency has case studies and review these to get a sense of their previous work. If you're unimpressed with their previous work, they likely won't be a good fit for you.

When you're down to a few agencies, ask if you can speak to an existing client. This is standard practice and an agency with a roster of happy clients should be able to provide this to you with no problem.

Check the agency's location - most small and medium-sized businesses can benefit from going with a local agency. This allows you to stop by the office when you want an in-person meeting and always ensures your agency has some localized knowledge for marketing campaigns. So, if you're in Minneapolis, consider marketing agencies in Minneapolis.

Find out when the company was established - an agency that has only been up and running for one year may not be the right fit for you as they're still learning the ropes.

Ask if they're willing to work within your budget - see if they have multiple package types for small businesses.

See what else they can offer you - Agency Jet offers everyone (not just potential customers) a free website assessment and a four-month money-back guarantee.
Because there are hundreds of choices in Minneapolis, a small business owner should be looking at multiple agencies to make sure they choose the right one.
It's essential that you find an agency that puts your needs first, communicates well, educates, and gets results.
Agency Jet is a top marketing agency in Minneapolis that maintains a 96.2% client retention rate. We deliver results for our clients and that keeps them around! Start off your journey with us with a free, no-obligation website assessment. Let us tell you how we can help your business grow.
More Resources
Join the thousands of SEO-obsessed readers on our mailing list