So, you've identified that your business needs the help of a Minnesota digital marketing agency. Most likely, your business is thriving, and you know that there are more clients out there to capture.
A marketing agency can provide you with a team of skilled individuals that will execute a digital marketing strategy that can drive sales.
But, how exactly do you find the right Minnesota digital marketing agency?
There are over 450 digital marketing agencies in Minneapolis.
That is a lot of agencies to sort through to find the best one. We're here to help you understand why Agency Jet is the right choice for you.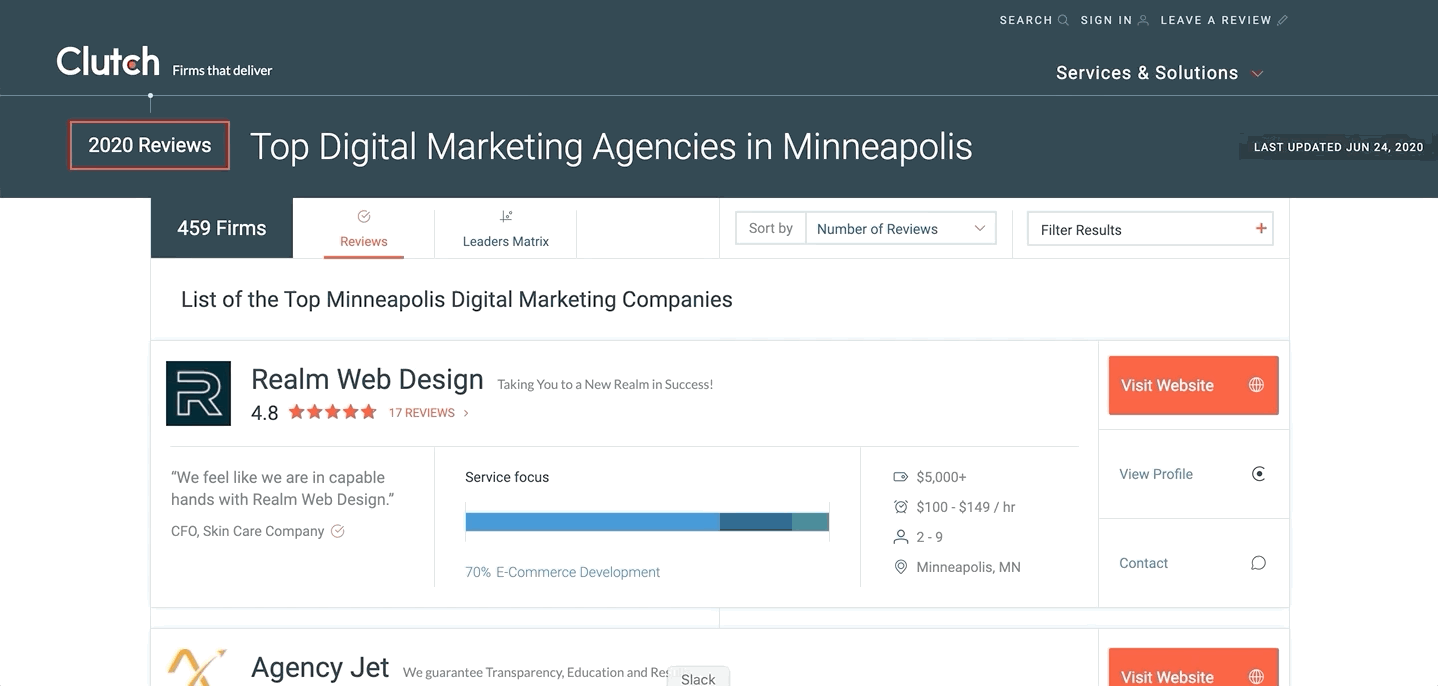 Clients as Partners
At Agency Jet, we view our clients not as rotating customers that come through the door, but as partnerships. We understand that our optimal goal is to see your business succeed and grow, and you're trusting us with that task.
Agency Jet believes in going past the client-agency relationship and seeing ourselves as your business partners. When you succeed, we succeed.
How do we achieve this?
We go above and beyond to truly understand your business. Agency Jet will complete a comprehensive audit of where you stand in the marketplace, how you're doing compared to the competition, and what has worked for you in the past versus what has failed.
We know to help you achieve goals, we need to know your company and your industry just as well as you do.
Agency Jet is here to help you win and then celebrate those wins with you. That's why after the initial contract is completed, nine out of 10 clients stay on with Agency Jet.
People can't get enough of working with us.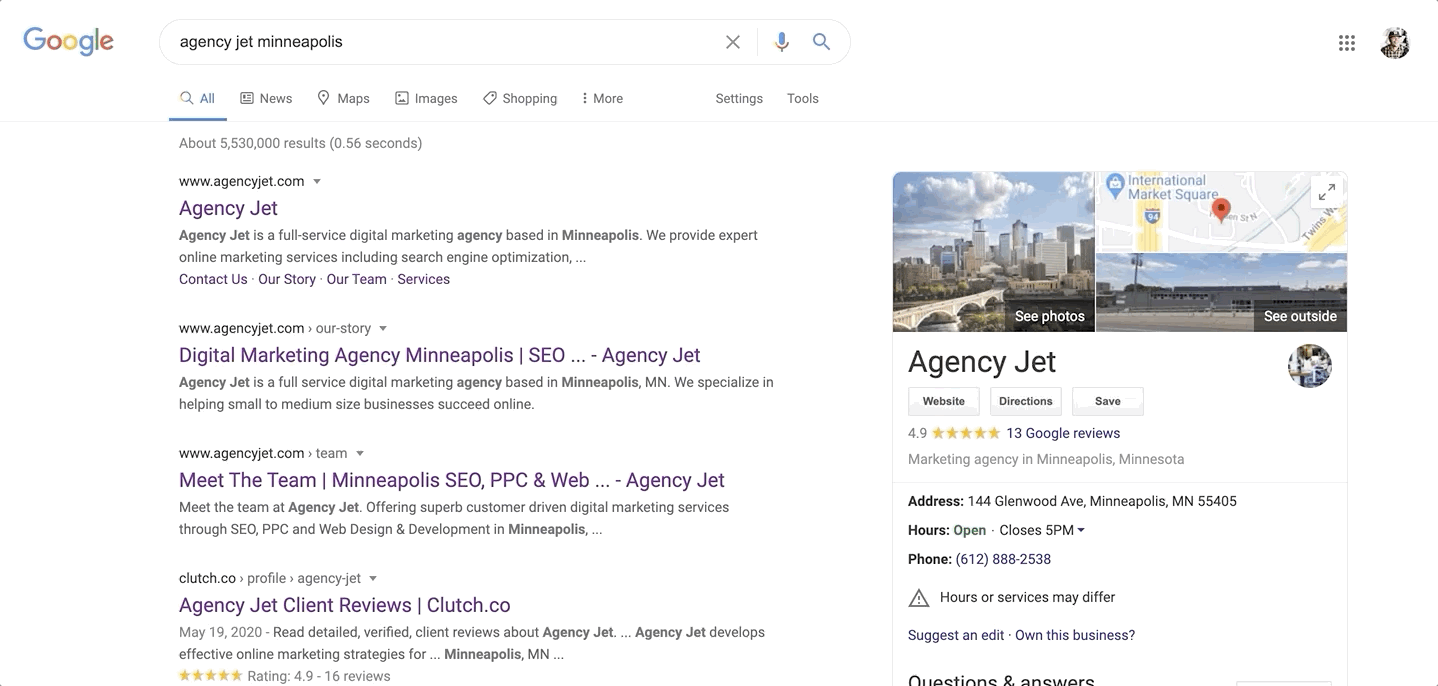 Proven Methods
When it comes to finding the right marketing agency in Minneapolis, you want to avoid agencies that overpromise and underdeliver.
An agency with a proven track record of exceptional results doesn't have to make promises; they let their work speak for itself.
At Agency Jet, we let our results do the talking, in the form of case studies. Just a few of our wins include:
We have a proven method of how to achieve our client's goals. We:
Get a thorough understanding of what you want.

Formulate a plan and present the strategy to you.

We analyze and optimize along the way, continually perfecting our efforts.

We report weekly, monthly, and quarterly on our efforts and our progress towards your goals.
This process allows you to collaborate with us, as well as collect your feedback throughout the process. And, we hold ourselves accountable with constant, transparent reporting on our efforts. We never keep our clients in the dark.
Transparency & Communication
Hiring an agency can feel a little like handing your house keys over to strangers. You've built up a business and now you're trusting someone else with its online reputation.
And this isn't an exaggeration; with the wrong moves, a digital marketing agency can tarnish your branding online. Under your company name, they can:
Post something inappropriate that doesn't speak to your target audience

Make spelling, grammar, or imaging errors that make your brand look inconsistent or low-quality

Waste budget in the wrong ways that don't drive conversions
That's why you need an agency that is not only experienced but is also transparent.
If an agency isn't willing to show you their work and report to you on their efforts frequently, they're not holding themselves accountable.
You hired us to do a great job and we're proud to show off our efforts to you. That is why we keep an open line of communication with all our clients.
On top of regular reporting, you can reach out to us anytime with questions or concerns. We're here to support our clients; no request is too small.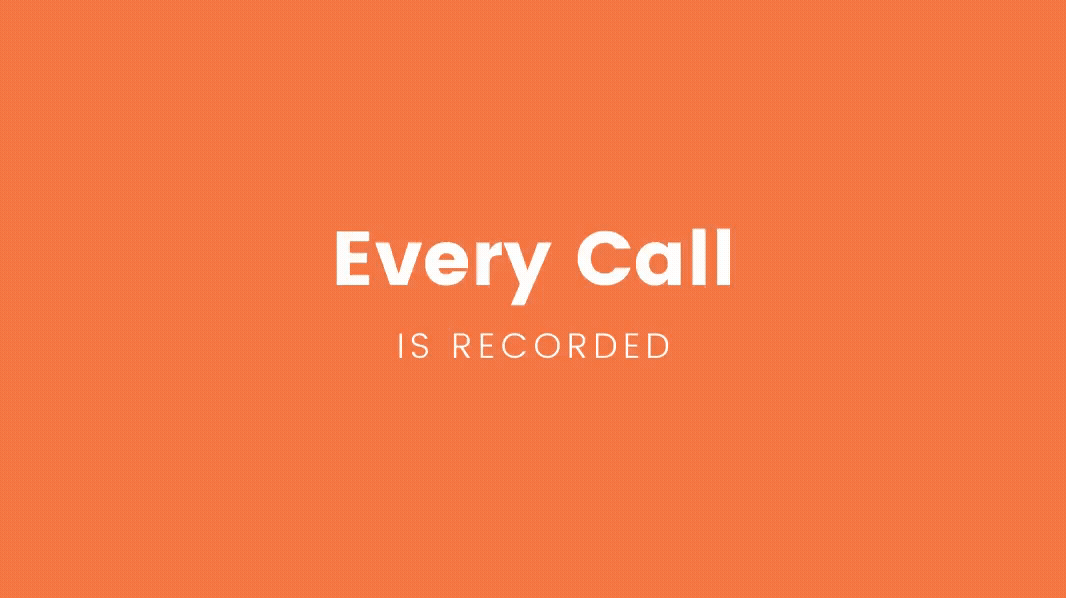 On top of full transparency, we record every call we have with you. That way you know, if we say it, we'll do it.
A Track Record of Happy Clients
One of the most apparent signs of a low-quality digital marketing agency Minneapolis provides is a lack of reviews (or poor reviews). Who can you trust more than an agency's past and former clients to truly showcase how the agency performs?
At Agency Jet, our rating is 4.9 out of 5 stars on Clutch. Take a look for yourself at the constant stream of five-star ratings.
"Their creativity and drive to help us be successful are why we've worked with them for so long."
You simply can't fake customer satisfaction. Watch out for agencies with poor (or no) ratings as it's likely a sign of an unhappy clientele base.
Agency Jet also provides client references upon request for new potential customers. We are keen to put you in touch with our references so you can hear how awesome we are from other clients!
Everything Under One Roof
If you're looking for a Minnesota digital marketing agency that can do it all, you've come to the right place. Our specialties are Search Engine Optimization (SEO), digital advertising, social media marketing, and website design.
We can provide any combination of digital marketing services so you get all the help you need from one consistent, quality source. This is preferable to working with multiple agencies that may produce varying levels of quality work.
Educating Our Clients
Agency Jet has chosen to stand out against the competition by educating our clients on digital marketing tasks. A lot of agencies believe in keeping their clients in the dark so that the client is 100% reliant on the agency for results. That's not our approach.
We choose to educate our clients every step of the way. If you come to us for SEO services, we will teach you how to implement your strategy, so you have the tools for yourself.
We educate our clients because we want them to continue to succeed and see results even after leaving us. Although, most clients end up choosing to stay. We are proud to have a 96.2% client retention rate.
Money-Back Guarantee
Of the 450 digital marketing agencies out there in Minneapolis, we promise that few have a money-back guarantee. But we do.
We are so confident in our abilities, we offer a four-month money-back guarantee to all new clients. It speaks to our level of confidence and also gives peace of mind to new clients.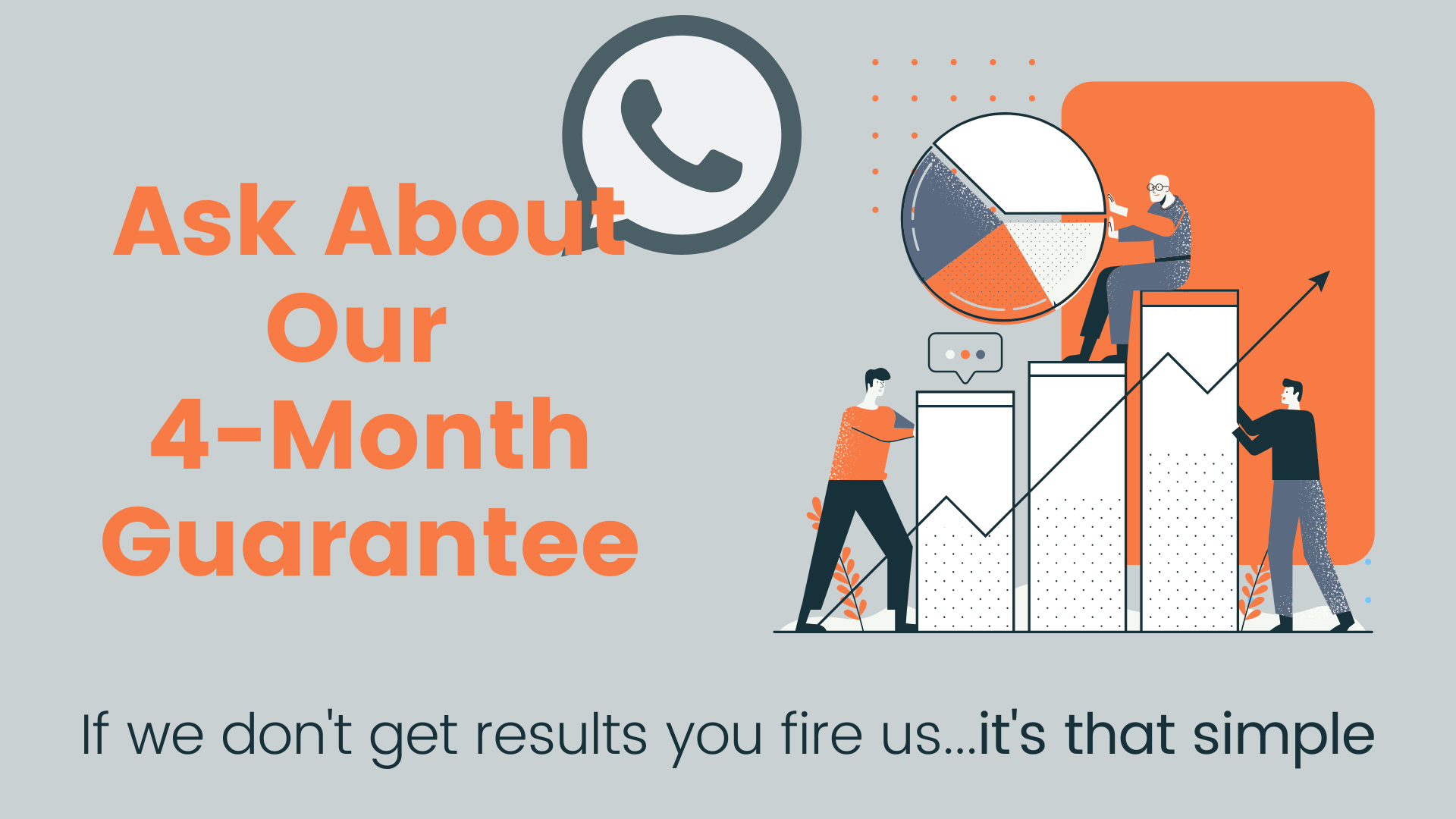 Free Website Audit
Another way we give peace of mind to potential new clients? We offer a free website assessment of your business.
This no-obligation assessment is purely educational and allows clients to see where they can improve. After receiving the assessment, you can choose to move forward with Agency Jet or move on.
Agency Jet has performed over 2,500 website assessments to date.
Agency Jet: The Qualified Minnesota Digital Marketing Agency
With so many options out there, hiring a marketing agency in Minneapolis is a hard choice to make. Working with the right agency can mean substantial positive changes for your business.
Agency Jet wants to prove to you that we're the most qualified choice. Start with a free website assessment to let us show you where we think you can improve.
Next, we will have a one-on-one consultation with you and put you in touch with past clients who will vouch for our work.
Lastly, once you sign with us, it's virtually risk-free, as you have four months to get your money back.
Our work speaks for itself. We're the most qualified Minnesota digital marketing agency, and we're the right fit for you. Contact us today to get started.
More Resources