Local SEO Best Practices: Dominate Local Search Results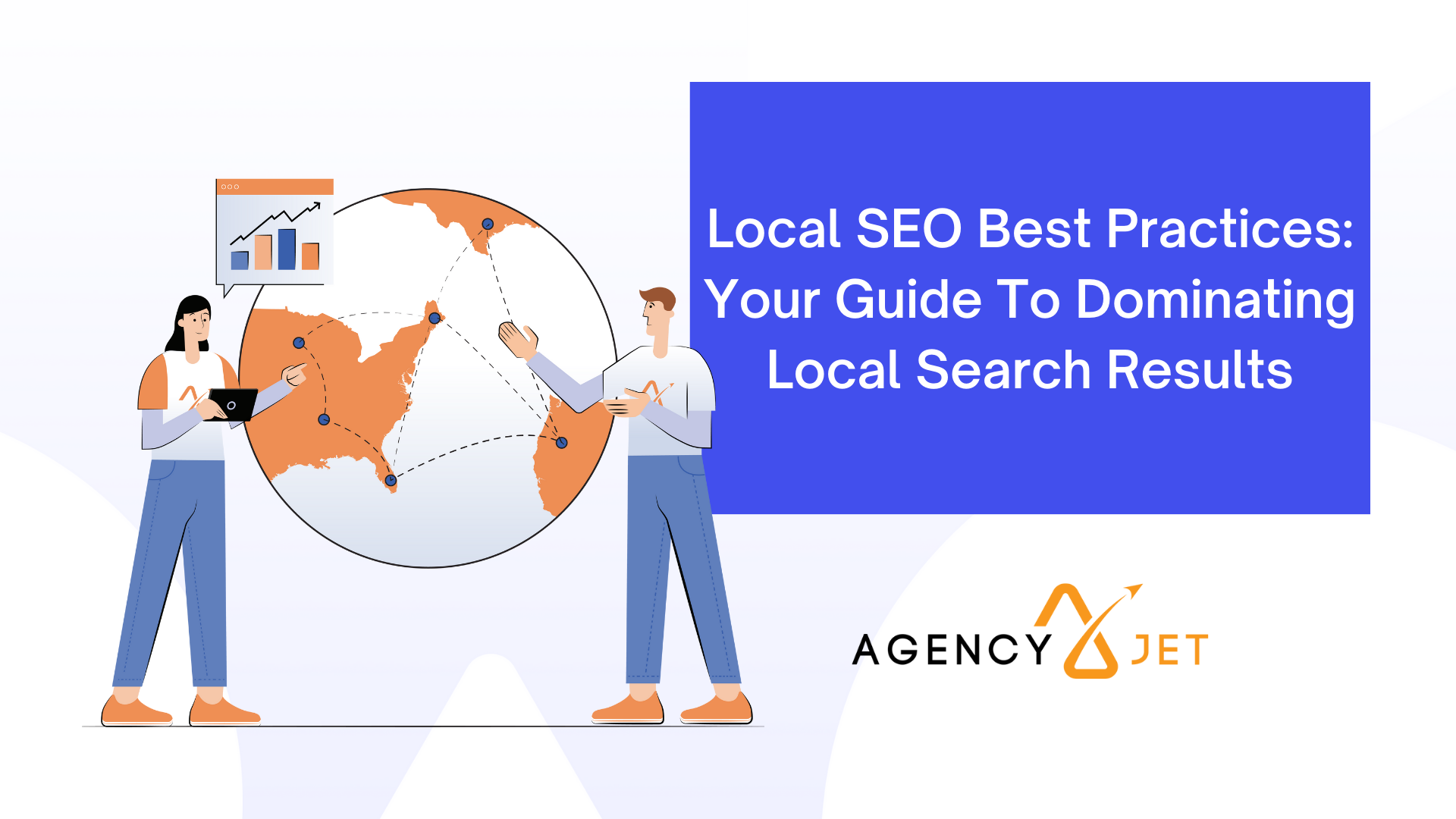 Imagine owning a quaint, charming café in the heart of a bustling city. You've perfected your brew, your pastries are the talk of the town, but your foot traffic is less than ideal.
Why? In today's digital age, the real footfall starts online. That's right; local SEO is no longer a luxury but a necessity for businesses! Every business owner needs to add this to their marketing efforts.

Nearly 582 million individuals around the globe are making their mark as entrepreneurs and the business world is teeming with approximately 334 million enterprises. "Competition" is not just a buzzword but a reality one must learn to thrive in. And since 64.6% of the global population is on the Internet, the online sphere is where your business needs to find its footing.
As more consumers use online searches to find local businesses, appearing prominently in local search results is pivotal. Unseen in the digital world is unseen in real life.
Therefore, the question is not why is local SEO important, but rather, can you afford to overlook it? Buckle up as we delve into the world of local SEO and its undeniable significance in our digital landscape.
What is Local SEO?

Local SEO, or local search engine optimization, is a highly effective form of digital marketing that allows businesses to promote their products or services to local customers at the exact moment they're looking for them online.
Focusing on local SEO means optimizing your online presence to appear in search engine results pages (SERPs) for location-specific queries based on the searcher's geographical location.
When users search for something your business offers in their area, your business appears in the top results, making you their prime choice — it's like having a digital billboard in the exact spot and at the precise time your customer needs you!
Why is Local SEO Important?
The digital landscape is constantly evolving, and consumer behavior is no exception. Instead of flipping through the Yellow Pages or relying on word-of-mouth recommendations, people now turn to search engines to find businesses, services, and products in their vicinity.
Whether customers are looking for a nearby restaurant, a trustworthy dentist, or a reliable plumber, online search is the first step.
Consider this: In recent statistics, an astounding 89.3 billion searches happen each month, of which a significant 1.5 billion are 'Near Me' searches.
Notably, these figures have soared by a whopping 500% recently. What's truly impressive, however, is that almost half, essentially 46%, of all Google searches are directed toward local businesses.
To deeply understand the significance of local SEO, let's dive into a few key reasons it's essential for your business:
Local Searches Lead to Action
Research indicates that 76% of individuals who do a local search on their mobile device will visit a physical location within a day, and nearly 28% of these searches culminate in a transaction — that's the power of local SEO in driving customer conversion!
Local searches are highly purposeful, often carried out by consumers ready to take action, be it making a purchase, booking a service, or visiting a store.
These searches are usually specific, such as 'Italian restaurant near me' or 'emergency plumber in [city].' When users see your business appear prominently in the search results, it places your brand on their radar at a critical moment of decision-making.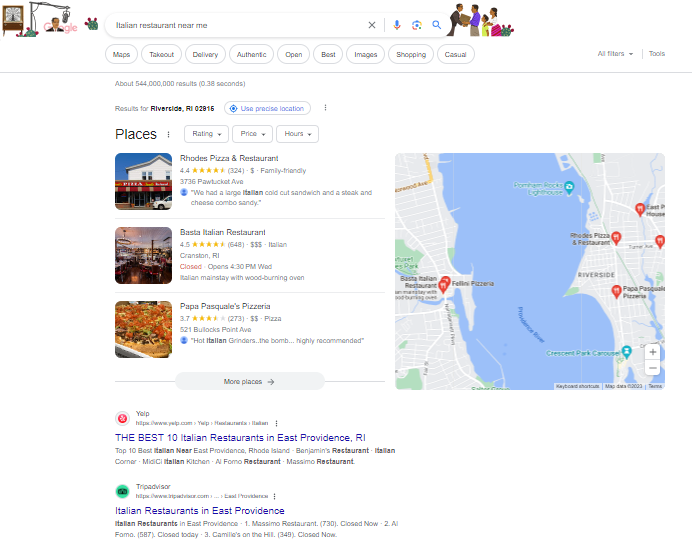 This visibility leads to higher click-through rates on your website, more phone calls, and, ultimately, more foot traffic to your physical location.
The information presented in your local SEO, such as your operating hours, location, and customer reviews, can also be the deciding factors that prompt immediate action.
For instance, a user might choose a restaurant because it's nearby and has stellar reviews, or they might call a plumber available at the desired time and who appears trustworthy due to positive ratings.
Local SEO draws local customers to your online presence and effectively encourages them to take the next step in the customer journey, leading to increased conversions and sales.
The Competition is Fierce
As mentioned earlier, global competition is intense, but the competition in your local market can be just as fierce.
With so many businesses vying for consumer attention and dollars, it's crucial to stand out. Local SEO is a powerful way to differentiate your business from competitors and stay top of mind with users in your area.
Your competitors are already investing in Local SEO. If your business doesn't show up in local search results, you're handing over potential customers to your competition on a silver platter.
You can level the playing field and gain a competitive advantage by implementing effective local SEO practices!
Trust and Credibility
A whopping 83% of consumers have made it clear that trust is a deal-breaker for them. If people can't trust a brand, they simply won't engage in business with it.
When your business consistently appears in local search results and has positive reviews, it builds trust and credibility. Customers are more likely to choose well-represented businesses in search results, especially when they see glowing testimonials from satisfied customers.
High visibility piques potential customers' interest and builds a strong association between your brand and the local area, enhancing your overall reputation.
Local SEO heavily considers online reviews, widely recognized as digital word-of-mouth. Reviews offer potential customers real-life experiences and opinions about your business, adding a layer of transparency that modern consumers crave.
Another vital aspect to consider for local SEO is Google Business Profile (GBP) listings. When you accurately list and consistently update your business information (e.g., name, business address, phone number, business hours), it reinforces the legitimacy of your business in the eyes of both consumers and search engines.
This consistency can instill trust and confidence in potential customers, further bolstering your business's credibility.
The Benefits of Local SEO
Investing in local SEO offers numerous advantages for businesses looking to dominate local search results. Let's explore these benefits in more detail:
Increased Visibility
The first and most apparent benefit of local SEO is increased visibility. By optimizing your business for local search results, you have a higher chance of appearing near the top of relevant search queries, making it easier for potential customers to find and choose your business over competitors.
Targeted Traffic
Another key advantage of local SEO is that it brings in highly targeted organic traffic — you reach an audience genuinely interested in your offerings and who are more likely to convert into customers! Unlike traditional advertising methods, local SEO targets potential customers already in the buying process, increasing the likelihood of a successful conversion.
Boosted Conversion Rates
By optimizing for local search, you're essentially positioning your business right in front of users actively looking for your products or services. These users are not just casual browsers; they're people with a specific need, making them highly likely to make a purchase. The improved relevance of local search results means businesses can connect with potential customers precisely at the right moment, turning searches into sales.
Enhanced Online Reputation
Appearing in local search results and accumulating positive reviews can significantly boost your online reputation. Customers are more likely to trust and choose businesses with a strong online presence.
Cost-Effective Marketing
Unlike traditional marketing methods such as advertising in print or on television, which generally involve high upfront costs and ongoing expenses, local SEO requires comparatively lower budgets, mainly consisting of optimizing your online presence and utilizing free or low-cost tools to improve your visibility on search engines.
Local SEO Best Practices
To effectively optimize your business for local search, you need to implement a variety of on-page and off-page strategies. Here's a breakdown of some actionable best practices:
On-Page Strategies
Keyword Optimization
One of the core aspects of on-page SEO is keyword optimization. Research and identify the most effective and relevant keywords for your local business and incorporate them throughout your website. Keywords should be in your meta tags, headings, and content.
High-Quality Content Creation
Your website must consistently offer high-quality, relevant, and fresh content to rank higher on search engine results pages. Blogs, case studies, and infographics are examples of content that can engage visitors and keep them on your website longer, improving your site's standing in search engine rankings.
Metadata Optimization
Every page on your website should have a unique title tag and meta description, helping search engines understand the topic of each page and influencing click-through rates from search engine results pages. Including targeted keywords in your title tags and meta descriptions can boost your local SEO.
Localized Content
Localized content is essential for local SEO. Create a content strategy specifically tailored to the local audience your business serves! Localized SEO content can include references to local landmarks, news, events, and culture.
Mobile Optimization
With the increasing usage of mobile devices, ensuring your website is mobile-friendly has become necessary. A mobile-optimized site improves user experience, leading to longer time spent on your site and a higher chance of customers returning.
User Experience (UX) Optimization
A good user experience can significantly impact your site's organic ranking. Ensure your website is easy to navigate, has a clean design, loads quickly, and is generally user-friendly.
Use of Schema Markup
Schema markup is a type of microdata that creates enhanced descriptions (rich snippets) that appear in search results. Using schema markup helps search engines better understand your content, which can lead to improved rankings.
Off-Page Strategies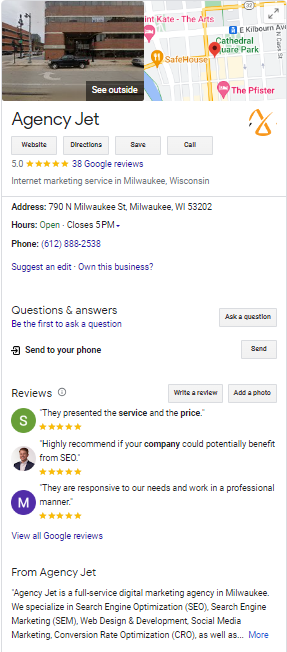 Online Directories and Citations
Listing your business on platforms such as Google Business Profile, Yelp, and Yellow Pages enhances your online presence, making your business more visible to local customers. Remember to keep your information consistent across all platforms to improve your local SEO.
Social Media Presence
Establishing a robust social media presence is another key off-page strategy. Regularly updating your profiles and engaging with your audience on platforms like Facebook, Twitter, and LinkedIn can boost your brand's reputation and visibility, indirectly benefiting your local SEO.
Online Reviews
79% of consumers value customer reviews as much as personal recommendations, highlighting the profound influence of online reviews on purchasing decisions. Encourage your customers to leave reviews on platforms like Google, Yelp, and Facebook. Positive reviews can enhance your business's credibility and impact your local search rankings.
Link Building
Link building is a fundamental off-page SEO strategy. Acquiring high-quality backlinks from authoritative websites in your industry can significantly boost your site's credibility in the eyes of search engines, leading to improved search rankings.
Community Engagement
Engaging with your local online and offline community can also enhance your local SEO. Participate in local events, partner with local influencers, or sponsor local teams or organizations. Such efforts can increase your visibility and build trust within your local community, positively impacting your local SEO.
Working With a Local SEO Company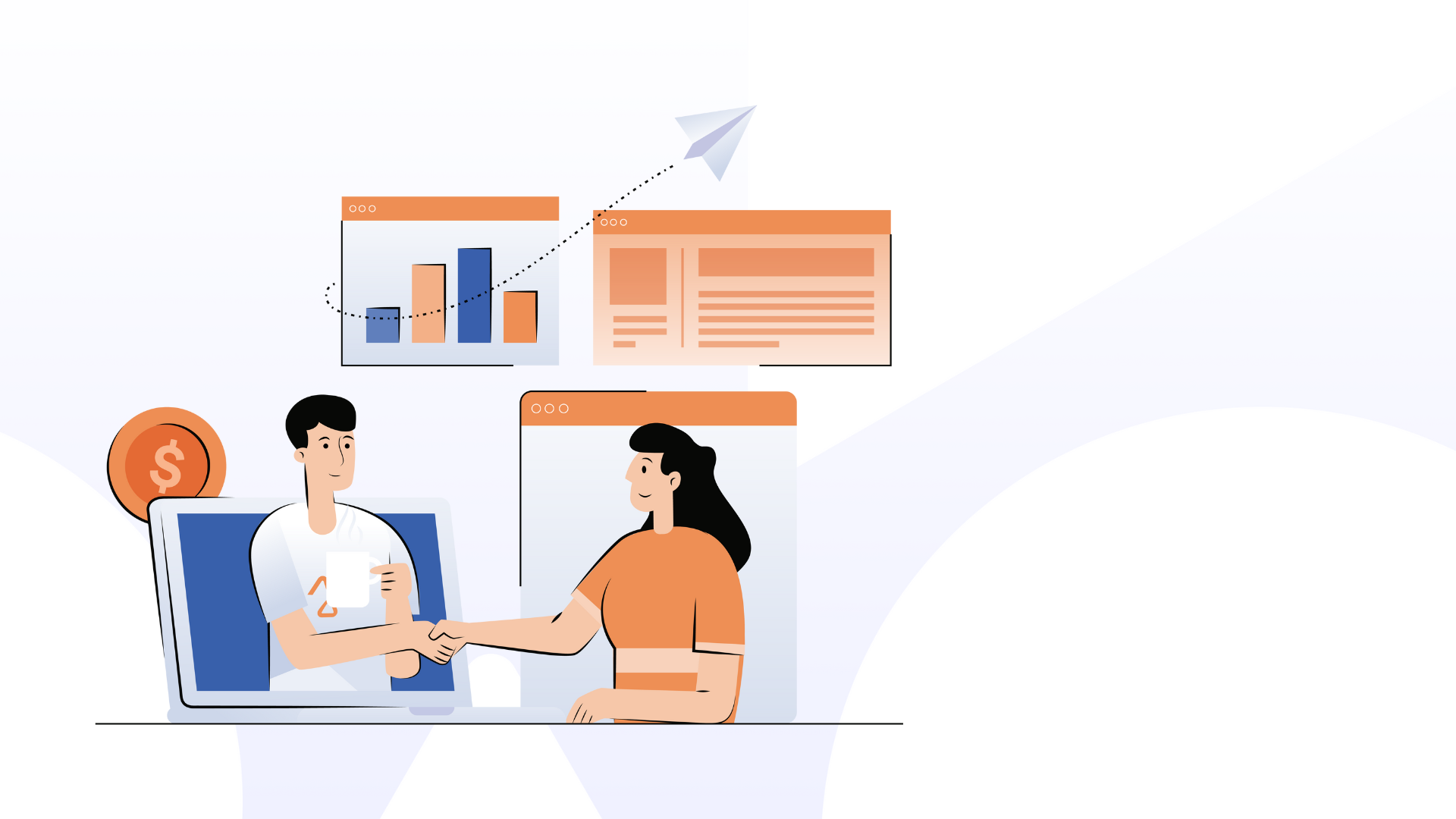 Partnering with a local SEO company can simplify the process of dominating local search results — here are some compelling reasons you should consider this option:
Expertise
A local SEO company possesses in-depth knowledge of local market trends, customer behavior, and competition — and their expertise can optimize your online presence for the local search landscape, potentially leading to higher visibility in local search results.
Access to Advanced Tools
Local SEO companies have access to advanced SEO tools and technologies that may be cost-prohibitive for small businesses, helping perform sophisticated SEO analysis, track SEO performance metrics, and provide actionable insights to enhance local SEO efforts.
Time and Resource Efficiency
Managing SEO can be time-consuming, but you can delegate this task by partnering with a local SEO company, freeing your time to focus on core business activities. Experts can handle everything from keyword research to optimizing web content, saving you considerable time and resources.
Ongoing SEO Maintenance
SEO is not a one-time task; it requires constant monitoring and updating to keep up with search engine algorithm changes. A local SEO company can maintain ongoing SEO, ensuring your website stays relevant and competitive in the local search market.
Improved Local Exposure
Local SEO companies are well-versed in marketing strategies that can enhance your visibility within the local community. Experts can help you develop a localized content strategy, engage with other local businesses for link building, and manage your local online reviews, all of which can significantly improve your local exposure.
FAQs
Let's address some common questions about local SEO.
What Is Local SEO?
Local SEO, or local search engine optimization, is the process of optimizing your online presence to attract local customers. Local SEO involves various strategies and techniques to help your business appear prominently in local search results on search engines like Google, Bing, and Yahoo!
What is the Difference Between Local SEO and Traditional SEO?
Local SEO and traditional SEO share some similarities, but the key difference lies in the focus. Local SEO concentrates on optimizing for local search, intending to attract customers in a specific geographic area. Traditional SEO aims for broader visibility on a national or global scale.
What are the Benefits of Local SEO?
The benefits of local SEO include increased visibility in local search results, targeted traffic, higher conversion rates, enhanced online reputation, and cost-effective marketing. It can also level the playing field for small businesses competing with larger companies.
How Do I Choose the Right Local SEO Company?
Choosing the right local SEO company involves research and careful consideration. Look for a company with a track record of success, expertise in your industry, a transparent pricing structure, and a commitment to white-hat SEO practices. Reading reviews and asking for recommendations can also help you make an informed choice on which company to go for.
What are the Key Elements of an Effective Local SEO Strategy?
An effective local SEO strategy includes the following:
Optimizing your website for local search.
Creating and maintaining an accurate Google Business Profile, formerly known as Google My Business
Generating high-quality local content.
Building local citations.
Acquiring backlinks from reputable sources.
Actively engaging on social media.
Encouraging online reviews.
Agency Jet: Top-Notch Local SEO Services

With the countless local SEO Experts and companies out there, finding one that stands out can be challenging. At Agency Jet, we pride ourselves on being a top-notch local SEO company that delivers results. One of our successful partnerships was with iComp Payroll & Human Resource Services, a local payroll company in Minneapolis, Minnesota, established in 1997.
When iComp Payroll partnered with us, their website traffic was limited to searches for their brand name. Our goal at Agency Jet was to elevate the visibility of their primary services to the first page of search results within a year.
iComp Payroll initially joined us with a localized strategy targeting the Twin Cities area. Looking ahead, Agency Jet proposed that by successfully capturing the Twin Cities market, they could establish a solid foundation for potential nationwide expansion.
By leveraging the brand name, including the company's main services in local directory descriptions, and other local SEO optimizations, Agency Jet gave the following results:
The keyword presence amplified tenfold, yielding over 200 phrases ranked on the first page.
From a modest 70 impressions in the initial six months, the figure blossomed to over 22,000 by the end of the first year — a staggering 322 times increase.
Conclusion
In a world where online visibility can make or break a local business, mastering local SEO should be your top priority.
Local SEO is the bridge that connects you with your potential customers in the digital age, ensuring that they find and choose you over the competition.
By understanding the importance of local SEO campaigns and implementing the best practices, you can dominate local search results and thrive in your community.
While it's possible to embark on your local SEO journey independently, enlisting the help of a local SEO agency can take your efforts to the next level.
SEO professionals have the knowledge, experience, and tools to optimize your online presence for maximum visibility and success.
By working with a reputable local SEO company, you can achieve faster and more effective results while focusing on running your business.
Agency Jet can work with you to help your business shine in the local search landscape. Our local SEO services include a focused strategy customized to your specific business and goals. You'll have a dedicated account manager helping you through every step of the way.
We offer a personalized assessment of your website's current online presence and explore growth opportunities.
Don't wait; your customers are already searching for you. Schedule a free website assessment with our team now!

Join the thousands of SEO-obsessed readers on our mailing list