How to Look for Minnesota SEO Services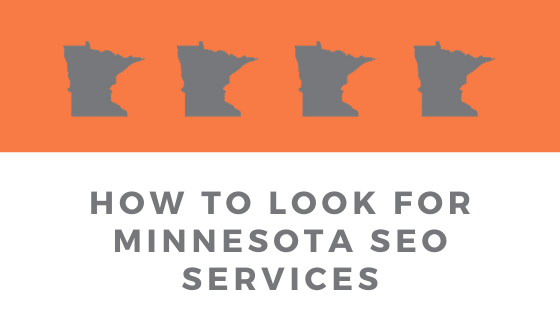 Agency Jet is a professional SEO Company that offers local affordable SEO services in Minnesota and Wisconsin.
Agency Jet offers a unique service to the clients to help grow their business organically with the help of search engine optimization.
If you want to learn more details about our services at Agency Jet, we would start by explaining SEO. SEO is known as Search Engine Optimization, which will help bring more traffic to your current website when people search for your products or services on Google, Yahoo, or Bing.
If your company's goal is to have people find your services or products, and to be ranked on the top pages of search engine results organically, then SEO is a priority for your company.

SEO is considered as one of the best investments compared to other digital or traditional marketing services. The conversion rates are far better in terms of cost known as ROI (return on investment).
If you're driving down any road in Minnesota, Wisconsin, or Iowa and you pay thousands for a billboard, you have a moment to grab, I stress grab, the attention of the potential customer, and you hope they remember your company.
Conversely, anyone sitting in front of their computer, or on their phone, searching anytime, any day for your company's services or products, can find you with properly done SEO.
Why you may ask?
They are actively looking for you without even knowing your company. They aren't searching your brand name, but are looking to buy a specific product or service, your product or service and by showing up here you have now introduced your brand into their hands organically.
Minnesota SEO Services Advantages at Agency Jet
Learn about our company advantages vs others.
Most of the time, traditional Search Engine Optimization businesses sell out packages. They work on whatever you have bought in the packages. While Agency Jet starts with a project-based SEO plan, we target results based on SEO results.
We work a different way through education, transparency, and results. We start working on your project that we suggest based on activities, keywords / phrases, and a plan for the first 6 to 8 months building the base for success and observation through data collection.
Once the rankings start to show success you will invest based on the short- and long-term goals we have identified, and you approve. Then we will create a custom plan to get you ranked moving forward. The goal is to show an upward trend in traffic and keywords in the first 4 months of SEO, then to start ranking on the first few pages of search engine results of Google.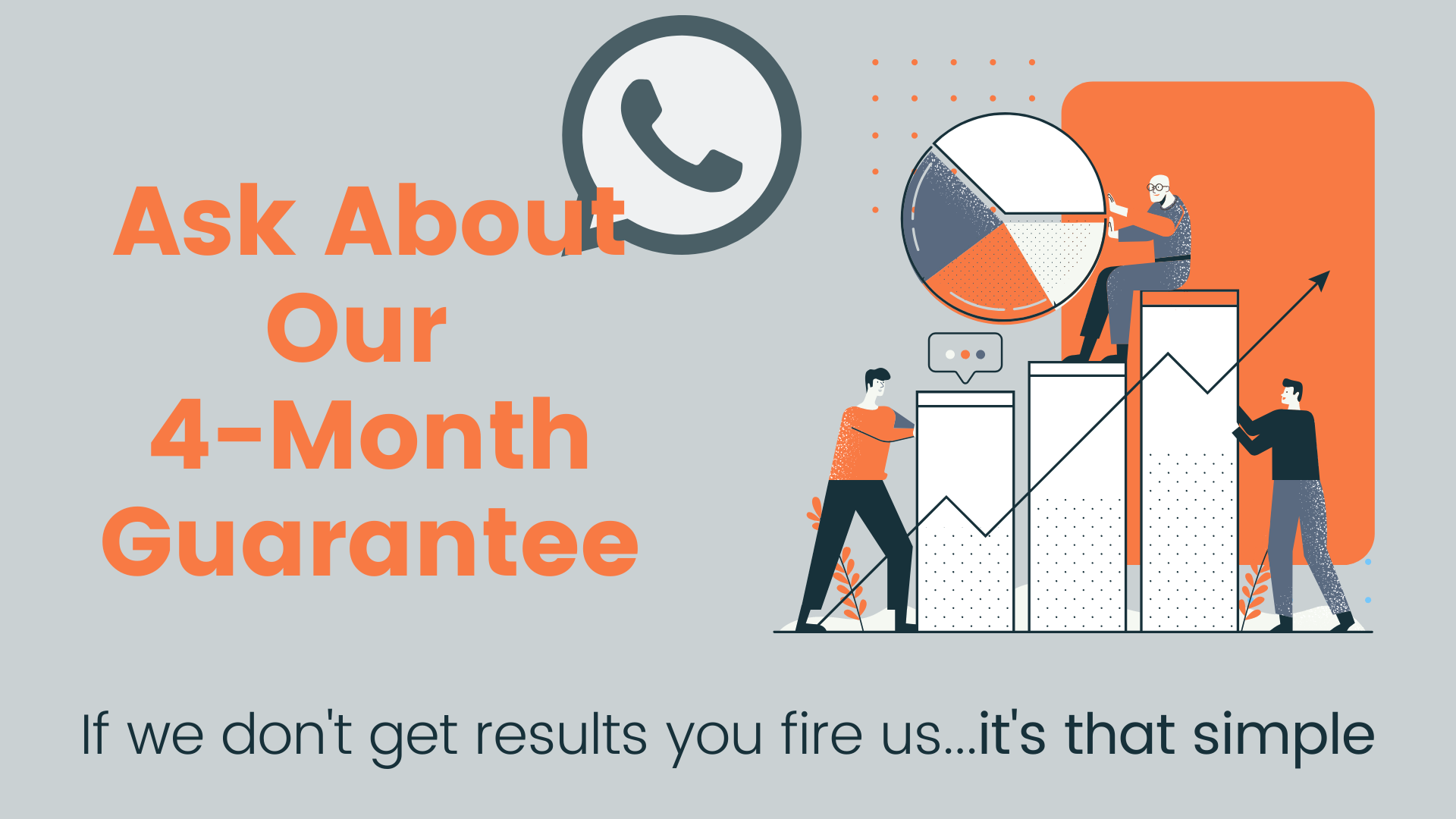 When you think of traditional SEO companies, they generally follow the same procedure they have been doing year after year and it rarely gets updated.
At Agency Jet, located in Minneapolis, Minnesota, we do experiments, like the one currently on our new 2019 website (just ask us about it). We also have been pioneers in implementing AI, providing educational training for our staff, working with other agencies to get ideas, following Google's guidelines for white hat SEO, and consistently adapting strategy based on what's working.
We do all this while educating our clients along the way. After all, you need to know what you're paying for and why it's working.
Agency Jet is so confident in our results that we offer 30-day contracts. We don't have any contract terms if you don't want one. IE most companies make you sign a contract period lasting at least 6 months, a year or even years.
We don't insist on any contract and our clients are free to leave us if they are not satisfied for any reason.
In 2019 we have started offering discounts and even a money back guarantee if you don't have an upward trend on your keywords in the first 4 months. So, if you feel that there is really value in working with Agency Jet you can simply let us know, but over the past 3 years we have over an 86% retention of clients in the first 12 months, and 78% in 24 months.
It seems our Minnesota SEO service takes Minnesota Nice to a new level.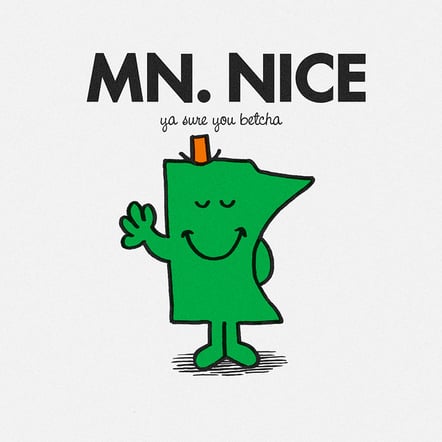 FAQs for SEO Services in Minnesota
Simply start by learning about Agency Jet on our website compared to others you're considering. We have 2 locations, one in Minneapolis, MN and one Milwaukee, WI.
SEO Investment – Affordable Local and National SEO plans tailored to your needs to start.
Contract terms – Agency Jet offers month to month plans for SEO, or discounts of 8% for a 4-month agreement, and 15% for 1-year agreements. All agreements have a money back guarantee for the research and development.
Value – Agency Jet values each client as if they are the only one. No matter the SEO plan the same service and professionalism is applied. We DON'T value one client over the other based on revenue.
Short Term Projects – Size does not matter, results do! Agency Jet will work on limited projects based on need, if we have the capacity, we will take you on as a client.
Knowledge – Agency Jet does experiments on our website(s) and we closely observe the latest changes that all search engines do each week. As best practices for SEO change, so do we.
Exclusive SEO services – We offer exclusive SEO services if needed, but we always need the website to perform by getting leads, calls, or e-mails. The data will tell us if you need an update on the current website.
Example is we have a law firm that hired us for SEO services in Minnesota. All of their clients are in Minnesota. Through the data on Google Analytics we noticed increased traffic by over 200% from SEO and PPC in less than a year.

This is the just the SEO side of things. The blue line are the two years of SEO and the orange line is before SEO.
The website had a high bounce rate, so we suggested a new website to retain the traffic. The success was overwhelming.
Working on existing websites that are penalized – That is on a case by case basis. We will need to analyze the current website. Should we feel that there can be things that can be fixed, we will do it. If not our best suggestion is to start over and hire a white hat digital marketing agency and DO NOT MAKE DECISIONS on price, but rather on results and get references.
How much time does it take to see results from SEO services - This is a common question, as it depends upon the difficulty level of the phrases, longtail keywords, or the specific keywords that are targeted. We have observed that a new website will take between 6 months to 8 months. If the website has been around for years that time can be drastically reduced based on previous work done.
Guarantee – It's rare to see a business in the world giving a 100% guarantee. However, we know that we build your blueprint through our research and development. If that plan fails FOR ANY REASON IN YOUR OPINION on the month 4 report you can cancel and we will refund 100% of the R&D.
SEO services in Minnesota procedure
Step by Step
Get to know the client and their short, mid, and long-term goals.
Proposing the best SEO plan for the client with 4-month guarantee.
Analyzing the current digital marketing business they have.
Identify the competition online and understand how to compete with them.
Research and Development of the Blueprint for client's success.
Set up dashboard for transparency of work and results.
Start SEO plan and work on proposed plan.
Identify the results in month 4 to create the custom plan moving forward.
Keep project moving forward with laser focus and evaluate every month.
Minnesota SEO Services Investment
If you're looking for a Minnesota SEO services company, or a company that does local SEO services for your area, Agency Jet can help.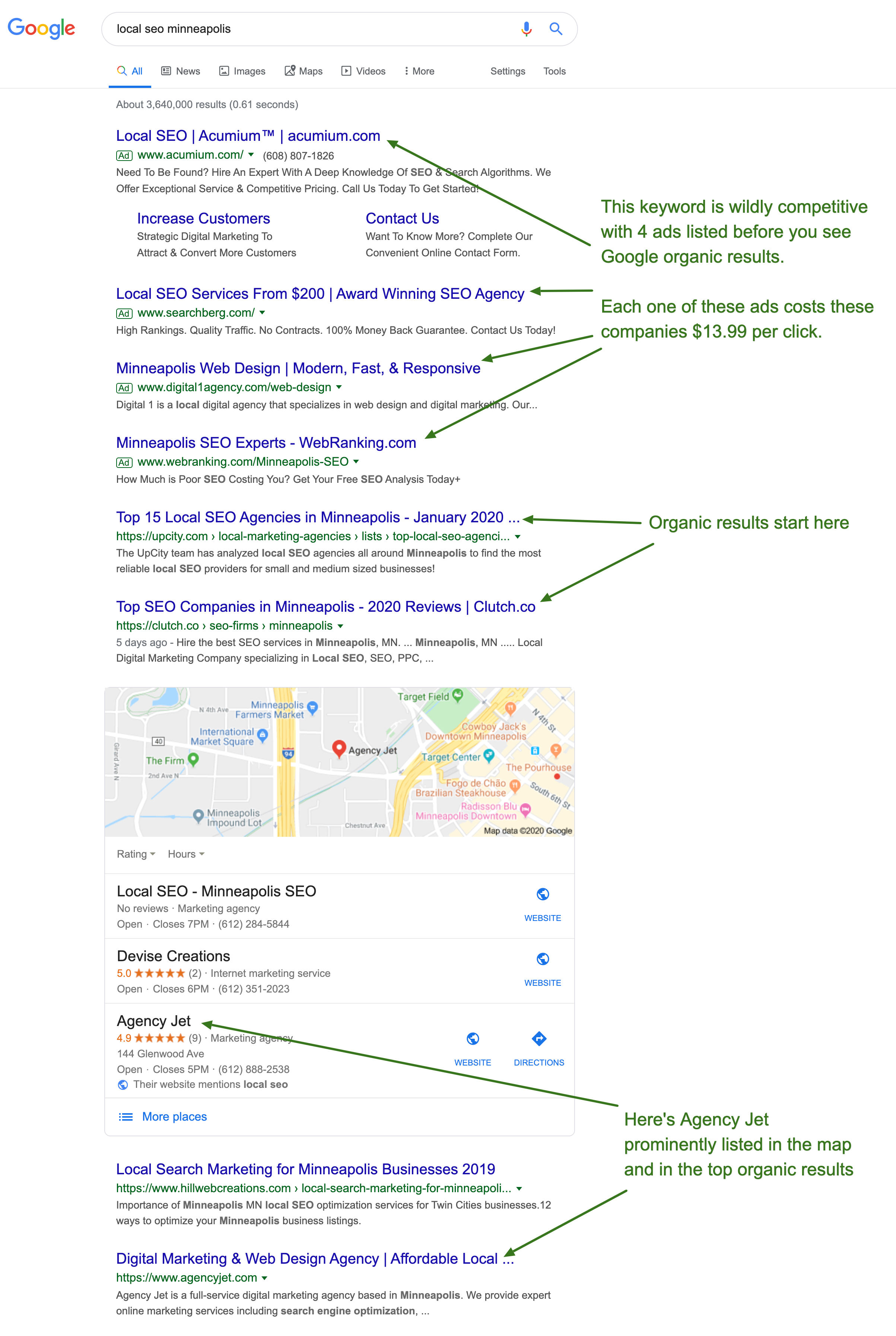 Let's say you are a law firm in Minnesota that can only do law in Minnesota, but you will only travel in the Minneapolis or St. Paul area. You may be looking for a smaller reach online for SEO. That would be a Local SEO plan. We can start a plan as low as $600 per month as a base investment. R&D is a one time investment and can start as low as $750 and is 100% guaranteed to succeed or your money back. We will implement all white hat search engine optimization strategies for our clients.
Now if your law firm grows in Minnesota and you want to expand your reach to cover all of Minnesota. You will now increase to a larger SEO service plan to cover the entire state of Minnesota. At Agency Jet you will need a Regional Plan. That plan will have a larger base investment.
A few years go by and you're no longer working in just Minnesota, as your law firm expanded its reach Nationally to all states. You will now increase to a larger National SEO service plan to cover the entire United States, but your strongest listings will be at your headquarters in Minnesota due to the years of SEO you have done. At Agency Jet you will need to increase to a National SEO service plan. That plan will have a larger base investment.
At Agency Jet we provide value to the clients targeting result-oriented SEO services.
Why SEO services for your company is so important
Search Engine Optimization is probably the single most important digital marketing method to make sure you succeed online. It gets your website optimized based on over 200 tasks per the search engine rules. The main goal is to improve your websites presence in search engines to be ranked on page 1 of Google.
An SEO company offers SEO services in order to help their clients' related websites to appear on top results of search engines. On a successful optimized SEO site, you will receive organic traffic, which in turn can help to increase your product or service sales.
Your website is your number one employee, as its only goal is to turn one-way communication into two-way communication. We can't overstate this statement as if your website isn't pleasing to the eye (hence website design) then all the traffic leaves and will go to the next listing on Google.
The good news is that all the information about how potential customers are reacting to your website is in your Google Analytics report. Ask yourself are you looking at this report weekly? If not, you need a digital marketing company to help you with everything online.
In summary, whether you're a company looking for SEO services in Minnesota or another state, SEO is a key to your business's success and we strongly recommend you do your research and look at the references of the company that you would like to hire.
At Agency Jet it starts with a free website assessment. We look forward to helping you in the years to come.
More Resources
Join the thousands of SEO-obsessed readers on our mailing list