The psychology of a business owner is "I want to pay as little as possible for SEO or digital marketing and get the best result possible" especially when you can't see the product, or monitor the work.
When you look to get any digital marketing product or service, you can't see it, touch it, feel it, smell it, or hear it. So many business owners have chosen to do nothing because it seems like hocus pocus. The truth is, whatever product or service you offer you need SEO for your small business. An interesting fact, according to Microsoft the average age of a small business owner is 50.3 years old. Why is that important you may ask? If you are close to that age or older you must read and finish this blog. Affordable SEO is hard to understand if you didn't grow up with digital marketing.
For instance, these business owners:
Were born in 1970
Graduated in 1988 (Internet Fact from 1988 - Internet Relay Chat (IRC) was first deployed. That was the springboard for real time chat also known as the instant messaging programs we are using today, but it was before American Online.)
1989 AOL American Online was launched.
Are you aware that nearly 96% of consumers are online to find local or national services? 87.5% of all search is on Google, according to Statista, and the mass majority of online experiences will start with Google. Second place is Bing with 5.53%, so if you're looking for an affordable SEO service for a small business, you must make sure they will focus on Google, obviously, and have knowledge on how to rank in Bing as well.
In the past, nearly 60% of potential clients that search will click on the first 3 entries. As a small business owner you want to make sure you are ranked on the top 3 listings of Google and if you own a local business, an affordable SEO digital marketing company that does proper SEO should get you mapped as well.
When you start with an SEO package for your business' website for search engines, your business will become more visible to people searching for your products and services. Agency Jet specializes in small to medium size business SEO packages that are affordable, and with a decade of experience working with small businesses, we can and will get you ranked on Google for the keywords or phrases of the product or service that is your company's top priority to sell.
What are you looking for? An affordable price for an SEO service to save money or the best results for the money you INVEST?
As a 40 to 60-year-old business owner you can relate to the following statements
May get frustrated losing business to your competitors
Want to get more online visibility online but do not trust paying for something you cannot see or understand
Do not know how to do it, as you were not taught digital marketing in school, or do not have an employee that has done it successfully for you
Internet marketing is not part of your past business success
You're used to outbound sales, trade shows, trade magazines, TV commercials, radio commercials, billboards, direct mail or other ways that you can see and understand
Did you know the most cost-effective affordable marketing for a small business is hiring a company to do your SEO (Search Engine Optimization)?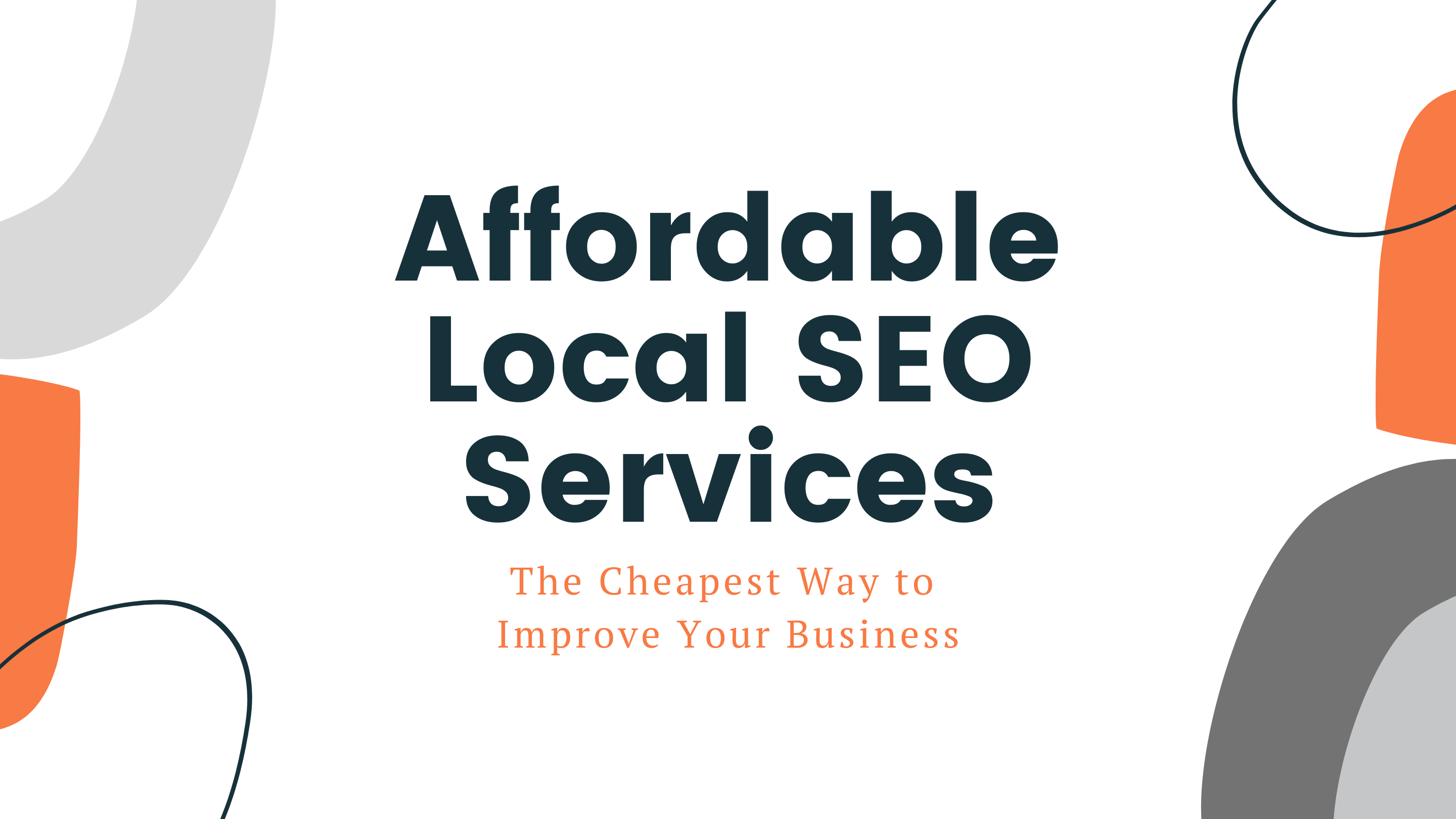 Here's a blog showing just how cost-effective SEO is.
Affordable SEO Services for Businesses
As a business owner thinking of spending thousands of dollars on SEO digital marketing, ask these common questions:
Are the SEO results hard to come by?
How long do I need to invest in an SEO package?
Am I getting a good value for the SEO marketing investment?
Is the SEO digital marketing agency charging unreasonable rates for Search Engine Optimization services?
Now consider this post that you are still reading. It has been created for small business owners, marketers, and CEO's such as yourself, who are looking for affordable SEO services. You found it, that means the work we do gets results, as you didn't find us on page 3, 4, or 5 of Google as very few people search there.
As we have stated in many of our previous and future blogs, the SEO industry is the wild west of today. Like COVID-19 you cannot see it, but it is out there and it's a highly saturated and competitive market. You will find agencies that charge as little as $25 to as high as $4,000 per month for SEO packages for a local small business.
Doing our own studies, we know the average monthly SEO marketing spend of any local company located in the United States is steadily increasing. So the question we hear the most is "what are Affordable SEO Services for Businesses?" But the question should be "what is a reasonable investment to dominate my sector on the internet?"
What matters most are the results, not the price.
Affordable SEO Investment Key Facts
When you identify the top 500 Digital Marketing Companies offering SEO services across the United States, we know that the average charge for a white hat agency will bill an average $95 dollars per hour to $210 per hour depending on the SEO plan or target.
If you are a small to medium size business (Under 100 million in Gross Sales per year) in the United States, you will invest between $1,500 to $3,200 every month for search engine optimization services that produce positive results using white hat practices.
Because digital marketing is not regulated, it is the wild west that truly is overwhelming for small businesses. When you find a great company, you should hold on to them. Not all SEO packages for small businesses should be a one size fits all mentality. There should be a strong impression of customization among their plans.
So, if you never have done SEO in the past, start with a suggested package to get all the basics out of the way, then after a period of time, a custom plan should be put in place based on results.
What type of SEO package should you look for, for your small to medium sized business?
The proper research and development that helps you see the plan, and the strategy, for your SEO service for proven success. If an SEO digital marketing company does not do it, simply pay them for what they have done and find a digital marketing service that plans the work and works the plan. Should they offer a guarantee that puts their money where their mouth is, you may want to consider them. This is rare to have a company offer a guarantee, as it usually means they are confident in the work they do. They most likely have a proven track record of success. You may want to look at references or reviews.
Your new digital marketing affordable SEO services for small businesses should complete the following:
One of the first things will be optimizing your NAP citations, and it's imperative this is done for all businesses that do work locally.
Off Page work such as content creation, creating links, improving social media profiles, and directory listings with strong descriptions.
On Page creation of content pages for the services or product that is your company's economic engine.
Educate you on reporting measurements, such as Google Analytics to identify the start of the project and observe the goals that are set and ensure the goals are attained.
Optimize all the technical SEO website aspects and existing on-site pages and content.
If you would like to learn about affordable SEO services for small businesses in more detail, including the correct white hat process, learn where your current website digital footprint online is today versus the competitions. It will all start with a free consultation that is 100% educational about your website. After you have completed the assessment you will be asked if you would like to learn how we can help and we will schedule another consultative meeting online or in person.
If you want to learn more, contact us at Agency Jet or fill out this link and we will schedule a consultation with you.
Author: Darrin Gerr, Owner + CEO
More Resources