The Definitive Cost Comparison of SEO Services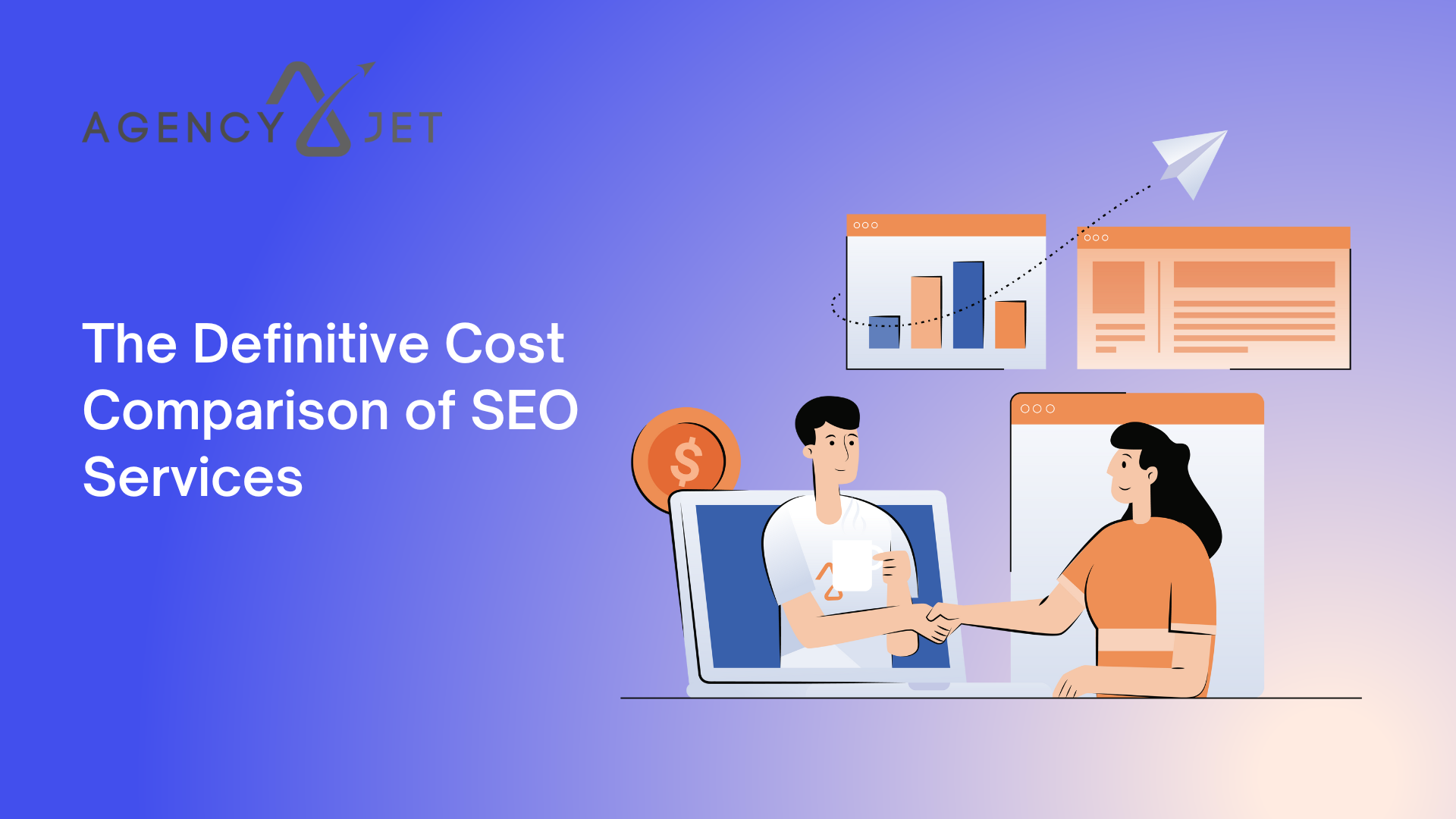 The cost of search engine optimization has always been tricky for small business owners who want to optimize their websites and be successful online.
There are thousands of SEO companies to choose from, each offering a myriad of marketing campaigns and packages that all seem equally effective, but have various costs and features.
However, the question is, how much is the average cost of SEO? Are these companies asking fair prices for the service they offer?
While there are no set amounts, the actual cost of SEO services varies based on many factors, but usually falls within a certain range.
In this post, we'll simplify what SEO is, discuss the pricing for each type of SEO, and lay out how much you should expect for a monthly SEO cost.
What Is SEO?
Before we jump into figures, let's first understand the basics of SEO.
For small businesses that want to achieve growth, SEO is key. SEO campaigns help businesses overcome one of the biggest hurdles to success — visibility.
You need to be seen by a new era of digital customers, but how? SEO.
It ensures that your organization shows up on the first page of Google searches with relevant keywords.

The more visible your website is on Google, Bing, or Yahoo!, the more likely it is that people will find your business. This, in turn, can bring in new customers and increase revenue, which will help your company grow and thrive over time.
Quality SEO is a long-term strategy that can create an attractive brand presence for your business at a fraction of the cost you would normally pay for offline and online advertising.
Meanwhile, to achieve top results, every SEO package should incorporate three main components: technical, on-page, and off-page.
In SEO, these are the secret ingredients to obtain your objectives: brand awareness and higher revenue.
Technical SEO
Technical SEO is a structured approach to optimizing the infrastructure of your website, so it can be easily crawled and indexed by search engines.
It deals with the technical aspects of your website, including your homepage infrastructure, sitemaps, page speed, URL structure, site navigation, and more.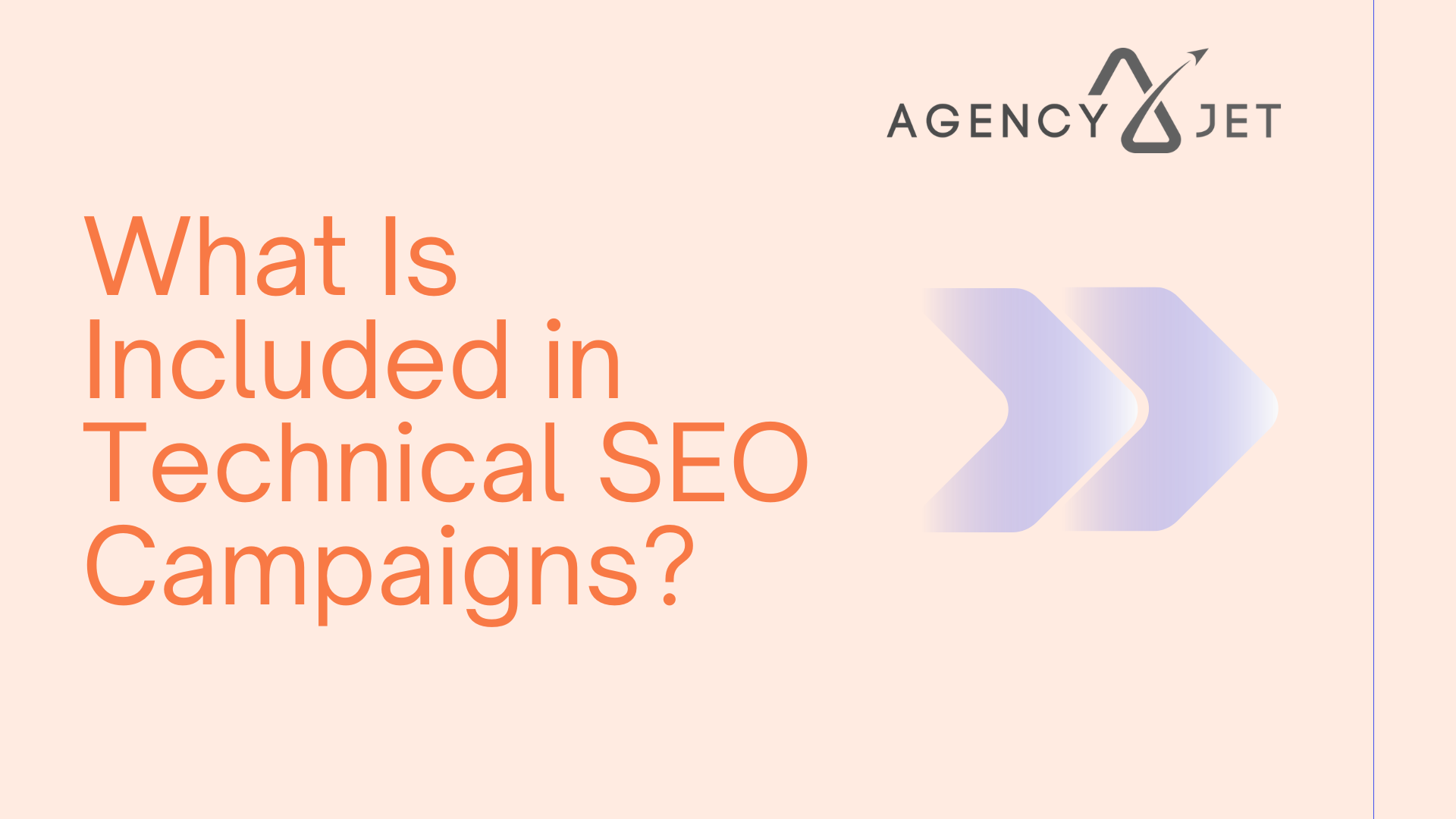 With technical SEO, you can improve your site's speed and user experience, which leads to more conversions. It has been proven to have a significant impact on improving rankings, increasing traffic, and enhancing customer conversions.
Also, you can make sure that your website is accessible to everyone — not just those who use a certain browser. Technical SEO is also essential if you want to rank well on Google's mobile search results or get more traffic from social media platforms like Facebook and Twitter.

On-Page SEO
If the above is about the technical aspects of your website, On-page (or on-site) SEO tackles the optimization of each of your web pages in accordance with search engine guidelines.
As opposed to off-page, which deals with links and external signals, on-site encompasses many of your website's elements, such as optimizing content, HTML source code, or title tags.
A solid on-page SEO strategy helps search engines understand your content and determine its relevance — increasing the likelihood of appearing organically in results. This is also known as content marketing.
As a thriving small business, using on-page SEO strategically and publishing unique content on a regular basis can help new customers see and notice your business.
You'll obtain advanced rankings, a faster crawl rate, and a higher click-through rate (CTR) for your page. This results in pulling more organic traffic, improving your conversion rate and eventually boosting your earning potential.
A tool every SEO expert loves is Semrush. The above video utilizes that tool to walk the viewer through the basics of on-page SEO and uses a real life example of a plumbing company to do it.
Off-Page SEO
Finally, the third component is off-page (or off-site) SEO. This refers to the actions you take that influence your rankings and perform various online marketing techniques on websites outside your own.
For example, forms of off-page SEO include building links and participating in social media activities. Together with on-page, off-page SEO form the basics of SEO to help your site rank higher on search engine results pages (SERPs).

Off-page SEO factors are external, ancillary aspects that influence how Google and other search engines perceive a site's subject matter. These factors come in the form of building backlinks, mentions, reviews, and citations that link to your website from other sites and directories on the internet.
Let's say you have a cafe business, and you've had customers who love everything about your service. Those customers will then recommend you to their friends or colleagues. In off-page SEO, your customers recommending you to their friends is like a website linking to your own.
Basically, the bigger and more reputable your site is, the higher up it will rank in a Google search results. Thus, having other sites linking to yours is an excellent indicator to Google that your page is popular, trustworthy, and authoritative.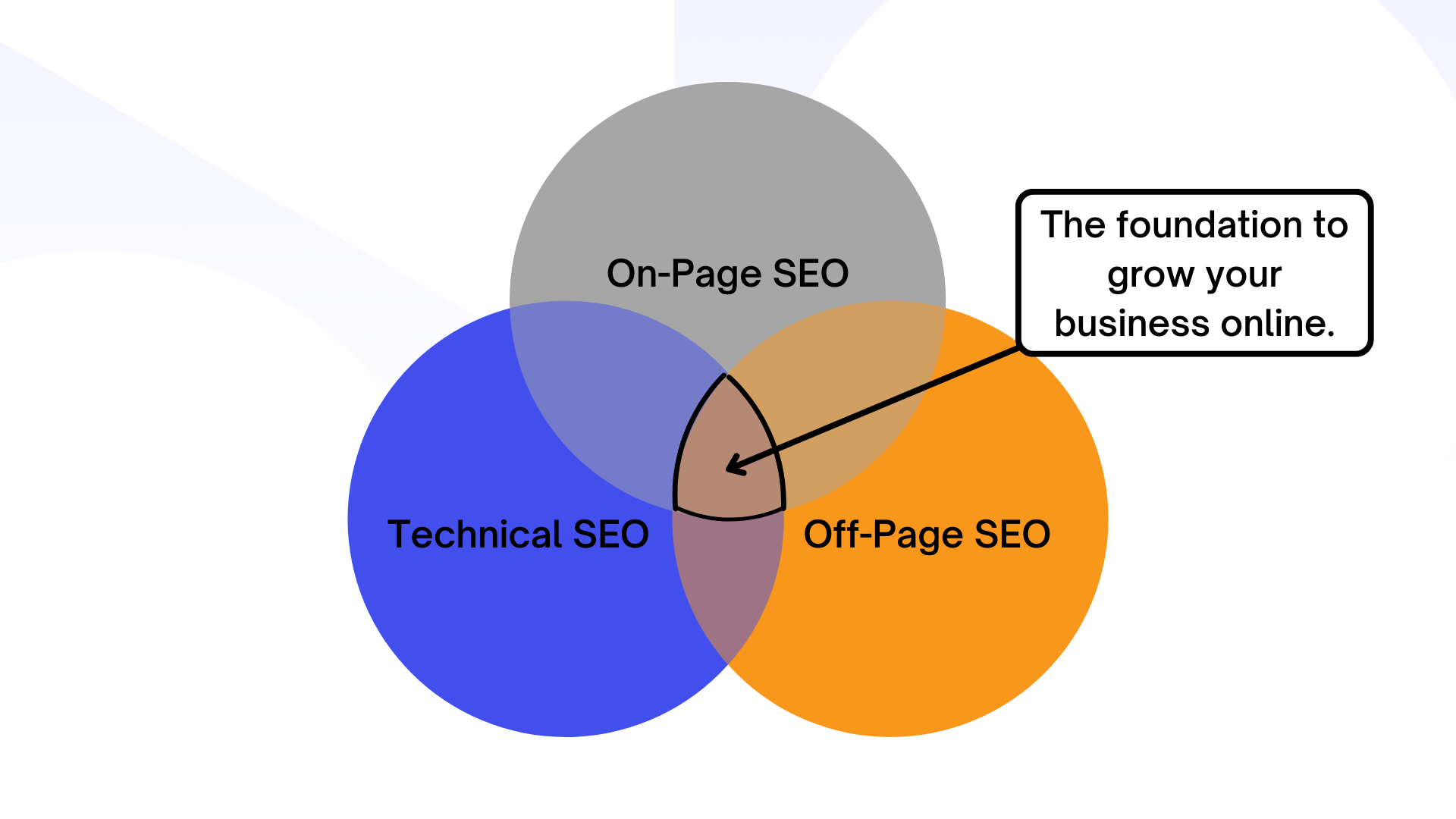 Now that you know the basics of SEO, let's talk about the different types of plans and how much you should be paying for them.
Local SEO Services — What Is It and What Does It Cost?
Local SEO is designed for small businesses offering products or services within the limits of a single city or town.
Before we wade into the cost of local SEO, let's have a quick look at what local SEO is.
As the name suggests, local SEO focuses on optimizing your website for a specific city or local search. It's a reliable digital marketing strategy for business owners to target consumers and clients who live near their location.
78% of customers find businesses based on location, so if your organization is nowhere to be found, you're missing opportunities to generate sales.
Small businesses often use local SEO to increase their geographical presence, but any business with a physical location can utilize it as well. You can optimize your page for specific local keywords and phrases like "best pizza in town," or "pizza delivery near me" to boost your visibility on Google Maps and other local search results.
This will help you get more customers coming through your door.
This is a whole series of lessons done by Semrush but if you watch this 3 minute video, you'll get a good baseline of what local SEO is.
A wide variety of small businesses, including,
cafes,
pizzerias,
restaurants,
boutiques and shops,
dental practices,
law offices,
and others,
utilize local SEO services to reach nearby customers and generate new leads.
What's Included in the Plan?
Most SEO agencies offer different packages to make the process of establishing a solid online presence easier for their clients. The local SEO pricing model may vary per provider depending on the services in the package.
These are common inclusions for local SEO services:
NAP syndication: Name, address, and phone number are three essential parameters for a potential client to easily identify with, reach out to, and connect with your business.

These are just a few places you'd want your business name, address, phone number and a link back to your company website.
Geo-page content: The goal of geo-page, or on-site, content is to optimize your website for searches that reflect your geographic target markets and the core services you offer.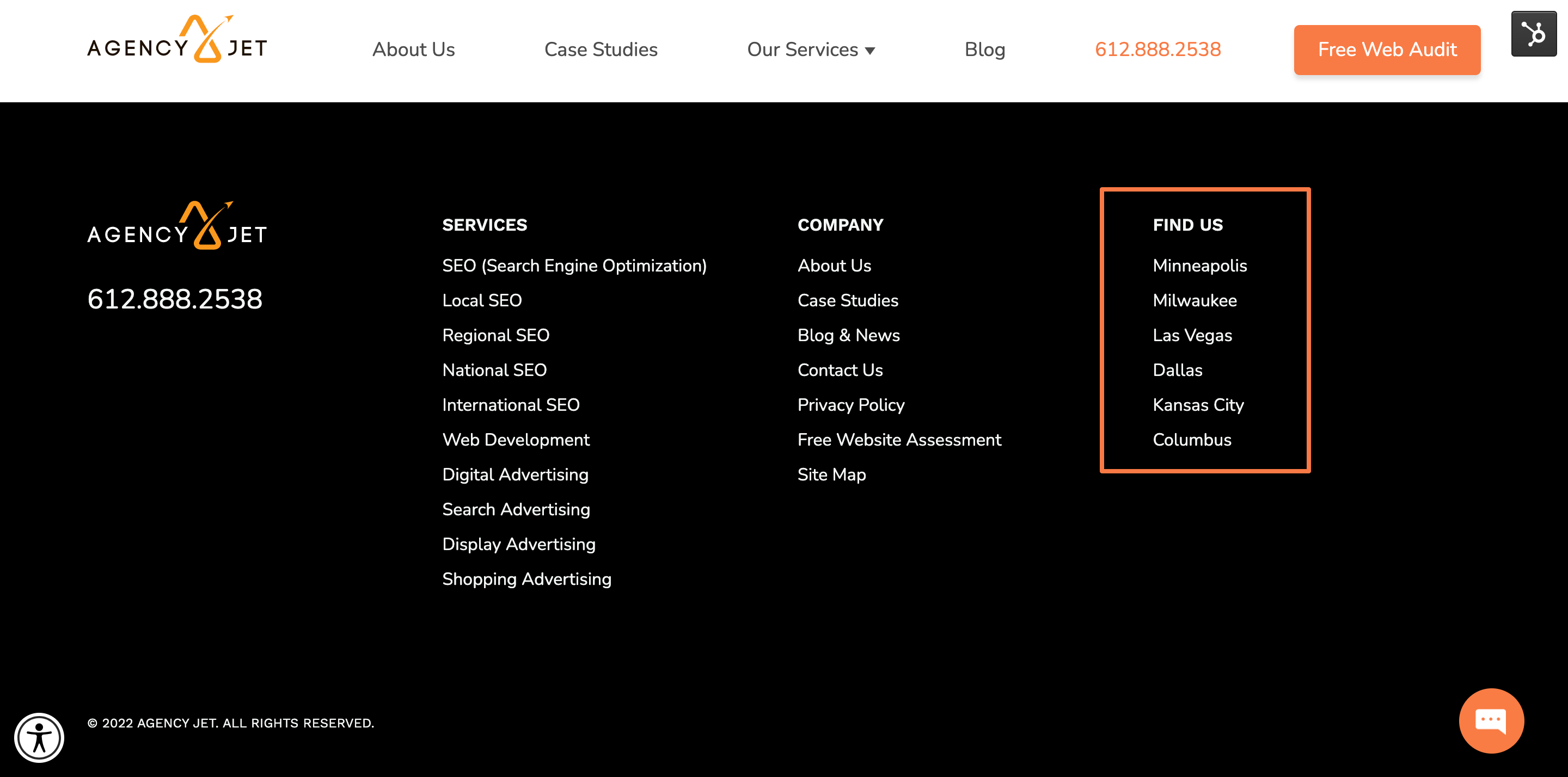 Niche and local link building: These are two different types of off-site link building that can help you improve your search engine rankings. Both deliver long-term success and better exposure for your business.
What's the Time Commitment?
SEO isn't a rocket ship. It's not going to blast you into the stratosphere immediately, but you'll see your efforts pay off over time.
That means your website won't magically start ranking for major keywords overnight. You're not going to have customers banging down your door, and your revenue isn't going to skyrocket on the first day of implementing SEO.
While it takes time to see results, the good news is that it works. Most businesses that utilize local SEO see a measurable increase in visibility within three months, more site traffic within eight months, and a revenue jump in a year or two.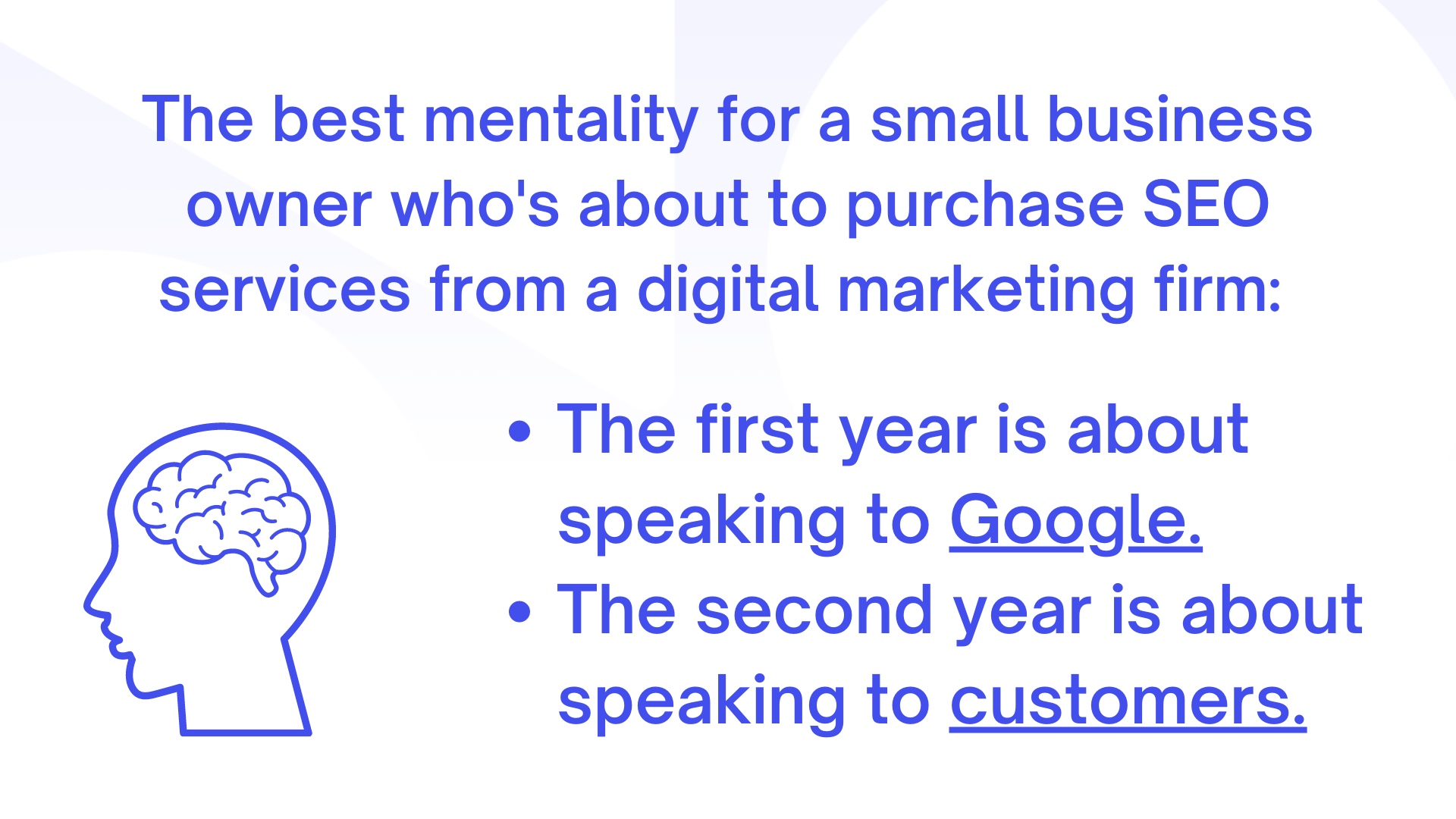 What's the Average Cost of Local SEO Services?
The wide range of local business SEO services means packages will vary depending on the individual business goals of the client and the services they offer.
There is no standard price range. If you look at this SEO agency directory, packages range from $899 to $4,600 a month.
However, as a small business, you'll expect to invest around $1,000 to $3,000 per month depending on how aggressive you want to be.
Meanwhile, a high-quality local SEO services cost typically will fall within the range of $1,800 to $2,500 per month, for a total investment of about $30,000 a year.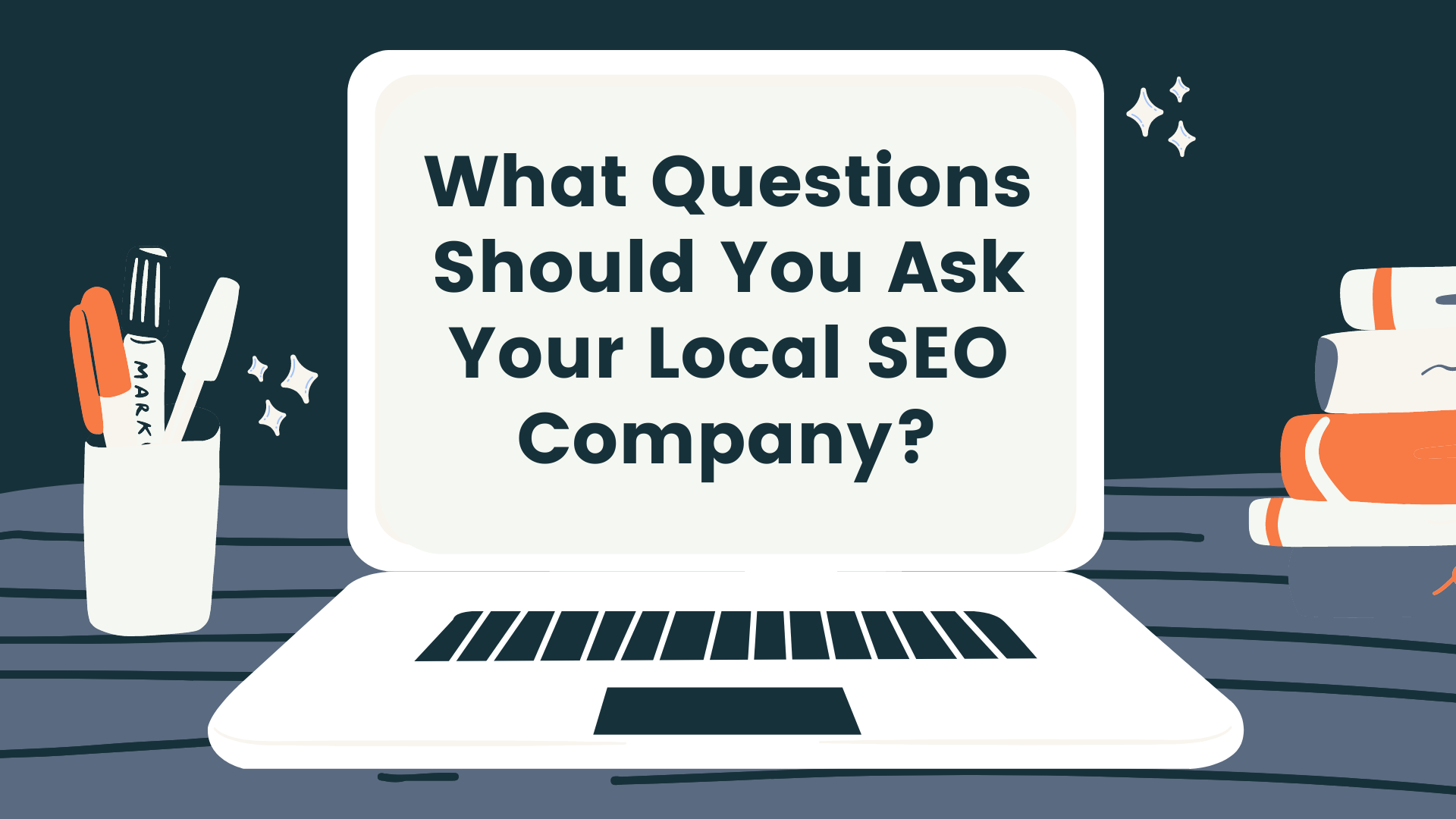 Thinking of hiring a local SEO company? Here are some questions you need to ask to make sure you're making a good decision.
To sum it up, here's a closer look at local SEO services:
Type of business: Local storefront providing products or services in their immediate area
Area served: A single city or town
Time commitment to see results: 12 months
Average cost of service: $2,000/month
Expected ROI: +30% brand visibility, +10% revenue
Regional SEO Services — What Is It, and What Does It Cost?
This is for small businesses who prefer to rank well in multiple cities or an entire state.
Every small business owner has a dream: to be found by customers in the right place, at the right time, when they need your product or service.
Regional SEO is one of the best ways to make that dream a reality. It helps you dominate in the state, regional, or local markets to reach massive numbers of potential customers.
For example, if you're a lawyer serving multiple cities, regional SEO services will help you rise above your competitors. You don't need physical offices in every city in the area, instead, you can utilize regional SEO to gain a large amount of exposure from nearby areas.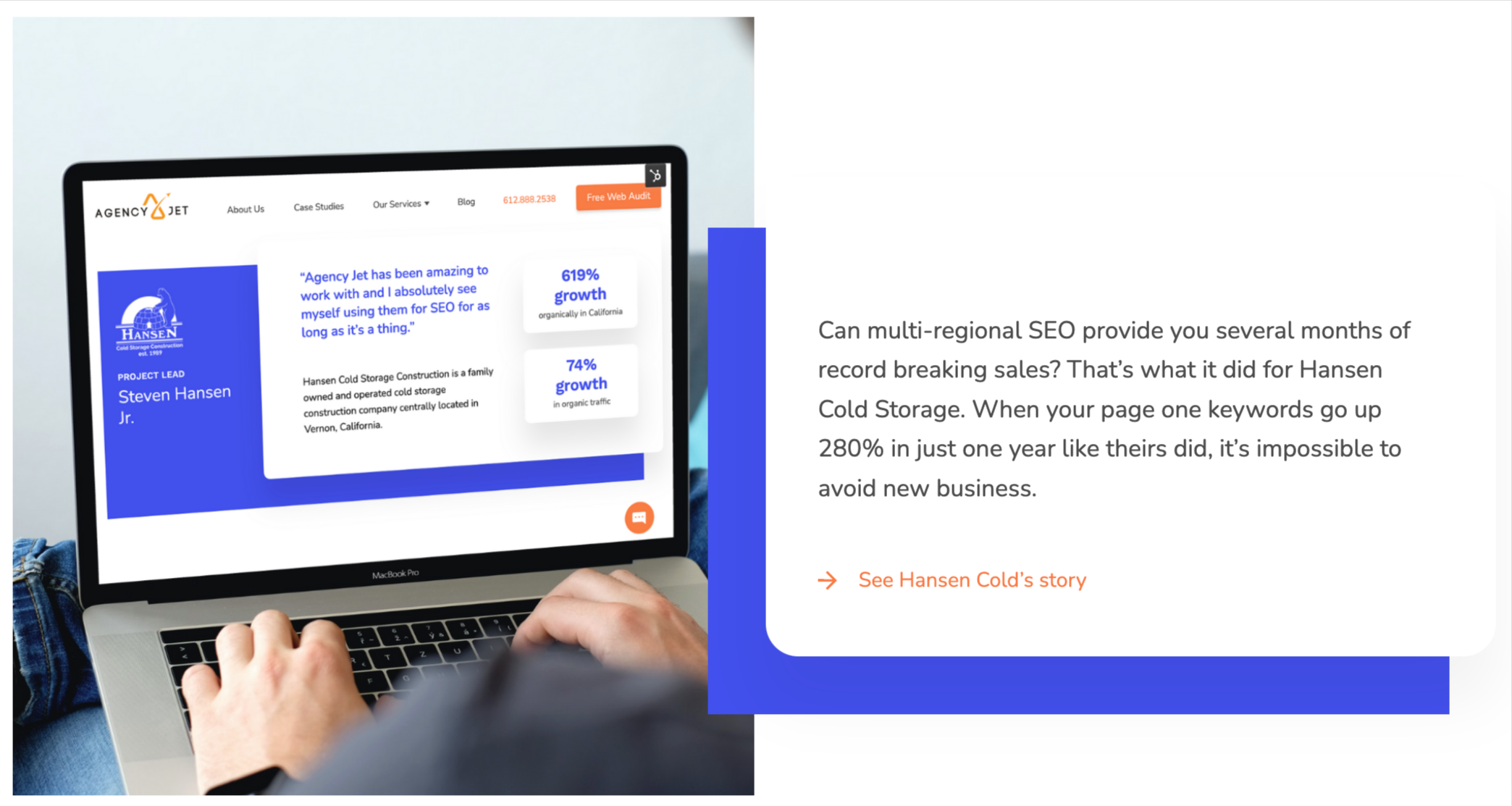 Here's a case study of a regional SEO campaign done by Agency Jet. When done properly, you don't have to wait a full year to see some serious return on investment.
It's perfect for small businesses, such as:
Law firms
Clinics
Construction companies
Franchise businesses
And more!
What's Included in the Plan?
Many local SEO agencies are eager to help your business succeed through regional SEO, but their packages may vary.
Depending on your goals, you can choose from a variety of monthly SEO services to select the ones that best fit your needs.
The plan you choose should have the following aspects:
NAP Syndication: When it comes to regional search engine rankings, a consistent and accurate NAP on every page of your site is the driving force. It's necessary to increase the chance of your site being found when people are looking for local or regional businesses.
Geo-page content: If you want to garner quality local organic traffic, you can target your on-site content specifically to the people who are searching for it in your region.

Niche and local link building: Similar to off-page SEO, you can link from other websites in your niche, or relevant local businesses can help boost your website's search ranking.
What's the Time Commitment?
As mentioned earlier, SEO doesn't happen overnight. Patience is necessary for success, but if you want to see results earlier, it's better to start your move now. Although it's a long-term investment, you can start seeing results within 18 months.
Note: never see SEO as a one-time project. It should be a staple of your yearly marketing budget as professional SEO services, when done well, will get more affordable every year.
How?
You'll start ranking on page one of Google, Yahoo and Bing for your key products and services. By increasing visibility for these important phrases in search engines, you'll be able to use tools like Google Analytics to confirm more and more eyes are landing on your site.
Most monthly SEO budgets stay the same. So if your web traffic goes up and your monthly cost stays the same, you're getting more eyes for a lower cost per acquisition.

And because proper white hat SEO work is designed to keep sustainable rankings, once you hit top page in Google, you won't have to continue investing so heavily in those high-performing phrases.
This makes SEO of any kind, especially regional SEO, one of the most cost-effective marketing solutions on earth.
What's the Average Cost of Regional SEO Services?
Depending on the number of locations you have and the combination of services you'll need, the average regional SEO cost varies from $1,500 to $5,000.
You can be aggressive to take mid-range plans and expect results in a quicker amount of time or pay lower plans that don't have as much success.
If you opt for quality, comprehensive regional SEO, be willing to invest at least $4,000 in a monthly plan to expect success.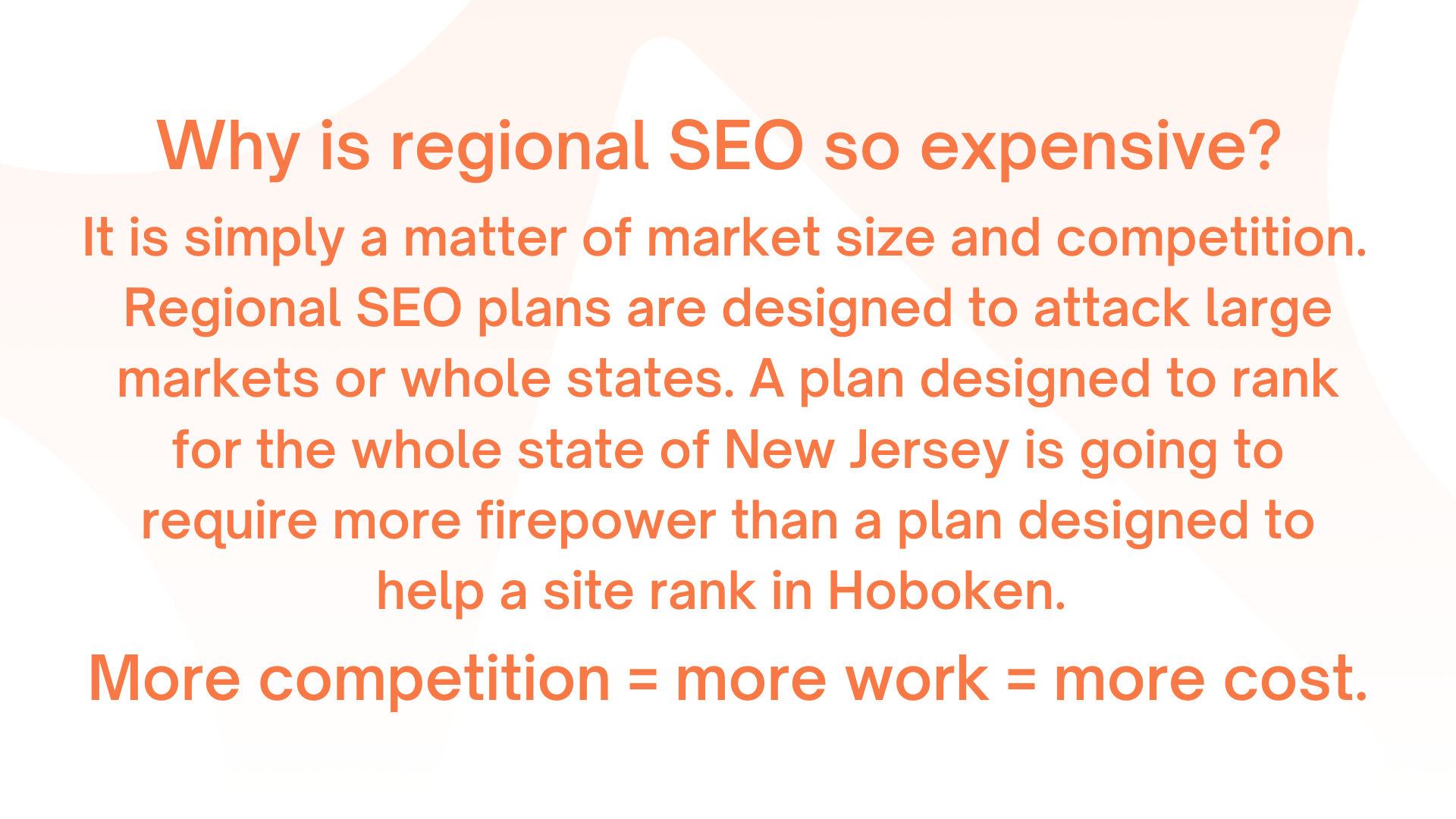 Here's a summarized context of regional SEO:
Type of business: Small businesses serving an entire state in niche markets or multiple cities in competitive markets.
Area served: Statewide or multiple cities
Time commitment to see results: 18 months
Average cost of service: $4,000/month
Expected ROI: +20% brand visibility, +15% revenue
National SEO Services — What Is It and What Does It Cost?
It is intended for small businesses that deliver their services virtually or sell products nationwide.
National SEO services are the strategies and tactics that optimize a website for a national audience. It focuses on broad keywords to expand your reach and beat your competitors on search results.
When you need to reach a mass audience across the United States, this is the perfect service for you.
It's an effective way to increase traffic to your website and convert those visitors into leads and sales — especially if you're a small business or start-up. Small businesses operating on a national level can leverage national SEO services.
Some examples include:
Software companies
Online retail shops
Logistics companies
Other e-commerce companies


What's Included in the Plan?
Since you're competing on a national level, national SEO services should contain the main components of SEO and other significant factors.
Your marketing agency should have the following in their plans:
Technical SEO: It helps identify relevant keywords and phrases that are frequently used in search engine queries.
On-page SEO: This is crucial in building out a strong and cohesive keyword strategy through quality content.
Off-page SEO: It optimizes your website through external link building.

What's the Time Commitment?
It takes time and commitment to set up your national search strategy. However, if you're willing to invest in it, an effective national SEO strategy from a reputable service provider can deliver great results in no more than 24 months.
What's the Average Cost of National SEO Services?
The amount you need to pay for national SEO costs varies on the plan you have, what your SEO goals are and how much work is required to improve your ranking.
National-level SEO service takes into consideration more factors than, for example, a local SEO service. As a small business, anticipate an average SEO cost of $3,000 monthly.
To give you a quick overview, we outlined the following:
Type of business: Small businesses that provide their services virtually or who can ship their product all across the United States
Area served: USA
Time commitment to see results: 24 months
Average cost of service: $3,000/month
Expected ROI: +50% brand visibility, +20% revenue
Franchise SEO Services — What Is It and What Does It Cost?
It's a combination of several local plans in one for small businesses with multiple locations.
If you have bought or have acquired a franchise and operate in multiple locations, you probably need to harness the power of franchise SEO to increase your online visibility and sales. This type of SEO service can be a combination of local and organic search results for your franchise website.
When properly implemented, franchise SEO services can help boost your search rankings, gain visibility, and attract more customers or even franchisors to your business.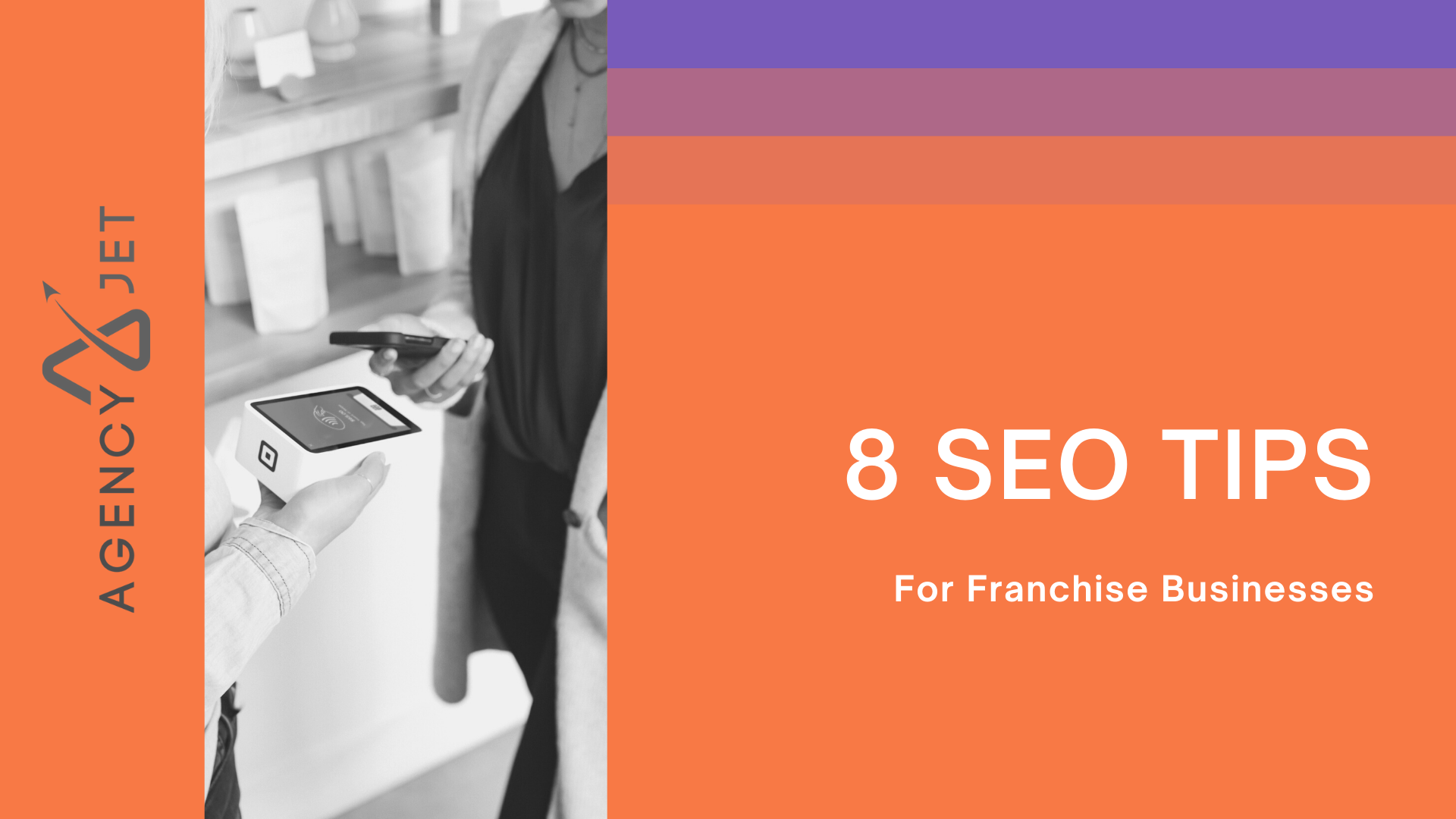 What's Included in the Plan?
Franchise SEO services contain a wide array of services. Each monthly SEO package has different deliverables depending on your SEO specialist. However, a plan should have these vital inclusions:
Local SEO: It optimizes your website for local search engines.
On-page Optimization: Maintains high-quality content throughout all sections of your website and ensures they're always optimized for search engines.
Off-page Optimization: It's about building high-quality links to your site from other websites. This helps Google determine that your site is relevant, trustworthy, and authoritative.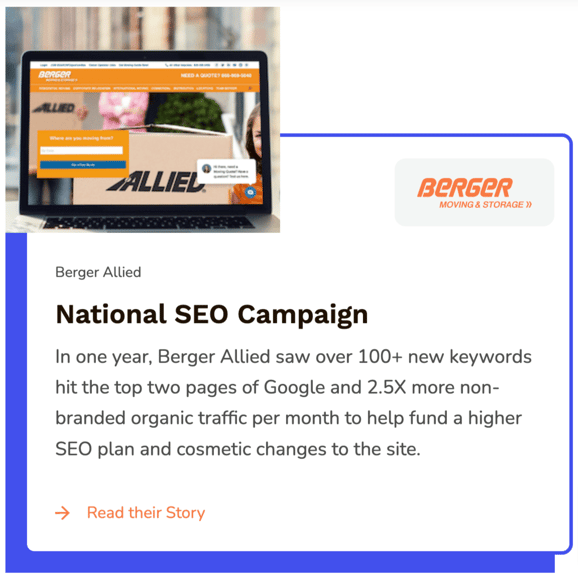 A national SEO campaign that turned into a franchise SEO campaign, Berger Allied, one of Allied Moving's largest providers, saw tremendous growth in a short amount of time.
What's the Time Commitment?
Franchise SEO is a long-term strategy. It will take a while to bring you results, but eventually, you'll reap the rewards. You will begin to notice improvements in 18 months or so — more leads, more site traffic, and more sales.
What's the Average Cost of Franchise SEO Services?
When it comes to the exact franchise SEO investment, there's no set amount. It can vary widely from $3,000 to 10,000 depending on several factors. For example, how much work needs to be done and how many keywords you want to rank for.
The more keywords you want to be ranked for, the higher the cost. As a small business, expect to spend around $5,000 on average.
A more comprehensive plan costs up to $10,000 or more, but you'll thank your marketing agency for the excellent results.
Below, we outline franchise SEO services:
Type of business: Small businesses with multiple locations. These plans are a combination of several local plans in one.
Area served: Multiple cities or addresses within one large city
Time commitment to see results: 18 months
Average cost of service: $5,000/month
Expected ROI: +50% brand visibility, +25% revenue per location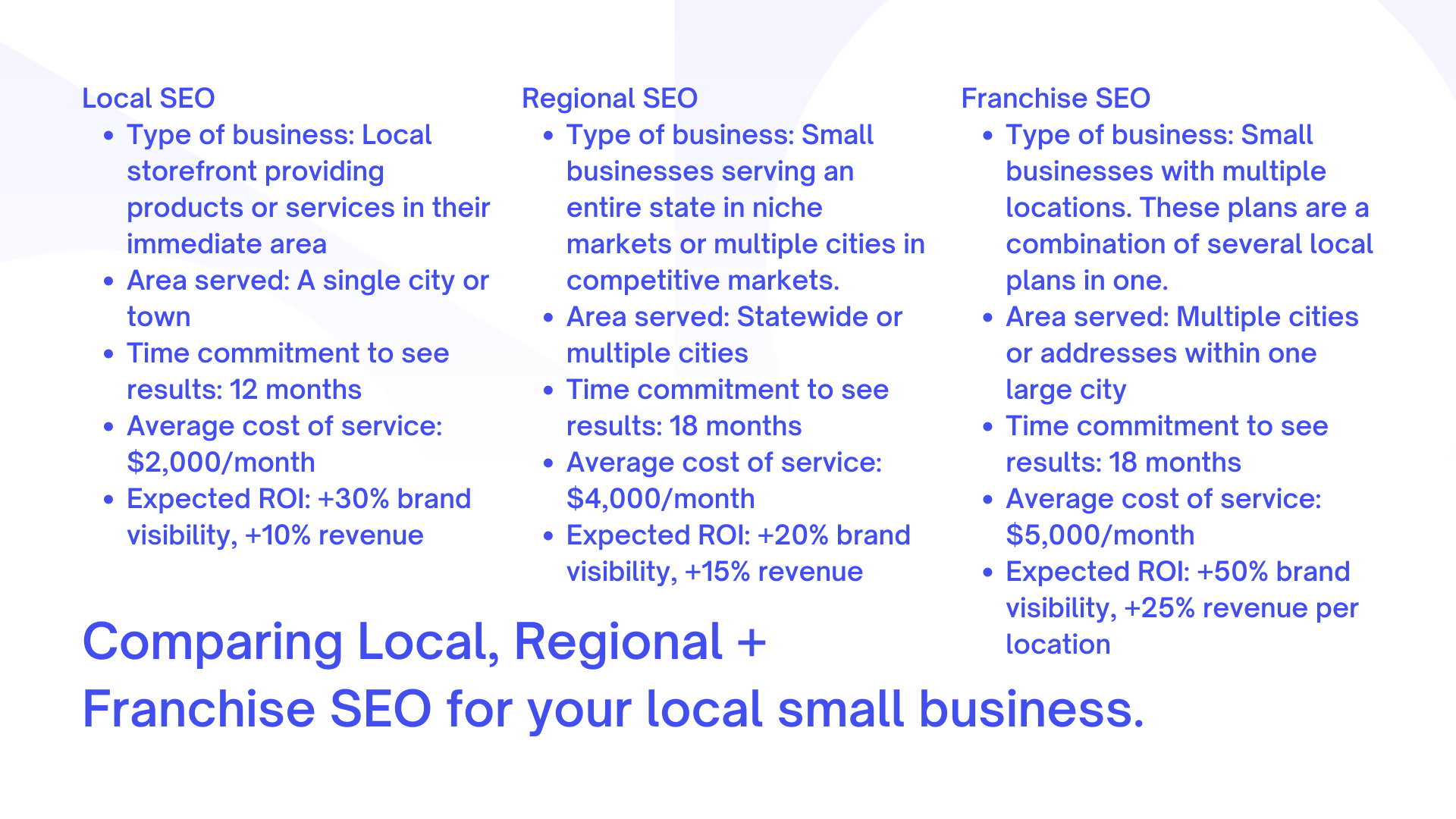 E-Commerce SEO Services — What Is It and What Does It Cost?
These are marketing strategies for online stores to boost their online presence and attract more shoppers.
Just like traditional SEO, e-commerce SEO services are designed to increase a website's visibility on search engines like Google and Bing.
However, since e-commerce sites are typically more complex than other types of websites, and often contain many different pages, these services also include other elements, such as social media marketing campaigns, keyword analysis, or link-building strategies.
This approach will help boost traffic from these channels even further when correctly implemented over time.
E-commerce SEO is intended for businesses utilizing online stores, which are mostly product retailers, such as clothing shops, stores selling automotive parts, or sites offering personalized dietary plans.
Some e-commerce platforms like Shopify or Magento do optimizations for you automatically. However, there are ways to tweak your site for even better results. Thus, the significance of acquiring e-commerce SEO services.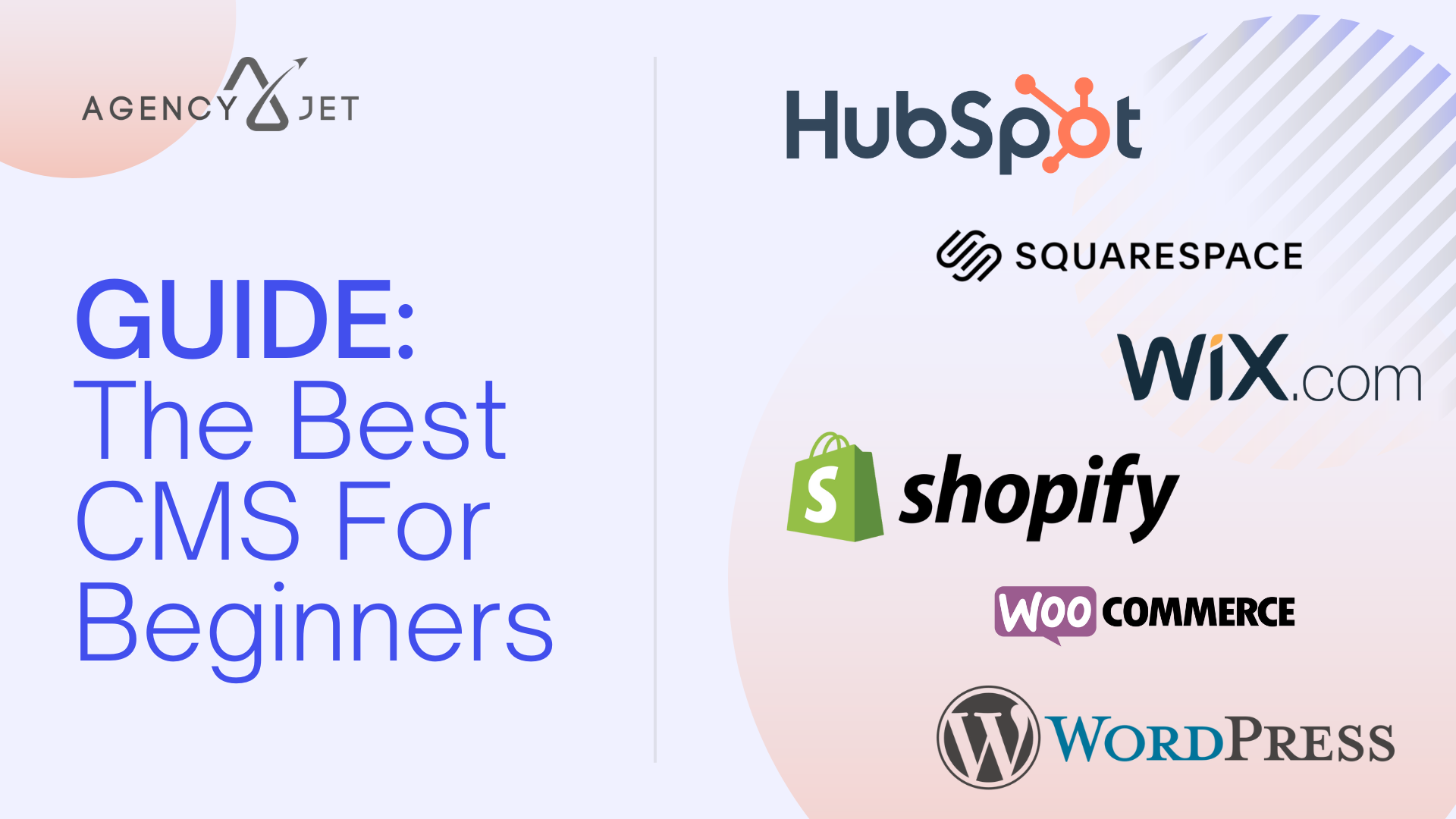 Speaking of Shopify, check out this blog to see the definitive guide on what the best content management system (CMS) is for your small business.
What's Included in the Plan?
The inclusions in an e-commerce plan will vary depending on the SEO provider and the services included, but they are all designed to help you run your business efficiently and effectively. To give you an idea, a plan should include the crucial elements of e-commerce SEO.
These are:
Mobile optimization: This will ensure that your online store works well on mobile devices. Note that 77% of Americans shop online through their smartphones.
On-page optimization: It focuses on employing relevant keywords for each page of your online shop.
Link building: SEO professionals are skilled in all facets of off-page link building and backlinks to help you increase your rankings.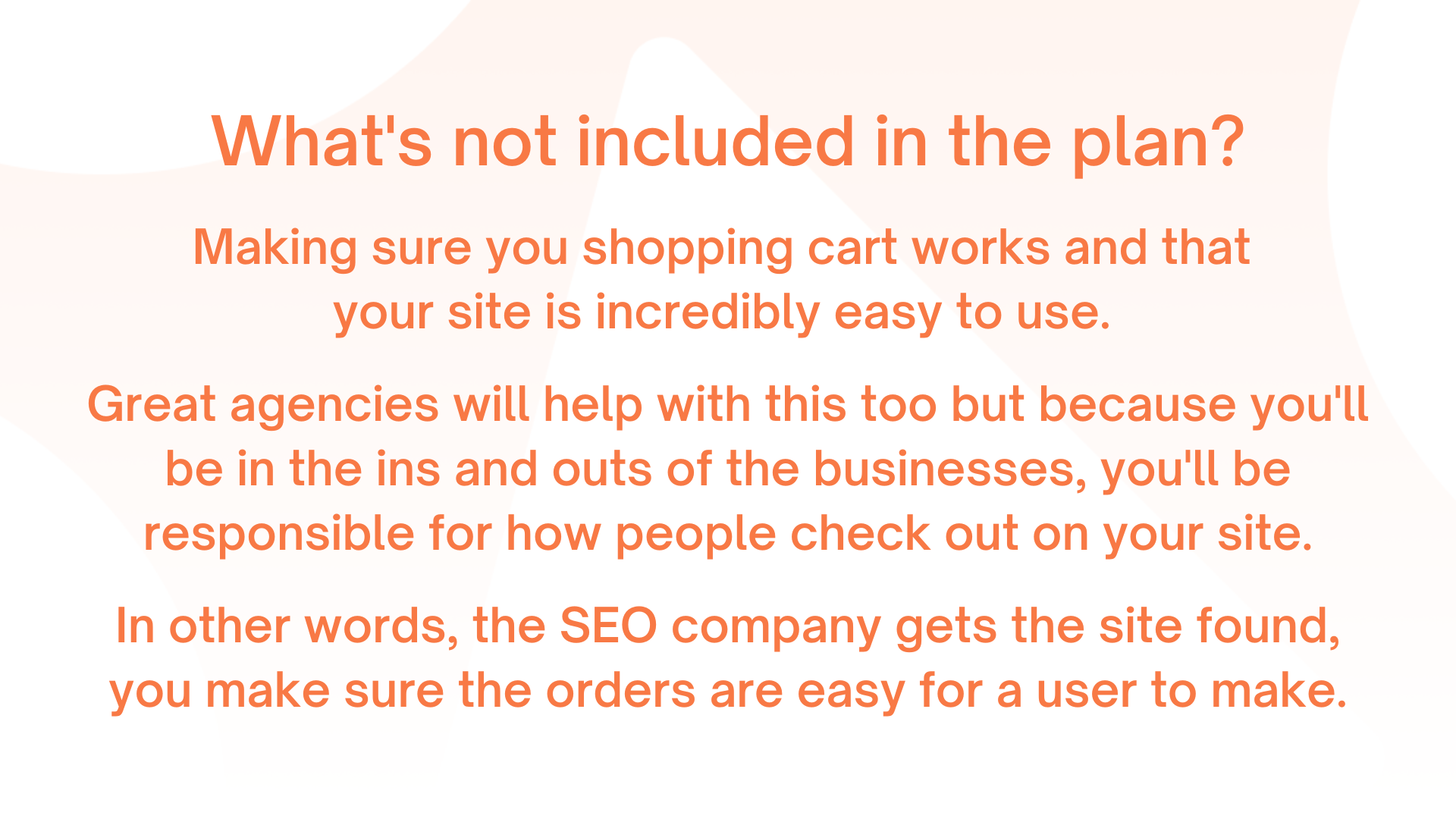 What's the Time Commitment?
E-commerce SEO is an excellent way to drive attention to your online store and capture more sales for your business, but it's not something that works like magic.
Usually, it takes up to 21 months before you can notice improvements. While it might be a long wait for clients, it's a good investment to see your business grow in the long run.
What's the Average Cost of E-Commerce SEO Services?
Many different factors contribute to the success of your e-commerce site. It requires a lot of different strategies and tactics and will rely on your site's ability to keep a solid bounce rate, load quickly and make checking out a breeze.
If you're a small e-commerce business, the average e-commerce SEO cost should be around $5,000 per month. Prices can vary depending on the size of your business and the level of competition in your niche, and other aspects of SEO work.
Here's a brief overview of e-commerce SEO services:
Type of business: Online stores
Area served: USA or global
Time commitment to see results: 21 months
Average cost of service: $5,000/month
Expected ROI: +20% brand visibility, +20% revenue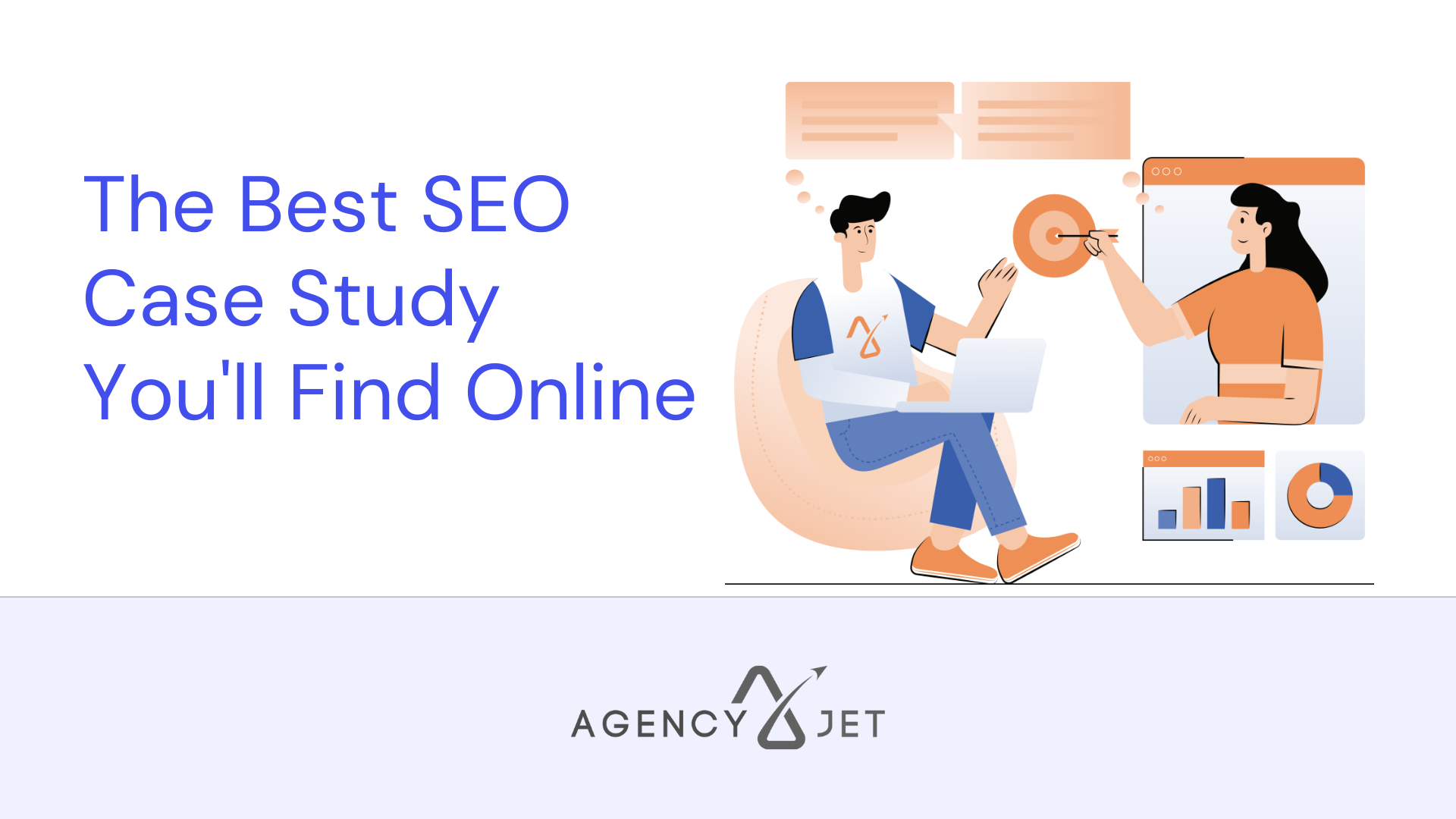 There are hundreds of ranking factors required to be successful at SEO. We've tried them all! Want to see an incredibly detailed SEO case study (think 5000+ words worth)? Read ours. Yep, this is the story of Agency Jet.
Conclusion
SEO is by far one of the most crucial elements of business success in this digital era.
If you want to leverage it to gain new heights by hiring SEO partners, it's imperative to remember that SEO services pricing varies significantly — as there is a wide range of providers, packages, and factors involved in the process.
The guidelines we've provided above aren't legal advice nor a fast rule. It simply gives you a good idea of what you can expect to pay, how much time you could expect to see results, and how much potential your business could reap in return.
Additionally, like most forms of marketing, the results will also vary. However, it's the most cost-effective option for your business to boost revenue and visibility in the long run.
If you want to learn more about the current status of your website's SEO, leverage our free and educational website assessment.

At Agency Jet, we offer professional strategies for small businesses to become digital powerhouses.
Join the thousands of SEO-obsessed readers on our mailing list